Sending a marketing newsletter is a great way to nurture leads and keep your customers coming back to your offer, check out this guide for the best newsletter ideas.
With the rise of email marketing, newsletters are starting to look more and more impressive. Years ago, newsletters were simple emails with snippets of the latest articles on someone's blog or their latest eCommerce offer. Today, brands use visually striking solutions to engage their customers, ask them for feedback, and even reward them for their loyalty.
In this article, we'll go over some of the best newsletter ideas that you can instantly apply to your strategy.
First, let's take a look at why email marketing has been getting so much attention in recent years.
The benefits of marketing newsletters
There are many reasons why you shouldn't neglect your email marketing strategy.
First, it allows you to reach out to hot leads. People who gave you their email addresses can be considered high-quality leads that have demonstrated a significant interest in your brand. By sending regularly sending them tailored offers, you can turn them into long-term customers that will keep coming back.
Decision-makers agree about this – more than 80% of business owners believe that email marketing plays an important role in customer retention.
Even if you're running an online publication, newsletters can play an important role in improving your traffic. Stats from popular publications like Vox show us that visitors that come from newsletters spend almost 3x more time reading their articles than the audience that comes from Facebook.
Whether you're running a blog or an eCommerce, chances are that marketing newsletters are a channel you should do your best to develop.
But if you're going to do it, try to make your newsletters memorable. Here are some newsletter ideas to show you all the possibilities.

Promote your blog or news
If you have a blog publication, sending a blog to your newsletter audience each week can be a good idea to get more traffic. Choose your favorite post from that week and share a preview with an image and a short snippet. You can also include social share buttons to make it easier for your audience to share the content with their followers.
You don't have to limit yourself to only one blog post – your newsletter can contain several of your top posts from a certain period. That's what Medium does with their newsletter: they select your recommendations by the people and publications you follow to provide you with the articles you're likely to be interested in.

If you don't have a blog on your website, you're missing out on potentially significant organic traffic! It's ridiculously easy to start a blog today with the help of platforms like WordPress, Wix, Squarespace, etc.

Announce new products
Your monthly newsletter is one of the best channels for new product announcements.
It's safe to assume that your newsletter subscribers are already interested in your products or at least more interested than the average customer. They're already aware of your brand and USPs so they'll need less convincing (which means less effort) to make a purchase.
Even more importantly, many of your subscribers have likely clicked on that "subscribe" button after making a purchase. Those subscribers are the perfect audience to promote your new collection too.
You can even send an email before the product is launched. That way, you can prepare your audience and let them mark the dates for the launch. Then, you can send another email with a special offer for the first customers.
Here's a great example from Heavenly that likely caused a real buzz among their fans: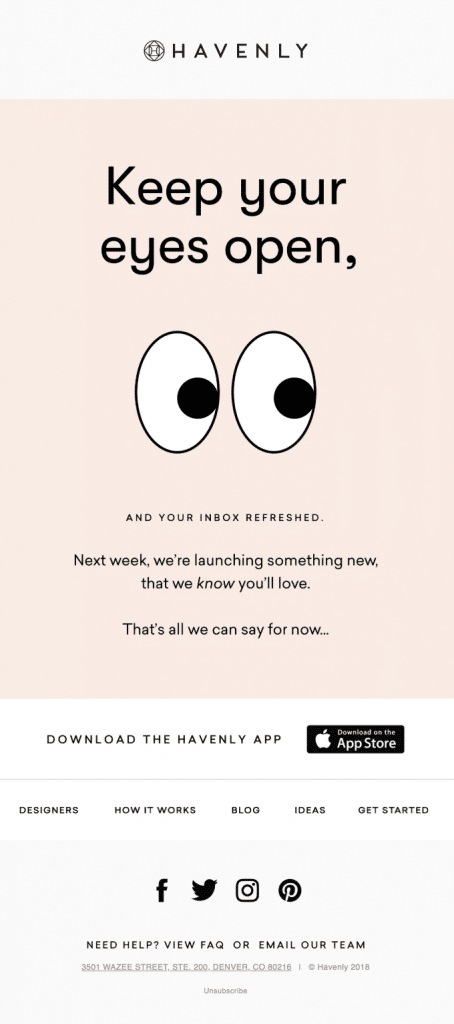 Ask for feedback
Customer service newsletters are also getting more popular. Asking your audience for feedback on your products or shopping experience can be a great way to show them you care but also to identify possible issues in your process. Customers will often be able to point out something that you overlooked.
You can keep it simple by sending a simple email with a button that leads to your survey. The survey can then take a place on Google Forms or you can use a WordPress plugin like WPForms.
The best time to send a customer service newsletter is right after a customer completes an action like purchasing a product or using a service.
Here is how Lyft did it: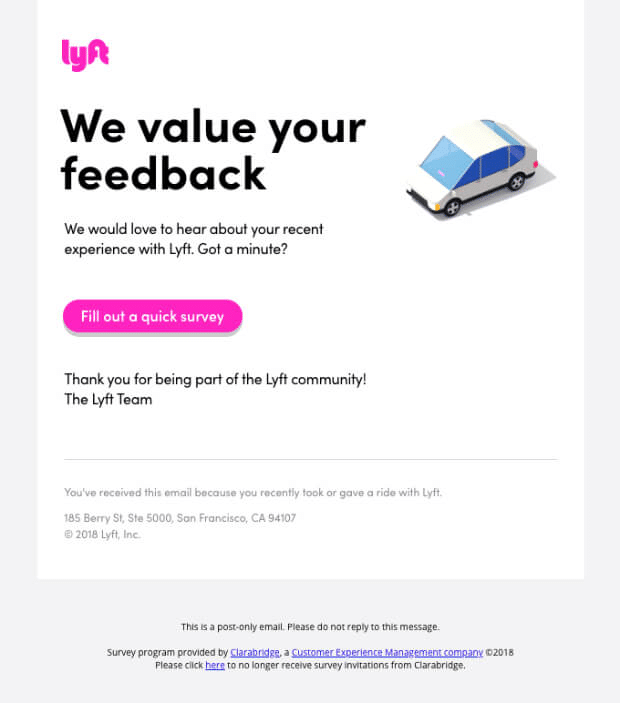 Educate the audience about your product
Depending on where your customers are in the funnel, an educational newsletter could be just what they need to push them towards making a decision.
Imagine this scenario: you have a customer that just learned about you and gave you their email in exchange for a lead magnet – a PDF report or a special discount. The day after that, you send them an email that highlights exactly what separates your product from the competition and gives them a few use cases.
While this may not make them an instant customer, it will certainly push them to the next phase in the funnel where they'll be more informed about your product and may start considering making a purchase.
Here is one example that asks the question "What makes our product different" and directly answers it in the newsletter:

Run a giveaway
If there is one thing that can almost guarantee engagement, it's a giveaway. Running any kind of contest that has enticing prizes is an excellent way to increase brand love and turn occasional buyers into loyal, repeat customers.
Milestones are the perfect reason to celebrate with a giveaway. Have you reached 10k fans on Facebook? Is your business celebrating its 5th birthday and you'd like to share the joy with your loyal customer base? Newsletters are the channel to use if you want to reach those interested in your special offers and contests.
Here is one simple example: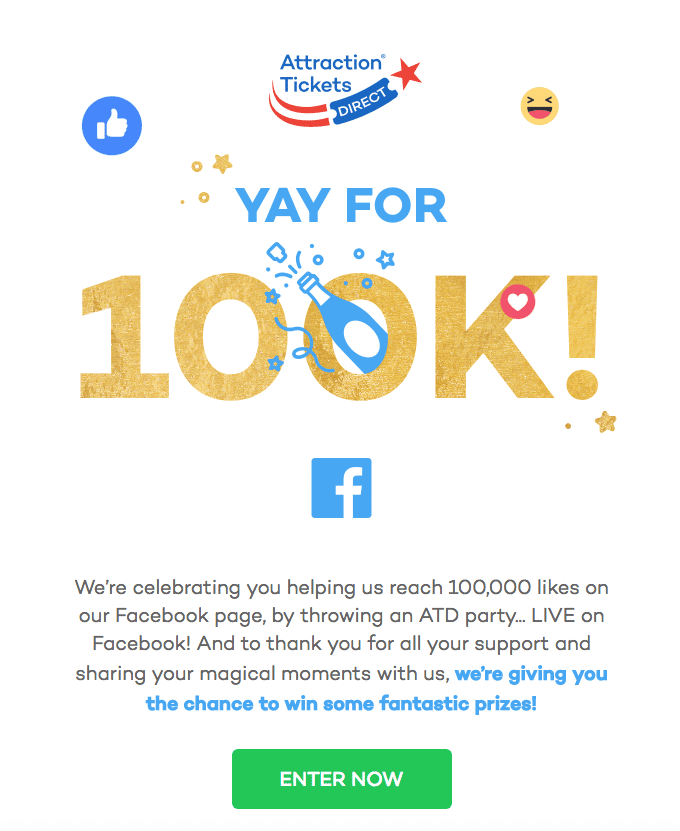 If you want, you can also use your newsletters to send gifts like free trials, samples, and discounts. Getting those in the mail can feel like unwrapping a gift! 

Send personalized recommendations
To make your business newsletter shine, you might want to consider email personalization techniques.
Hand-picking pieces of content or special promotions to send your customers is fine but sending them offers that are tailored to their specific needs is truly impressive. You can use this by segmenting your audience into small, narrow segments based on their interests, demographic data, and purchase history.
For example, you can have a whole list of young men aged between 18 and 25 with an expressed interest in your expensive shoes. So, we know their demographic (young male), interest (shoes), and purchasing habits (expensive over cheap). We can leverage this to send them personalized offers that they'll be more likely to be interested in.
To spice things up and impress these customers even further, you can use hyper-personalization techniques from Hyperise. With those, your customers will get tailored messages that address them on a personal level and use image personalization to elicit a reaction.
Register for a free trial of Hyperise and try out advanced personalization!

Send newsletters based on occasions
You can always shake up your content strategy with some fun occasions: from holidays and company milestones to customers' birthdays.
When you think about all the occasions you can use, the opportunities are almost endless. You can have a special discount on T-shirts on the first day of summer, offer "scary low prices" on Halloween, or create your own occasions that your customers will grow to love.
Here is how Warby Parker celebrated the first day of spring with special color palettes: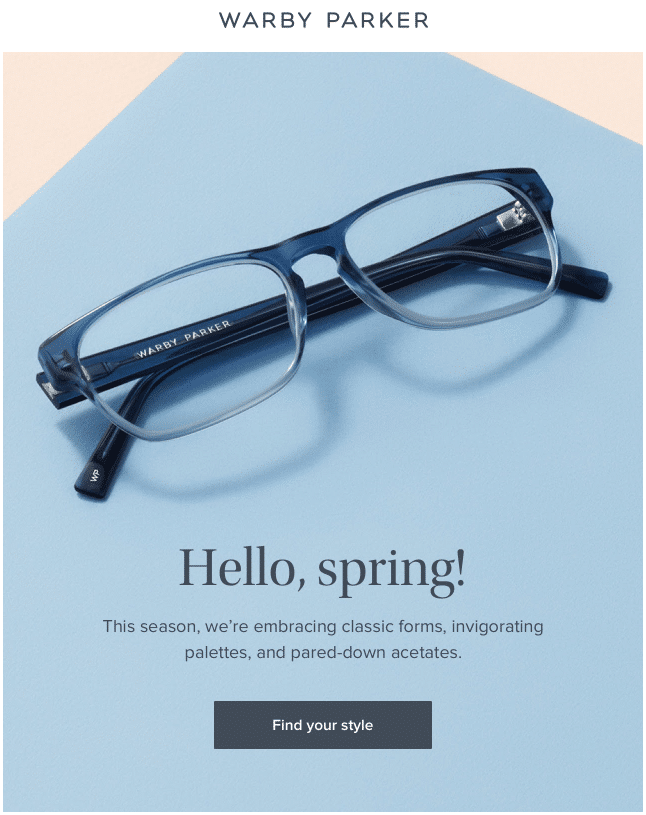 However, our favorite applications of this method are when the occasion has nothing to do with your business but everything to do with your customers. Try to celebrate your customers' birthdays or the anniversaries of their first registration on your website with special offers.
This can help you build stronger relationships and get more return customers.

Use customer-generated content
Another way to celebrate your users is to put their content at the focus of your marketing activity for a certain period.
You can ask them to take pictures, share anecdotes, and write stories that you can use to inspire others. We've seen this on social media: brands run an Instagram contest where all the users need to do is take a selfie with a hashtag and the brand might repost them, giving them a reward in the process.
It's possible to use a similar approach in your email marketing campaigns. Just look at this example from Glossier: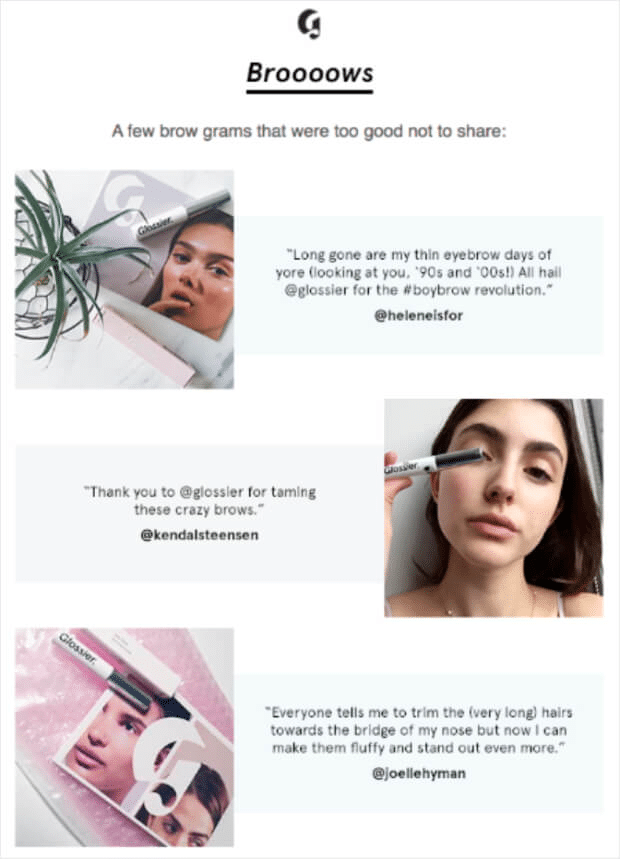 This can show your subscriber base that you have a loyal and engaged community that cares about your brand enough to participate in your content creation process!

Use quizzes
Giving your users a chance to interact with your content is never a bad idea.
Quizzes are fun – so fun that Buzzfeed has managed to create ridiculous quizzes like "Choose Some Potato Foods And We'll Reveal If You're An Introvert Or Extrovert" and get a lot of PR from them.
Some email automation tools give you the option to include simple quizzes in your newsletters to increase engagement and entertain your subscriber base. Just make sure those quizzes are on-brand and make sense for both your business and your audience.

Send a video newsletter
If open rates are one of your key concerns, you might want to consider including video in your email marketing efforts. Not only is video one of the most popular formats around, but some studies have found it can increase your open rates by up to 6%!
Unfortunately, that video might not play on most email provides if you include it directly in the newsletter. If this is a concern, you can include a clickable image with a "play" icon that leads to that video on your YouTube channel.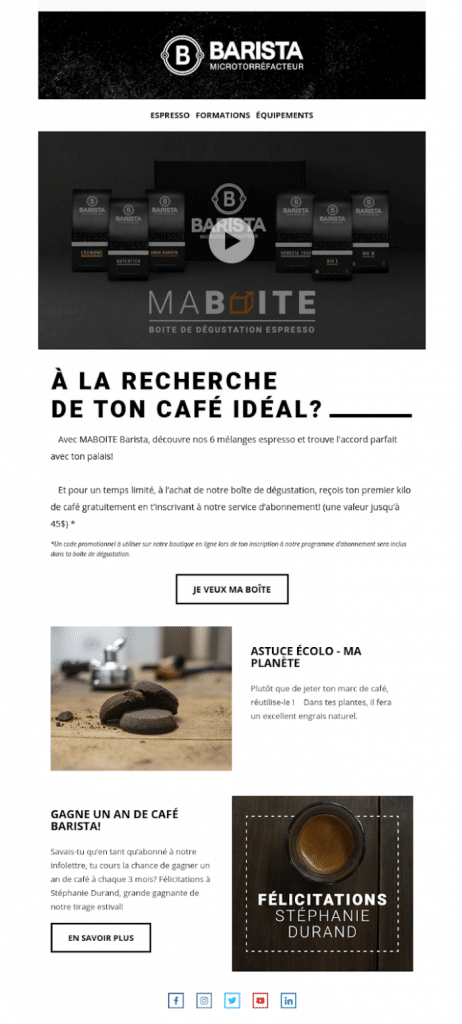 The great thing about videos is the fact that you can use them in all stages of the customer journey. You can use them to educate your subscribers about your products, send them a special promotion, or thank them for a purchase.

Email newsletter best practices
Finally, here are some tips to keep in mind when creating your newsletters. Whichever types of newsletters you decide to go for, always consider these general rules before starting.
Use effective subject lines.

Depending on your industry, your email open rates will likely fall somewhere between

15 and 25%

. This essentially means that the vast majority of your emails won't even get opened. But, if you use enticing subject lines, you'll increase your chances and get better open rates – here are some of

the best subject line practices

to make that happen.

Keep a steady schedule.

Make sure your audience knows when they can expect to receive a newsletter. That way, you'll build anticipation and you can become a part of their weekly or daily routine.

Consider mobile users.

More and more people are opening their emails on smartphones, so keep that in mind when creating your newsletters. Try not to go too long with your copy and optimize all of your images.

Use strong CTAs.

Whatever the goal of your newsletter campaign, make sure your CTAs are clear and strong. End each newsletter with a clear invitation for your fans to either check out your latest offer, read your articles, or perform any other actions. It's also a good idea to personalize your CTAs if you can
The final word
Today's consumers receive so many newsletters each week that you might have to do something special to get their attention.
But don't look at this as bad news – consider it an opportunity! You're being faced with a challenge to create innovative content that can do wonders for your brand perception and, ultimately, your commercial results.
Here at Hyperise, we believe that true personalization is the way forward. Register for a free trial of our tool and equip your newsletters with hyper-personalization features that will help you convert customers and take your whole email marketing strategy to the next level!
Final Thoughts (Update 2023)
In conclusion, marketing newsletters play a pivotal role in nurturing leads and maintaining customer engagement. As newsletters have evolved into visually stunning and content-rich mediums, it's important to adapt and explore innovative newsletter ideas to stand out in the crowded inbox landscape.
From promoting your blog or news, announcing new products, seeking feedback, and educating the audience to running giveaways, sending personalized recommendations, and even incorporating quizzes or videos, there's a wealth of creative options to enhance your newsletters. Occasion-based and customer-generated content can also foster a sense of community and build stronger relationships with your subscribers.
Remember to follow email newsletter best practices like crafting effective subject lines, maintaining a consistent schedule, optimizing for mobile users, and employing strong and clear CTAs. At the heart of it all, personalization is the key to creating memorable and impactful newsletters that resonate with your audience.
To elevate your email marketing strategy even further, consider leveraging hyper-personalization features offered by tools like Hyperise. By customizing your newsletters to cater to each subscriber's specific needs and interests, you can unlock higher conversion rates and strengthen customer loyalty. Give it a try, and watch your marketing newsletters reach new heights of success.