Customer service has become such a significant discipline in today's marketing world, that we now have dozens of automation tools to manage this process and improve through strategies like personalized customer service.
From automatic responses and live chats to elaborate CRM tools that help you track each customer interaction, these tools can have a big impact on how your users perceive your brand. You can use some of these tools to deliver what many believe to be the pinnacle of customer success: personalized customer service.
Let's learn more about this concept and see which tools you can use to give your customers a tailored experience.
The importance of customer service in 2021
Being there for your customers and giving them a helping hand throughout the whole purchase process is nothing new. It does seem, however, that customer experiences carry much more weight today than they did years ago.
For example, this Microsoft report shows that 90% of Americans consider customer service one of the key factors when deciding whether to do business with a company or not. And another report from Salesforce found that nearly the same percentage of people are more than likely to become repeat customers once they've gone through a positive experience.
Add to this the fact customers can have a huge impact on your brand image through social media and it's clear that you need to make sure your users have the best possible experience during every interaction.

What is personalized customer service?
If you're taking customer service seriously, you'll want to provide your buyers with a personalized customer experience. What does personalization mean in this context?
In the customer service industry, personalization can be implemented in several ways. For example, keeping track of all customer interactions and using your customers' names in all support chats are two significant steps towards personalization.
Sending personalized product recommendations via email is another example of a personalized approach to customer service.
The concept behind customer experience or customer support personalization is simple: you use customer data to provide your audience with tailored interactions with your brand. Doing this makes the customers feel valued and can do wonders for your brand image. It can be of special importance for small businesses that have a user-centered approach and deal with smaller amounts of purchases on a daily basis.
Here are some tools that can help you provide your users a personalized customer service through multiple channels.

1. Hyperise
Here at Hyperise, we are guided by one philosophy: wowing customers with personalized content to get the best results. We believe that meeting customers with tailored CTAs, images, and text is one of the best ways to increase conversions and upgrade your content strategy with ease.
What do we do?
We allow you to personalize your content on multiple platforms by using customer names, job titles, companies, and other data. You can do all of this with no prior coding experience – the platform sorts it all out for you with tags.
You can personalize your website, emails, or social media outreach campaigns to get an instant reaction from the audience.
Here is an example of how our homepage looks when personalized for Tim Cook, Apple's CEO: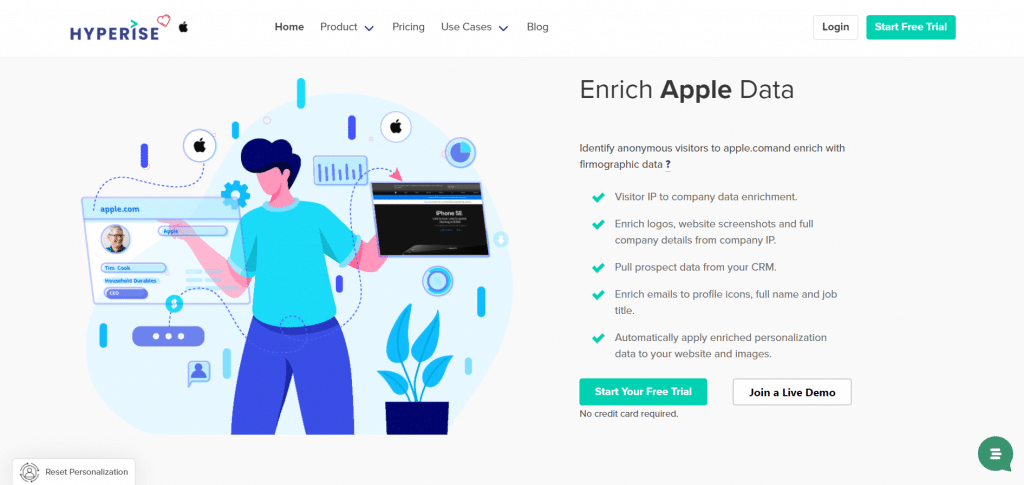 As you can see, we've used several data points to create a tailored experience for Tim: company name, company logo, his name, his picture, and a screenshot from Apple's website. Of course, you don't have to use all of these personalization features on your website but it's a great representation of all the things you can do.
Hyperise pricing
With Hyperise, there are no complicated pricing plans that require you to compare dozens of features to find out which plan works for you.
There are only two plans: Teams and Agency. The difference between the two is quite clear – the Teams plan is perfect for sales teams, SaaS businesses, and growth hackers, while the Agency plan is made for client-servicing companies. With the Agency plan, you can create client sub-accounts that allow you to deal with campaigns and billing easily.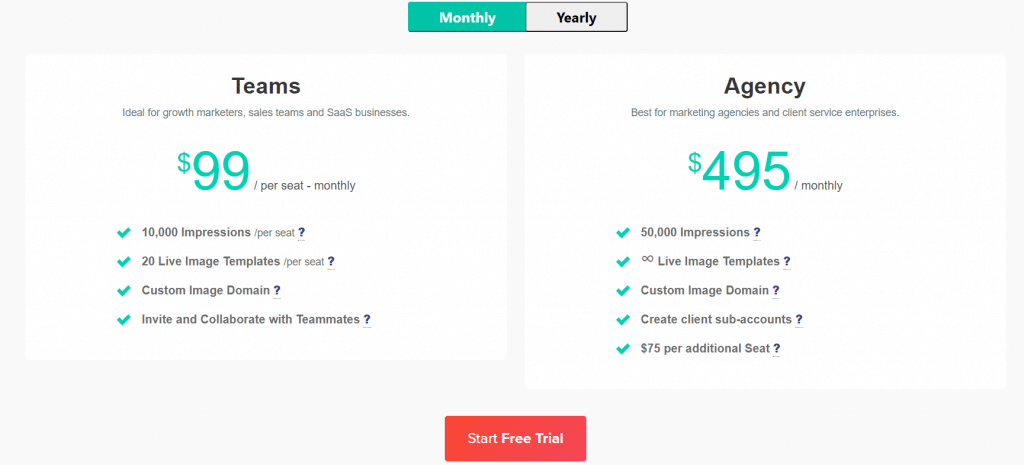 The Teams plan is priced at $99 per seat, per month, and the Agency plan comes at $495 per month. You can, however, save a significant amount of money by going for the yearly subscription instead of the monthly one.
If you want to personalize your website content to personalize your customers' experiences, try out Hyperise! Register for a free trial now.

2. SurveyMonkey
We can't talk about personalizing customer service without mentioning customer surveys. Getting feedback from your customers on your current processes or gauging their opinions before launching a feature can be extremely important for your brand.
Knowing what your customers want to see can give you an upper hand and save you a lot of time.
SurveyMonkey is one of the most popular survey tools you can go for. It makes creating customer surveys incredibly easy – you have over 150 templates to choose from. You can search for the templates that suit your business or survey type: customers, employees, non-profits, market research, etc.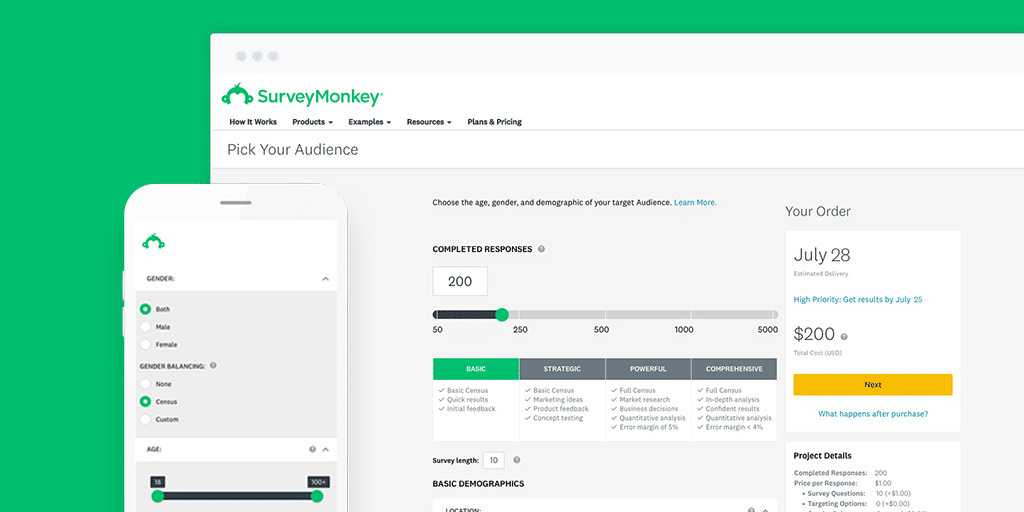 All of the templates feature a sleek design and 14 standard question types that cover everything you'll need. There is also a "question bank" with questions that are collected from real surveys along with the questionnaire from which they came. This can be helpful for inexperienced survey owners that may struggle with creating questions and formulating answer choices.
SurveyMonkey also presents surveys in a unique way, allowing users to seamlessly switch to the next question, emphasizing a good user experience. As with many types of assessment tools, you can create reports and see what kinds of results your surveys are achieving.
SurveyMonkey pricing
SurveyMonkey has lots of plans available, depending on the features you need. Their Basic plan is free, and the other plans are split into two categories: Business and Personal plans. The Business plans are Team Advantage (€30 per month, per user) and Team Premier (€75 per month, per user), and Enterprise (price estimated by request).
The Personal plans are Standard Monthly (€38 per month), Advantage Annual (€39 per month), and Premier Annual (€99 per month).

3. RingBlaze
Personalizing customer experiences means being present everywhere: on your website, social media, email, and phone lines. All these channels require a careful, tailored approach that values each customer interaction and pays attention to detail.
And, while you can track all your online interactions somewhat easily and keep track of customer data, that could be harder to do with phone calls. This could be a significant challenge, as many people still prefer to call businesses to get the answers they need. So, how do you provide personalized customer service when it's so hard to track callers' data?
A modern business phone system like RingBlaze allows your customer service agents to address this issue – they can manage calls, forward them to each other, and leave comments on those calls so everyone keeps track of user histories. Your customers can call for free (from anywhere in the world) and your agents will have an innovative collaboration dashboard at their disposal to make sure every call gets personal attention.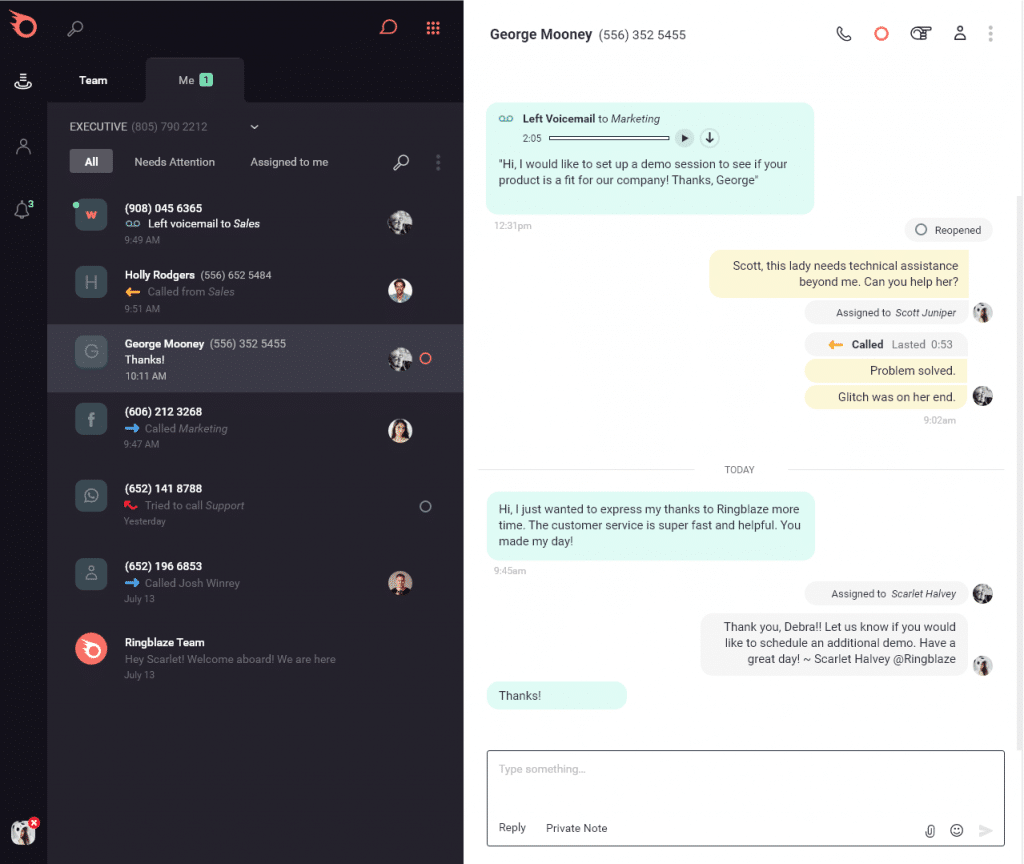 In addition to these features, RingBlaze offers a "click-to-call" button that you can incorporate into your website and allow your visitors to call you with just one click, right as they're browsing through your website.
Ringblaze Pricing
Much like Hyperise, RingBlaze doesn't over-complicate things with its pricing model. You have only one pricing plan and all the features are included. The price is $19 per user, per month, although you can save up to 20% if you pay annually. The price then drops down to $15 per user, per month.

4. HubSpot CRM
CRM is one of the main tools that have been helping brands all over the world deliver tailored experiences to their customers.
The global Customer Relationship Management market has almost doubled in the past five years, and for a good reason – businesses are focusing on treating each customer interaction with as much individual attention as possible.
HubSpot has been at the top of the CRM game with their solution that allows you to get full visibility of the sales pipeline. Like all good CRM platforms, HubSpot CRM enables businesses to track all sales activity with a focus on deal tracking, individual salespeople's performance, and productivity.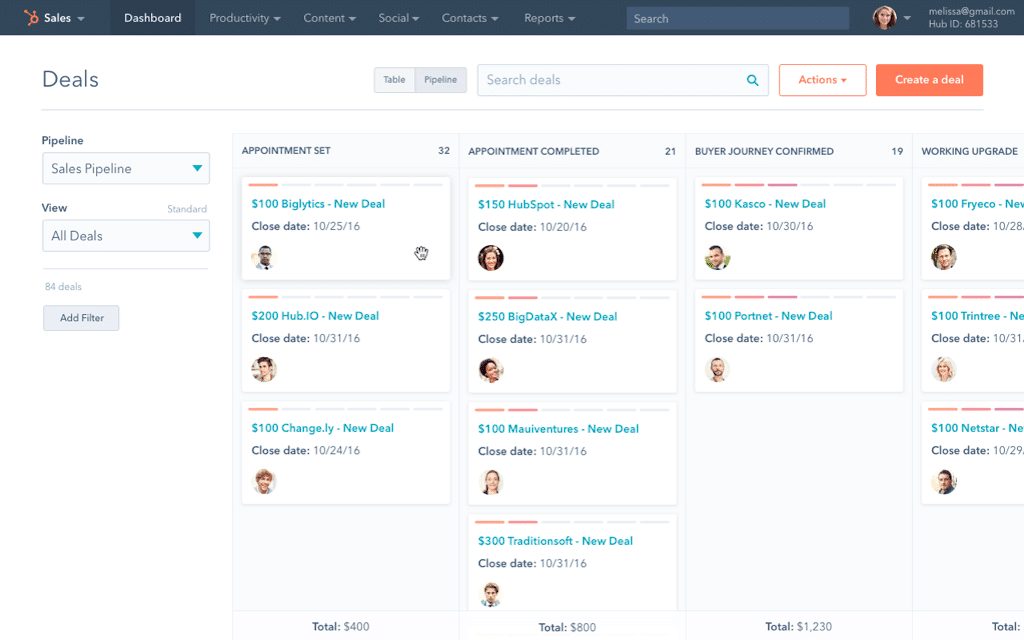 The best thing about HubSpot CRM is the fact that your contacts are automatically enriched with data from over 20 million businesses. Your salespeople will also get a notification as soon as someone visits your website or opens an email, and they'll have all the contextual data at their disposal to get in touch with the right leads at the right time.
However, the entire HubSpot CRM platform is much more than a sales and marketing tool: you get Marketing, Sales, Customer Service, and CMS hubs, all with specific features and roles to play in a business environment.
HubSpot pricing
The Sales CRM software comes in three plans: Starter ($45 per month), Professional ($450 per month), and Enterprise ($1200 per month). Keep in mind that these are annual commitment prices so monthly commitments are slightly more pricey.
You can also go for the free plan which does come with useful features like live chats, email scheduling, email tracking, etc. But to truly unlock HubSpot's full potential, you'll need features like triggering tasks based on deal stage and Sequences, which are only available starting from the Professional plan.

5. Google Analytics
You can't personalize service without first knowing your customers. To provide a tailored experience, you need to know who you're trying to personalize for. That means diving deep into your customer base, getting to know your demographic, and understanding their preferences.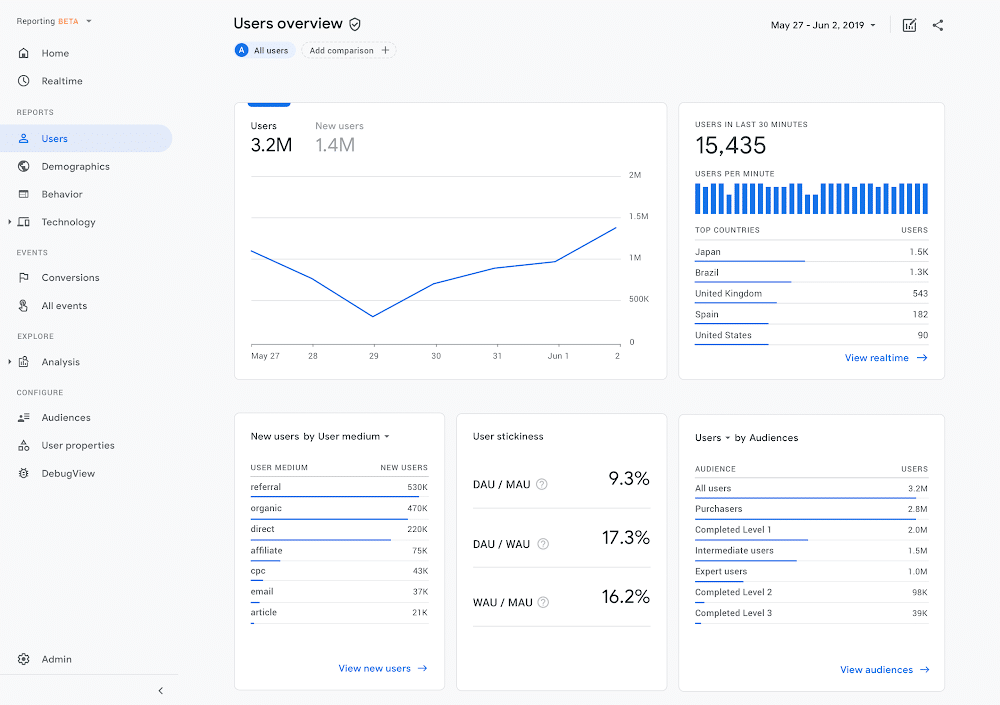 There are a lot of website analytics tools out there but Google Analytics is largely considered as the most popular, most advanced solution.
What can you do with Google Analytics? Here are some of the most important actions.
Track conversions.

Are people actually clicking on buttons, downloading PDFs, and putting products in the cart? More importantly,

which products

are they putting in the cart, and which products generate the most interest? This can tell you important things about what your customers want, which is the ultimate information you need to provide personalized customer service.

Get to know your users.

Arguably the most important thing when it comes to personalization is getting user data. Demographic data like age, gender, and areas of interest can be especially important. It tells you which users should be targeted with what kind of content and tone.

Learn where your users are coming from.

You can't use the same messaging and offer for people from different locations, especially if you're running a business with physical stores. Google Analytics allows you to see which cities or countries your messages are resonating with the most.

See which channels bring the most visitors.

You might love your Instagram marketing strategy but what if most of your best customers are coming from Facebook? This information can help you better target your marketing efforts and focus your attention on the channels that work.
Google Analytics pricing
For small, medium, and many large businesses, Google Analytics is completely free. There is the Google Analytics 360 platform but its price ($150.000 per year) clearly indicates that it's aimed at global enterprises that have a need for complex suites and features.

Personalized customer service tools: the final word
To provide personalized service to your customers, you have to take a holistic approach. One tool that performs a set of actions can be a good first step but your whole customer service strategy needs to be built around personalization and customer data.
When you take a step back and look at your strategy with the users in mind, you can start thinking about tools that are going to make this process as easy as possible.
If you're interested in implementing advanced personalization techniques to your website, check out Hyperise. It allows you to provide your website visitors with personalized CTAs, images, logos, text, and other elements that add to a tailored experience that converts!
Register for a free trial of Hyperise now!