6 Linkedin Automation Tools to Boost Your B2B Sales in 2021
If you're in the B2B industry, you'll probably be aware of the huge potential of LinkedIn prospecting for your business.
The network is filled to the brim with industry professionals and decision-makers that you can get in touch with to get quality leads and booked demos. LinkedIn automation tools have become among the most popular means to achieve this goal, with new tools showing up on what feels like a monthly basis.
There's only one problem – with so many B2B professionals doing the same, you need to do something to stand out.
Which LinkedIn automation software should you use to get the best results and make the most out of your prospecting efforts?
Before we get to our favorite LinkedIn tools in 2021, let's go through some key concepts of automation and learn the unique challenges of LinkedIn prospecting.
An intro to LinkedIn Automation
Sending connection requests and creating new partnerships on LinkedIn is a great way to widen your professional network.
And, while you can do this manually, automation has recently been on the rise for all the right reasons.
For starters, automation allows you to reach out to more people every day. If you were to write each connection request message (and the follow-ups) manually, this would be very time-consuming and potentially stressful. Automation allows you to take all the mundane work out of the process and focus on the big picture.
LinkedIn automation software also allows you to perform multiple tasks at once: automated lead generation, lead qualification, outreach, data extraction, analytics, etc.
However, there is one important question that often arises when we talk about automation: how can your messages stay personal and look like they've been written by a human if you let a machine do the work?
That's where personalization comes in. Good LinkedIn prospecting tools give you the opportunity to personalize your approach and reach out to each prospect with unique messages that convert.

Before you get started
To make the most out of your out LinkedIn prospecting efforts, make sure you've covered the basics. Investing in the best LinkedIn automation tool won't be as effective if you miss out on the following things.
Make your profile presentable.

That means making sure your profile picture is professional, your headline and description useful, and your skills endorsed. Prospecting can do only so much – once the users check out your profile, they need to have something to see.

Post content.

Another thing that will improve your chances of generating leads through prospecting is posting quality content. When your prospects visit your profile, you want them to see that you're in tune with the latest industry news. You want to present yourself as an authority as much as possible.

Use recommendations.

Social proof means a lot in the B2B industry. Ask your satisfied clients to write recommendations and post them on your LinkedIn profile. This will show your prospects that you already have substantial experience in the industry and happy clients in your portfolio.
As you can see, all of our three basic steps are geared towards one thing: increasing your profile in the industry and making sure that your profile is up to speed. When this is taken care of, you can expect great results from prospecting.
Take a look at this profile and you'll get what we're saying: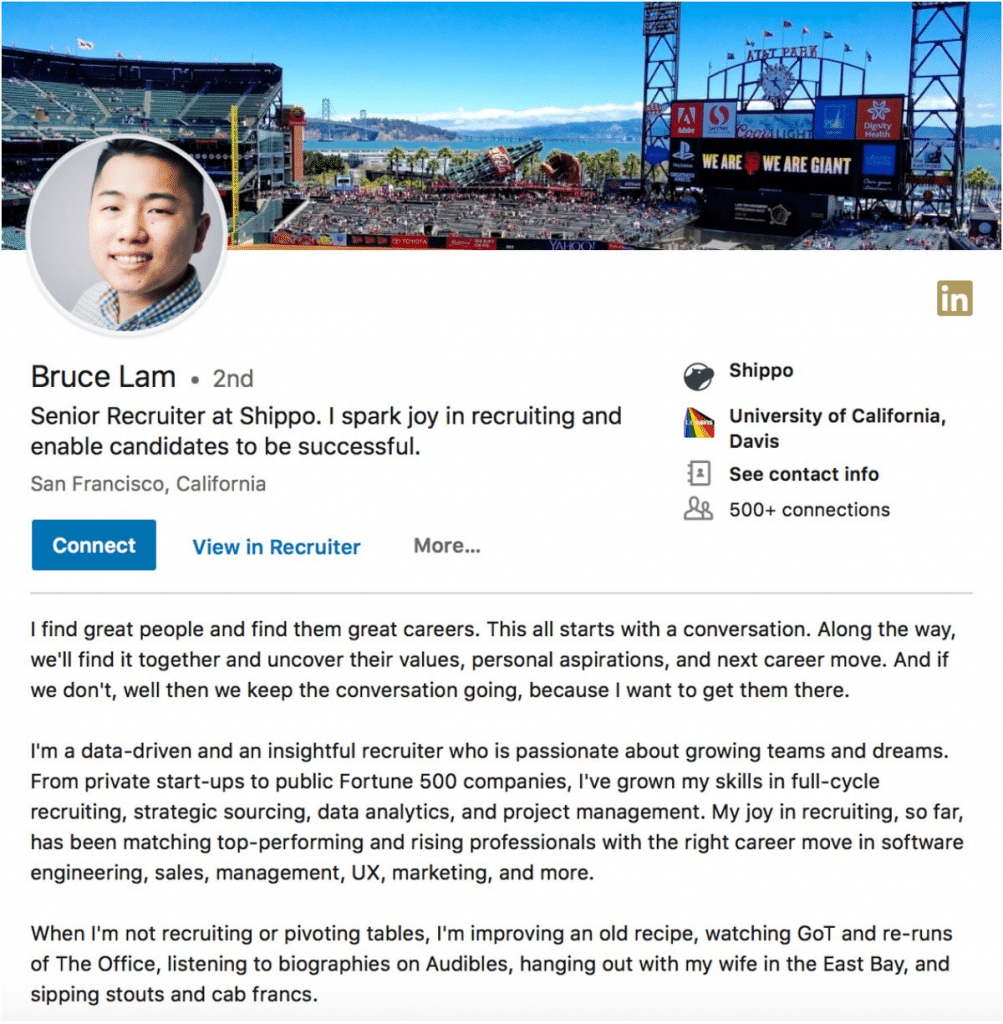 The profile and cover pictures are taken care of, and the description is straightforward, honest, and informative. The headline and the first sentence of the description are particularly well-written and they tell you exactly what the person is all about.
Now that we've covered all the basics, let's get into our favorite LinkedIn automation tools!

When we created Hyperise, we had one question in mind: how do we take personalization to the next level while making it as easy as possible to execute.
As an answer, we came up with a solution that enables sales professionals to add impressive personalization options to their outreach messages. With Hyperise, you can use image personalization to tailor your messages in different ways.
For example, you can use name tags to include your prospect's name in an image and reach out with a message that will thrill even those leads that aren't interested in your offer. That's exactly what happened to us when we tried this approach: we got positive responses from prospects that weren't interested in our product!
Apart from this, Hyperise allows you to personalize for much more than just your prospects' names. You can personalize for their location (include a map in your message with their location pinned), use their profile pictures, website screenshots, and various other data like their job title, company name, etc.
When you combine some of these features, you might end up with a message that looks like this: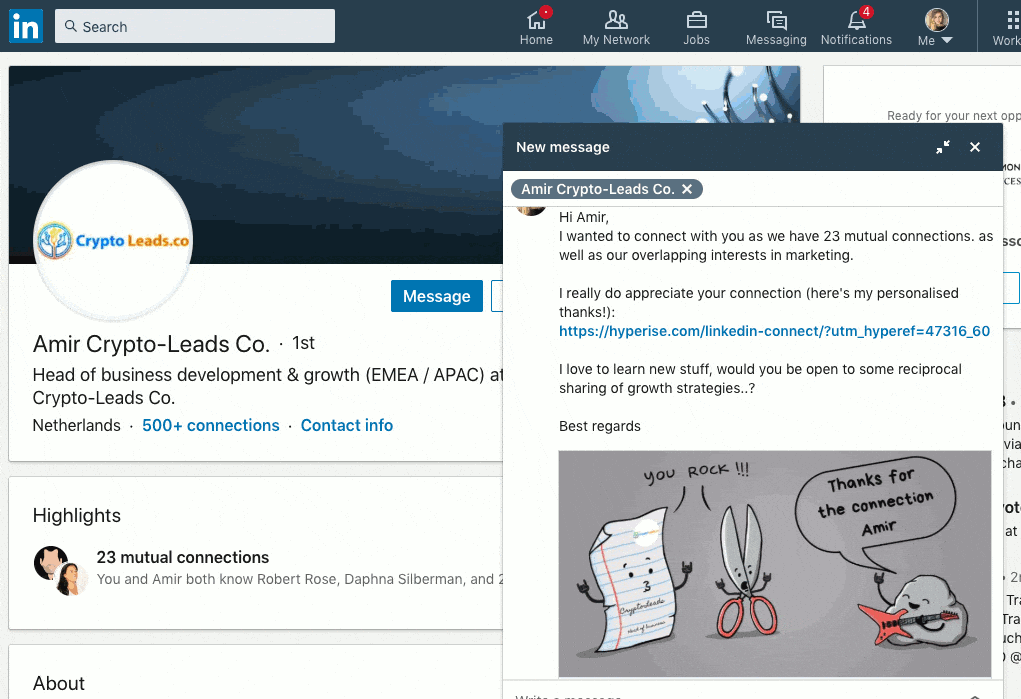 So, we've personalized for our prospects' names, interests, locations, and the things that connect us. We've also used both image and text personalization.
Among Hyperise's other features, you'll also see website personalization – a feature that allows you to tailor your website content to each visitor, with no prior coding knowledge.
Hyperise pricing
Hyperise comes in two pricing plans: Teams ($99 per seat per month) and Agency ($495 per month).
The Agency plan is perfect for agencies that serve multiple clients, as it allows the creation of client sub-accounts which makes managing different campaigns much easier. You also get more image impressions (views) and unlimited live image templates.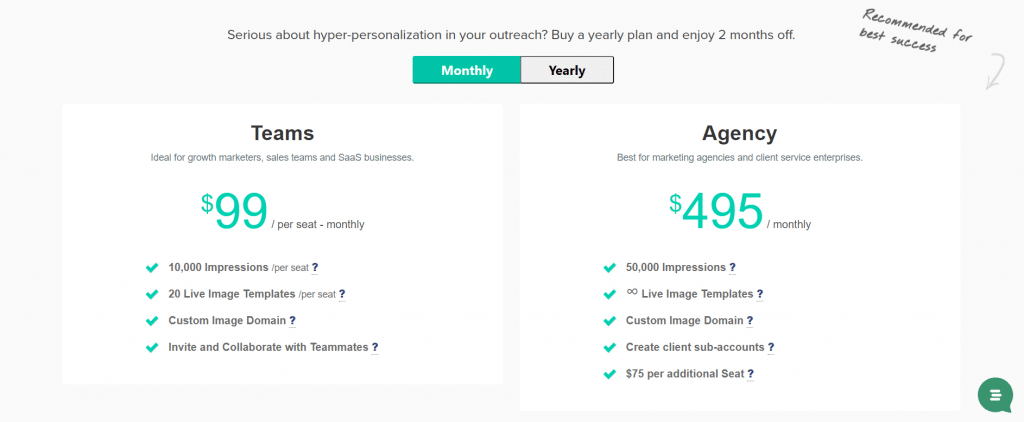 If you like what Hyperise has to offer, feel free to register for a free trial – it's quick and easy!

2. Expandi
Expandi solves one significant problem you might run into with LinkedIn automation: safety.
LinkedIn is generally not too approving of automation tools and if they notice any unhuman-like behavior on your profile (like sending too many connection requests every day), your account could get banned rather easily.
Expandi markets itself as the safest tool for LinkedIn prospecting – it's cloud-based (not browser-based) and it gives you a dedicated and local IP address, unlike other automation tools that give you a different IP every time you log in, which LinkedIn can detect.
One of Expandi's standout features is something they call "dynamic personalization". This allows you to take personalization further than just the "first name" and "last name" tags.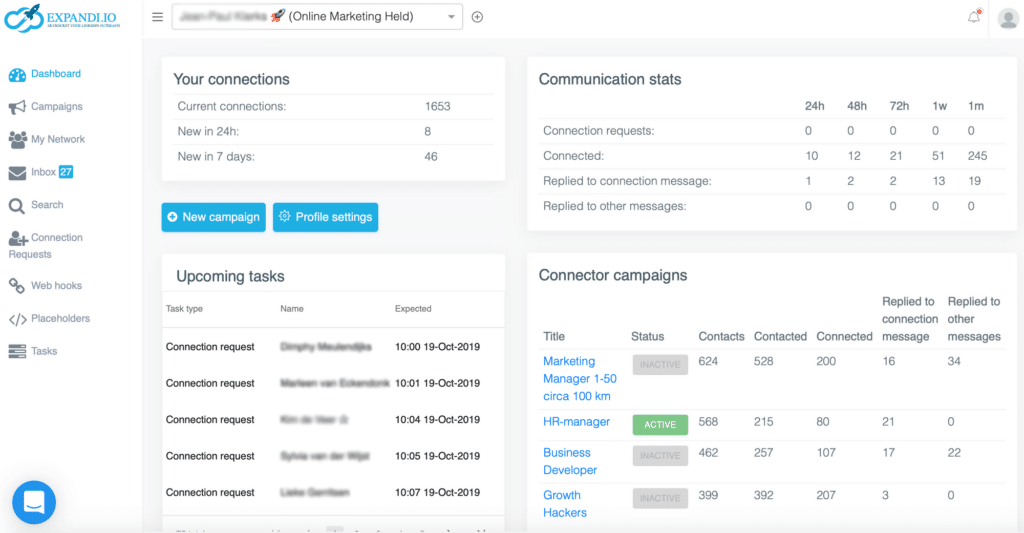 The guys from Expandi are very transparent about their tool and its capabilities: they use it for their own outreach campaigns and document everything they do in great detail on their blog. You can see all the features, get some useful advice, and see real results from their actual prospecting campaigns. 
Expandi pricing
Another refreshing thing about Expandi is the simplicity of their pricing model: you have only one pricing plan and it comes with all the features they offer.
The price is $99 per user per month, and you get features like profile auto warm-up, dynamic personalization, 2-way integration with any CRMs, and others.

3. LinkedIn Sales Navigator
LinkedIn may discourage automation tools in general but their own automation tool is one of the best ones you can use. 
One of the best things about this tool is the way it allows you to conduct deep lead research. With the Sales Navigator, you can use elaborate search filters to narrow down your result to an amazing degree. In an age when lead quality is much more important than quantity, LinkedIn Sales Navigator is a precious tool.
Here's what we mean: by using Sales Navigator's filters, you can specify a prospect's job title, previous/current employer (and how long they've been employed there), gender, industry, school, and many other data points. You can use boolean operators to narrow your results even further.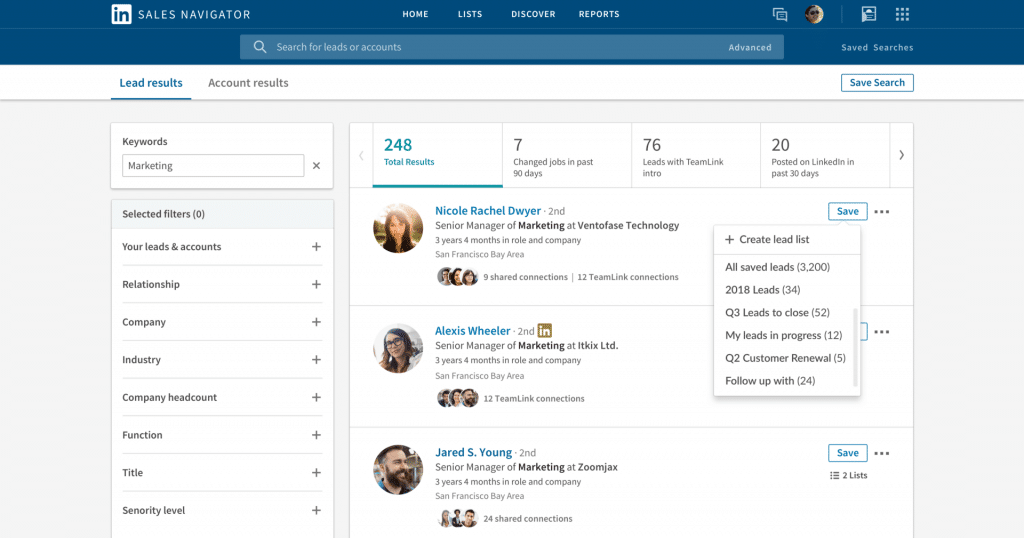 However, when used on its own, the Sales Navigator can be a little underwhelming and not too easy to use. You might be better off combining its great lead generation capabilities with some other automation tools that allow you to reach out to those leads. A lot of LinkedIn automation tools give you the option of importing your leads from Sales Navigator.
LinkedIn Sales Navigator pricing
The Sales Navigator comes in three pricing plans: Professional (64.99), Team (133.33), and Enterprise (on request). Each plan can be substantially more affordable if you choose to go for the yearly payment model over the monthly one.

4. TexAu 
TexAu is an automation tool that can be of great use for lead hunting.
With it, you can extract data from some various sources, including some important places like LinkedIn groups. In practice, this means that you can join a LinkedIn group from your industry, see if the members are actively engaged in conversations, and then scrape all those contacts to use them as prospects for your next campaign.
You can also extract contacts from Facebook and use TexAu's LinkedIn Profile URL Finder tool to get their profiles and achieve a similar effect.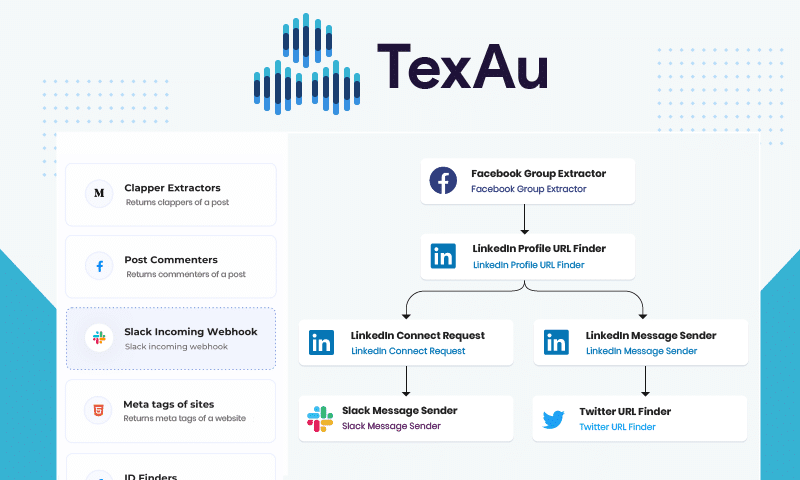 Additionally, TexAu allows you to Auto Like, Message, Comment, and Endorse any profile you want.
Like the LinkedIn Sales Navigator, TexAu can be used as a powerful addition to any other automation tool you might be using. Simply use TexAu to extract leads and reach out to them with a LinkedIn prospecting tool.
TexAu pricing
You can try TexAu free of charge for two weeks. After that, you have three options: Starter ($29), Growth ($79), and Agency ($199) plans. TexAu limits your total execution time for each of these plans, starting at 1.5 hours for the Starter plan and going up to 10 hours in the Agency plan.

LinkedHelper
A browser-based tool, LinkedHelper lets you automate some surface-level LinkedIn tasks like messaging group members, extracting contacts, and outreach. You can also automate some other basic tasks like endorsing and inviting.
It used to be a Chrome extension until that got discontinued because of safety concerns. The tool now works as a smart browser app and it even has its CRM system that allows you to store all your processed contacts and view their histories.
LinkedHelper pricing
LinkedHelper's pricing plan relies on the amount of time you want to have the tool for.
So, if you want it only for one month, the price is $15. You can go for three, six, or twelve months, and your monthly fee will go down as the time period keeps going up.
Whichever plan you choose, you'll need to pay it in the form of a single payment.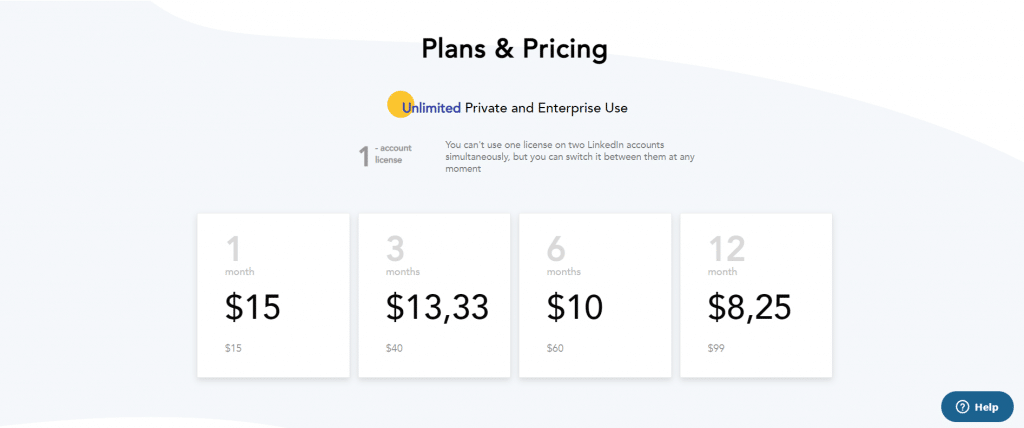 LaGrowthMachine
What makes LaGrowthMachine stand out on this list is its innovative approach when it comes to the presentation of automation routines. The practical process of creating a routine feels easy, natural, and just plain fun.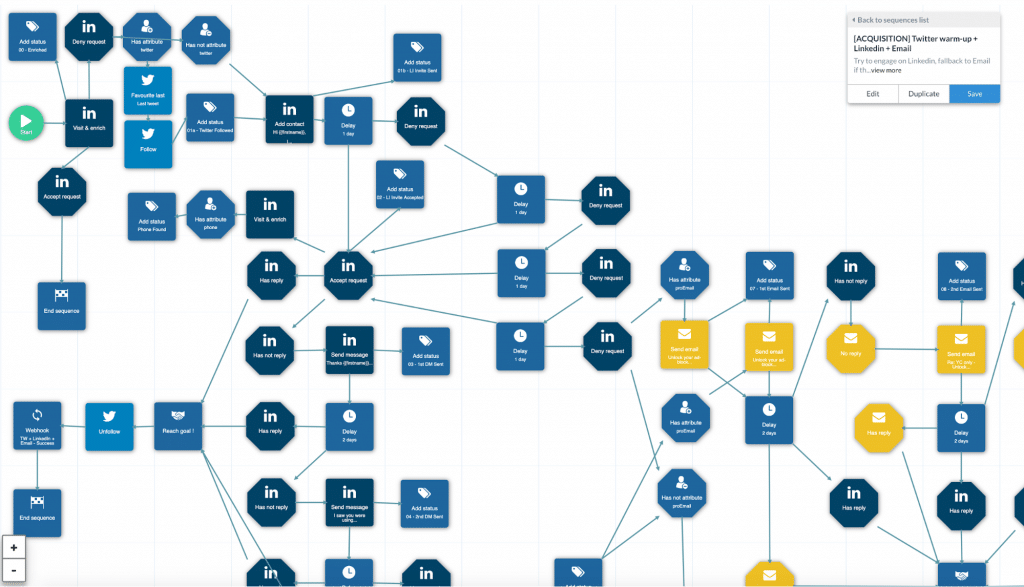 By dragging, dropping, and creating connections, you get to customize your sales routines entirely. So, what happens when someone accepts your LinkedIn request? Do you maybe send them an email? What if they don't accept your request? How long before you send them a follow-up?
You get to decide on all of these questions, along with many others. You're presented with a blank slate and you can build a routine from scratch. You can also use one of their templates but where's the fun in that?
LaGrowthMachine also allows you to enrich prospects' profiles. Let's say you imported a CSV list of leads you got from Sales Navigator. With LaGrowthMachine, the information about those leads will automatically get filled with scrapped data from other networks: email, Twitter, website, phone, etc.
LaGrowthMachine pricing
Like Expandi, LaGrowthMachine has only one pricing plan: 220€ per user. 
For this price, you get unlimited leads, unlimited verified emails, Twitter, and phones, and unlimited automated routines. You also don't have to sign up for a yearly contract, you can just try it for a month and quit if you don't like the features.

Conclusion: the best LinkedIn automation tools
As you can see, LinkedIn tools can perform all sorts of tasks, from personalization to lead automation.
It's up to you to choose the ones that suit your business the best and do all the smart work to get the most out of them. Do your research, compare features, and check out pricing plans.
And, if you're excited by the prospect of including advanced personalization into your outreach campaigns, take a look at Hyperise. It allows you to hyper-personalize all your messages with minimum effort.
Register for a free trial and try it out!