You may be tired of checking the follow-ups of a bulk amount of emails. Well, there's an easy solution indeed.
Recently, email marketing has seemed to be a great way for any marketing strategies like launching new features or increasing brand awareness. As it doesn't need any payment, people are attracted to it.
As a result, it's required to follow up on how people respond to the emails. That's when you need email tracking software.
Many email trackers for Gmail have exclusive features and are free. In this guide, we bring you a list of the best free email tracker for Gmail that can give a wide range of landmarks.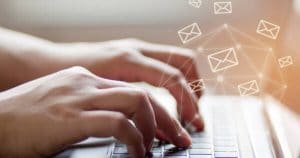 Advantages of Email Tracker
If you ask about the advantages of an email tracking tool, there're not plenty to say but a few important ones that can help you run your business thoroughly. What are they? Let's check out.
Know When to Connect with Your Customer
When there was no email tracking system, it would be hard for sales professionals to know if the recipient had opened the email or not.
As a result, they wouldn't be able to make an easy call. Like, if the recipient hadn't opened the email, they wouldn't know what to say.
But now, with free email tracking software, marketers know when the customer opens and reads the email. So, they can easily make the call for further connections, thus increasing his sales.
Finding Out the Right Time for Sending Emails
You don't have to think hard before sending any emails thinking about whether the time is perfect. It's because email trackers let you know the schedule of your customers by aligning the messages.
In this way, you know when your customers read most of the emails. So, you can send yours at that time and grab their attention.
Improving the Content of Your Marketing Emails
You can also know how much time your customer spends reading your email through email trackers. It helps determine whether the recipient is interested in your marketing system or not.
If they don't spend a lot of time, you should change your strategy, and if the person likes your pop-up image or product video, you'll know. Try to personalize your images and videos from Hyperise, so they can be professional and interesting. This way you can increase your sales.
The 9 Best Free Email Tracker for Gmail
Not all the email tracking features are free for Gmail. Also, some trackers are only free on some specific email services. Here, we're listing the 9 best free email trackers for Gmail. Here we go.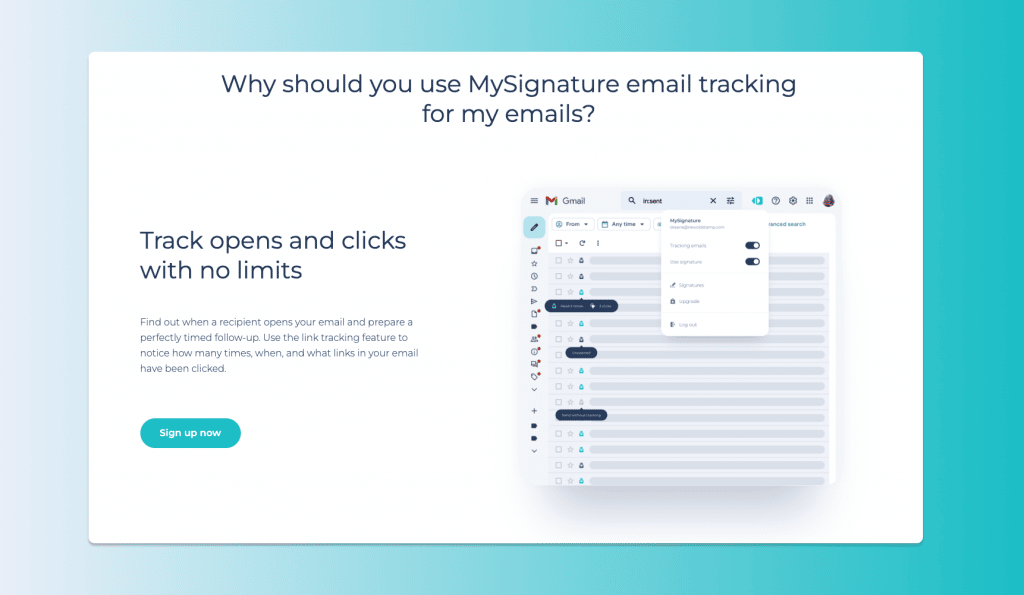 Get real-time insights on who reads your emails and who's ignoring you.
Unlimited tracker of openings, clicks, Pro features – everything you need for personal email marketing in one service.
The main advantage of MySignature is that we provide email signatures as well. So no need for 2 tools for creating signatures and tracking email openings and clicks.
Install the MySignature extension and activate signatures and email tracking. Click compose to see your signature and send an email with tracking. Tracking icons appear in the "sent email" folder, in the threads, in the email.
MailTracker by Hunter is a Chrome extension like other tracking programs. Though it's known as an email verification and lookup tool, it can also track email in Gmail in a formative way.
The main advantage of using this program is it has unlimited email tracking all the time. It is because it has no upgraded version.
It does basic jobs like opening the track and showing the opening of threads and inside conversation.
You cannot track other activities through this, like getting a notification when the mail is opened or other feathers that other improved programs offer.
Unlike other trackers that offer tracking clicks and openings, EmailAnalytics lets you monitor email activities.
It provides plenty of features like the usual response time of email, the number of emails received and sent, the top receivers and senders, and when you get most of the emails. In short, it gives you a total analysis of your vital email metrics.
Do you want an unlimited free email tracker for Gmail? If yes, then you're in the right place since SalesHandy offers Gmail users a lifelong free version.
SalesHandy gives you instant desktop notifications every time an email is opened or clicked by email clients. It has features like attachment tracking, email scheduling, automated follow-ups, etc. Creating an email template and saving it is another feature of this program.
Well, it has a paid version that lets you complete email insight with Zapier and CRM.
If you're looking for an email tracking program that can work both as a CRM and an email tracker, then Streak is what you're looking for. This sales-oriented tracking program can play a role in each tool.
Streak is free for a lifetime if you continue to use the starter plan. But there are also paid plans where you can get more data by spending fifteen bucks per month.
We bet you want to know the features! You can track emails, make email templates, get private pipelines, core CRM, and merge emails (limited to 50 contacts).
Using this email tracking software, you can track emails when they've been seen in both paid and free versions.
For tracking emails, like whether it's been opened or not, Mailtrack provides a good service. This simple program is free to use if you want this limited service.
For extensive services and daily statistics reports, you can upgrade to the pro version, which cost around 4.99 bucks per month.
In the Gmail account, it adds double checkmarks. The first one indicates the delivery of the mail, while the second one implies the opening of the tracked emails.
Who wouldn't like to know about his perspective on customers' interests! Gmelius helps you understand your recipient by evaluating their engagement and location and monitoring the people included in BCC and CC.
This way, you can nurture your customers based on their activities at a specific time. This program generally sends a notification to you when someone clicks on your email, opens it, and is free.
Also, you can schedule a calendar, save email templates, and create a to-do list with the help of this program. For these features, you have to pay monthly.
After sending the email, you can see a checkmark of green beside the recipient's name if he or she has opened the tracked email. Monitoring this way doesn't require any action from your recipient.
Another amazing email tracker that shows if any email is opened or checked is Snovio. It sends your browser notification when any recipient clicks on a link or opens an email.
Well, like other email tracking apps, it's also free to use. Isn't it cool?
Several labels in your Gmail account indicate the activities like if the recipient clicks on the email, the label will be of green color. If they open the email, the label will be purple, and it'll be white if it's left unopened.
Also, it has a Send Later function that helps you send scheduled emails with the facility of switching Gmail accounts. There's a side panel for checking the open and click history in the Gmail inbox.
If you want a tool with multi-functions besides tracking your Gmail, the Mailalert is your thing. It provides all its features without a single penny, and it's the same for all.
Besides tracking emails, it offers click tracking and real-time notifications without any branding. So, when you stick to these features, you can go with this best email tracking software. Otherwise, you have to move to another one to have other features.
Along with one of the great email lookup tools, Vocus.io is an email tracking tool that gives you reminders sequentially with follow-up emails.
It has several features like tracking link clicks, email opening, and sending scheduled emails.
If you don't want to use these apps, you can try google analytics as an alternative to track emails.
The Finishing Line
For a business person, email trackers help immensely design any email campaigns and check out the most of them. You can know how your receivers respond to your advertisements and improve your flaws.
As you now know about the best free email tracker for Gmail, advantages, and disadvantages, you can choose wisely your desired one. And, to increase your sales, you can use images and videos from Hyperise in your emails.