Nowadays, business-to-business customer experience (B2B CX) is one of the top priorities for most B2B companies. Consumer-centric strategies and customer relationships usually belonged to B2C (business-to-consumer). However, with the rise of online and digital services, B2B companies switch to customer-led innovation, improving their touchpoints to provide a positive and smooth experience for their vendors and business customers – the so-called CX strategies.
More and more customers demand an effortless and personalized experience. According to the Microsoft Dynamics study, 95% of consumers think that B2B customer service is essential to be loyal to a company. As a result, the traditional B2B customer mindset is moving towards a simplification of the process for instant user satisfaction.
What is B2BCustomer Experience?
By definition, B2B customer experience is the overall vendors' journey happening in the supply chain with a B2B business—before, during, and after the purchase of a product or service. In short, it means creating an "Amazon-like" experience for your vendor consumer from the beginning to the end. B2B consumer experience combines strategies to anticipate consumers' needs and personalize automated tools to satisfy their demands.
Have you ever logged in to a Netflix account that isn't yours? Among recommendations, you find films you would never watch and favorite picks that simply don't represent you—because that Netflix account is personalized for someone else. That's a perfect example of how a lousy digital experience would look like.
When you open Netflix, you want to see what you like, and no one else's picks. Before the pandemic, research showed that 69% of buyers expected "Amazon-like" experiences for purchases on eCommerce and apps. When it comes to B2B, this expectation highly impacts consumers' decision-making and, more importantly, customer loyalty. According to the same study, 89% of people expected companies to predict their individual needs. Furthermore, 67% were considering switching to a customer-oriented company.
Why B2B Customer Experience Will Get You More Business
Customer service strategies are essential to increase your revenue. McKinsey shows that B2B customer experience brings several benefits to companies, including a 10 – 15% revenue growth; increased client satisfaction scores; improved employee performance; and a 10 – 20% operational costs reduction.
As we mentioned initially, poor customer service is the key to making your customers run away. Like B2C (business-to-consumer), a B2B audience is likely to abandon a shopping experience because of poor service. Studying B2C and B2B experiences, The Tempkin Group found that 86% of people who purchase in the same place had a positive customer experience. More importantly, satisfied customers tend to buy 50% more frequently and spend 200% more annually.
But, with a poor customer-centric experience, you will get the opposite result. According to the Sana report, B2B customer's top priorities are cost savings, efficient purchase process, and internal client satisfaction. If your service doesn't provide fair deals, personalized customer support, or doesn't offer quick and accessible services, your sales teams will lose customers. And, acquiring a new customer costs 6-7 times more than maintaining a loyal audience.
Investing in an efficient customer experience doesn't only improve your retention rate. It helps you save on budget by targeting your campaign on users' needs and creating better relationships with testimonials and user cases.
How To Improve Your B2B  Customer Experience
Most businesses struggle with customer-experience strategies because they lack established tools, metrics, and internal processes to deliver a better service.
Here are 5 strategies to improve B2B customer experience for your business:
1.   UI/ UXDesign: Make It Easy  
Back to McKinsey research, B2B companies rank below 50% compared to steady 65 -85% scored for B2C companies on Google. These data show that B2B customers are less happy with their online interactions than B2C customers. Indeed, customer expectations drastically drop when it comes to B2B marketing. According to the research,  B2B buyers often view the purchasing process as complicated and time-consuming because B2B organizations lack page optimization to facilitate users' interactions.
Following the shift to customers-centric strategies, B2B websites are improving their interfaces to create a more user-friendly experience. The scope of a good UX design isn't merely aesthetic. It's also an effective strategy to inform, attract and persuade companies to engage with brands.
A great example of effective and strong B2B website design is Blake Envelopes. The interface's images and colors guide the visitor in discovering their quality products, offering a complete overview of their services at first glance. The menu bar includes all the information a future consumer would need, simplifying the buyer's journey. The interface design creates an immersive experience for users, personalizing the service with a readable and interactive website.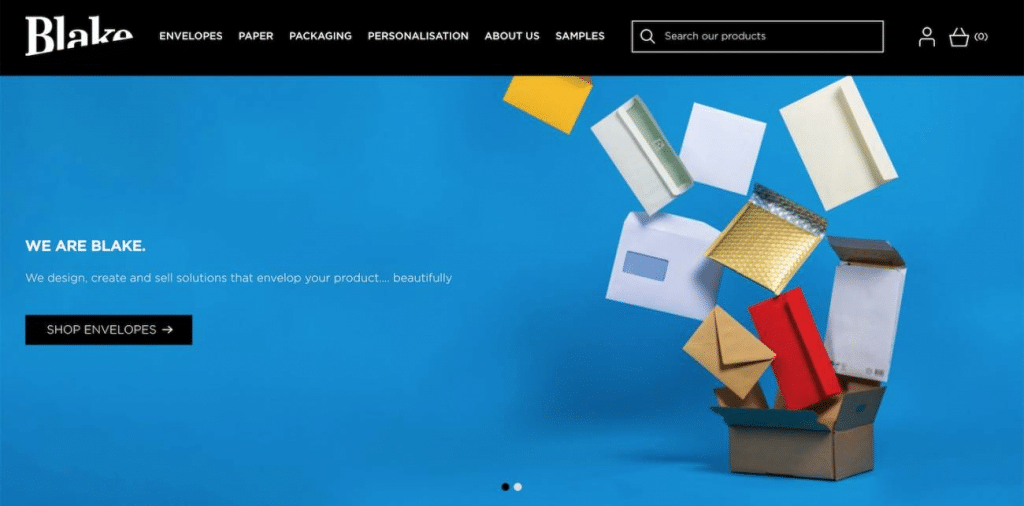 To recap, interactive and well-designed user interfaces are the first step to create a positive and personalized consumer experience:
Optimize your website and e-store: To achieve a positive customer experience means simplifying and reducing the steps necessary to complete an order and personalizing your website.
Predict order errors: Order errors are the first reason to abandon a purchase. It's important to create automation systems to identify leading causes and improve the process over time.
Consumer-led innovation: Technology is the best ally to guarantee a positive B2B customer experience. From voice commerce to AR/VR, digital strategies can improve the user experience and help you define your brand identity.
2. Customer Service: Make It Fast
Time is a precious resource for all of us, including your customers. If the process to place an order takes too long or has time restrictions, you will lose consumers over time. The goal is to provide an efficient and fast service, both virtual and on-site:
24/7 self-service: If an ongoing direct line isn't sustainable for your company, you need to provide an automated online platform. Besides a 24/7 service, you can provide a better alternative for your consumers. According to Sana, over 60% of B2B buyers prefer online solutions such as chatbots to find out product information, check inventory, monitor delivery details, and pay invoices.
A great example of a B2B chatbot to navigate a specific website's content is HubSpot, a leading company in marketing, sales automation and customer services. Opening their webpage, visitors can immediately find the chatbot on the right corner.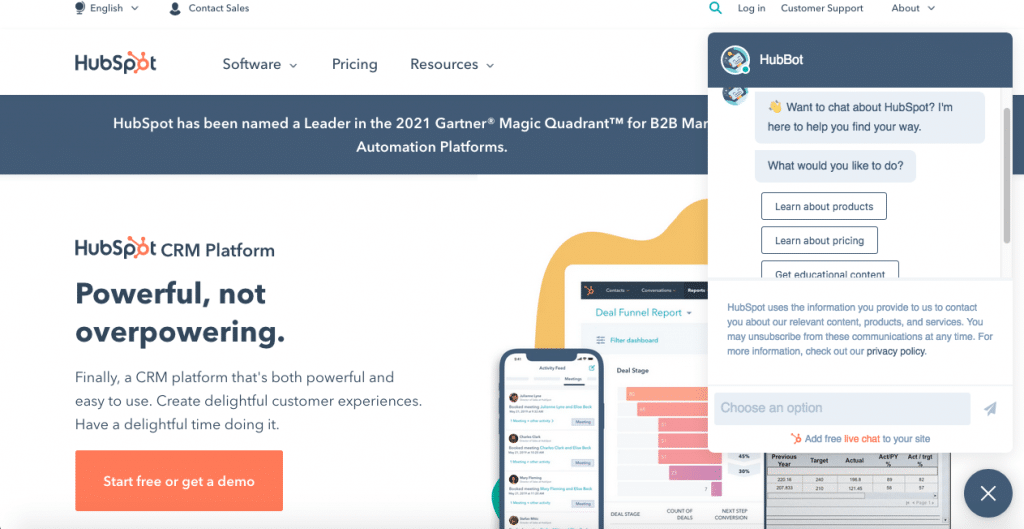 The chatbot effectively guides visitors by offering specific information and calls to action. For example, the first step leads you to products, pricing, or educational content (image 1). If you want to learn more about their products, the chatbot gives you the option of starting a trial for free or to speak with someone in the team (Image 2). After that, visitors can directly chat with a team member or leave a contact email in case they have to interrupt the conversation (Image 3).
This B2B chatbot is a great example because it combines personalization and efficiency. Indeed, the visitors feel that he/she can navigate the page following individual goals. However, the chatbot offers limited and targeted options, simplifying the process of navigation and improving customer service.
Quick responses: Even if most people prefer self-service functionalities, 30% of consumers still feel more comfortable with offline interaction. Also in this case, automated systems are a valuable support to re-engage your customers via email or messages, improving the quality of your customer service In addition to your website, train your sales and service teams to quickly answer inquiries and handle complaints to build a long-term relationship with your consumers.
Payment and delivery system: One of the most relevant factors for a good experience is the payment and delivery system. Update the whole order-to-cash process connecting it to your payment system, and delivery providers, and more. From deliveries to returns, you can't allow friction to maintain your consumers' trust.
4. Back-end Integration: Make It Personal
One of the biggest challenges for B2B companies is storing and managing consumers' data. According to Customer Think, only 17% of companies have fully integrated systems to analyze data and make targeted decisions. As a result, companies struggle to target their strategies to include customer feedback and improve their performance.
An inspirational example of this strategy is Poolsure. The company provides chemical treatments products for aquatic facilities such as water parks and apartment buildings. Back-end integration systems allow them to organize their services based on the consumer's needs. Their portal combines customers' actions, pool data, and warranty information to calculate the quickest route for users. As a result, visitors can customize and target their research having an overview of all the possible options with their services.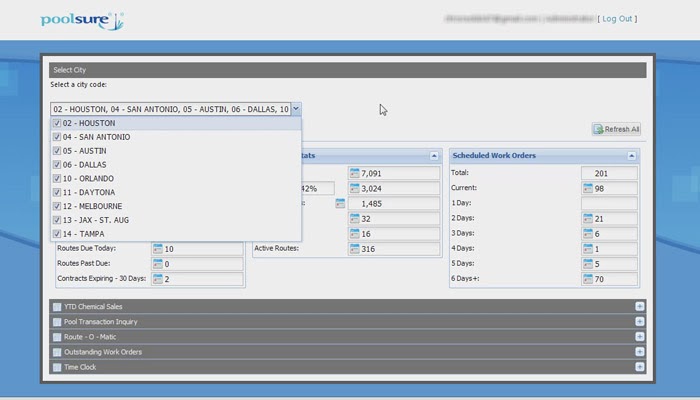 Back-end integrations allow easier and accurate real-time access to customer data to predict consumers' behavior. From customer service to social media, you must be able to access customer insights from each department. A customer-centric approach helps you gain a better understanding of your audience to build a long-term relationship.
Even with automated systems, you can give a personal touch to your B2B customer experience:
Active calls, messages, or mails to share deals and info that benefits your consumer.
Engaging campaigns, call to action, and educational content on your channels.
Customizable features on your website
Personal note concluding the purchase.
5. Personalization: Make It Consistent
B2B customers seek a 'straightforward and accurate' experience. They want an effortless and quick experience that suits their needs and tastes everywhere—an omnichannel experience. The business-to-business buying cycle is complete, and it interlaces multiple channels and actions. To guarantee personal but consistent customer service, you need to provide the same level of service in each channel. Expanding access to your services on multiple channels gives a competitive advantage to your salesforce. It doesn't matter if your customer prefers a call center, the website, or the app for their purchasing decision. Your customer experience management and initiatives are effective only if your customers can find you and your new products easily.
A great example of this approach is Beeztees, a B2B provider of pet supplies working across 45 countries. As you can see from their dashboard, the first page includes products, inventory, pricing and information about the company. The omnichannel e-commerce platform is accessible from web and mobile applications, showing retailers a real-time inventory of their products. It also provides the option of delivering items in the pet store or straight to the consumer's home.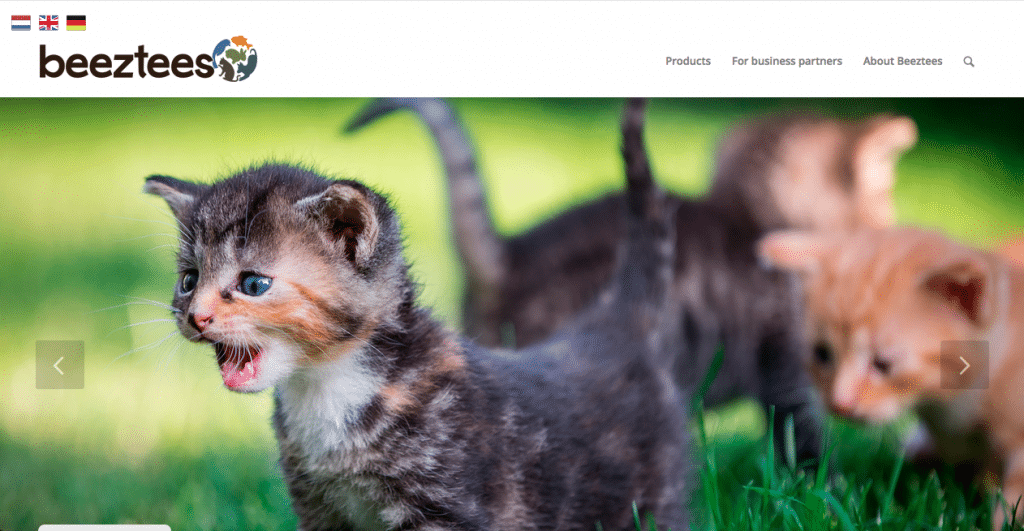 An omnichannel approach brings together multiple marketing channels to create a complete customer experience. In this case, retailers can access and track their orders from any device, with the option of connecting with other vendors. By customizing its services on an omnichannel experience, Beezteez increased its sales and customer loyalty.
You can personalize your website according to your customer needs, and provide different content, from video to article, to guide them through the process. The point is to allow your consumer to switch between channels without effort. If you keep an omnichannel customer experience, you will have better chances to build trust and inspire loyalty to your consumers.
6. Engagement: Make It Relevant
To improve your B2B customer journey, you need to engage your audience. However, people don't get attracted by random things. What captures their attention is what they feel is valuable for them. Analyzing your consumer data and feedback, you can adjust your process improving their experience with relevant content:
Feedback: No one better than your consumers can tell you how to improve your company's services. Through Social Media or surveys, you can have preferences and feedback, using their answers to guide future planning.
Mapping customer journey: Try to be your consumer and think of narratives that can attract them to your page. Then map their journeys to see what worked best and optimize your website.
For example, Gartner provides this template to illustrate how a Customer Journey Map works:
: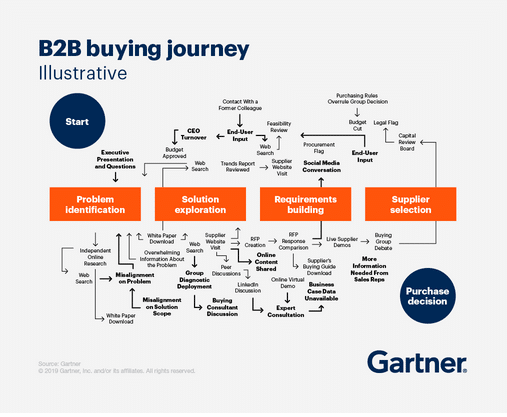 As the image suggests, the analysis always starts identifying problems and challenges. After that, depending on the company scale, there are different routes to arrive at solutions and final sales. This template is a great example of a clear representation of the customer journey that can help your team identify critical points to improve customers base services.
Customer-specific strategy: As we said, the point of B2B customer experience is to give a personalized experience with automated tools. From a specific price list to shipping opinions and offers, your audience needs to be guided in the process. Artificial intelligence software can help you simplify this journey, adjusting the process to specific decision-makers.
Conclusion
To sum up, B2B customer experience is a great strategy for building a long-term relationship with your customers and targeting your campaigns based on their journey. Just remember, without transparency, you won't succeed. Even with the best technologies and the most engaging call to action, your consumer will go to another brand if you aren't transparent about your product and services.
With that said, the B2B world is in constant transformation—like the digital industry. Following your consumer journey, you will find new solutions and challenges. Creating the perfect user experience is a process, and it's always the right time to start.
Author's bio:
Costanza Tagliaferri is a Writer and Content Marketer at ThinkRemote, a remote work news site. She has covered a wide range of topics, and now she is focussing on technology, traveling, and remote work.