In the B2B industry, there's only so much outreach you can do before saturating all channels. The catch is: if you haven't built a positive brand reputation among your target buyers, you're setting yourself up for disappointment in the long run.
Wondering how you can pivot your marketing plan and nudge more buyers down the sales funnel? The answer lies in two words: inbound marketing.
B2B inbound marketing simplifies lead generation and brings customers to you instead of you going to them. Inbound marketing campaigns focus on engaging prospects at every stage of the buyer journey before they're finally convinced to buy from you.
In this article, we'll dive deeper into the nuts and bolts of inbound marketing for B2B companies and break down our best tactics to help you get started.
What is B2B Inbound Marketing?
Inbound marketing is attracting potential buyers toward your brand and building meaningful relationships before they convert into paying customers. It aims to increase your discoverability among buyer personas and gradually nudge them toward a purchase decision.
First defined by Hubspot, the concept became wildly popular over the years because of its multiple benefits, such as:
Enhancing brand awareness
Boosting demand for your brand
Turning more prospects into customers
Accelerating the lead generation process
Shortening the sales cycle and negotiations

Source: neilpatel.com
To succeed at inbound marketing, you have to be crystal clear about your ideal customer profile (ICP). Do thorough research to accurately define your ICPs and follow marketing tactics best suited for these buyers.
Pro tip: You can get the best out of your inbound marketing strategy with the right project management tools. Organize your campaign neatly and designate different roles to the right people with a powerful and intuitive tool.
Inbound marketing vs. outbound marketing
Inbound and outbound marketing are two contrasting sides of the spectrum. While inbound marketing brings new prospects to you, outbound marketing focuses on reaching out to ideal customers who might be interested in buying from you.
The main difference between the two concepts is buyers' level of awareness about your brand. Inbound prospects know who you are and are interested in learning more about your business. On the flip side, outbound leads may or may not know anything about your brand, and their interest in learning more also depends on the quality of your pitch.
B2B Inbound Marketing Strategy: 9 Top Tactics & Tools for 2023
When done right, an inbound marketing strategy can skyrocket your customer acquisition numbers and hit all marketing goals. That explains why 48% of marketing teams increased their inbound marketing budget in 2022.
If you want to be a part of this group and reap the rewards, we've compiled our top nine marketing tactics to ace inbound marketing.
Awareness
1.    Tap into the power of social media
Social media is precious real estate for brands looking to build brand awareness and expand their reach among potential customers. Besides using social media for networking and leisure, people also jump to social channels to research brands before making a purchase decision.
Build your social media marketing strategy using these pro tips:
Define your goals: What do you want to achieve through social media—more followers, customer engagement, new leads, or something else? Establish your objectives before digging into the strategy.


Pack value with promotion: Share a mix of promotional, value-add, and relevant content to engage your followers while reiterating your core value propositions.
For example, Shopify has a fun and entertaining Instagram feed featuring its users, brand updates, and other engaging posts.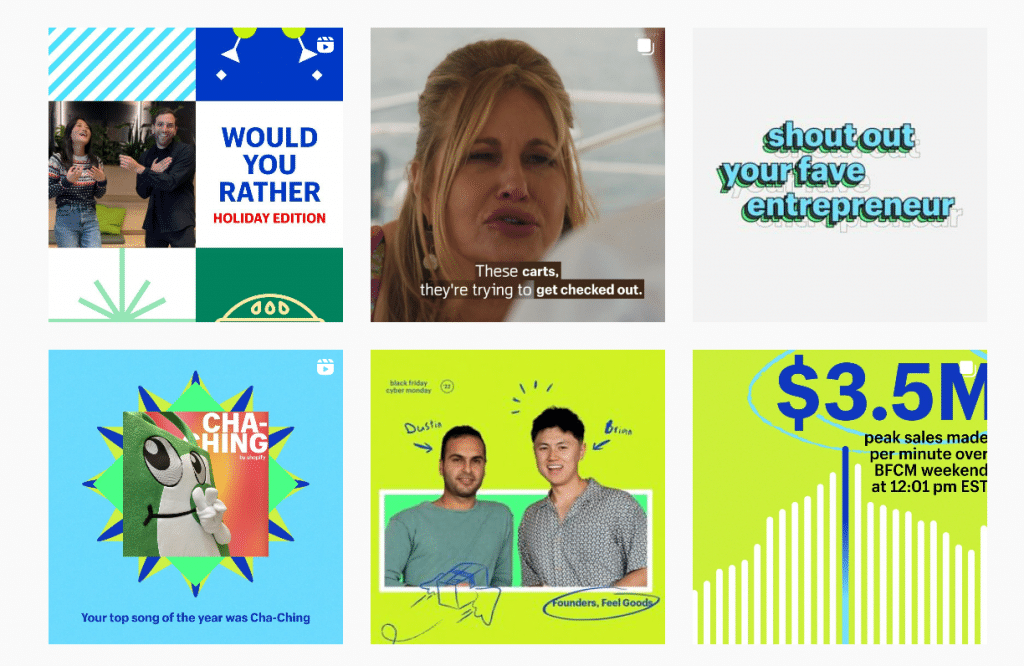 This may come as a surprise to many: Tik Tok is also being used more and more by companies to connect to their B2B audience. Especially if you have an offer to the large number of freelancers and small businesses, then it is worthwhile to take a look at Tik Tok. It works especially well here when user-generated content is included as a strategy. Shopify, for example, already has 137.3k followers on their Tik Tok channel.
(Source)
Build a solid network: Win more sales on B2B platforms like LinkedIn with a big network. Connect with your ideal buyers and nurture meaningful relationships before converting them into customers. You can also get more followers on Instagram because more and more B2B buyers are hanging there.
Find your inspiration from Trello's Instagram reels to boost your following on the platform.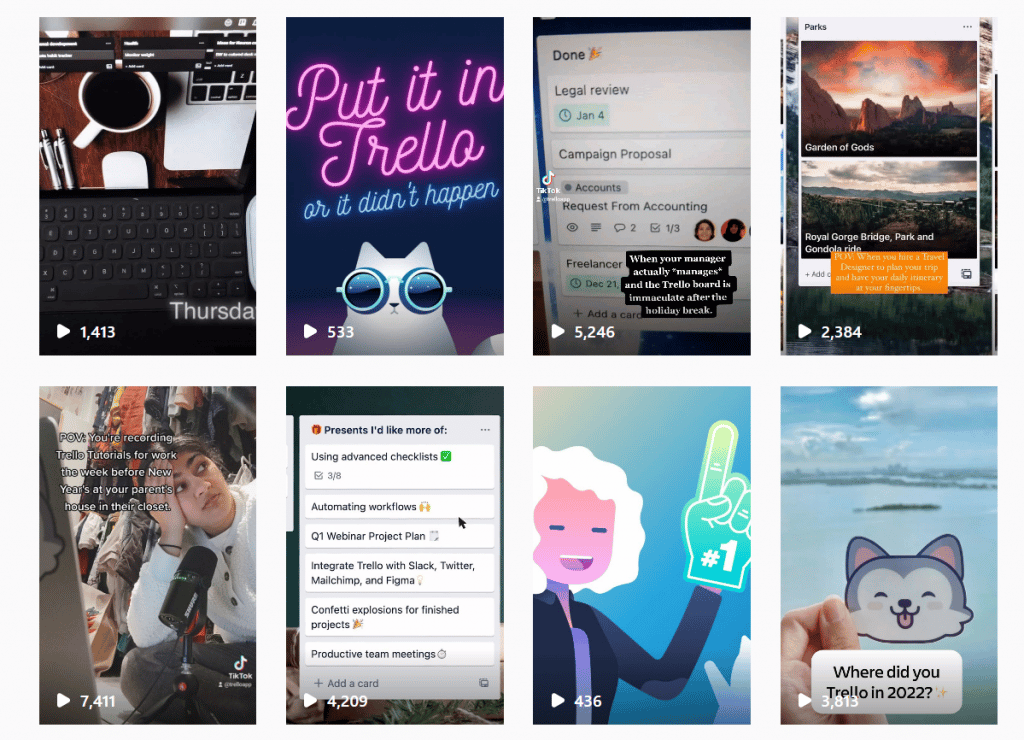 Add personality to your content: Beat the notion that B2B content is boring and spice up your socials with more relatable content. Become a LinkedIn influencer or collaborate with niche creators to flaunt your brand personality.
When marketing on social channels, trends are the name of the game. Increase your chances of virality and maximize your reach by actively jumping on trends.
2.    Encourage brand discovery through SEO and content marketing
Meet your target audience where they are with a failproof search engine optimization strategy. SEO gives you visibility among people who are either unaware of your brand or know who you are but not how you can help.
Paired with a strong content marketing framework, SEO can do wonders to get more eyes on your business and increase inbound leads.
Follow these proven tips to nail your SEO and content marketing strategies:
Experiment with content formats and go for a different type of content, like videos, podcasts, and case studies, to create an impact on interested buyers
Optimize your website and content for the search engines to win higher rankings for relevant keywords and drive more website traffic
Create a distribution plan for every piece of content across channels to ensure it reaches the right target audience and brings new leads
Here's a great example of customer-centric content marketing that hits the right pain points and answers the most relevant questions. Jobber's HVAC Salary Guide offers insights into the earning potential in the HVAC industry, attracting its core buyer personas: people running service-based businesses.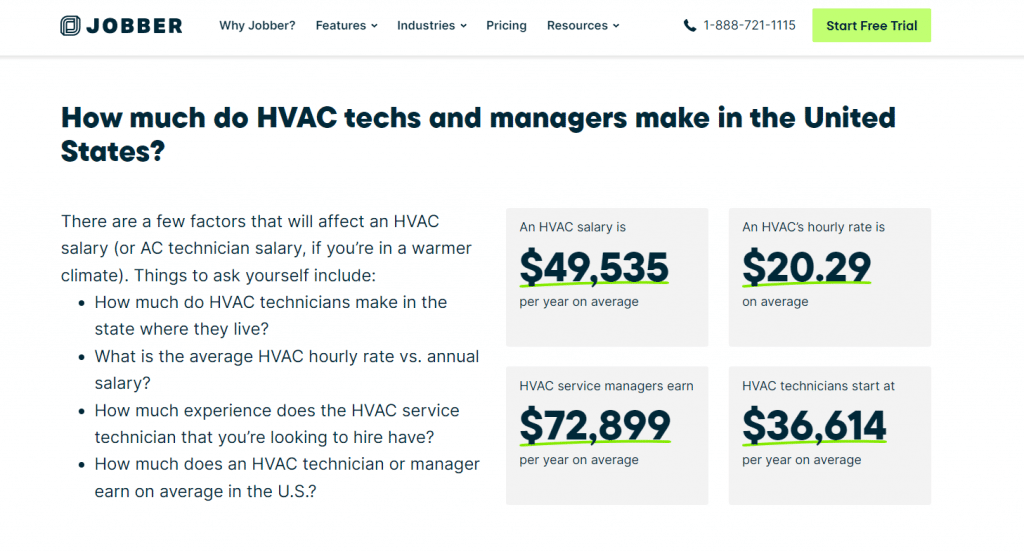 Every SEO and content marketing strategy starts with a competitor analysis. Tools like SE Ranking supply insights into the visitors of your competitors and other important SEO parameters. With a 360-degree view of their organic strategy, it comes easier to know what you have to do next.
3.    Capture attention through website personalization
Besides funneling prospects in through your content and SEO game, B2B companies can deliver an exceptional experience to impress buyers with website personalization.
Personalizing your website is about creating a dynamically tailored and standout experience for every visitor. With advanced tools like Hyperise, you can personalize the website UI for any user without the hassle of coding anything. Hyperise uses data enrichment techniques to customize details across your website, like visitor name, business name, and more.

Plus, it's easy to get started with. Design your site using any website builder and integrate Hyperise into your builder to customize the user experience.
Consideration
4.    Build social proof and authority
Once your prospects move into the consideration stage of their journey, they want to know how you're better than your competitors. This is where you need to establish yourself as a thought leader and compile enough social proof to win their trust.
A thought leadership strategy can deepen your authority and build instant trust among users—like Slack for virtual collaboration. Here are a few tactics to deliver your thought leadership messaging:
Define your areas of expertise at the outset and create content pillars for producing content as a thought leader
Get a pulse of your target audience and identify their pain points, expectations, and specific needs to create content that resonates with them
Remember that thought leadership doesn't necessarily mean formal and boring; experiment with your brand voice and create something relatable for the readers
Go beyond a blog post to share your insights on multiple channels, like webinars, whitepapers, infographics, email, and social media
Besides creating insightful and thought-provoking content to position yourself as an industry-leading brand, focus on winning positive testimonials, and create powerful case studies to build social proof.
Social proof can be one of the biggest drivers of inbound leads. It gives buyers the confidence in your product/service to enquire more and make a buying decision. Here's an excellent example by Customer Camp on adding testimonials to your sales landing page to generate more inbound interest.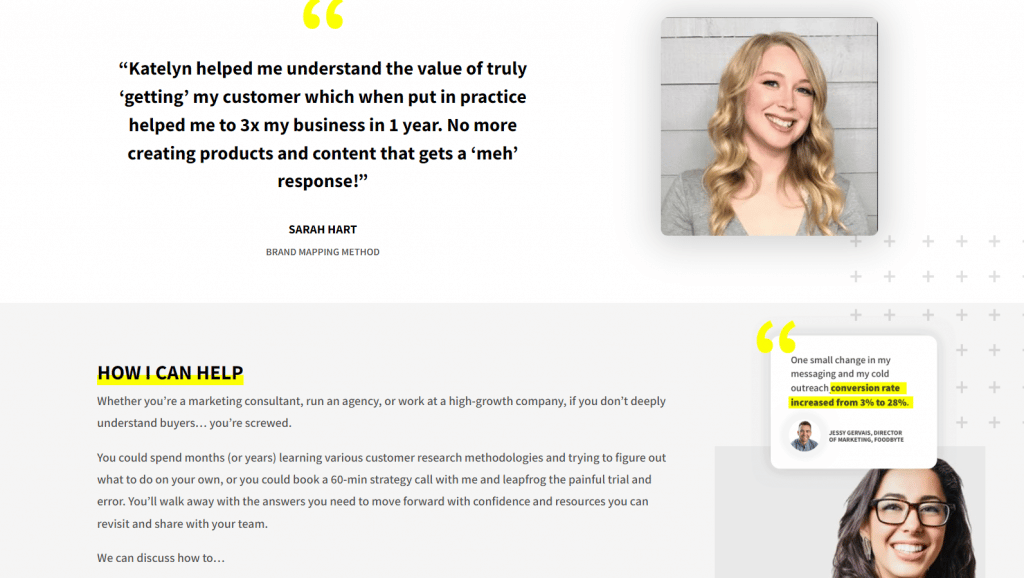 5.    Generate leads through gated content
Gated content can be your power weapon for generating leads at scale. The idea is to create value-packed content your ideal buyers want to consume. Then gate it behind a lead form to get people's contact information and add qualified leads to your database.
You can create multiple types of gated content, such as:
Original research: Gate downloadable assets containing original insights, like industry reports, whitepapers, survey reports, and more. Create high-quality content to leave a positive impact on interested buyers.


Lead magnets: Give people a free resource, like templates, eBooks, checklists, or something similar. These lead magnets can bring leads at scale because people are comfortable sharing their information in exchange for the value of your resource.


Webinars: Conduct webinars on interesting topics your audience wants to hear about. Then gate the recorded videos to get lead information for webinar access.


Product demo: B2B SaaS companies can ask interested users for specific information in exchange for a product demo. This allows the sales team to qualify the lead and customize the demo for their needs.


Use chatbots to recommend some of your best-performing gated content and get more leads.
This is also the step where you should give the customer the possibility to contact your company in different ways. Besides a form on your website, a chatbot, social channels, and email, personal contact still plays an important role. Contact with a call center should therefore still be at the center of personal communication.
You can easily assess each content piece's performance using sales dashboards to analyze the number of leads generated from each piece.
6.    Design email nurture sequences with marketing automation
Email marketing is another tried-and-tested way of driving inbound leads. Personalized email sequences can effectively nurture leads and push them further down the sales funnel. Use these sequences to make a case for your brand and show potential users how you can solve their challenges.
Design your marketing automation workflow to run these email sequences like clockwork. To do this, you have to first define different triggers in your sequence and determine the number of emails to include.
Then write and design all email templates, like follow-ups, to prepare your sequence. Set up your automation workflow by defining the criteria for sending different emails, designating the right actions for all triggers, and outlining the timelines for each action. Remember to add a benefit-driven call-to-action (CTA) in every email to improve the ROI.
7.    Add a personal touch with video personalization
Leave a lasting impression with your inbound marketing efforts using video personalization. You can personalize videos for individual buyers to capture their attention and explain the benefits of buying from you.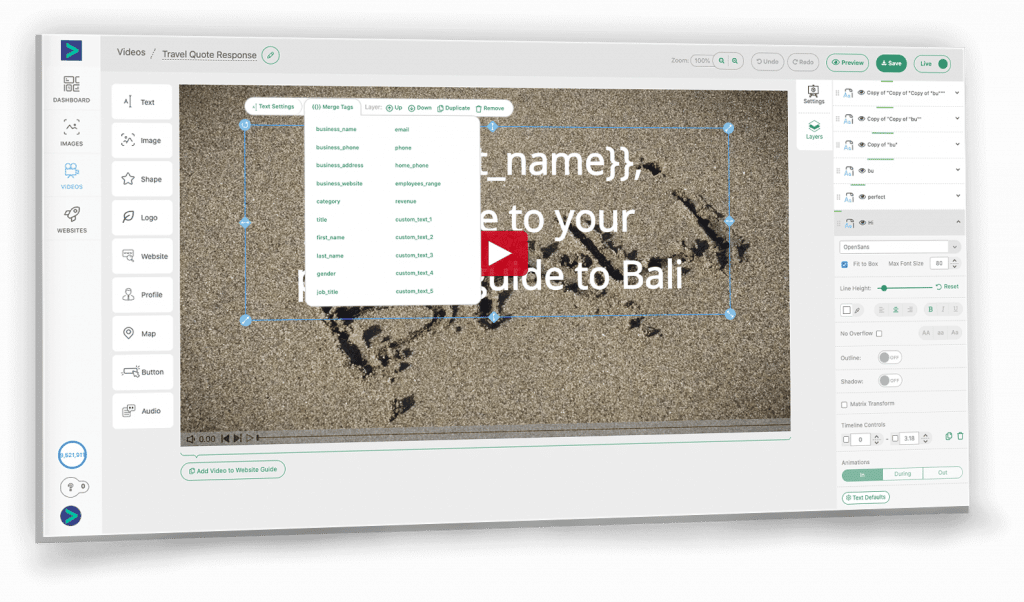 Sounds like too much work? A personalization toolkit like Hyperise will do all the heavy lifting on your behalf to personalize videos for your B2B video marketing in different formats, like:
Onboarding
Video sales letter
Info & quote packs
Training & courses
Webinar & event replays
Personalized introductions
Plus, you can also create explainer videos to share on your website, socials, and email to demonstrate your brand's unique value.
Conversion
8.    Stay front-of-mind with remarketing ads
In the final stage of the buyer's journey, your goal is to ramp up your conversion rate without pushy sales tactics. One surefire way to do that is with remarketing ads.
Remarketing targets users who have visited your website or interacted with your brand before. It aims to reinforce your messaging to re-engage users and convince them to buy from you. Ideally, your remarketing ads should target decision-makers in businesses you're trying to convert.
Remember these best practices when running remarketing ads for generating inside sales:
Switch up the landing pages for each ad based on its intent
Design responsive ads in various dimensions to fit multiple screen sizes
Perform A/B tests to optimize your ads for social media and other channels
Add your "remarketing lists for search ads" to any existing PPC campaigns you're running
Strategically plan your remarketing ads to help your audience discover you at the right moments and finalize their purchase. Keep analyzing your performance with reporting tools like Dashthis to make necessary changes in your strategy.
9.    Create a sales enablement framework
The conversion stage of your funnel is about holding your prospects' hands and taking them to the final stop. This is possible with a sales enablement strategy guiding your marketing and sales teams.
Put simply, sales enablement prioritizes knowledge-based sales over pushy marketing. As the final stop in your inbound marketing funnel, sales enablement allows you to educate and empower leads to make a buying decision. Your sales reps share more resources— like whitepapers and communicate consistently to help them make an informed decision.
Actively manage the proposal process and respond to the actions the customer takes based on the documents sent. It is no longer appropriate to send a Word or pdf as a proposal, instead, you can use proposal management software that allows you to track, accept payment directly and sign electronically.
Build a Failproof Inbound Marketing Strategy Today
Inbound marketing is a multi-purpose technique of increasing brand value, maximizing visibility, generating leads and building trust for B2B brands. But the catch is you can't hit so many targets with a single arrow if you're implementing a half-baked strategy.
Bookmark our guide on inbound marketing for B2B companies. Use these nine tactics to create and scale a thriving inbound lead pipeline.