Video marketing is one of the fastest ways to sell in all businesses, and B2B companies are no exception.
The numbers above are too promising, especially since 48% of B2B organizations saw a positive change in their ROI because of video marketing.
Now, considering online video has become a staple and personalization in the COVID era has made video content more popular but more intricate at the same time, many marketers shy away from using it.

(Source)
Perhaps it's because B2B companies don't know how to integrate it into their overall marketing strategy, or maybe because B2B funnels are pretty different from B2C. Since the prospect is a business, scoring the perfect conversion rate is that much more difficult, while communication still needs to be professional and valuable.
However, B2B and B2C are, after all, H2H. Humans approach humans and try to close a beneficial deal. And video nurtures human relationships, especially when it's engaging and informative.
Video offers information that comes in small, bite-sized pieces. Easily digestible, engaging, and most of all, insightful, the content of B2B video marketing can always help B2B marketers "sell" by drawing attention and raising awareness.
Now, let's see how you can get started with your video marketing strategy.
1. Use Video in Your B2B Email Marketing Campaigns
Email marketing has been around for quite some time. In fact, email marketing platforms are the second most popular tools for content marketing and content distribution amongst B2B marketers, according to CMI's research: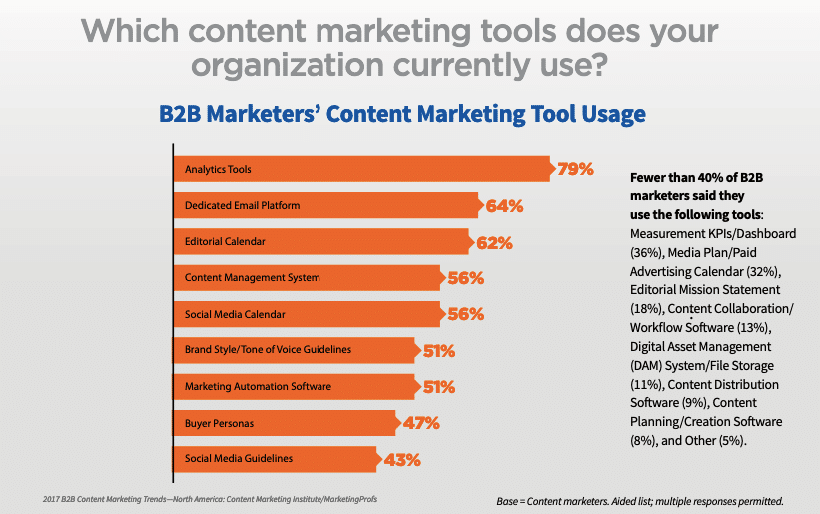 (Source)
And we already saw what video content could do for you and how beneficial it could be for your target audience. But who is your audience, really?
As the years go by, Millennials become the demographic that holds critical positions of influence in B2B marketing, so they are bound to comprise a large chunk of your audience, as video content impacts Millennials' purchase behavior regarding products and services  – especially after the pandemic made video production a staple for most businesses.
Creating a B2B email marketing campaign could work wonders for your digital marketing efforts and your marketing plan in general.
Take an onboarding sequence, for example. It aims to educate and familiarize users with your product and your brand. And video can educate and engage like no other.
So, first of all, you will need to pick an email marketing tool that allows you to incorporate videos as a lead generation tactic into your B2B email marketing strategy. After that, make sure to personalize your onboarding campaign with content that will seem tailor-made and useful and copy with actionable verbs that will be leading the user exactly where you want them. Lastly, never forget about your resources and any additional links and FAQs.
But crafting the right B2B video campaign goes way beyond picking an email tool that allows you to distribute B2B video content through email.
2. Use Video on Your B2B Landing Page
As we know, landing pages are standalone pages designed to convert and boost inbound lead generation. But when it comes to B2B businesses, converting without showcasing how the product is valuable and useful is next to impossible.
This is where an explainer video or a video tutorial can come to save the day.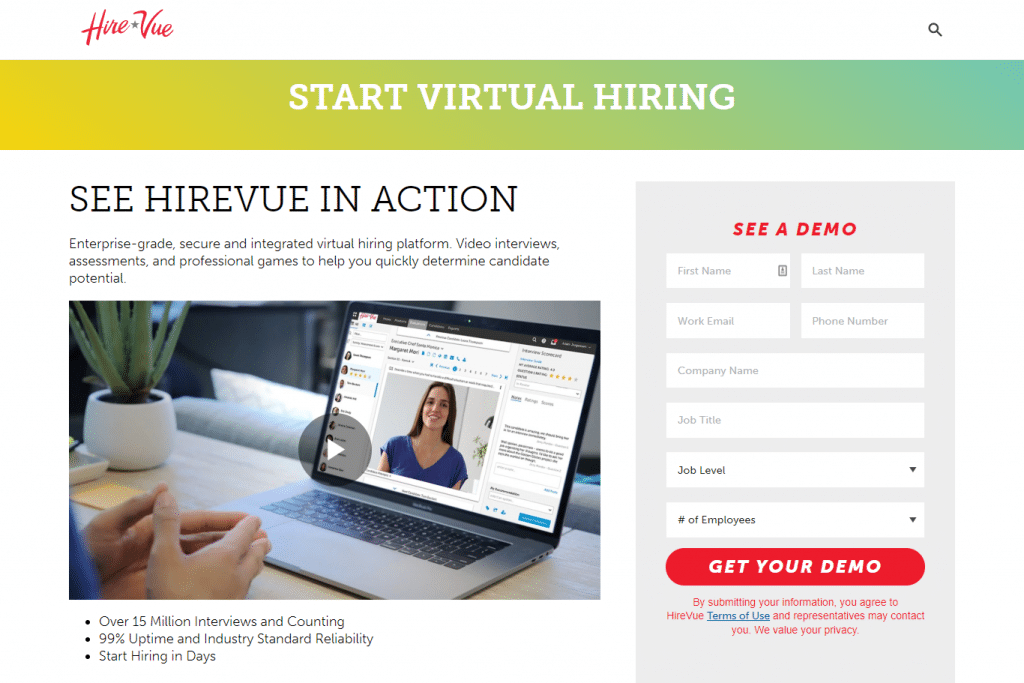 (Source)
When your service is a little more complex, or there are too many similar B2B services out there, utilizing the power of video for your landing page can make it easier for you to be in the lead. Just make sure to be very thorough when you explain the potential benefits of your product.
The ability to incorporate B2B video marketing into your landing page strategy – and your digital marketing as a whole – is an essential element that many marketers look for, but this is not what will make your landing page successful. Video won't work in and of itself. Apart from a landing page builder that can help you build your target audience's excitement, you will need your landing page copy to convert.
You need to embed a video that will be actionable but also relevant and not feel out of place. Your video's script needs to feel like a logical continuation of the point you're trying to make on your landing page.
So, using key phrases from your video on your landing page copy would make sense. In the example above, we can see the phrase "video interviews" while looking at an image of a video interview. This ensures that your audience will still understand what your B2B organization is about without absolutely needing to watch a testimonial video or explainer videos. They'll hit play when and if they want to.
3. Use Video on Your B2B Social Media and Web Pages
It's no secret that social media prioritize videos, as they score more engagement points, especially across Facebook and Instagram, and with LinkedIn quickly catching on.
LinkedIn is essential for B2B marketers, as it's the most popular social media channel for professionals and organizations of the sort. And here's how well video converts on LinkedIn: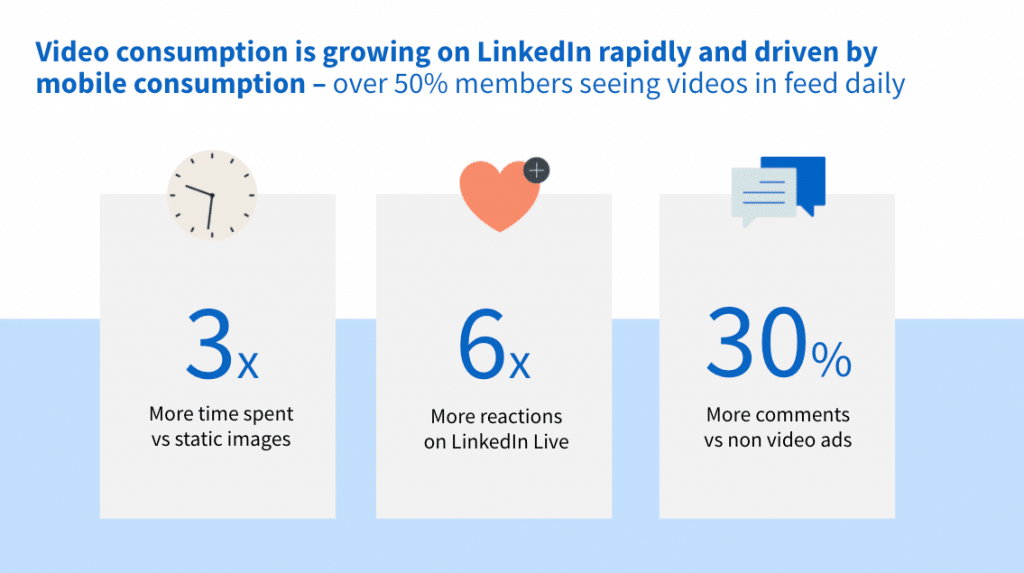 (Source)
This type of engagement creates awareness and some much-needed buzz. Apart from that, videos have the potential of going viral, whereas other forms of media and content don't have the same dynamic. This means that videos need to be a staple in your social media outreach and social media marketing plan – or digital marketing plan – in general. But your website can and should be a part of this dynamic as well.
Your website is the perfect place to host videos and improve and expand your B2B video marketing, especially if you're going to utilize the power of case studies or case study videos, explainer videos, video tutorials, and customer testimonials. Your website is not the place to implement a sales-y content strategy, so it's better to create content that will inform and educate.
But tutorials, testimonials, and explainer videos are not the only types of video B2B businesses and brands can use to educate, engage, and, eventually, lead prospects down the sales funnel.
B2C marketers use brand videos to market their vision and mission statement, boost brand awareness, and educate their users on their brand's values and how they can help their brand. It's perfect for a B2B's homepage, as it can be the first point of contact between the business that sells and the business that could eventually purchase.
Now, if you're trying to convert a prospect that is a little bit lower further down the sales funnel, a product video would work like a charm, as, apart from the buzz and brand awareness, it can showcase the product, its functionality, and its benefits to potential buyers.
It's important to remember that you need to segment your audience and take a good look at your data before creating anything. If you're unsure of the best video to use, it would be best to create a survey and share it around social media. The data you'll collect will help you make the best decision regarding your B2B video marketing strategy.
Remember, it's way better to showcase the use instead of creating a written manual, and it's better to use social proof and allow users to promote your product instead of going for a hard sale.
The Benefits of Using Video in Your B2B Marketing
As mentioned before, when it comes to B2B sales, there are many points of contact, and therefore a lot of people you'll need to convince during the sales process.
Videos can help prospects absorb a lot of information in a short period of time and allow them to go back to an engaging medium, should they need to present something extra.
However, bite-sized pieces of information and the ability to access these pieces at any point in time are not the only benefits that come with video marketing, as many B2C marketers have known for years, and B2B marketers are just beginning to find out.
First of all, high-quality video can boost your lead generation efforts, especially when combined with a high-converting landing page. However, since videos dominate social media, B2B businesses can see great benefit from creating and sharing video content on their profiles.

(Source)
70% of B2B marketers find B2B video marketing to be more effective than other forms of content, which is more than enough to increase sales and, eventually, your conversion rate. Not to mention how easy it is to share a video around and create buzz.
Pro Tip: End your videos with an actionable CTA so that your users will know what their next move should be.
Secondly, video boosts your SEO efforts. Google values video more than other forms of content, which makes it an integral part of any content strategy. Now, videos end up on Google's first page, more often than not. But this is not the only way video can boost your SEO.
Uploading videos on your social media pages or your YouTube channel can improve your chances of getting more traffic, especially if you invest in some webinar software and start uploading webinars, amongst other things.
Engaging videos will keep users on your page for longer. And the more time a user spends on your page, the more the chances of them sharing the information with their peers, the better for your overall rankings.
Lastly, consider what customized B2B videos can do for your B2B marketing efforts, especially if you use customized content. If you're just starting out, use this method for your high-profile, hot leads that are ready to convert. If not, you can use this to get noticed in a full inbox – be it an email inbox or LinkedIn's DMs.
Some Tips to Get Your B2B Video Marketing Strategy Started
The first thing to remember is to not babble when presenting your brand. Shorter videos are the best way to lead your potential customers further down the sales funnel. You're trying to reach busy CEOs and high-level employees who don't have the time and energy to watch a long-form video – or read long-form content, for that matter.
Try to highlight all the main points and benefits of your B2B product and why your prospects should invest in you in two minutes or less. Especially when your video aims to convert top-funnel leads.
But what happens when you want to make users convert?
Make sure to create video content that won't talk about the features themselves. Rather, it would help if you presented how your prospects' lives will change and how their brand will grow using your features and your product.
Secondly, don't recycle the same ideas all the time. If you're stumped and don't know how to proceed, make sure to utilize other forms of content you already have. You can create a video out of a blog post – perhaps a couple of videos, if your blog posts are long enough. That way, you will get your point across and provide users with content that is much easier to follow.
Thirdly, never forget to set SMART goals: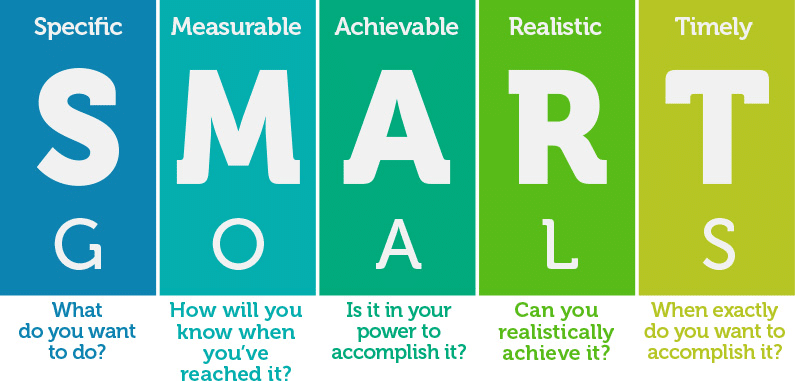 (Source)
SMART goals are a necessity if you want to achieve growth in a way that won't exhaust you, your team, or your resources. And this goes for B2B video marketing as well.
So, why are you creating this video? When are you going to release it to the public? What is it about? Can you produce it in-house? If not, how much more of your budget is this going to take? Perhaps you don't have the resources, or you don't have something actionable and useful at this point in time.
Answer these questions and consider these issues every time you want to create something fresh or add to a video you already have.
The Takeaway
B2C marketers had seen what B2B marketers are just starting to realize: That video content is no longer optional.
It's not just that users are asking for it. Video gives them a unique opportunity to see how your product works without having to access it to experience it – and therefore create extra unforeseen costs. Not to mention how easy it is to digest video content instead of other forms of content.
Many decision-makers don't have the time or the energy to read long manuals and proposals that come with your B2B marketing offer. Video caters to them in a way that doesn't seem like pressuring them into proceeding with a purchase.
And one last tip: When it comes to including video content in your content strategy, you need to be consistent. Raising awareness is not an easy task, and allowing your potential customers to forget about you until you produce the next video is like leaving money on the table.
And don't worry about the unforeseen cost of video production. Normally, video content can be created in an effortless and relatively low-cost manner. You don't need your video production process to include state-of-the-art equipment. A good camera, a video hosting platform that can meet your needs, and a lot of imagination and creativity will do.
Create a video marketing calendar, always A/B test your content, and start producing B2B video content.
Author Bio: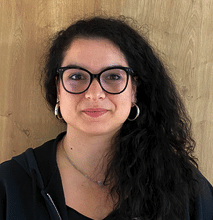 Téa Liarokapi is a Senior Content Writer for Moosend, an email marketing and marketing automation platform, and an obsessive writer in general. In her free time, she tries to find new ways to stuff more books in her bookcase and content ideas – and cats – to play with.