Cold email is a cold calling technique with the application of an email as opposed to a phone call. It attempts to make contact and often establish business relationships by using emails instead of telephone calls, although of course the two can be used together.
Cold email is more important than ever in recent times, with lock-downs and more individuals working from home, which means fewer people in the office to contact by phone and greater reliance on email.
B2B cold email templates are most commonly used in business-to-business (B2B) sales. The key to creating perfect cold email templates is personalization.
Templates should be used as a basis for launching cold emails, but there's a fine line to be drawn between completely templated campaigns (which is never a good idea) and 100% customized communications (which are effective but time-consuming). Using proven email templates should not be a given for success, but a starting point to create your own for your own sales team.
In this blog post we're going to cover a few ideas of how to best target the appropriate person in your cold email strategy, with perfect sales emails.
Cold Email Frameworks
Many different copywriting formulas can be used to structure your cold email outreach templates, such as AIDA, PAS Framework, and 4-Ps. It is important to understand cold email templates as a formula that guides the overall process, rather than a mere template that can be copied or tweaked.
AIDA Formula
This is a very simple copywriting method that may be utilized to produce cold email outreach. The acronym AIDA stands for attention, interest, desire, and action, and it explains the stages you should take in your main body: grab their attention, explain why it interests them, develop desire by demonstrating how to act on their behalf, and then offer the advantage you've stated.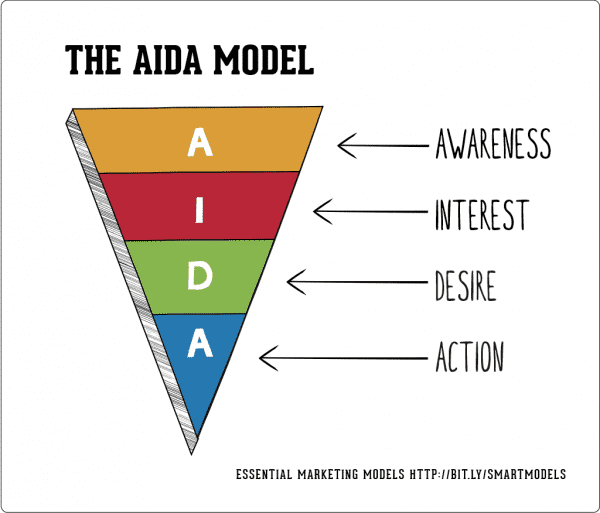 Here's an example of how you could use the AIDA cold email formula:
Attention: Grab their attention with your headline and subject line.
Interest: Address any possible questions they might have about your cold email through building rapport and asking them if they require further information on what you do.
Desire: Show them how you can solve their problems and make their lives easier with your product or solution.
Action: You should end the cold email template with a call to action (CTA). This might be asking for a meeting to discuss your value proposition, or it may simply be asking them to reply to your cold email, but either way, you need to ensure that your personalized email finishes on an actionable note.
AIDA Example: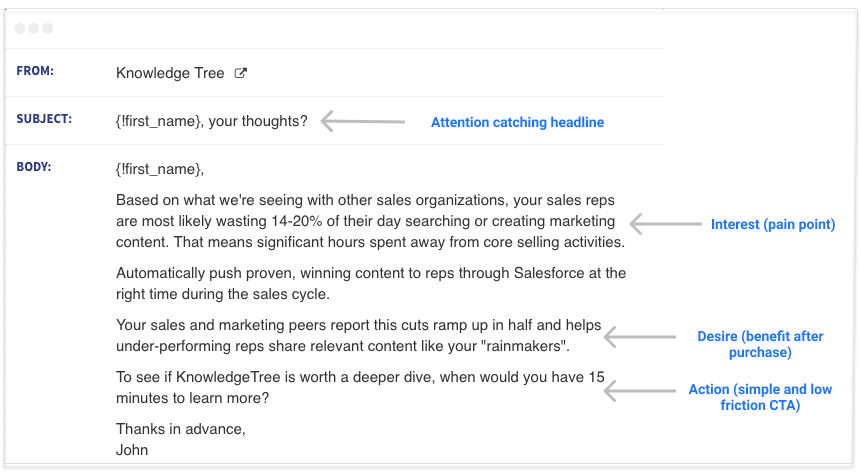 4-Ps Framework
The 4-Ps cold email framework breaks down cold emailing into four key stages: preparation, personalized approach, positioning, and post-email. It's designed as a step-by-step process that can streamline the process of writing and sending cold emails and help you avoid simple mistakes that could damage your campaign.
Preparation: Ensure you have everything ready at your fingertips before you start cold e.g., information about the cold email recipient.
Personalized Approach: Create cold emails with personalization at their core to make them more effective.
Positioning: Position yourself as an authority by highlighting your experience and knowledge of your industry or the problem your product or service addresses (without bragging too much).
Post-Email: Make sure you follow up with cold emails properly to ensure maximum results. You don't want to waste time or money on cold email campaigns that never reach the end goal!
PAS Framework
The cold email PAS framework is a commonly used cold email formula that can help you structure cold emails to capture and retain the attention of your cold email recipient with headlines and introductory sentences.
Problem: What is their pain point? What problems do they face? How does this cold email solve these issues?
Agitation: Add fuel to the flame by highlighting how badly they need your product or service! This should be short and sweet, so try to use simple language such as "Do" or "Until now".
Solution: Cold emails always close on a solution. Let them know what benefits they will get if they implement your solution with you. Once again it's important not to just drone on about yourself here; cold email templates must always be personalized.
PAS Example: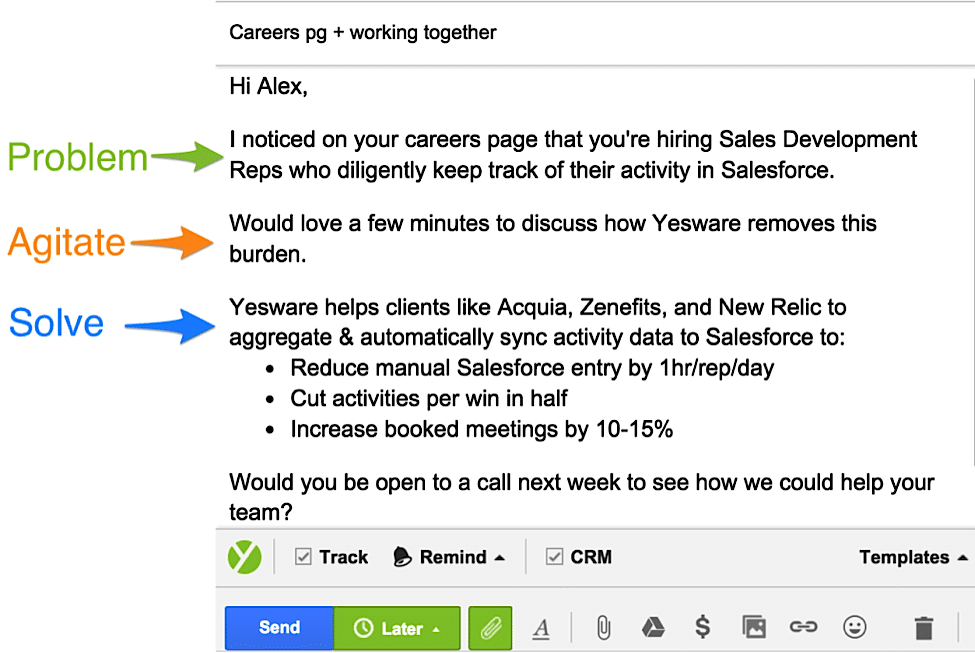 The FAB Framework
The FAB Framework is a straightforward framework for analyzing your text. Product marketers, particularly in the software industry, are more familiar with this structure. It has three components:
Features: The features of your product or service are the parts that distinguish it from others on the market. What exactly does it do, and how can it help people in their daily lives? The phrases "simple to use" or "quick" are two examples of features. To prevent being lost, keep these aspects as succinctly stated as possible.
Advantage: Advantages describe why your customer should buy from you or your product rather than another company or service; this is also known as an argumentative statement. This should contain precise details so that the reader feels secure in their purchase decision. "offers greater value" and " saves time" are two possible examples.
Benefits: The benefits of your product or service are how it may improve their lives. What is it about your product, service, or another offering that will make them happier? "Increased mood," "simpler parenting," and so on are examples.
The QUEST Framework
The QUEST Framework is a copywriting marketing framework. It was developed by Copyblogger, and the goal of it is for people to be primarily driven to action by the desire for something, so the most essential thing you as a copywriter must do is convey what they will receive if they act on your offer. There are five parts to this framework:
Qualify: Learn what your potential consumers want and ensure you're talking to the appropriate individuals. Don't be afraid to reveal who you're looking for in your audience. "We assist persons who struggle to write content in generating seven-figure copy in no time!" For example
Understand: Demonstrate that you comprehend the client's problem. This helps to build your credibility and reminds them of their problems.
Educate: There is a different option! This is where you should show the reader that you have the answer to their issues.
Stimulate: Here, you'll want to use your strong writing abilities to paint a more beautiful world, more hot leads, or anything else your reader desires. Show why this option is better for them than what they have now!
Transition: It's time to move on to a new reality. Now that you've set the stage, informed them about your product, and persuaded them to take the action you want, it's time to make your ask.
Cold Email Frameworks Conclusion
Although there are many styles of copywriting, most include some basic techniques to improve your content's effectiveness.
Copywriting frameworks are an excellent asset. They allow you to be more efficient since they offer a set of standards that help you produce better cold sales email templates at a quicker pace.
Both novices and experts utilize them to enhance their sales emails, but the best part is that if you start using one right now, you'll notice changes in only a few weeks. So stop wasting time with out-of-date methods and start improving your content right now by utilizing one or more of the above structures!
Image Personalization in Cold Email Outreach
The majority of humans are visual learners and we all process images over 60,000 times quicker than text. We all want to see what we read, whether it's a cold email template or something else.
This is where image personalization comes into play; we take the time and effort (which isn't much actually) and make an image for our cold email templates , sometimes even taking a picture of ourselves if we don't have access to stock images that fit our cold email example .
Making the image purposeful to visualise your emails CTA helps tell the story, then adding personalization layers trigger pattern interrupts, which generates more mindshare leading to increased content engagement and more prospects taking your call to action.
For example G2 extends their product offering, by showing the prospect at category leaders in their own cold outreach, to visualise success and tell a really compelling story.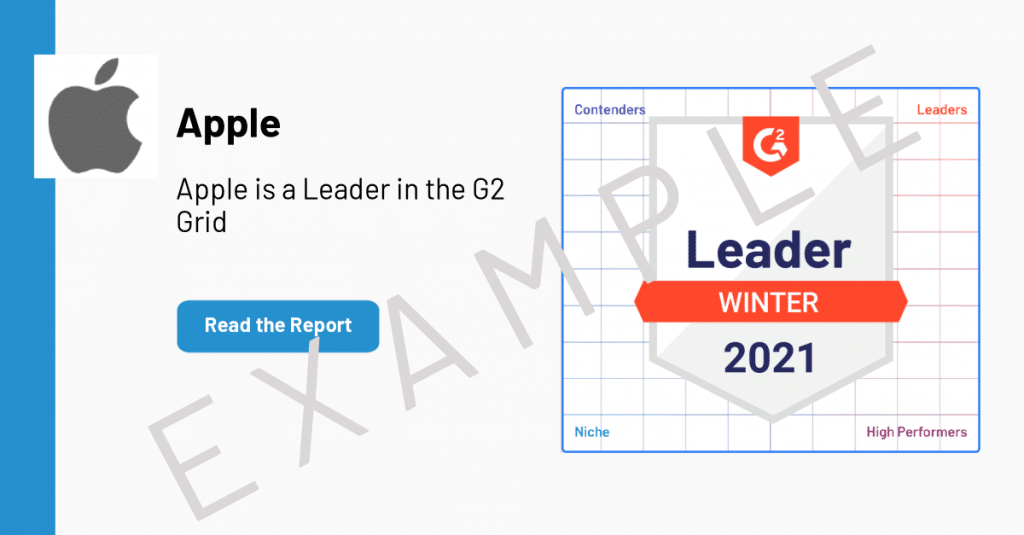 Or humanise your outreach, especially if your call to action is to book a call or meeting.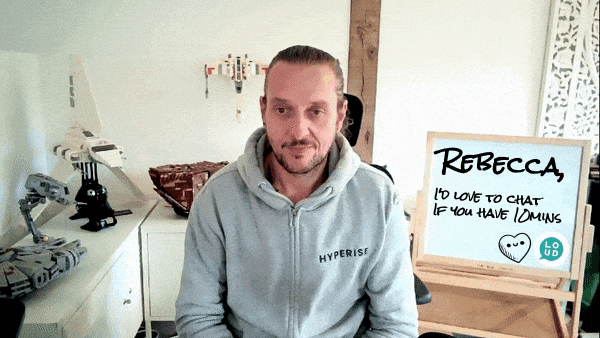 Images like these examples can be created simply with Hyperise, upload your image, add your personalization layers and add the image template to your outreach campaigns, using your existing email platform.
Artificial Intelligence Cold Email Templates
Using AI to help write your cold emails could be the difference between cold outreach email that land you meetings and emails that end up in the trash.
AI cold email templates are created by AI bots that find details on the prospect, using their business email or LinkedIn Profile. The AI is able to create personalized intros using personal and company data available online.
Using AI cold email templates to generate targeted cold emails saves the cold marketer time and money, and improves accuracy.
Artificial Intelligence cold email template examples:
There are few good examples of AI tools, below are few examples:
Lyne.ai
Lyne can assist you write thousands of introductions every hour by scanning each of your prospect's online profiles and using that information to create a personalized note for the individual in question.

Price: $0.25 per personalized line produced
Smartwriter.ai
Smartwriter automate your entire research and copywriting process in seconds so you can send emails that convert in 1 click. They find and use your prospect's online data to create punchy personalized cold emails for sales or backlinks at scale.
Price: $0.15 per personalized line produced
Outboundflow.ai
Close more transactions with AI-powered customized cold email outreach at scale. B2B cold email templates are composed 100 times faster than a human.
Price: $0.39 per personalized line produced
Regardless of which AI writer you use, leveraging this to create business development emails at scale is key asset to your markerting processes.
Choosing the right framework for your cold email outreach campaign and accompanying that with an AI tool to dynamically create a welcome or one sentence pitch is the perfect combo for successful outreach marketing automation.
Subject Lines
Almost more important the email content, is the email subject line. It's the first thing your prospect will see, so having catchy subject lines is another aspect to consider to go with your b2b cold email templates.
To learn more about the best subject lines, read our article 34 Killer Cold Email Subject Line Examples for Guaranteed Response.