If your business is new or if you want to expand, then outbound marketing would be a key part of your sales funnel strategy. This requires you to invest resources in cold outreach marketing—where you reach out to potential customers who don't know you.
Cold outreach is one of the biggest challenges that most businesses face. This is because it takes a lot of effort to get people's attention, hold it until you pitch your offer, and ultimately make a sale.
Unless you are an Apple or a Microsoft, your business needs an updated cold outreach strategy. From profiling people to getting your messaging right, many things can go wrong in outreach marketing.
This is why this comprehensive guide to cold outreach is exactly what you may need in 2023. After going through this guide, you can expect to learn some updated cold outreach strategies and a list of tools that will help you implement these strategies at scale.
You will also walk away with some small yet effective hacks that will help you significantly boost your outreach campaign ROI. So, read on to learn more.
What is Cold Outreach?
Cold outreach is the process of reaching out to potential customers who are not aware of your brand or even the products/services you offer.
Having the right cold outreach strategy in place can be a game-changer for your business. It can help you:
Expand your business and acquire more customers
Reduce customer acquisition costs
Improve brand awareness and affinity
Improve your sales conversions and, ultimately, your bottom-line profits
Expand your customer base to accommodate varied user personas
Apart from B2B sales, you can also use cold outreach for:
Finding new business partners or professional networking
SEO activities such as link building
Recruitment campaigns to find the right candidates
Applying for job opportunities
Does Cold Outreach Work in 2023?
Yes, cold outreach does work in 2023, provided you have an updated strategy in place.
Targeting the right people, personalizing strategies to cater to the prospect's needs, and experimenting with social media channels are some cold outreach strategies that work today.
In the next section, we'll have a detailed look at these cold outreach techniques. Before we do that, let's have a look at what doesn't work:
Cold calling or cold emailing contacts that are picked randomly from a directory.
Using the same email template or script for pitching all potential clients.
Sticking to one or two outreach channels and not experimenting with new channels.
Not setting KPIs and measuring the right metrics for your cold outreach campaigns.
Types of Cold Outreach
1. Cold Email Outreach
Cold emailing refers to sending emails to prospects who are most likely to buy from you but are not aware of your brand/offer yet. It is one of the best types of cold outreach marketing because it is not as intrusive as other methods.
Cold emails sent to the right people at the right time may bring hundreds of new customers to your business. No wonder cold email outreach is one of the most widely used outreach methods today.
Another massive advantage of cold emailing is that you can send personalized emails to cater to the exact needs of the prospect. You can personalize the email subject line, intro, email body, CTA, etc.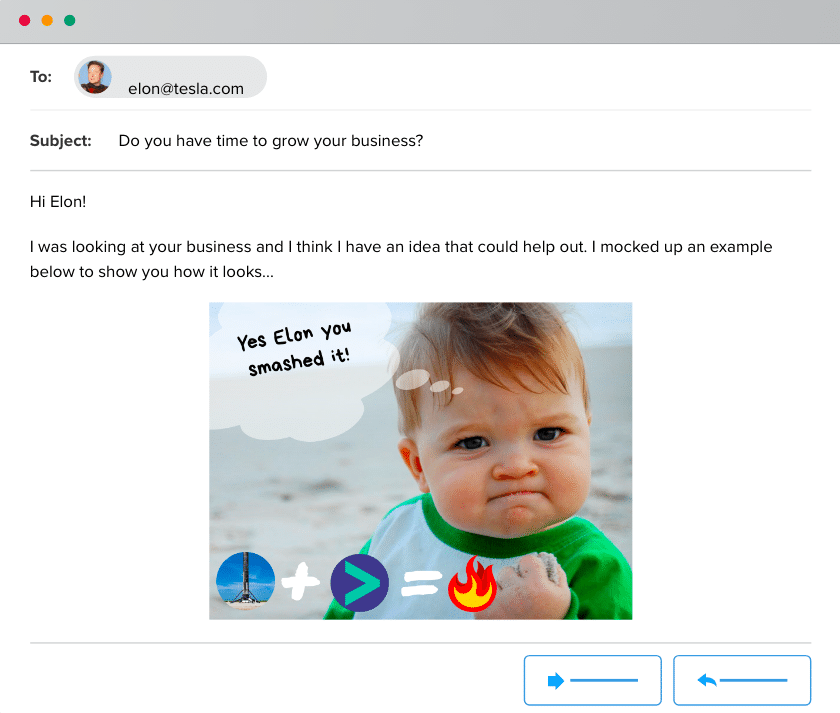 With cold email outreach, it is also easy to track the campaigns' performance by measuring open and reply rates. Email marketing tools also allow A/B testing of cold email campaigns, helping you to boost your conversions even more.
An exceptional tool for create Social Media Graphic Design with Stencil by Namecheap designs. With its user-friendly interface and extensive library of templates, Stencil empowers users to craft visually stunning visuals that resonate with their target audience. Whether you're looking to design eye-catching posts for Facebook, Instagram, Twitter, or any other popular social media platform, Stencil offers a wide range of customizable options, including fonts, colors, and graphics. From attention-grabbing quotes to vibrant images, Stencil enables users to effortlessly produce professional-grade designs that elevate their online presence. With Namecheap's Stencil, social media graphic design has never been easier or more accessible, making it an indispensable tool for individuals and businesses alike.
2. Cold Calling
Cold calling is one of the, if not the oldest cold outreach marketing strategies. Cold calling worked even when mobile phones did not exist, and they still work.
This is probably because cold calling gives way to an interactive touchpoint between salespeople and potential clients. Compared to this, cold emailing or social media DMs lack this level of personal connection.
However, cold-calling a bunch of random people from a directory doesn't work. In turn, this practice may ruin your brand's reputation.
Cold calling may yield positive ROI for your business if you target the right people and know enough about their business before making the call.
When the prospects learn that your sales team has done their research and has an offer that is the right fit for them, they are less likely to hang up on you.
Sales reps can keep the prospect engaged and interested in the conversation by asking the right questions. You can also offer a relevant freebie to build trust with them.
3. LinkedIn Outreach
When it comes to social media outreach, LinkedIn is one of the most, if not the most, powerful platform. In fact, 80% of LinkedIn members are known to drive business decisions, and LinkedIn's audience has 2x the buying power of average internet users.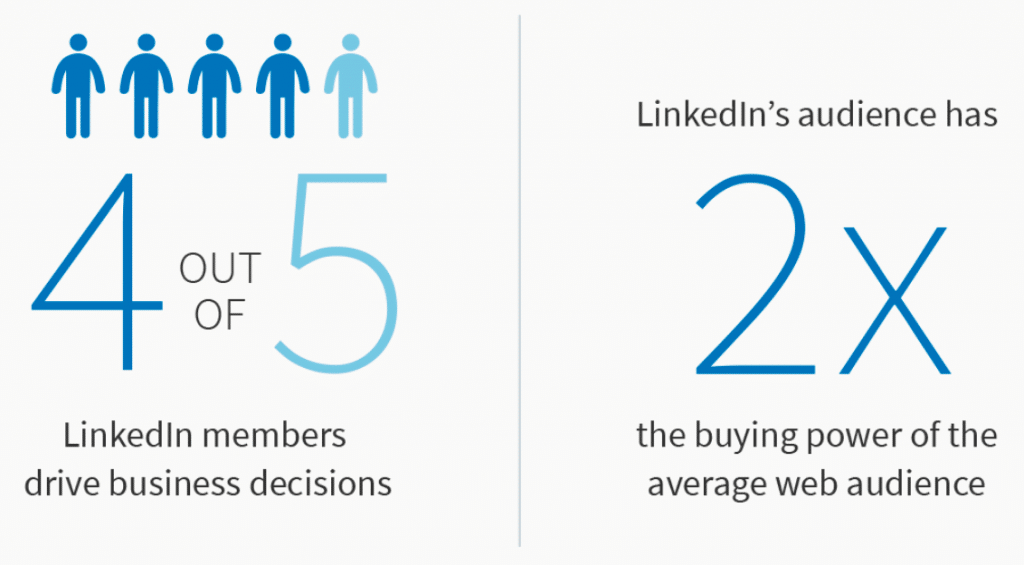 You can implement outreach marketing on LinkedIn by sending cold messages to your 1st-degree contacts or members of any group you belong to. You can also send connection requests with personalized messages.
LinkedIn also offers powerful search options for lead generation. You can use the search filters to identify the LinkedIn profiles of your potential customers. Premium tools like Sales Navigator help you save prospects as leads and reach out to them via InMails (LinkedIn emails.)
As is the case with cold emailing and cold calling, the key to a successful LinkedIn outreach campaign is personalization.
You can personalize your LinkedIn messages by using first names, company names, and other details that are specific to the person. This will help your message stand out amongst others, especially when you are reaching out to the person who is higher up the hierarchy.
You can take personalization a step further by creating personalized animated GIFs using Hyperise.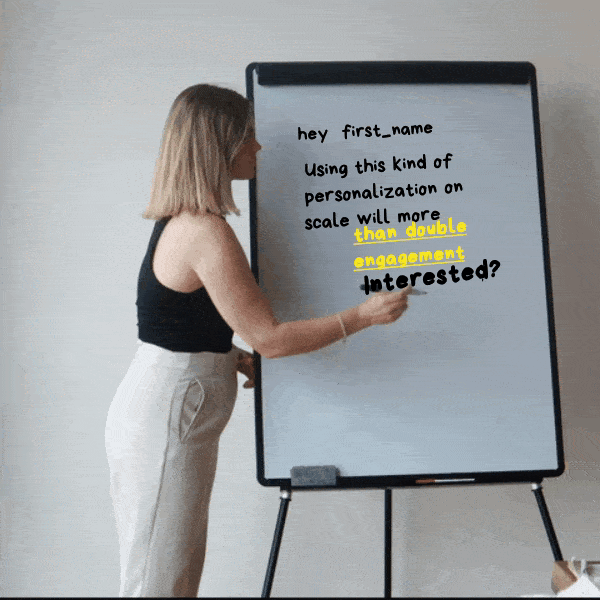 You can use these personalized GIFs in your automated LinkedIn outreach campaigns using tools like Expandi. Integration between Hyperise and Expandi allows you to directly use these personalized images or GIFs in your LinkedIn cold outreach campaigns.
4. Social Media DMs
While it is true that LinkedIn is your best bet when it comes to social media outreach, you can also try other social media channels.
Your ideal customer may prefer hanging out on Instagram, Facebook groups, or Twitter over LinkedIn. Or you may want to experiment with different channels and see which works best.
Either way, the best way to pick a social media channel is to research your target audience. Once you pick a social media channel, you can use different tactics to find these people.
For example, on Twitter, you can reach out to people interacting with your competitors' tweets. On Facebook, you can find groups that match your user persona and reach out to the group members.
With social media outreach, it is important not to sound too "salesy." A quick tip here is to get the conversation going before you pitch your offer. This way, you will seem less intrusive.
5. Multichannel Cold Outreach
If all the above-mentioned options for cold outreach confuse you, then there is a way out. You can try a multichannel approach for cold outreach.
In this type of cold outreach, you can reach out to the same people via different channels. This approach can yield higher sales conversion rates. This is because there are multiple touchpoints with the target audience.
For instance, you can send personalized connection requests to your target audience on LinkedIn. After that, you can reach out to the same people via email, referring to your conversation on LinkedIn.
Another example would be to send a cold email first, followed by a call.
Effective Cold Outreach Strategies That Work in 2023
By now, you probably are aware of the different cold outreach channels. Next, let's have a look at some techniques that will make your cold outreach strategy effective.
1. Reach Out to the Right People
While implementing cold outreach campaigns, reaching out to the right people can be considered half the job done. If you get this step wrong, hitting your campaign's KPIs will be difficult.
The first step here would be to draft your ideal customer persona(s). You can do this through market research, competitor analysis, surveying your existing customers, etc.
Next is to create a database of the people who almost perfectly fit your user profile. This part can be tricky, but having the right tools can help.
Whatever cold outreach channel you use, the best way to find these people is via a LinkedIn search. Both the free and premium versions of LinkedIn offer a wide variety of search filters that will help you fish out your target audience.
Learning to use LinkedIn boolean search operators can be of great help with this step.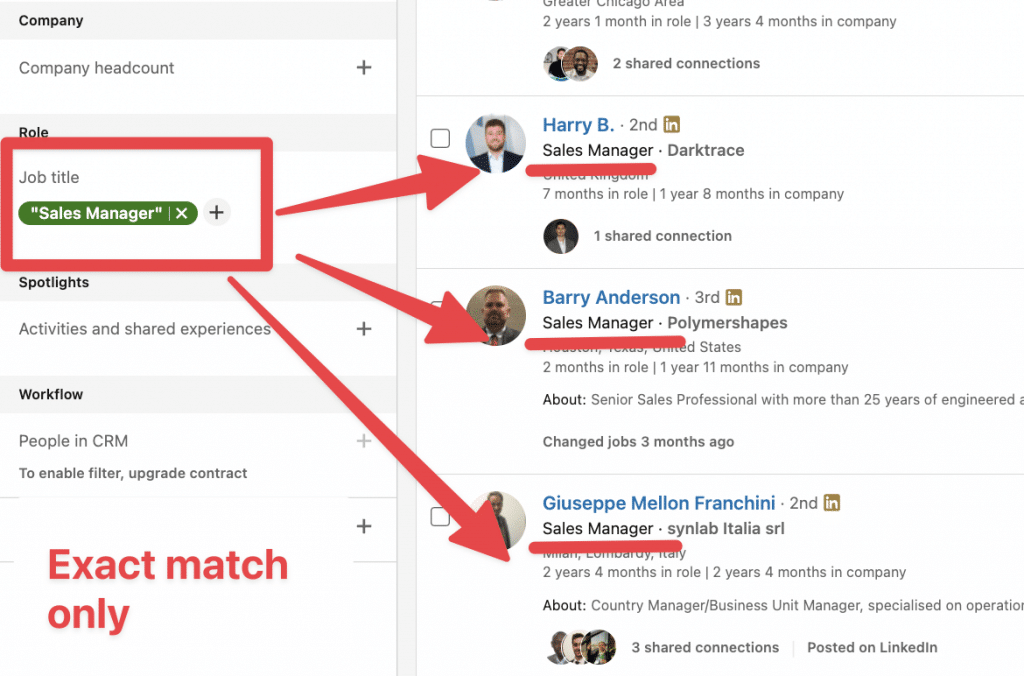 2. Personalization is the Key to Stand Out
We, as consumers, are bombarded with sales pitches from all directions almost every hour of the day. So, our brains are naturally wired to filter everything out, except when we find offers that speak specifically to us—that's the power of personalization.
Personalizing your cold outreach campaigns can drastically improve your conversions along every step of the customer journey. Studies show that more than 90% of consumers in the U.S. find personalization an appealing technique.
Personalizing your cold outreach for first name, company name, etc., is very common these days. If you want to take it a step further, image personalization is a must-try!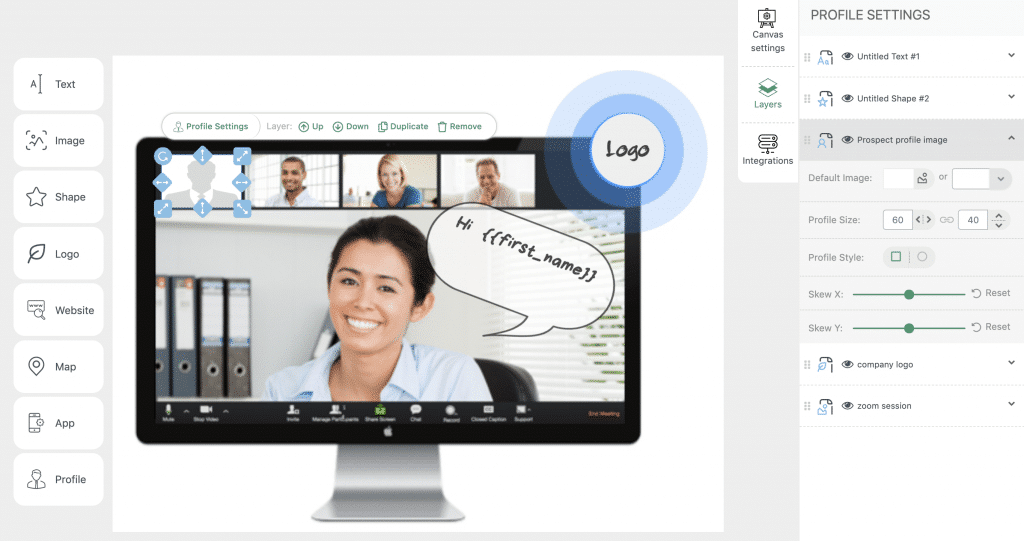 Hyperise is a powerful image-personalization toolkit that helps you dynamically personalize images, GIFs, and videos with enriched data. Personalized images trigger pattern interrupts in the human brain, thus helping you improve your conversions 2-3x.
3. Ensure That Your Messaging is Right
An essential piece of the cold outreach puzzle is getting the messaging right. You have to meet the prospect exactly where they are in their customer journey. You should be able to talk about their pain points and offer solutions that exactly cater to their needs.
Using the Problem-Agigate-Solve (PAS) formula in your sales pitches can be a sure-shot way to hit the sweet spot with your prospects. You can do this by talking about the prospect's pain point, agitating it a bit, and then swooping in with your offer as a solution to their problems.
4. Establish Credibility
For a prospect to respond to your outreach message and give you their precious attention, you have to build trust with them. And the best way to do so is by building credibility and thought leadership.
Coming across as an expert and thought leader in your niche is necessary for all cold outreach channels—be it calls, emails, or social media DMs.
You can establish credibility and build trust by showcasing different types of social proof like testimonials, customer ratings, reviews, case studies, trust badges, etc.
5. Invest in the Right Tools
Cold outreach is a numbers game. The more people you reach out to with personalized messages, the better it is. However, scaling your cold outreach campaigns using personalization can be extremely difficult.
But choosing the right tools can help you scale your campaigns. Tools can not only help you reach out to more people but also help you with other aspects. You can use them to track campaign metrics, A/B testing, personalization, store lead data, save time, etc.
As mentioned earlier, Hyperise is one of the best image and video personalization tools. You can use this for your sales emails, LinkedIn outreach, or other social media channels.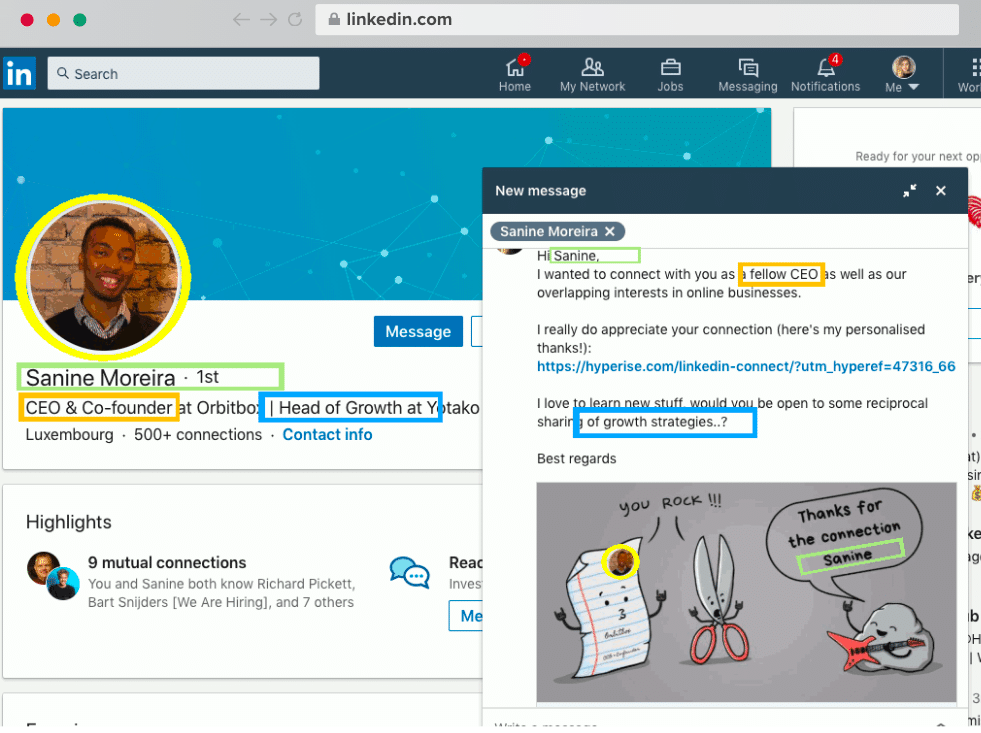 Hyperise also offers integrations with most email marketing tools, CRMs, and LinkedIn automation tools, making it super convenient to use.
Linkedin automation tools like Expandi, LinkedCamp, LinkedHelper, Meetalfred, Linkedojet, and SalesRobot can help you automatically reach out to your target audience. Tools like Evaboot help you export leads from LinkedIn Sales Navigator.
For cold email campaigns, you can use email marketing tools such as Outreach.io, Lemlist, Prospect.io, Quickmail, Woodpecker, Snov.io, and many more. Furthermore, you can use tools like Hunter.io to find email addresses and verify them.
Last but not least, CRM tools can help you manage your cold outreach campaigns and track metrics from a single platform. You can use it to store the contact information of your email subscribers, identify social selling opportunities, and optimize your marketing campaigns.
You can use CRM tools such as Active Campaign, Hubspot, Keap, and EngageBay to manage all your data.
6. A/B Test Your Cold Outreach Campaigns
No marketer in the world can predict the best possible channel, messaging, and offer for your cold outreach campaigns. Extensive testing is the only way to improve your cold outreach campaigns' metrics.
A/B testing allows you to test different elements of your outreach campaigns one at a time. This can help you significantly improve your sales conversions while simultaneously reducing your Customer Acquisition Costs (CAC.)
For example, you can A/B test your email subject lines, call to action, images, offers, and many more. Similarly, you can also A/B test your cold calls and social media outreach campaigns.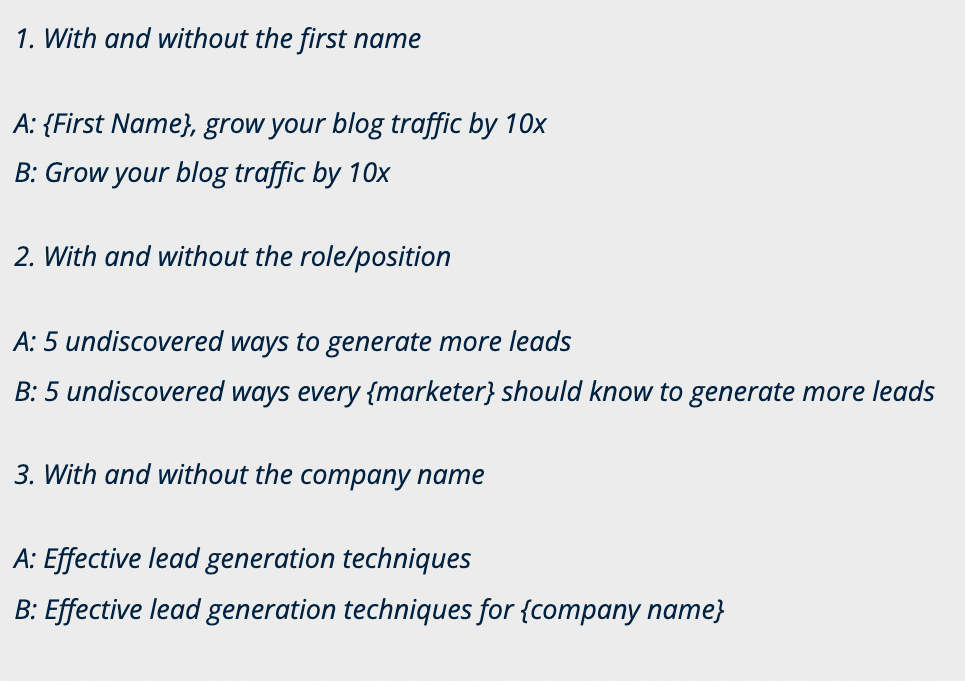 7. Set KPIs for Your Cold Outreach Campaigns
Implementing cold outreach without measuring your campaigns would be a waste of your precious resources. Only when you measure will you improve.
There are tons of different KPIs that you can set for your cold outreach campaigns. These can be cold email open rates, email deliverability rates, meeting conversion rates, response rates, lead conversion rates, etc. The KPIs you set can widely vary depending on your campaign goals.
If you are not sure about your cold outreach campaign goals or KPIs, a marketing coach can help you identify these. This is important because setting the right KPIs can bring about massive improvements in your business profits.
8. Follow Up Without Fail
Following up is an inevitable and essential part of sales outreach. Yet, it is not given as much importance as it should.
When you first reach out to a prospect, there may be a lot of reasons why they may not respond immediately. They may be occupied at the moment or want to read your email or message later.
A follow-up email, phone call, or message helps you get a second chance at pitching. Following up also helps you get closure—as you're more likely to get a yes or no response when you follow up multiple times.
Conclusion
So, there you have it—a detailed guide to cold outreach that actually works in 2023. Over to you now!
You can start implementing the cold outreach strategies mentioned in this guide right away and let us know in the comments section about the results you achieved.