Deep personalization is the new black. After all, 66% of B2B customers say they expect companies to have a deep understanding of their needs.
And with so many advanced personalization tools and platforms at our disposal, we have no excuse not to personalize our interactions with potential clients and customers.
Deep personalization is a must for every company this year – but how can you execute it? Check out the best strategies and tools to create a personalized user experience!
What is Deep Personalization
Deep Personalization is a marketing strategy that uses advanced data and predictive analytics to deliver tailored content, offers, and customer experiences.
It's driven by machine learning and AI-powered tools that analyze customer data, including website behavior, buy history, social media interactions, and more. The goal is to use these insights to create personalized experiences for each customer.
For example, look at this personalized email Search Engine Journal sent to prospective customers who may want to read their white paper based on their target reader's persona.

(Source)
Benefits of Deep Personalization
The benefits of deep personalization are many, including:
Improves the Customer Experience
Deep personalization allows a company to create customized experiences relevant to each consumer. This can be as simple as personalizing the text in an email or as complex as using data sources such as geographic location, buying history, and social media interactions to create a customized experience for each user.
Creates a Better Customer Relationship
Deep personalization works because it gives customers exactly what they want — instead of trying to guess what they might like or selling them something based on demographics (age, gender, location). It also allows you to build stronger customer relationships by treating them as individuals rather than merely numbers in a database.
Increases Sales and Conversion Rates
Deep personalization helps companies increase sales by helping customers find what they want. In fact, a Deloitte study states hyper-personalization can increase ROI and marketing spending by 80% and boost brand sales by 10%.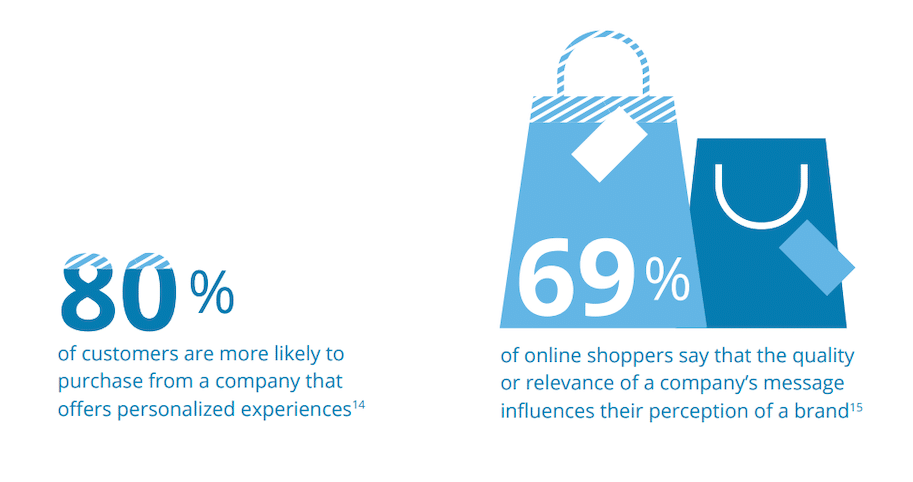 (Source)
Reduces Cost
It helps companies reduce costs by reducing the number of employees needed to support customers. The more personalized an experience is, the easier it is for customers to find what they need without speaking to a representative.
The Do's and Dont's of Deep Personalization
Do: Focus on Solving Problems for Customers.
The first step in creating a personalized experience is understanding your customers' problems. What are they struggling with? How can you help them solve that problem?
Don't: Go Overboard with Personalization.
You want to create a tailored experience for your customer, but if you go too far, it can feel spammy or invasive. Choose one or two relevant things about the customer and use them as a basis for all future interactions.
Do: Use Data from Different Sources to Help Shape Your Messaging.
You want your messaging to be relevant and accurate, so use data from all channels available to you. This includes social media, email, and phone calls.
Don't: Offer a "One Size Fits All" Experience
The best way to ensure a personalized customer experience is to offer them choices.
For example, Citrix, a cloud computing company, wanted to provide multiple content options to visitors. In order for that to happen, they didn't limit themselves to blog posts. They included all the content on their website—such as white papers.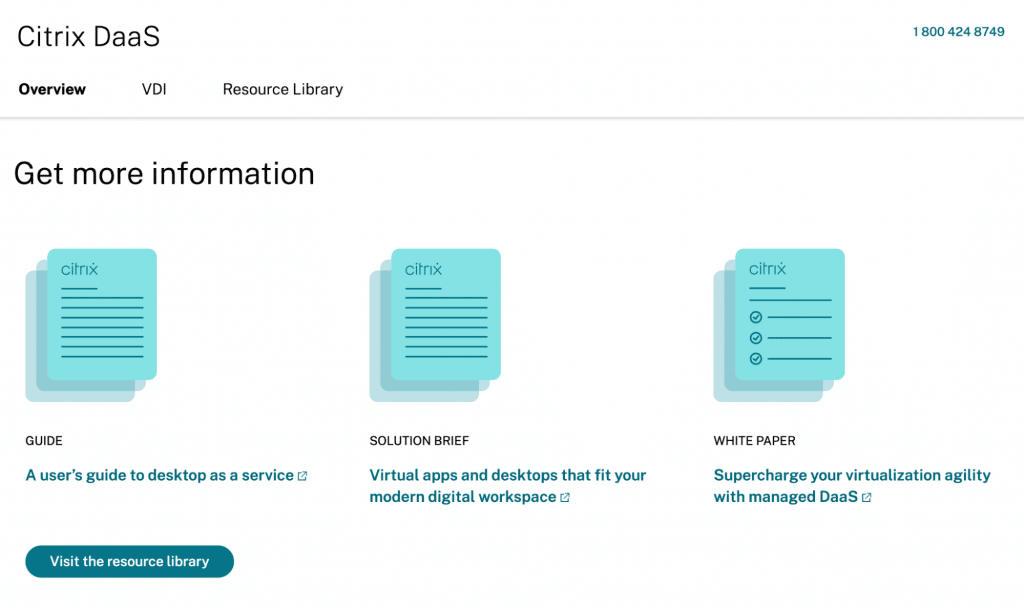 Citrix's web team programmed a feature that recommended relevant white papers to readers viewing pages about the company's services.
Do: Use Meaningful Filters, Preferences, and Settings
Customers want brands to know them. And not just their gender or age — but also their interests, style, and lifestyle. A good way to show that you know what they like is by using filters or other relevant settings.
Take this example of the Expert Institute, a legal service platform that matches experts in their database with attorneys and investment firms who need support.
They sent personalized emails to their audiences based on meaningful segments. Most of the available email marketing platforms allow you to create segments based on data from input forms or gathered behavioral data.
The content team segmented email subscribers based on the readers' levels of engagement:
For those who weren't engaged, they sent free white papers and e-books without any marketing language.
For the middle group, they sent out blog posts and CTAs.
They also sent emails addressing the need for their services to those who were most engaged.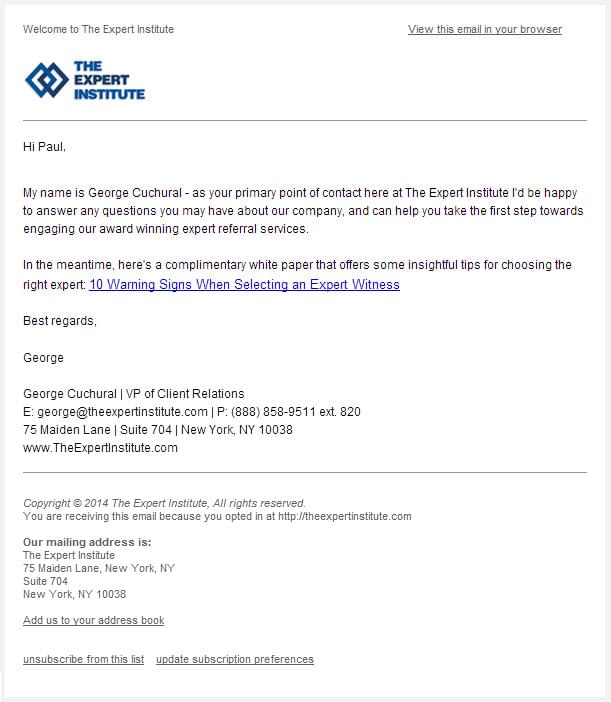 (Source)
Don't: Over-complicate or overload
There's no point in adding complexity if it's unnecessary or doesn't fit your budget or timeline.
7 Top Deep personalization Strategies (with Examples and Tool Recommendations)
1. Website Personalization
The best way to make a B2B website truly personal is by using data. The more you know about your customers, the more you can tailor your content and messaging to their needs. This way, each customer sees what they're interested in – not just what you think they might want based on demographics.
You can use a B2B website personalization tool like Hyperise to customize your website and landing pages and show dynamic user data when a visitor lands on your site.
The tool personalizes your website for each visitor by matching their firmographic data with the services offered by your computer. It further uses the visitor's IP address to discover the company's name.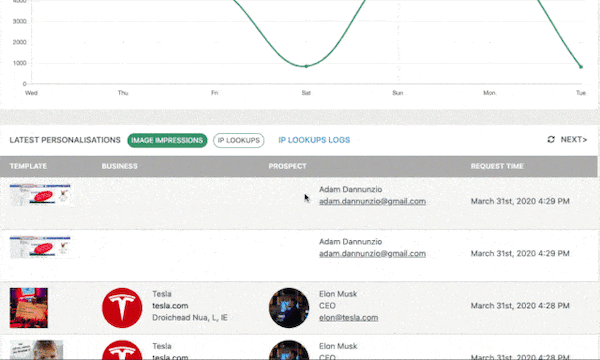 You can also use predictive analytics tools to gain insight into customer behavior. Use this data to identify patterns in how people interact with your website and use it to tailor content accordingly.
For example, if you notice that many customers tend to leave after visiting a certain product page or reading just one blog post, try showing them more relevant content instead of leaving them alone on your site.
2. Email Personalization
To make emails more personal, companies often use the customer's name and address in the subject line of an email.
However, that is not enough.
To stand out, use actual data from previous conversations with prospects to add more context to your messages (for example, if someone asked about pricing last month, include a link to pricing information in your sales proposal). This will help you tailor each message so that it feels like a conversation between two people instead of just another automated email blast from a faceless company.
Here are some more tips for personalizing your emails:
Use segmentation and personalization to target specific users.
Create a user profile based on all the information you know about your users. This includes their behavior, demographics, and interests. Then, use this information to create relevant content and experiences for them.
Personalize emails by using dynamic content and including user data in HTML templates so that each recipient sees different content in an email based on their preferences.
Use location data to send personalized offers based on where they live or work (e.g., "It's going to be a hot one today! You might want to bring your sunglasses to work").
Here's another email personalization strategy: Add personalized images in your emails to score leads.
For example, if you offer web design services, you might want to encourage your leads to upgrade to their site. In that case, include a screenshot of their site in your email campaign to draw their attention.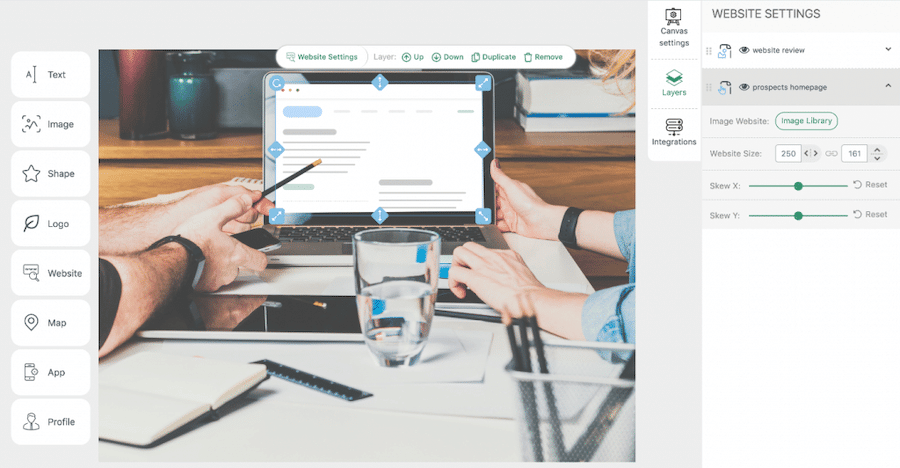 To help you take your email marketing to the next level, consider using an email template builder and editor. You can also use email marketing services like SendinBlue or alternatives to create, track, and manage your email campaigns.
Don't forget to personalize your CTAs, either.
One of the best ways to craft an effective Call to Action is by personalizing them based on the recipient. For example, if someone has visited your website before but hasn't bought anything yet, you can use a subject line like this:
"You visited my website and liked our product but didn't buy it yet – here are 3 reasons why you should!"
3. Image Personalization
One effective way to build customer relationships is through cold outreach on multiple channels. However, cold outreach isn't nearly enough with the massive competition around.
But we have a solution!
You can stand out by using image personalization in tandem with multi-channel cold outreach campaigns.
For example, when Reply.io created two sequences of emails based on templates that were identical except for the fact that one sequence had personalized images while the other did not, they found that the emails with personalized images generated twice as many warm replies!
Especially with customer onboarding or welcome emails, personalization makes a good first impression, for which, as we know, there is no second chance.
Here's another example of image personalization used for discount emails: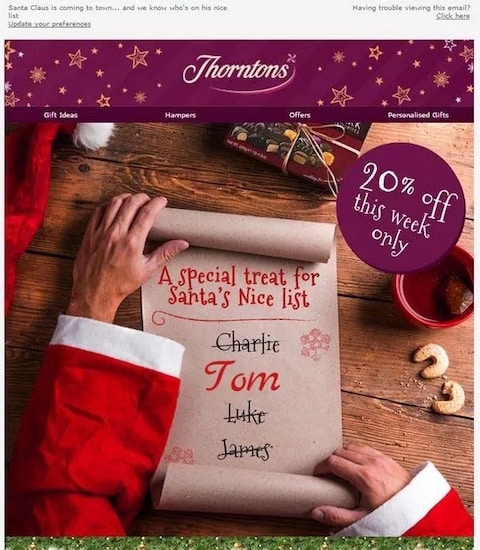 (Source)
To make image personalization easier, you can turn to tools like Hyperise. It helps you create new personalized images using the online editor.
Here are some quick strategies to personalize your images:
Use different images for different audiences
Showcase your brand's personality
Add a personal touch by adding text to your images
Personalized images work particularly well when you incorporate them into your email or social media lead-generation strategy. Both are channels where a certain personal approach is expected by the audience.
You can even go so far as to add your recipients' personal details to animated GIFs and use them in your scalable email or LinkedIn outreach.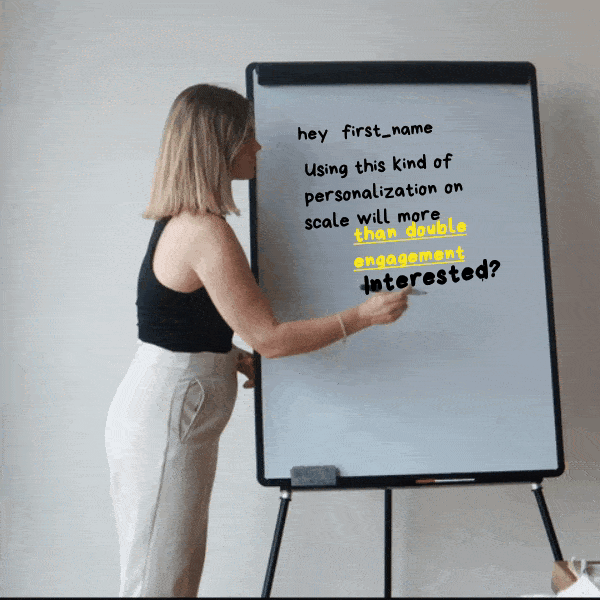 4. Video Personalization
The ability to tell stories through video is one of the most effective strategies for building brand awareness and creating a relationship with your audience. In fact, as many as 86% of businesses leverage videos as their vital marketing tool.
But to make the most of video marketing, you need to personalize your videos. That's because consumers are more likely to engage with a video that speaks directly to them – which means weaving in individual viewer data.
The good news is that there are many ways to do this.
Here are some strategies for creating personalized videos at scale:
Create unique videos by adding individual viewer data, like a user's name or company name. This is especially effective for onboarding, training videos, or webinars where viewers learn about a product or service they've just purchased.
Add logos and website screenshots into videos for brand recognition and credibility. You can also use this strategy for testimonials and case studies (by showing off logos) or demonstrating how something works (by inserting a screenshot).
Use a personal message at the beginning of your video to engage viewers and let them know who you are.
The best part? There are tools that let you personalize your videos without any technical knowledge.
Take the Hyperise video personalization tool, for example.
The video marketing tool has a built-in editor to add dynamic text layers to your videos and personalize your voice. It also allows videos to have interactive CTA buttons and hotspots, and more.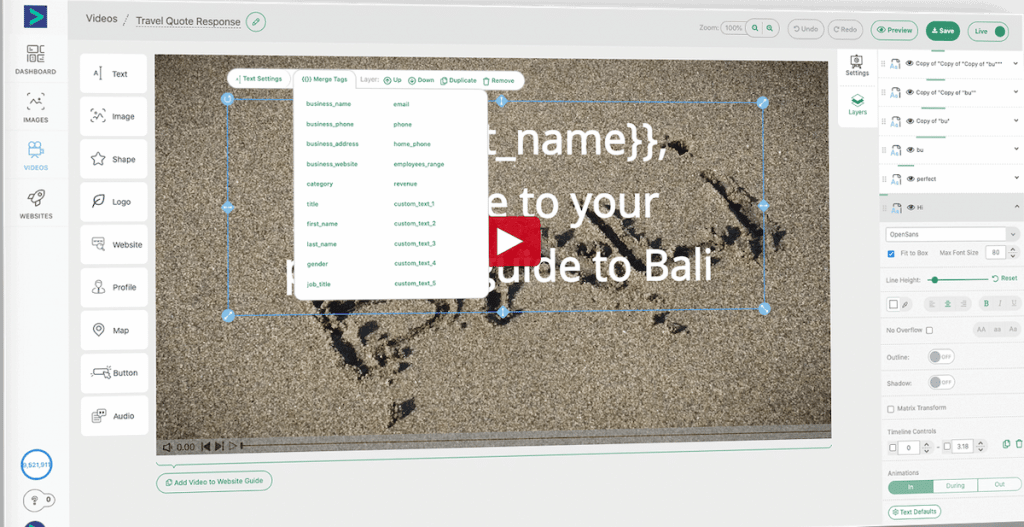 This will come in handy for creating personalized introductions, webinars, onboarding videos, training & courses, and more.
5. Product Recommendation
Recommendations based on what customers have bought or browsed are common in ecommerce marketing. For example, if someone buys one product in a category, they may be shown other similar products.
And deep personalization includes more sophisticated than simple product recommendations because they use data from multiple sources to make predictions about what someone might like.
For example, Stitch Fix uses deep personalization to offer a better shopping experience. Based on customer data, Stitch Fix sends a selection of clothing or accessories, and shoppers only pay for what they keep and return the rest.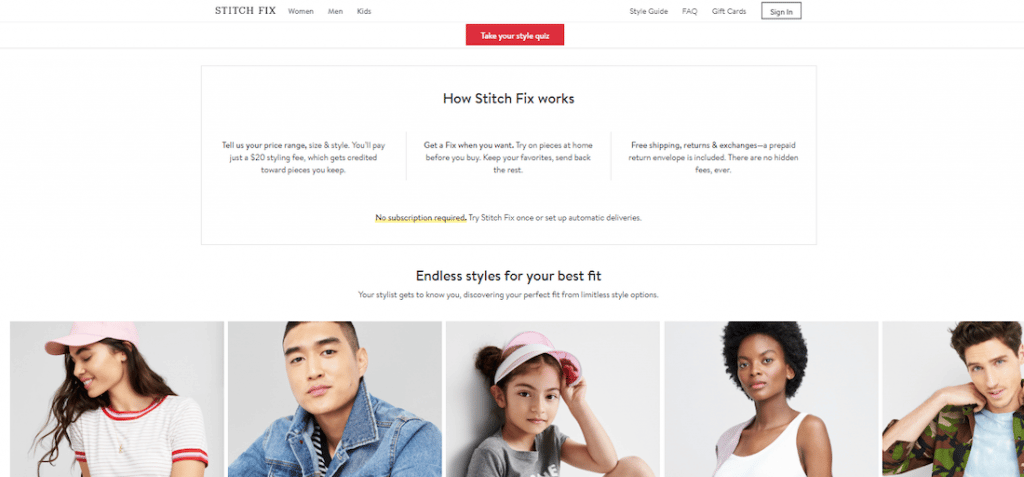 (Source)
The brand has reached more than $1 billion in sales; by 2020, its customer base had increased by more than 3.4 million. They also launched a referral program to encourage their clients to share their positive personalized experiences which spread like a wildfire. This was proof of how important it is to customers to be treated personally
Spotify does product recommendations with its "Discover Weekly" playlist, which automatically generates playlists based on what you listened to last week. As most consumers are used to it from their most beloved providers like Amazon, Spotify, and Netflix, these expectations naturally spill over to other industries and the B2B sector as well.
6. Chatbots
Integrating chatbots and other AI-powered virtual assistants into your website help you respond to visitors in real time with personalized offers, product recommendations, FAQs or other information based on what they've already done on the site (or what they might do in the future).
For example, if they've added something to their shopping cart but didn't complete the purchase, you could use chatbot technology to ask them why they didn't go through with the purchase and then offer them a coupon code or other incentive to complete the purchase.
The chatbot technology could also provide discount coupons when asked by the potential customer, as in the example below: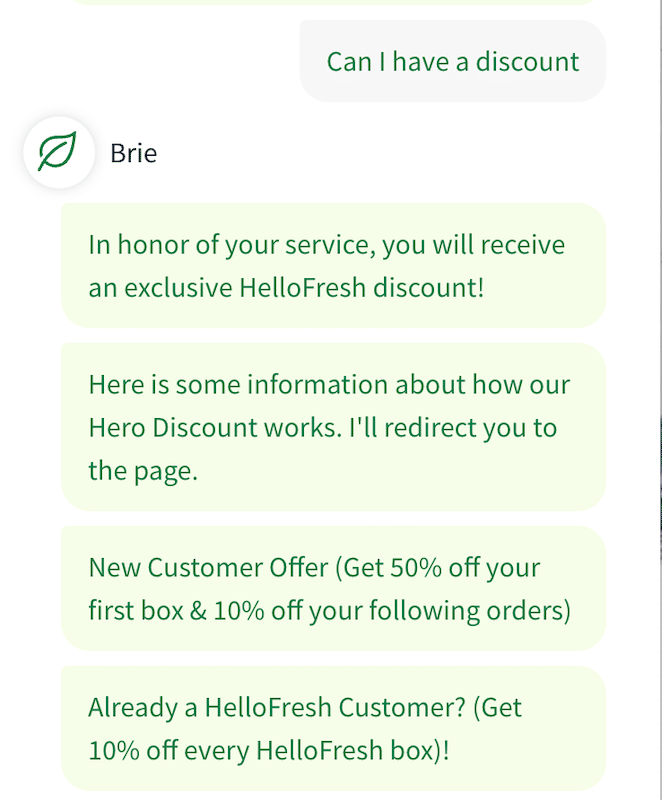 (Source)
Luckily, many AI chatbot platforms offer tools to help you develop and customize chatbots suited for a specific customer base. For instance, many chatbot platforms provide live view features that allow you to see who's currently on your site so you can offer proactive customer service.
B2Bs like Hubspot use a site navigation chatbot that can help users find pages and content on their sites.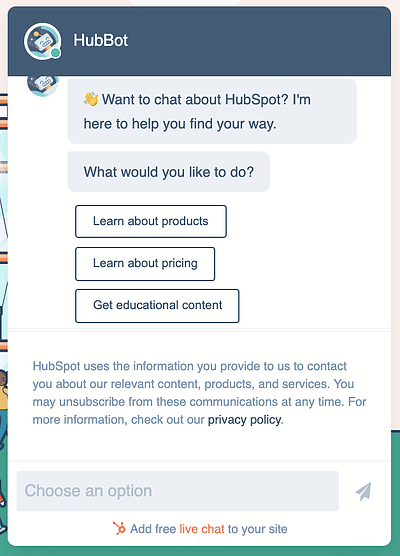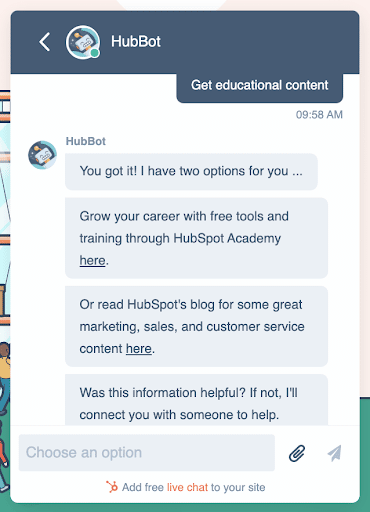 (Source)
7. Retargeting
With rising acquisition costs, it's best to retarget previous visitors and customers. Retargeting has many benefits and is a great way to get people who have already expressed interest in your product or service back on your site.
You can use retargeting campaigns with dynamic ads so that users see different offers based on their behavior – whether they viewed one product or another previously, how long they stayed on each page on your website, etc.
Suppose, someone drops off at checkout but has been looking around your site for hours. It could mean they love the product but aren't ready to buy it yet. Show them more information about that specific product until they finally buy it!
Here's an example of a retargeting ad personalized for Fortune 500 companies:
(Source)
As you can see, the ad campaign is retargeting its target audience (big enterprises). They use personalized calls-to-action and messaging like "enterprise branch security solutions."
Here's another example of a retargeting ad for J. Crew: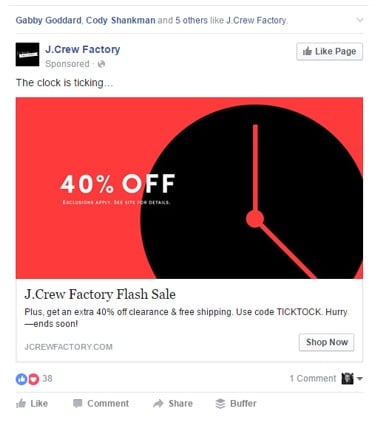 (Source)
The ad uses urgency to remind customers who have already browsed through their products or are at least familiar with the brand.
Time to get to know your customers better!
After analyzing successful cases of deep personalization, we can see some common elements. For example, you need marketing automation platforms with their algorithms to deliver an excellent digital experience.
Another part is understanding the customer journey and using collected data to enhance the customer engagement lifecycle. This can help you make more data-driven accurate predictions about how customers will behave.