Automated email messages have a 69.5% higher open rate and a 152 % greater click-through rate than average marketing messages.
Do you want to understand how to craft powerful email automation sequences?
This article will show you how to create effective automated email marketing workflows for your organization.
Let's get this party started.
Why do you need to automate your emails?
Email marketing automation is the strategy of sending triggered and tailored emails to particular contacts depending on pre-defined time and user activity.
Email is still an efficient way to nurture leads, with email drips being a great approach to develop long-term relationships with your subscribers.
Your email marketing software functions as a miniature CRM. It's where you maintain track of your email list and keep everything organized. Email automation software helps you to segment and manage your database based on the following criteria:
Size of the company
Location
Age
Gender
Interests, etc.
Now that we've covered the basics, let's look at several email automation examples.
1. Create a Welcome Drip Campaign for your New Subscribers.
It's your time to capitalize on new users' first excitement and interest, so focus on creating a well-crafted welcome drip campaign for your new blog readers.
A welcome email campaign is efficient for the following reasons:
You and your subscribers will learn more about one another.
It creates a buzz and attracts new readers to your older work.
It builds a stronger relationship.
Did you know that 75% of users expect to get a welcome email after signing up?
Take your time and create a welcome email to maintain your subscribers' attention and engagement for a longer time. If you are not a designer, take advantage of these welcome email templates here, which will make your life easier.
Start by introducing yourself or your company in the first email of your welcome email series, talk about your company's history, or give your subscribers a behind-the-scenes look at your eCommerce business.
The majority of your newsletter readers are only aware of your most recent blog posts. As a result, including some of your best pieces in the welcome drip campaign is a terrific opportunity to drive more traffic to your website and promote some older evergreen posts.
This is a fantastic technique to keep your new subscribers interested. You can also collect helpful feedback on your content marketing efforts and product, which you can utilize to improve your marketing automation plan.
A blog visitor becomes a subscriber due to your marketing efforts indicating interest in what you say. However, ensure to capitalize on this initial momentum to build brand awareness and attract new customers.
Welcome email automation example
The easiest method to understand drip marketing campaigns is to look at a real-life email automation example of a successful welcome email series.
This is an example from BBC, informing subscribers what to expect in the coming days. When we examine the BBC email template more closely, the first part is a generic introduction. The second is more informative, and the third is about directing traffic.

The idea is that if a contact signed up for the newsletter, they must be interested in one of the following topics. BBC can then deliver related dynamic content to those contacts who are qualified based on the automation campaign's data.
I recommend utilizing 3-5 triggered emails in a welcome campaign to make it more digestible for your subscribers.
Let's keep going and look at another email automation example.
2. Use Onboarding Campaign to increase Conversion and Trust
Setting a goal is the initial step in creating a superb onboarding automation campaign. Find all of the barriers that are keeping the user from reaching a deeper relationship with your brand.
All of these will assist you in an excellent email workflow and creating a more effective automation campaign.
You'll need a solid value proposition for a great user onboarding email, benefit-oriented, and serving as a reminder of their initial objective. Great onboarding emails concentrate on the users' problems and the solutions to these problems.
Onboarding email example
An older Netflix user onboarding ad is one of my favorite examples. Users sign up and begin their trial term after opting in on the signup page.
The following is the first email in the automated campaign: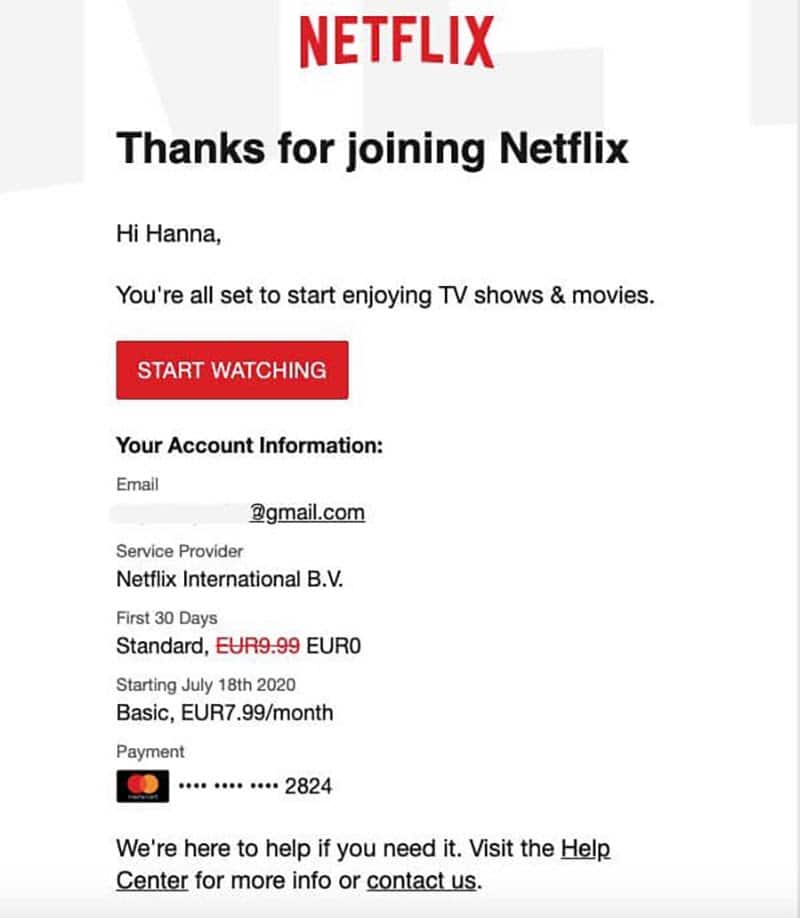 There aren't a lot of material or sophisticated design features on this page. There are only account-related details and a big red call to action to watch the platform's episodes.
Netflix advertises its apps for mobile and tablet users in this second email, providing users more options without selling yet.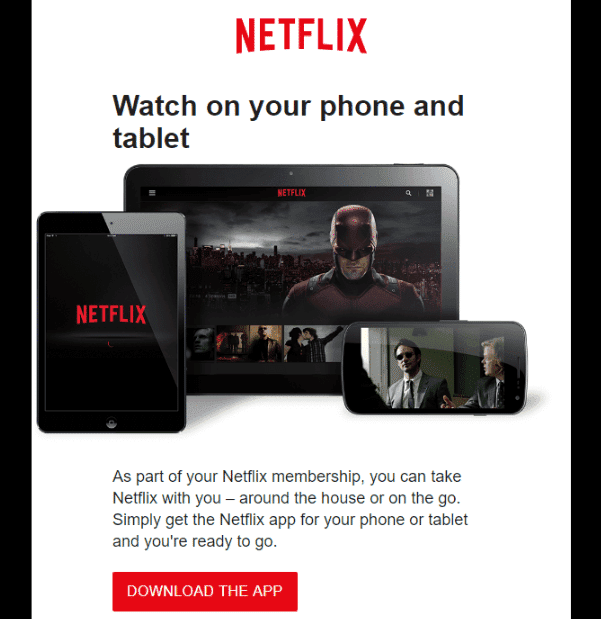 The same rules apply to the Netflix email marketing automation campaign's third, fourth, and fifth reminder emails.
A trial expiration reminder is issued a few days before the trial term finishes as the process proceeds.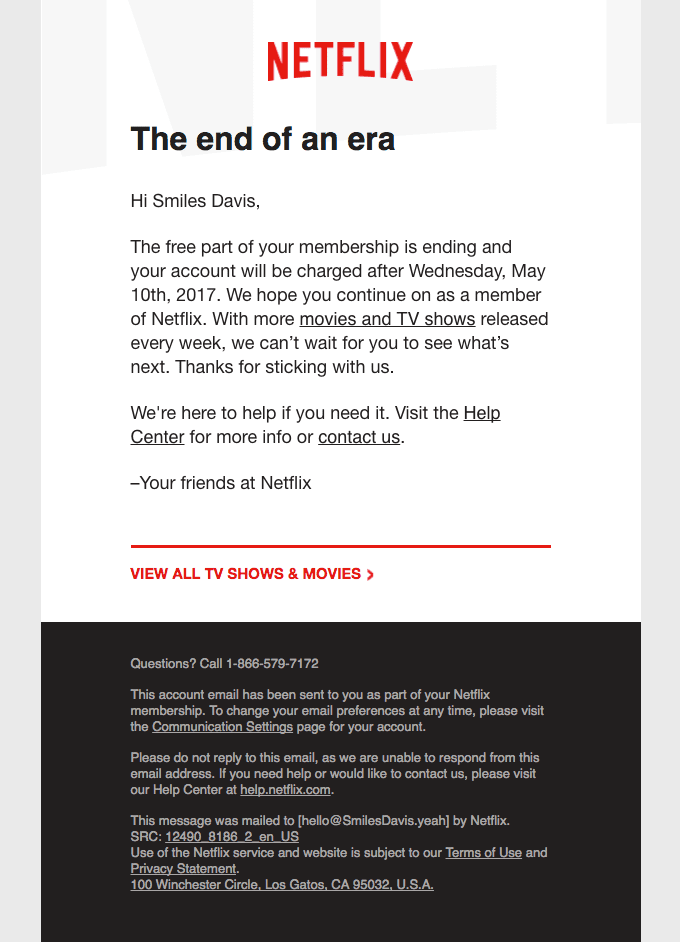 After getting the reminder email, the user must decide whether to sign up for a paying Netflix account or cancel the subscription.
If users deactivate their accounts, the automated campaign's final email is sent: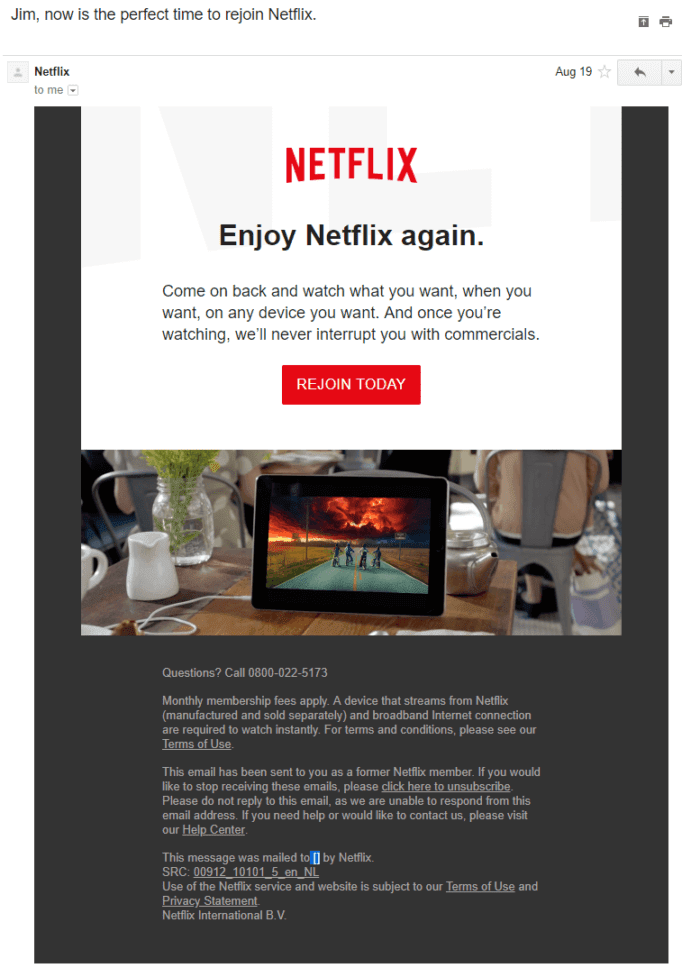 Although this is a cancellation confirmation email, they have included a clear call to action button for individuals who may change their minds in the coming days.
You can see the flow and funnel of Netflix's email marketing automation campaign by looking at this campaign. It's easy to use, transparent, and smooth. They take the customer on a well-planned customer journey.
As I previously stated, you must keep the user motivated during onboarding. A positive affirmation is one of the most effective marketing strategies to do so. It is critical to reward users for their behaviors to develop habits.
When consumers achieve their objectives, congratulate them and then urge them to take the next step, which will allow them to discover even more value in your product.
Pro tip:  You can send a triggered email practically every day during the 7-day free trial period.
If you try to do the same thing with a 30-day free trial period, you'll ensure that no one becomes a paying customer, and your emails will be labeled as spam.
Your onboarding emails should include all of the information required to get the most out of your product. Only until you build the ideal experience within your email marketing automation campaign will this happen.
3. Leverage Up-Selling and Cross-Selling Automations to Increase the Average Order Value
The desire to sell more is universal. There is no such thing as too many sales. In this email automation example, we'll get to that point and how marketers use upsells and cross-sells to increase the revenue of their brand.
You should not stop communicating only because some people have already purchased, primarily if you sell various goods or services. This is when cross-selling and upselling strategies come in handy.
If you don't know what up-selling is, it's a sales and marketing approach that involves persuading a customer to buy a more expensive item. Here, the goal is to raise the average order value.
Cross-selling is a method of generating sales by recommending an additional product to a customer. For example, if you have an athletics website and a consumer has bought running shoes, you could promote a running vest, apparel, or socks.
Take a look at what they've bought and customize your special offers accordingly. Send a shopping cart email to your contacts with the product or service they bought. Then set up different automation to suggest new product recommendations or services that complement what they've already purchased.
Up- and cross-selling email automation examples
Framer, for example, had a lot of success with upselling email marketing automation.
You'll receive the following lead nurturing email shortly after signing up for an account and starting to use it.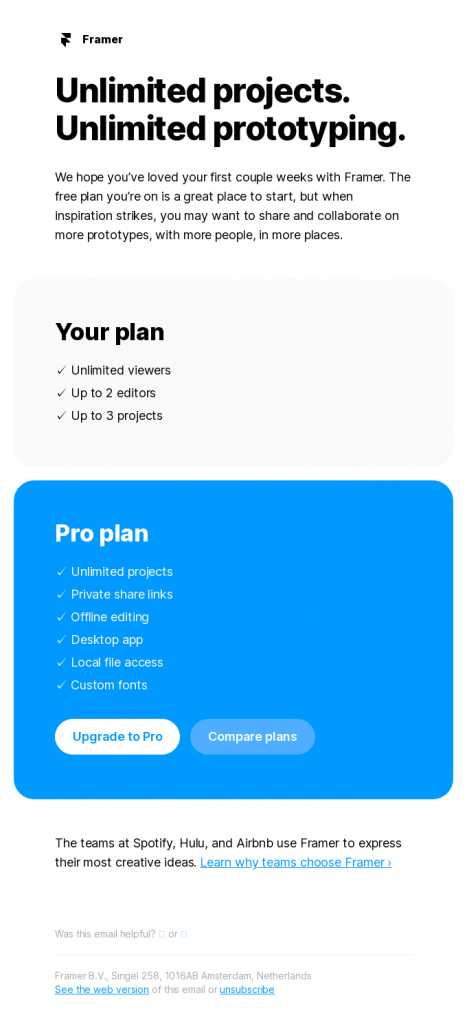 Even if the person is already a paying customer, skilled marketers never pass up the opportunity to boost order value via cross- and upsells regularly. Find ways to create a better experience for your customers and make it a no-brainer for them to upgrade their plans.
4. Uncover Targeted Leads With Lead Magnets
Lead magnets are an essential feature of a lead-generating funnel that converts well and attracts loyal customers.
You're not getting the most out of your lead magnets if you collect email addresses and then just send the download link in one transactional email.
Create an email autoresponder for each of your lead magnets, where you may give further information to your subscribers and make them interact with your brand in a more meaningful way.
In the first email, include the lead magnet download link and a quick introduction to your brand.
You can also include more information about the subject of your lead magnet in subsequent emails.
These may be blog posts, infographics, or podcasts related to the gated content your subscriber downloaded. In the emails, include some teaser sentences and a call-to-action with a link to your evergreen material.
Lead magnet follow-up email automation example
Conversion Rate Experts, a conversion rate optimization firm, has set up this email automation campaign to leverage its lead magnets.
Visitors have a selection of free materials in exchange for an opt-in, as shown in the screenshot below: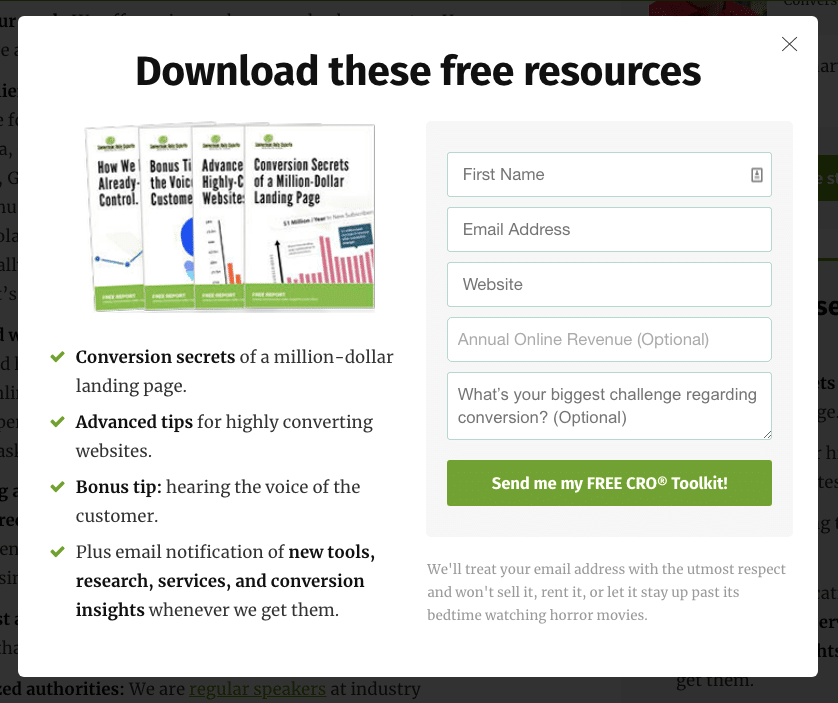 A first email is sent to a visitor shortly after they sign up.
The free resources will be introduced in the first email: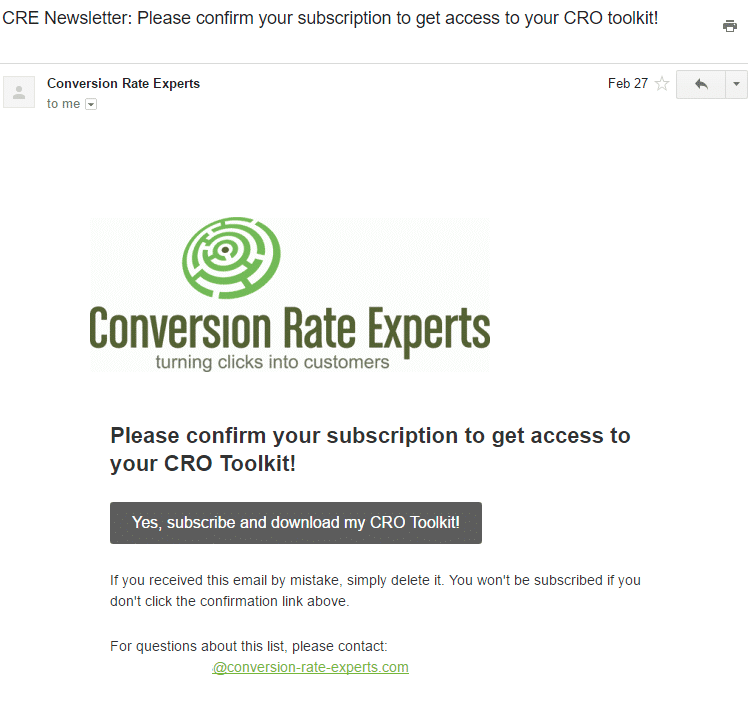 The new subscriber will download the CRO Toolkit by clicking the CTA button on the email. It doesn't end there, though. They share additional content and articles in the following email in the sequence a few days later: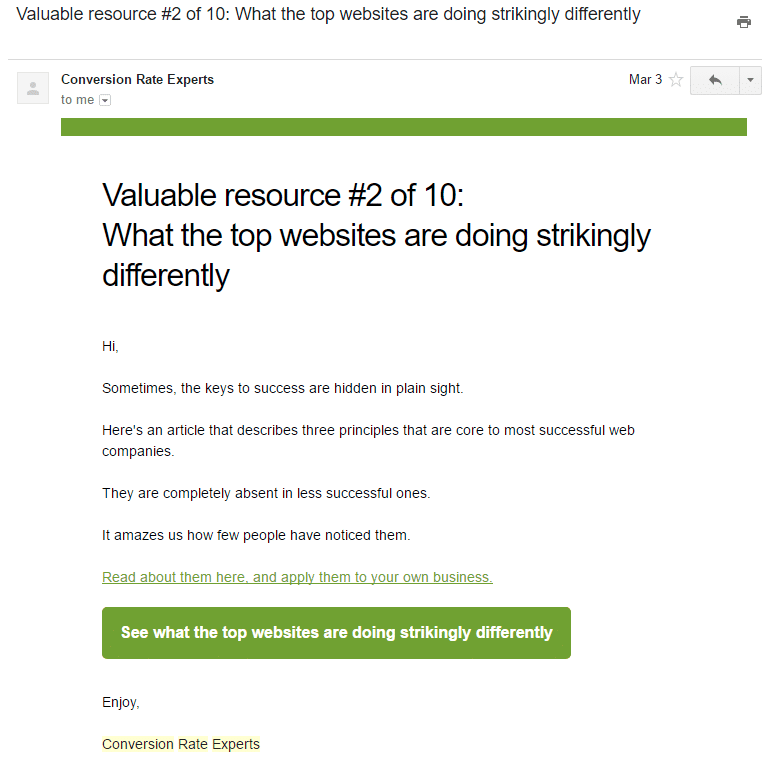 Conversion Rate Experts often send ten emails with free resources and recommendations, as stated in the email subject. However, after the tenth email, they send out a sales email offering their CRO services: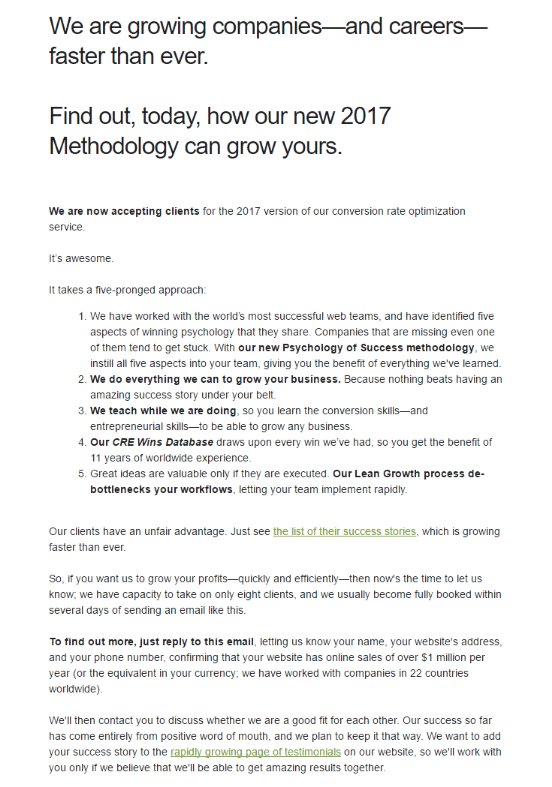 Conversion Rate Experts set expectations for their contacts in the subject line by indicating the number of emails delivered. In addition, they ensure that subscribers pass from website visitors to marketing qualified prospects and then to sales qualified leads.
Pay attention to the sequencing of your emails when you design your automation campaign. Consider these automation examples as micro funnels, and make sure to deliver an exceptional user experience.
Also, in your email series, make sure you're progressively building up to your sales pitch. Include your pitch in the sequence's final email. Use roughly 3-5 emails in a lead magnet follow-up, like in the welcome email campaign, and end up with your sales pitch.
5. Improve Customer Experience
In today's world, almost every company has a customer success team. It's where you can assist your consumers, respond to their inquiries and problems, and receive complaints and reviews.
It can also help you improve your sales and client satisfaction.
However, how does this relate to email marketing automation? There are many ways to leverage the power of email marketing to make that a unique experience for your clients.
Many brands use thank you emails to gather feedback and reviews, while others survey their customers to obtain valuable feedback. With the email automation example below, you will better understand how an email can help you in this task.
Customer satisfaction email campaign example
When a customer care case is closed, Ritual sends a triggered email to the customer, requesting them to complete a survey to rate the quality of the assistance they received. Here's an example of an email: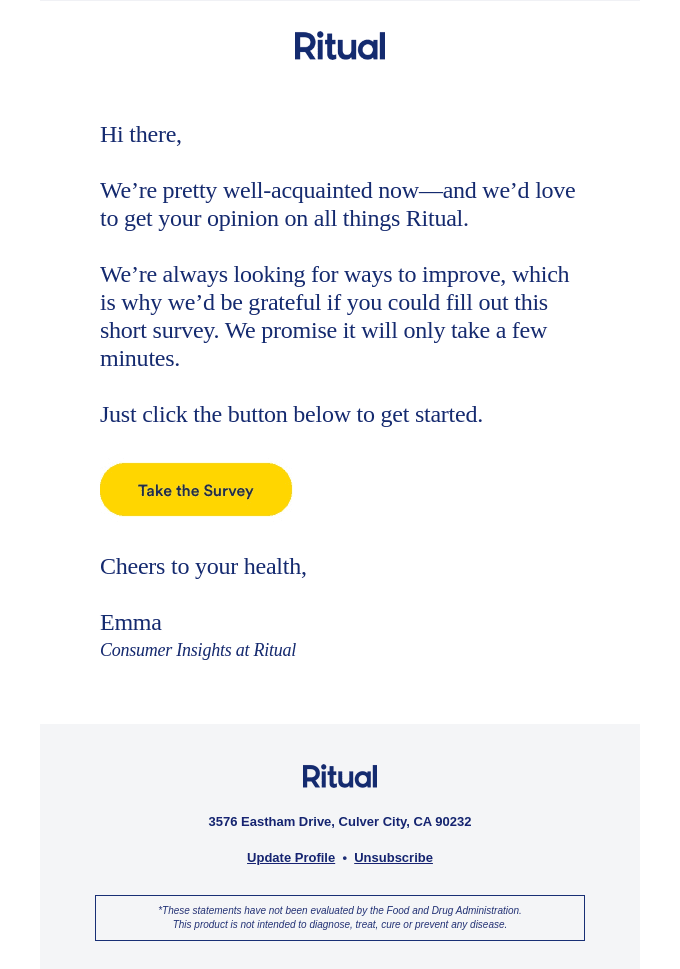 This type of email shows that you care about your consumers and the level of service you deliver. Dropbox follows the same strategy, but instead of a survey, they send a review email that rates the success of their customer support.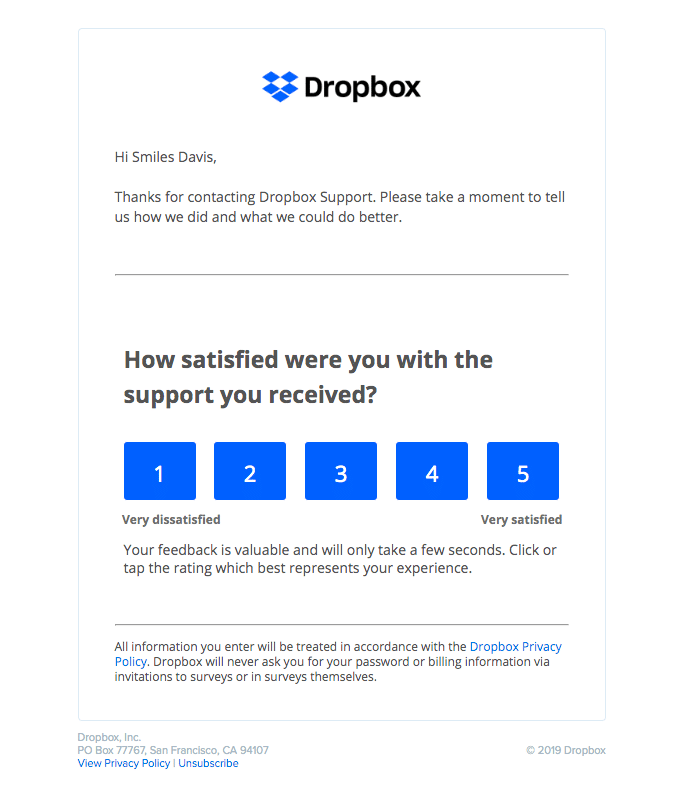 After that, if a contact took the survey or if you value your customers' comments, you can send a thank you email responding to their message. This is a great way to make your customers remember your brand by providing personalized customer service.
6. Re-engage Customers With a Dedicated Campaign
People join your email list because they anticipate value every time they receive an email from you. However, as time goes, this initial excitement fades, as does some subscribers' engagement rate.
The opens gradually fade away, and the clicks go away as well. You'll find some subscribers that aren't a good fit for you, but you can win back many of them.
A re-engagement email automation can help you qualify your email list, keep the engaged ones, re-engage the ones you might lose, and find the ones with the lowest engagement rate.
It's a tricky campaign, but you will be ready to make the change and get ahead of the competition with the email automation example below.
Re-engagement email example
Let's take a look at Headspace's example.

Headspace's win-back email is relatively simple. It focuses on helping subscribers being part of the community, just in case that was one of the reasons they quit utilizing their services.
Headspace uses a colorful template with a playful hero to grab people's attention. Apart from that, two prominent CTAs make you want to click and continue with the brand's journey.
The Takeaway
There you have it. The most crucial email automation examples to create a strong email marketing campaign in 2021.
Begin by creating automated email campaigns to make the most of your time, boost your email marketing conversion rate, and improve the customer experience.
You want to construct a path for your leads and potential customers with email marketing automation consisting of the steps you want them to take and the information you offer.
When developing your email marketing automation workflows, keep in mind that you don't want to spam your contacts. Provide value and nurture them through a unique customer experience that only your brand can offer.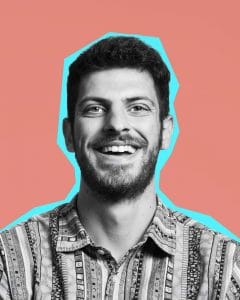 Alex is a content writer at Moosend. He leaped faith in the digital marketing world from an architecture background and has never looked back. You will find him traveling in places around the world in his free time.