Lead generation is the lifeblood of every business. Yet 61% of marketers say it's the biggest challenge they face in digital marketing.
To boost your success rate in this area, you should consider using email as one of your primary channels.
And we'll show you the top email lead generation tactics you can use to double your response rate.
What is email lead generation?
Email lead generation is the practice of using email marketing software to design, launch, and run marketing campaigns designed to generate leads for your business. There are two main types of email lead generation:
Inbound email lead generation. This is a type of email marketing campaign that involves attracting leads with a free yet valuable offer. Your target audience willingly gives you their details and permission to reach out to them with marketing material in exchange for your offer.
Outbound email lead generation. In the case of outbound email lead generation, it involves sending personalized cold emails to prospects that fit your customer profile. Unlike its inbound counterpart, you don't wait for leads to come to you. Instead, you reach out to them.
How to generate email leads for sale?
Filling your pipeline with sales leads is critical to your success.
But what makes email such an excellent lead generation channel?
Here are a few reasons why:
Automation. You can easily set up, run, and manage email lead generation campaigns on autopilot.


Targeting. Email is the best option when you want to target a specific target audience. You can easily segment your list to ensure you send the right message to the right audience.


Measurable. Another advantage of using email is that it's easy to track and measure performance.


Lead scoring. Lead scoring is an essential aspect of lead generation that helps you know how close to conversion your leads are. Again, email service providers can provide you with the data to effectively do this.


Lead qualification. Qualifying your leads becomes easier thanks to the wealth of data you get from your ESP (and CRM). In addition, you'll be able to easily categorize your leads into different segments like marketing qualified leads (MQLs), sales qualified leads (SQLs), and much more.


Ready to launch your email lead generation campaign?
Before you do, here are 12 tactics to help you succeed.
12 email lead generation tactics to double the response rate
Email lead generation, executed well, is an excellent way to grow your business. But for that to happen, you need to get good response rates for your campaigns. Here are 12 email lead generation tactics you can use to double your response rate:
1. Hyper-personalization
One of your first ports of call when looking to double your email lead generation response rate is hyper-personalization.
Hyper-personalization is the practice of creating tailored experiences for each of your leads. This means creating unique, relevant messages across your marketing channels and assets, examples being:
Landing pages
Images
Videos
Copy
Research shows that personalized emails enjoy higher open and click rates.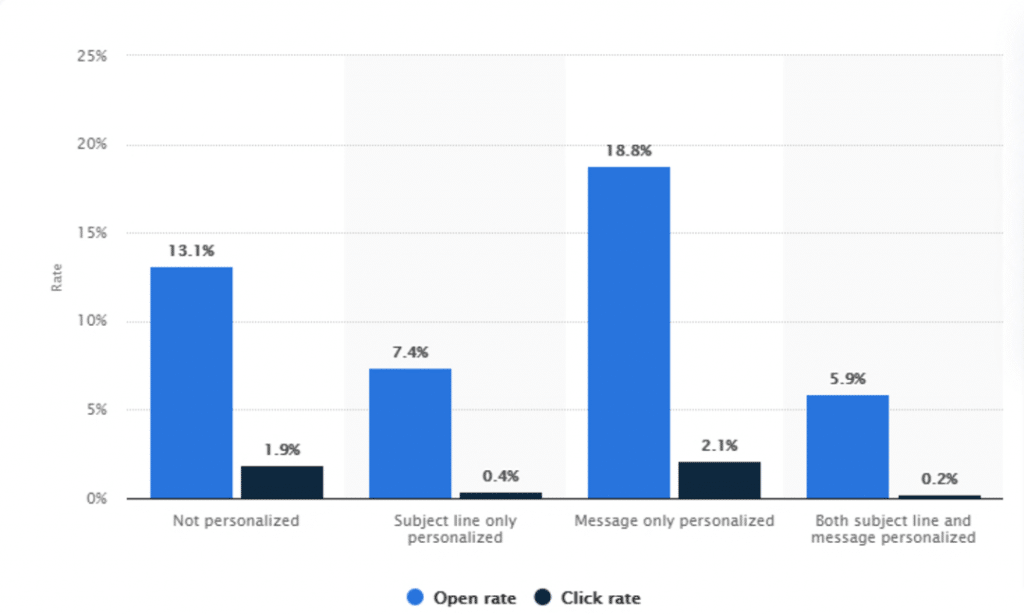 Therefore, personalization should be an integral part of your email lead generation strategy.
How do you hyper-personalize your emails?
We could show you all the complicated ways of doing it, but we know that's not what you want. Instead, you want a super-simple method that's effective and saves you time. And that simple way is Hyperise.
At Hyperise, we believe email personalization goes beyond leveraging tags to use a person's name or brand name. We know that images speak a thousand words and that they're vital in making emotional connections with your customers. That's why we created a solution that enables you to personalize the images in your emails.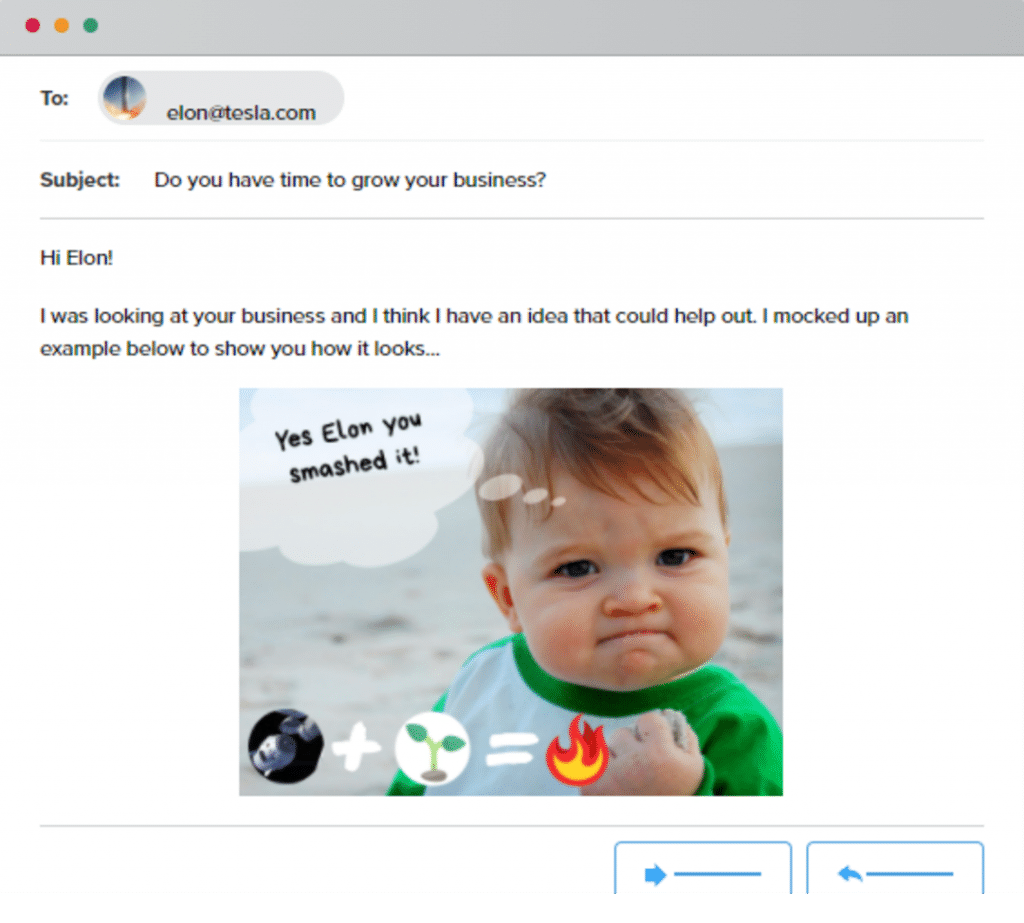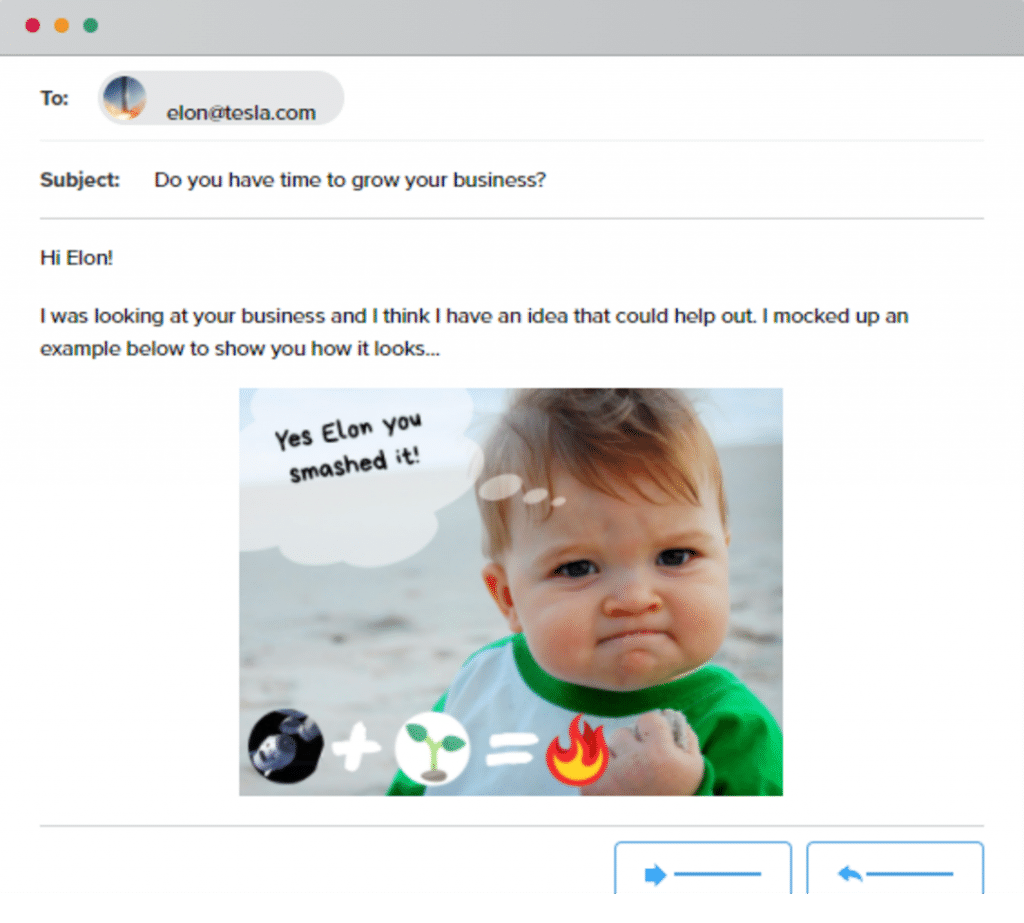 Here are two ways you can use personalized images in your emails:
Stand out in the inbox with profile images. With Hyperise, you can add your users' profile picture or their business logo to your email picture. This is the perfect way to grab their ate and stand out in their flooded inbox.
Speak clearly with an image. Add dynamic layers to images and add personalized text to your emails. This will help you crystalize your message in your customers' minds.
Generating leads with email is a powerful strategy. But it's more powerful if you hyper-personalize your emails.
2. Write about them first (then about you)
Another tactic you can use to double your email lead generation is to focus on your audience, not you or your product.
This is where audience research and understanding your buyer personas or ICPs comes in handy.
In-depth knowledge of your customers will arm you with insights you can use to create valuable content. Discover their pain points or aspirations and create content around that data. Once your readers know that you're providing valuable content, they'll engage with your emails. And that's key to improving your response rate and improving your lead generation rates.
3. Hook them with catchy, relevant subject lines
Your subject lines are an essential element of a successful email lead generation strategy. That's because your subject line is the first part of your email your recipients see.

You must employ creativity to create email subject lines.
The most effective subject lines evoke curiosity or inspire urgency. If you can pull off both, you've got a winner.
However, one of the most powerful ingredients of a winning subject line is personalization. Studies show that personalizing your subject lines can boost open rates by as much as 26%.
One of the easiest ways to personalize an email subject line is to reference your customers' pain points. You can also personalize your email subject line include mentioning the recipient's:
First name or company name.
Geographic location.
Interests and aspirations.
4. Write first line (compliment)
Once your recipient opens your email, you have one shot to keep them engaged — your intro.
The best way to impress with your intro is to compliment your recipient in the first line.
Of course, to pull this off, you'll have to invest in getting to know your recipients. It may take time and effort, but it will result in higher response rates. It will also lead to your leads being of better quality.
So how do you compliment your recipient?
A few ways you can do so include mentioning your recipient's personal or professional accomplishments. They don't have to have any awards under their belts (although that would be great). Any detail about them that you can highlight in your intro will go a long way in driving engagement and helping double your response rate.
5. Craft clean, crisp copy
Your customers receive over 120 business emails per day. To ensure they interact with yours, make sure you craft clean, crisp email copy. This means:
Keep your message short and sweet. Particularly since your recipients don't know you very well, you want to respect their inbox by keeping your email concise.
Keep the design simple. Use plain simple templates that don't distract from your message. Make sure to use simple fonts too, as they make reading your email easier.
Make use of white space. Including a lot of white space in your emails makes it easier to read and more pleasant to the eye.
Besides these elements, make sure you get to the point of your email as quickly as possible. Your email copy must not drag on. If it does, you risk losing your leads.
6. Emojis & Gifs (don't overdo!)
Emojis have become a natural part of written communication. They're a fun, hip, and engaging way of visually communicating with your customers. They're also a great way of adding a touch of personalization to your emails. Because of that, they do an excellent job of helping you double the response rate of your email lead generation.

However, you need to be careful with your use of emoji as there's a danger in overdoing it.
So, how do you use emoji effectively in your email lead generation campaigns?
Use emoji in your subject lines and preview text to grab attention in the inbox.
Infuse emoji in your email copy to boost engagement.
As you do that, make sure your audience appreciates emojis in email. You should also ensure they align with your brand voice. Other tips to help you stay on the safe side of emoji use in your email lead generation include:
Use common emoji to avoid misinterpretation.
Don't use too many emojis. Otherwise, your email will turn from being fun to being juvenile.
Use emoji in context and when necessary, not just for the sake of using them.
Don't be shy to use emojis in your emails. Done well, they're a great help in boosting your response rates.
7. Clear CTA
The main purpose of your lead generation email is to get people to perform an action that takes them further down your lead generation funnel. But never assume that your recipients know what they're expected to do.
That's why every email you send must have a clear call-to-action (CTA).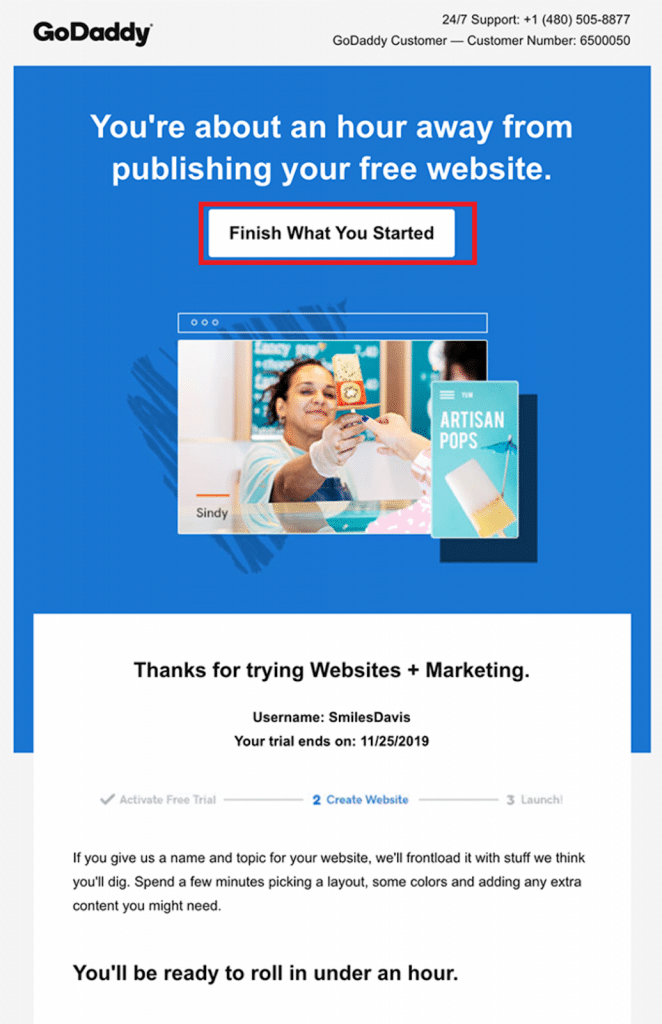 An effective CTA is hard to ignore and evokes a response from the reader. A few tips to help you design CTAs that achieve that include:
Inspire urgency. One way to do this is by using language and words that show scarcity. For example, "Buy Now", "Sign Up Today", "4 Spots Left", e.t.c.
Motivate readers to act. Use action words to spur people into taking action. Examples include, "Try for 14 Days", "Get Your Free Trial", "Schedule a Call", e.t.c.
Be clear. Readers don't have to guess what you're trying to get them to do — your CTA should be so clear a 5-year old can understand it.
Keep it short. As a rule of thumb, keep your CTA copy short. This makes it easy to understand without any cognitive effort. As a result, readers will immediately act on it.
You've put in a lot of work in getting your email opened and read, don't let all that work go to waste by using an ambiguous or weak CTA.
8. Humor
Want to double the response rate on your email lead generation campaigns?
The trick is to humanize your campaigns.
People respond better when they know there's an actual human being at the other end of the email. One way to do that is personalization, which we've already looked at. Another effective way of humanizing your brand and campaign is to employ humor. Humor is an excellent way of engaging your readers and tapping into their emotions.

How can you employ humor in your email lead generation campaigns?
A few noteworthy ways of using humor in your lead generation emails include:
Craft funny subject lines.
Use funny images.
Inject humor in your email copy.
Drive more clicks with funny CTAs.
To avoid telling dad jokes, make sure you understand who you are writing to. Doing so will help ensure you tickle the right funny bones. This is essential as what may be humorous to one demographic may not be so funny to another.
9. Gated content
Another excellent way of driving leads through email is to create gated content for each stage of the buyer journey. This is content that people can only access after providing their contact details.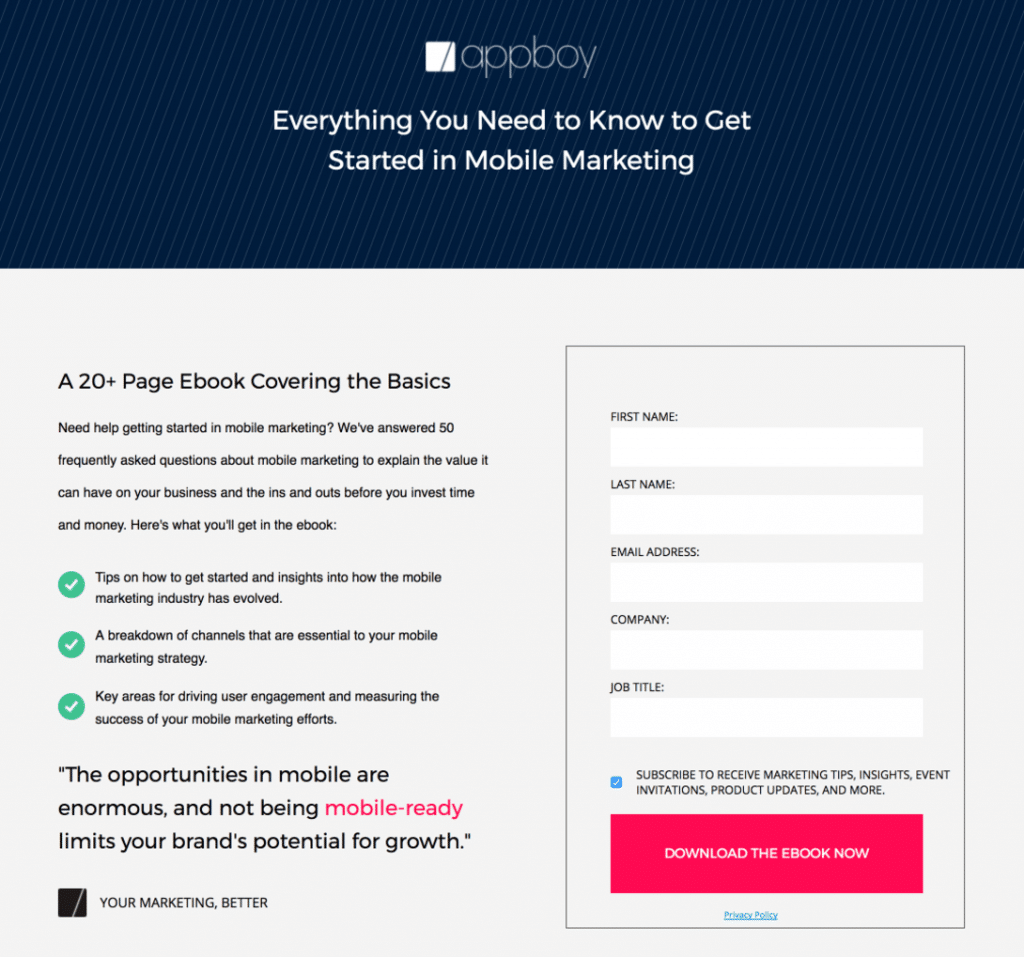 For your gated content to be effective in generating leads, it must be:
Relevant. Create gated content that only your ideal customers will find useful.
Valuable. Your content must add value to your readers. It shouldn't be something they can find through a casual search on the internet.
Expertly written. Use your gated content to showcase your expertise. This will help gain their trust and move them further down your sales funnel.
Once you've created your gated content, make sure to promote it by publishing SEO-optimized content on the topic covered in the gated content. When searchers land on your blog, you can then encourage them to access your gated content. You can also run social media campaigns to promote your gated content.
10. Lead scoring
Lead scoring is another critical tactic to include in your email lead generation. As the name suggests, lead scoring is a system of ranking your leads according to their conversion potential or level of interest in your business. In short, lead scoring helps you understand how close your lead is to become a paying customer.
How you score your leads is primarily up to the criteria you use, meaning there's no one-size-fits-all lead scoring system. Examples of criteria you can use to score your leads includes:
Lead attributes (demographic, psychographic, and firmographic data, among others).
Traffic source (where your leads found your business).
Engagement metrics (how they interacted with your website, landing page, email, or other marketing assets).
One of the most important reasons for lead scoring is that it helps you take the guesswork out of figuring out which leads to prioritize. By focusing your attention, effort, and resources on leads that are more likely to convert, your response rate will skyrocket. This is because lead scoring helps you craft tailored messages for your leads according to their lead score. It enables high-level personalization in your interactions with your leads and thereby helps drive sales.
11. Split test (A/B test)
Want to double the response rate on your email lead generation campaigns?
Then running split tests (A/B testing) on your emails must become a habit.
Split testing involves testing different aspects of your email copy to determine which performs better. It's an excellent way of optimizing your copy, resulting in higher engagement rates. To effectively A/B test your emails and improve your conversion rates:
Decide which elements to test.
Determine your sample size.
Design and run your test.
Be sure to test one element at a time to know which change results in an improvement to your campaign.
12. Automate everything (even image and video personalization)
As you've probably seen, email lead generation campaigns have many moving pieces that can make them complex.
That's why you should automate as much as possible.
A few benefits of automating your email lead generation include:
Easy to scale. One of the most significant advantages of automation is that it allows you to scale your efforts.
Effective personalization. Personalizing effectively, especially at scale, requires automation.
Engagement increases. Automation increases engagement as it allows you to create journeys tailored to your target audience.
Research shows that 80% of companies enjoy an increase in leads generated thanks to marketing automation. Not only will your number of leads increase, but because automation helps improve targeting, the quality of your leads also improves.
Email marketing for lead generation
With over 4 billion users, email is the most used communication channel on the planet, making it excellent as a lead generation tool. But for it to be effective, you should design a strategy that drives results. Here are a few tips to help you:
Use a reliable ESP
Your email lead generation depends on your email service provider (ESP). An ESP provides many features and tools that allow you to, among other things, store and manage contact information, segment your email list, and run automated email campaigns.
Identify your target audience
Another crucial step to running an effective email lead generation campaign is knowing your target audience. Conduct in-depth audience research to gain as much insight as possible into your audience's demographic, psychographic, and firmographic data. This will help you create personalized experiences across your campaign.
Create an irresistible offer
To successfully generate leads using email, you must have an offer your audience will be willing to sign up for. This offer, also called a lead magnet, must be designed to appeal to your ideal customers specifically. It must also provide immense value. If your lead magnet ticks those two boxes, it will help do most of the heavy lifting of attracting leads. Examples can include:
eBooks
An email newsletter
Tools and calculators
Webinars
Free trials of a product
Case studies and white papers
Never use generic offers that appeal to anyone, as these result in low-quality leads.
Promote your offer
Once you've created your lead magnet, promote it heavily. A few tips for doing this include promoting it:
On your blog (in the blog posts or via a pop-up)
Via social media
Using paid ads
Getting your offer in front of the right people is a critical aspect of email lead generation. It increases your opt-in rate. As such, you'll want to have an effective promotion strategy in place.
Define your triggers and design your nurture campaign
In email lead generation, a trigger is defined as an action a person takes to set off your campaign. A typical example is opting in for your email list by downloading your lead magnet. Once they do that, you need to have a lead nurturing sequence in place. This is a type of drip campaign that will help you:
Build a relationship with your lead.
Educate them on your product.
Earn their trust.
Your lead nurture sequence should be designed in a way that makes your audience feel it's all about them — not your brand or product.
Segment your email list
At this point, you'll want to segment your email list according to your new leads or how your recipients interact with your emails. This will help you send relevant follow-up emails that are personalized, thereby helping improve the response rate.
Maintain a clean email list
Not all leads will respond to your campaign. So don't keep these contacts in your database so that it looks like you have a lot of leads. Instead, regularly clean up your email list and get rid of inactive subscribers. Keeping them may compromise the quality of your campaigns.
Email lead generation should be an essential part of your marketing strategy. After all, without new leads coming in, your business will plateau and eventually start going under. That's why you should be using email for your lead generation. Not only is it effective, but it's also one of the most cost-effective lead generation methods.
Email lead generation software
As said, email lead generation works best when you automate. From managing your contact list to personalization and everything in-between, you can use several lead generation tools. Examples of some of the best marketing tools you can use to drive your lead gen efforts include: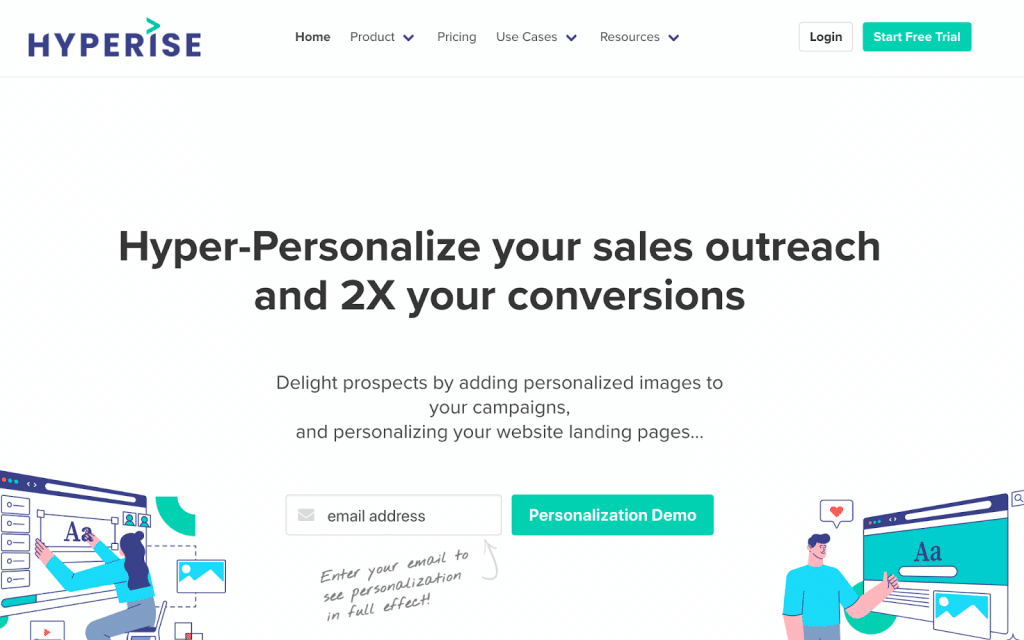 Images play an essential role in grabbing attention and keeping leads engaged. They also help drive up response and conversion rates. That's why you need an image personalization tool like Hyperise in your lead generation toolbox. With so many integrations available, you can use it with most of your other lead gen and marketing tools.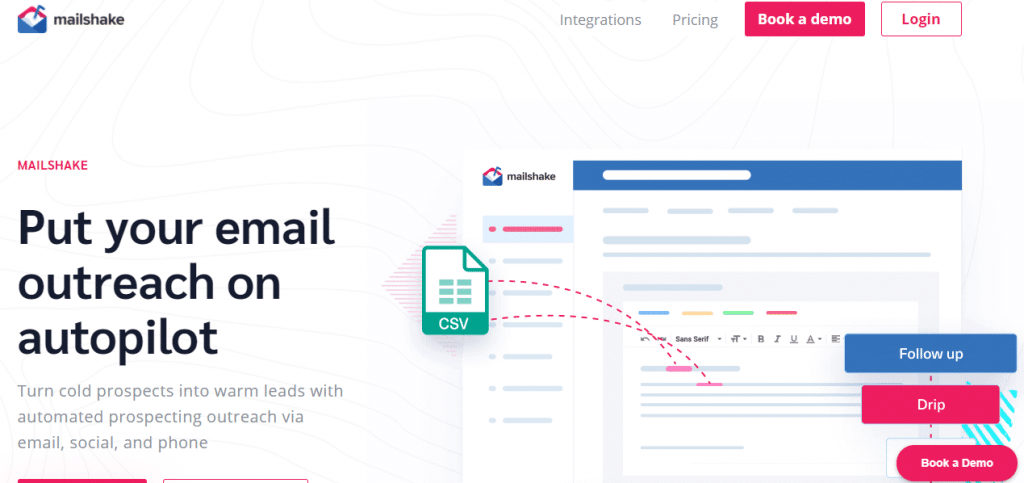 If you're looking for the best email automation tool as far as simplicity and ease-of-use go, Mailshake is it. Coming with a powerful analytics dashboard, you can easily keep track of the performance of your campaigns.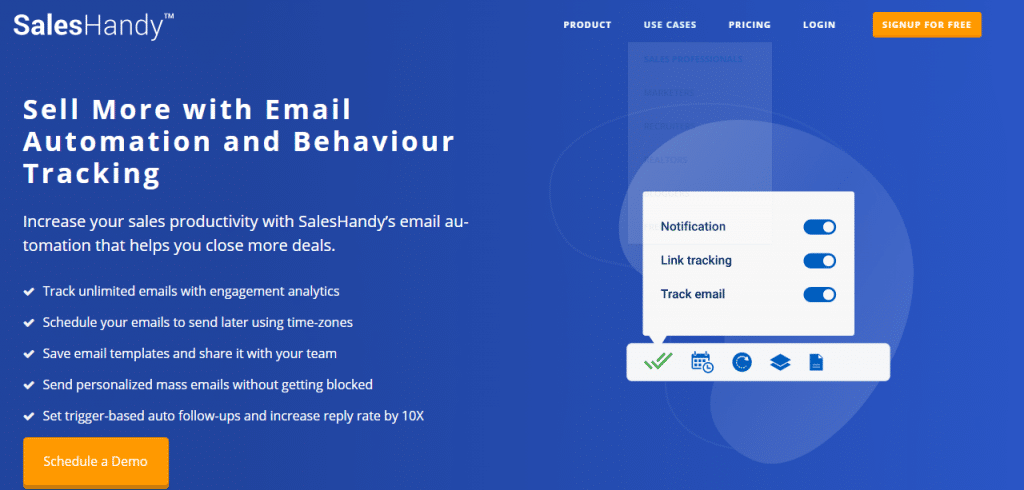 SalesHandy is another outreach email tool you should consider for your email lead generation. Trusted by big brands like Microsoft and Amazon, it comes with many handy features. A few examples of said features include mail merge, team collaboration, automated follow-ups, tracking and analytics, and much more.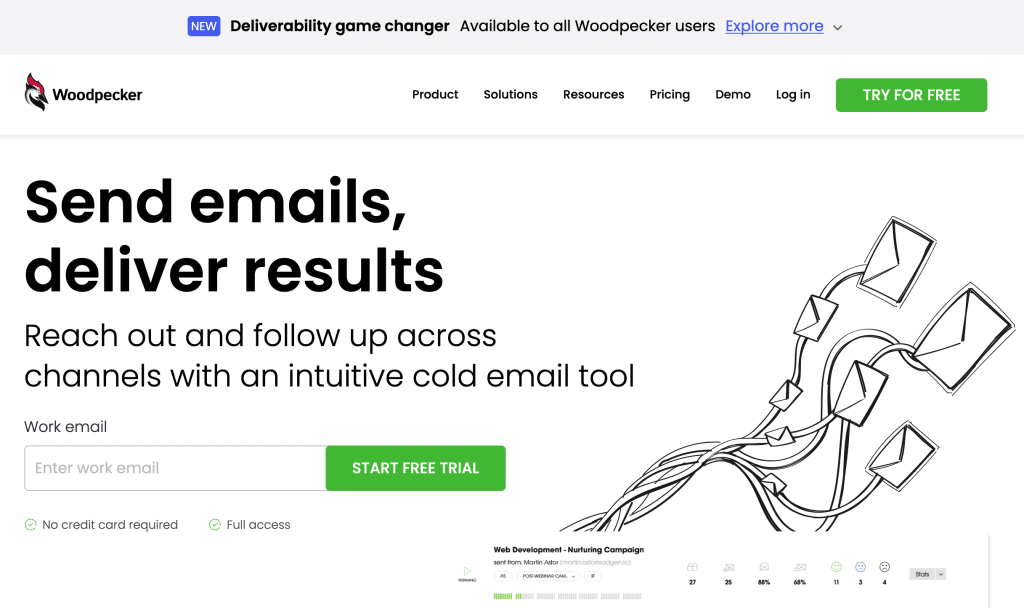 Designed with outreach email campaigns in mind, Woodpecker is packed with tools that help your emails land in your potential customer's inbox and drive engagement. These are tools like real-time email verification and validation, customizable snippets for personalization, and much more.
Email lead generation
Generating leads shouldn't be challenging. You don't have to be one of the 61% of marketers who find lead generation to be the most challenging part of their jobs. With a proper strategy and the right tools in place, your pipeline should be feeding your sales team with quality leads. With the email lead generation tactics outlined above, you can do just that.