Whether you're a salesperson trying to send promotional emails to your clients, or just an average Joe chatting with your friends, embedding YouTube videos can bring life to your emails.
More often than not, it's the pictures and videos that start conversations. If you're trying to embed video in Outlook email, then there's good and a piece of bad news for you.
Let's start with the bad news: Due to security threats posed by video files (in the form of viruses and malware), Microsoft, along with other providers, has discontinued supporting embedding video in emails.
Well, the great news is, by a great stroke of luck, you have found yourself in the perfect place to learn how to embed YouTube videos in email Outlook.
So, let's get started.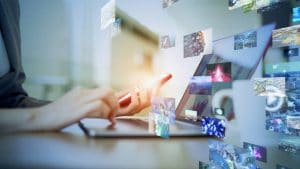 4 Ways to Embed YouTube Video in Outlook Email
You can try 4 ways to embed a video. But before that, don't forget to customize your videos and images with Hyperise editor or any other tool. Here the 4 ways are –
Embed Videos in Outlook Live
If you happen to use Outlook live (the online version of Outlook), this method will serve you well. If, however, you're using Outlook's desktop app, please skip to method 2.
Step 1- Copying the Link to the YouTube Video
Begin by copying the link to the YouTube video. You can achieve this in two ways:
Open Youtube > Click Share Icon > Copy Video Link.
Or you can just copy the video URL from the Address Bar. This link may contain some variables that'll be useless to you, but this shouldn't be a problem.
Step 2 – Paste the Link
Now that the link is copied to your clipboard log in to your Outlook email account and create a new message. Now, paste the link.
When pasted onto the body of your email message, a preview pops up. This preview will remain available even if you clear the link.
Step 3 – Write Your Message
Clear the video link and write your message in its place. Once sent, the recipient will be able to watch the embedded video you've linked without needing to open a new window.
Linking Your Video to a Picture
Though your Microsoft Outlook desktop app doesn't let you embed videos, you can still use a video thumbnail or picture to add a video.
So here's the trick-
Step 1 – Save Your YouTube Video as an Image
First, you need a picture of your video. You can do this by right-clicking on your mouse while hovering your cursor above the video preview on Youtube. Next, you click 'Save Image as…" and select your desired file destination.
Step 2 – Or Take a Screenshot of the Video
Another way to achieve this is by taking a screenshot of the video. It is a more lucrative option, as you can use any frame from any part of the video.
Take a screenshot by pressing Print Screen ("Prt Sc" on your keyboard), and then paste it into your favorite photo editor. Crop the screenshot to your needs, and save your picture as a JPEG file.
If you're creative, you might want to add the YouTube play button to your photo. You can easily do this by obtaining a PNG file of the YouTube play button from Google and inserting it onto your image using your photo editor.
Step 3 – Copy the Link
Next, you open YouTube and copy the link to your desired video. If you're confused about copying a YouTube video link, scroll up to Method 1 (Step 1).
Step 4 – Create a New Message
Open your Outlook desktop app, and create a new message. There, you'll find an image icon, using which you can add your video image (which you edited in Step #2).
Step 5 – Link Your Video
All you've got to do now is link your video to your attached image. To do this, you select the inserted image and click Insert -> Link. Now you paste your link into the image either by right-clicking on your mouse and clicking paste or pressing CTRL+V on your keyboard.
Step 6 – Add Your Message
Now you've successfully linked a YouTube video to your image. Add your message and click send!
How this works is:
When the recipient clicks on the image provided, he is redirected to YouTube (to the video link you provided) to watch the video in a new tab.
You can use Hyperise editor if you need more customization of your videos and images.
Adding Videos as an Attachment
Though this may not be the most visually pleasing option, it's good to know how you can send videos using Outlook by inserting them as attachments.
Step 1 – Use a Video Compressor
When sending a video as an email attachment, you'll most exceed Outlook's maximum attachment file size (which is 20 MB).
You'll have to use a video compressor (Clipchamp Free Online Video Compressor, for example). This site lets you convert videos into MP4 files, allowing you to attach them to Outlook.
If your video is not too long, you can successfully send your video as an attachment just from Step 1. However, if your video is too long, you should follow Step 2.
Step 2 – Use Clipchamp
Using Clipchamp, you can process up to 5 videos free of cost every month. Though Clipchamp makes it very easy to convert videos into attachable MP4 files, larger video files may pose a problem (since their MP4 files will still be too large to attach).
In this case, you have to first convert your video into a compressed MP4 file before uploading it to YouTube. Next, you attach your video's YouTube link as shown in Method 1 or 2.
Embed Videos Using HTML5
The last and final way to embed videos into Outlook emails is using HTML5. This method requires basic coding knowledge to embed videos using HTML5.
To achieve this, you have to go through your code and place your preset titles, image, and video.
The code you may be using will vary depending on your device and email server. There may also be fallback codes that will prevent you from HTML5 embedding.
Conclusion
After reading this guide, we hope you now know how to embed YouTube videos in email Outlook.
If you were to ask us, we would encourage you to always go for methods 1 and 2 because they're simply the easiest to understand, the most effective, and hassle-free.
With that being said, we hope you can now make engaging emails that stand out to your customers. And visit hyperise if you need any personalized images and videos for your emails.