LinkedIn has become the networking process and met all of a person's and company's needs. Due to great conversion rates and low cost for lead generation compared to Instagram, Facebook, and other prominent networks, LinkedIn is one of the top choices for B2B marketers looking to get email addresses from LinkedIn.
So, the most efficient approach to take advantage of your cold emailing campaign is to find business email addresses from LinkedIn and target them.
If you don't know how to get email addresses from LinkedIn, you won't be able to extract them effortlessly. So, let's find out how to do that.
Also, if you don't know how to customize your emails and images, use tools like Hyperise. It's an amazing tool for customizing emails and images.
How to Get Email Addresses from LinkedIn? The Procedures
Here's how you can do it –
For a Single Email Address
When looking for only one personal email address or business email, you can try one of the following methods.
Emails Can Be Found in Three Places on LinkedIn
When discovering where to find a verified business email address on LinkedIn, thoroughly checking their LinkedIn profile is essential.
Even so, salespeople are prone to ignoring some areas that can provide email addresses. Check these sections in a LinkedIn account before proceeding with further strategies.
'Contact info' Area
Do you see the 'Contact info' link just under the headline? Here, most users include the personal information they want to share with the public. You can find detailed contact information here: phone number, email address, or website information.
Bio of LinkedIn
Check out their bio if you don't find the email in the Contact details area. As a call to action, it's common for LinkedIn users to provide their contact information and basic information at the bottom of their bio.
Banner Picture of LinkedIn Profile
Didn't find it in the sections above? There's another way to find out. Look at the banner picture of the B2B professionals. They often invest in high-quality banners to place their contact details, so anyone can see them.
Use a Chrome Extension
Using a Google Chrome extension is one of the simplest ways to find someone's email on LinkedIn.
Chrome extensions are programs that can be installed on your browser. They're mostly part of an email-finding tool suite.
That's why a Google account is still required. Some tools, on the other hand, are Google Chrome extensions. The best email finder tools are SalesQL, Skrapp, UpLead, and AeroLeads.
SalesQL

SalesQL is just a LinkedIn email finder tool that finds both personal and professional verified email addresses.
Email addresses can be collected from LinkedIn search results or LinkedIn profiles. The Chrome plugin locates the email addresses of your first, second, and third LinkedIn contacts.
Even though SalesQL has a free plan, it has several disadvantages. For starters, you're only allowed 100 "credits" every month, which you can use whenever you uncover a genuine email address. So, every month, you can locate 100 potential emails.
You can only send and receive personal and business emails. Unlike other Chrome extension programs, you'll not receive phone numbers.
Also, you won't be able to save your revealed contacts list as a CSV or Excel file. You'll have to upgrade your plan if you want more to know.
Skrapp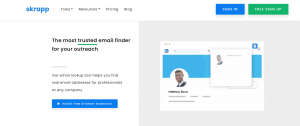 The Chrome Extension tool, Skrapp, is an email finder that works with LinkedIn to help you manage email addresses. It connects to your platform profile and allows you to find email addresses from search results and profile pages.
Bulk contacts can also be added and saved to a dashboard, from which they can be readily retrieved as a CSV or Excel file. It's also simple to export to a CRM or email service provider.
The Skrapp Chrome Extension has one drawback: it requires a Skrapp account. Each month, the free plan includes 150 email addresses. You'll have to upgrade to a paying plan whenever you need anything more.
UpLead

UpLead is a B2B sales prospecting tool that searches LinkedIn for email addresses. It boasts a 54+ million B2B contact database used by Fortune five hundred companies, including Amazon, Apple, Salesforce, and Facebook.
You can reveal up to 50+ data fields using account-based marketing, such as direct, verified email address, industry name, phone number, SIC code, location, number of employees, job function, and so on.
UpLead checks emails to make sure they're correct and ready to export. Technographic data can also construct business contact lists based on the technology stacks deployed.
There's also a competitor intelligence option that lets you quickly figure out who a company is up against.
The only drawback is that it is mostly a paid service. There is, meanwhile, a free 7-day trial that can be used as a temporary LinkedIn email finder.
AeroLeads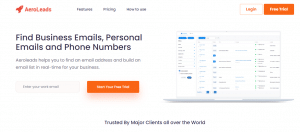 You may use the AeroLeads Chrome Extension to find emails from LinkedIn and other social media platforms. Even though an email address isn't listed on a LinkedIn profile, you still find it.
All emails have been verified, and they may be uploaded in bulk and saved as CSV or Excel files. The extension demands the purchase of an AeroLeads account. There is, however, a free trial available that allows you to find 10 email addresses.
Make a Guess
Don't worry if none of the approaches work. You can estimate your lead's email format by using a verification tool for the email to determine whether you're correct. You can do it in two different ways.
Stick to the Standard Format
On their current company's LinkedIn page, you may find other employees' email addresses. Follow the format of their email once you've received it. If it's oliviasmith@company.com, for example, you may expect your lead's email to be formatted similarly.
Experiment with Any Format
If you fail at the first method, your next option is to guess at different formats. Different employees of an organization may have different formats of their email addresses. So, it may become tough for you to find the right one.
For a Bulk Email Address
If you want to find many email addresses from Linkedin, it may take some time. 
Using a LinkedIn search bar, you may find profiles based on their industry, job title, and so on. Use a Chrome plugin like Skrapp to see which of those persons can automatically find an email address. 
The process will take longer than extracting a single email address from Linkedin. You can save the email list as a CSV file to import it into your CRM.
Final Words
LinkedIn is quickly advancing toward becoming the primary center for all professional connections. Getting email addresses from a LinkedIn profile is one of the simplest ways to do so, and the preferred choice is to use LinkedIn business email finder tools if you cannot find it manually.
So, now you know how to get email addresses from LinkedIn, you can simply find single or bulk email addresses on your own.
Also, try Hyperise editor for making personalized emails, images, and videos for your email marketing campaign. It saves a lot of time and effort.