Do you wish to send Outlook emails automatically? When contacting a larger corporate audience, sending an automated email is quite helpful in email campaigns. You won't speed up your job by just sending each email manually. Also, it takes lots of time if you want to manually send the mail message.
While automating your Microsoft Outlook email can increase engagement, create an effective personalized marketing experience for your receivers, and expand your conversions. So, in this step-by-step guide, we'll show you how to send automatic emails in Outlook to boost your email effectiveness.
A complete guide to Outlook features such as auto-responder and automatic email outlook can help you increase your daily productivity, clear your mind, and prioritize your activities.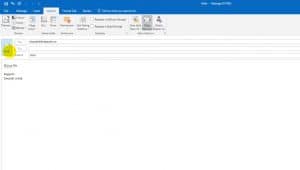 Advantages of Sending Automated Emails in Outlook
Automation is the way of the future, and it'll never go away. You should start with an email to develop your business faster and smarter.
It gives you a great chance to reach out to potential customers at the perfect moment, develop interaction, and close more sales if you automate your email.
According to Instapage's research, an automated email campaign has a 70.5 percent higher open rate and a 152 percent better click-through rate.
You may use automation to send an email chain and cognitive trigger-based follow-up emails to develop your prospects and create a connection with your customers, all of which will improve your productivity. If you want to increase your customer conversion rate, sending personalized emails from Hyperise can be a great tool as an automated reply.
How to Send Automatic Emails in Outlook
Sending outlook recurring emails seems to have a great effect on expanding your business. The process isn't much of a great deal if you know how to schedule recurring emails. Sending automatic out-of-office replies has two ways to follow.
Depending on an email account type, you have to select the way. Let's see how to find out your email type.
Finding the Type of Outlook Email
First, you have to click "File" in the message window and then check the account information it shows. If it shows the "Automatic Replies" button, you have to follow the steps of setting up an automatic reply.
And if you cannot see that button, you have to follow the rules to send an out-of-office message.
Methods of Setting up an Automatic Reply
For selecting automatic replies, you have to select "File" at first. Then go to "Automatic Replies."
At the Automatic Replies box, you'll find an option named "Send automatic replies." Choose that option and set a range of dates for the automatic replies you want. The replies will automatically turn off at the set end date and time.
If you don't set the date, you have to turn it off manually. Also, when there's no Automatic Replies box present, you have to select Rules & Alerts for setting up the date. It is also helpful when you want to schedule email campaigns and delay delivery messages.
Sending the Automatic Reply
Before sending the recurring email, you must type the recurring message or response you want to send to your colleagues or teammates inside the My Organization tab.
Suppose you don't choose the My Organization tab and select My contacts only. In that case, it will send the email to every one of your contacts, including advertisements, newsletters, and junk email. So, if you want to send it to everyone, select that option.
After selecting the settings and writing the message, you have to save your recurring email settings by selecting OK. Then you're good to go for sending the email in outlook. This way you can schedule emails for automatic replay.
When the setup is complete, you may see an option saying "Turn off automatic out-of-office replies" under the ribbon. Selecting this option will disable the automatic outgoing message. To modify any settings like date or time, you can follow the steps above.
Things to Do if You Don't See the "Automatic Replies" Options tab
If there's no Automatic Replies option on your File section, then maybe you're using a Yahoo, Gmail, or other IMAP or POP account.
These accounts don't support the feature "Automatic Replies." In this case, you can set up a system to reply to incoming messages.
You can reply to the follow-up email messages when you're away by setting up this rule. Isn't it interesting? Let's see how to set up that rule.
Creating an Out-of-the-office Template
First, write a new email in Outlook. In the template, write the subject and enter the message body you want to send.
Then select File and go to Save As for creating the template. Write a name for your template and then write drop-down, choose the Outlook Template option (*.oft) in the Save As.
You can modify the template's location, but again you can use the default one. Then save the File,
You have the option of creating an updated template each time you leave the office, or you can reuse an old one too. Now it's ready and you can use your Out of the Office rule using that template.
Create an Out-of-office Rule
After creating the template, you can now create the rule of out-of-the-office. For this, you have to select the File and then go to Manage Rules and Alerts.
On the Email Rules tab of the Rules & Alerts dialog box, select New Rule. Then click the "Apply this rule on the messages that I receive" under Start from a blank rule, then click Next.
Quit the Step-one and also Step-two boxes constant, then click Next to reply to every email message you receive. When Outlook requests for applying the rule to all emails", choose Yes.
Firstly, select action(s) and the template for your response. Then, customize the rule explanation; for a certain template, choose the underlined text.
At the bottom of the option, name Select a Reply Template container in the Look In the container, choose User Templates inside File System.
After that, you can choose the template and go to Open and then Next. If you want to add any essential exceptions, you can now select Next.
You can name your rules such as Out of the Office, or anything you want. Now you can turn on that rule if you're going out of your office. For use afterward, you can uncheck the box and Turn on the rule later whenever you want.
Wrap Up
As you know how to send automatic emails in Outlook, you can save a lot of time by turning on the system. You don't have to send bulk emails to everyone manually.
Especially when you have to send greetings or call for any meetings, and you can easily set an automated outgoing email for everyone or only the people of your organization.
Also, when you're out, you can set an automated reply for keeping in touch. It's indeed an effective way to respond to your colleagues and customers. Also, check out Hyperise to personalize your B2B marketing.