Do you want to write a successful brand collaboration email but keep getting stuck? If you need some help with drafting a perfect collaboration email, you're in the right place.
Collaboration is one of the most powerful influence marketing strategies of the 21st century. All of us can see a huge rise in influencer marketing. More and more brands are starting to work together and promote each other.
It's not easy to get big brands on board if you're a small brand yourself. But you can increase your chances of success if you have the correct email outreach campaign.
In this blog post, we'll teach you how to write a collaboration email effectively in an influencer marketing campaign so that you'd be able to get your desired brands on board with easy marketing efforts.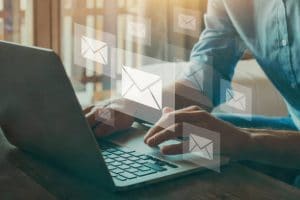 Things to Keep in Mind While Writing a Collaboration Email
To write a successful collaboration email, you need to stick to some ground rules. A good partnership email can boost your ongoing relationship.
You can get some ideas to make collaboration email templates if you see a business email. Here are three rules you'll always have to follow to write an effective collaboration email:
Find the Right Fit for You
It's incredibly difficult to find the brand that'll be the best fit for you. You need to think about the demographic of your target audience and see if it aligns with the brands you want to approach for future collaborations.
Choosing a brand that serves your target market but does a complementary business would be ideal for you.
Make a checklist with your criteria and judge how good each brand will be for you. If they fit that checklist, that's when you should think of reaching out to them.
You need to make sure that the brand you want to collaborate with would be the right choice for you and your audience. By now, you'll have selected some brands that'll be a great fit for you.
After deciding which brand to work with, what most companies will do is they will contact the brand through the contact page on the company's website. It is where you can separate yourself from the crowd!
Dig a little deeper and find more information about your target brand. Go to their social media platforms like LinkedIn Profile and see who works for them and their ongoing promotion.
Find out the right person to contact for collaboration. If you reach out to that specific person, you can customize your email for that person.
Think about it. The collaboration email will come across as much more genuine if you proceed this way. The chances of you getting a reply will increase ten-fold.
You've curated a list of brands you'd like to work with. Well, you have your reasons, but why should they choose you over others? You need to have the answer to this question.
What's in it for them? You must present your pitch, presenting the benefits they'll get if they choose to work with you.
Let them know why you choose them over others as well. Be honest and transparent about it. It goes a long way.
Everyone loves praise, but nobody loves flattery. If you're being insincere, they'll see right through it. Be genuine and remember – they're the star of the show.
The chances are that the brands you are reaching out to are getting multiple emails from several brands every day. Some of them may have been in business longer than you and are way ahead of you.
It's entirely logical that it will prioritize such brands over you. That's why you have to brace yourself and be prepared to hear "No"'.
Even if you follow the rules, the chances of getting a reply will always be slim. That is particularly true if you're a small creator.
Rather than focusing on the rejection, appreciate the people that say yes and are interested in working with you. It's not about the 95 brands that said no. It's about the 5 brands that said yes.
How to Write a Collaboration Email: Effective Tips
Now that we've covered the ground rules, here are some tips you can use to stand out from your competition when you're writing a collaboration email for an affiliate program pitch:
Write a Catchy Subject Line
You could write the best email, but it won't matter if nobody reads it. If nobody opens the email, your effort in crafting the email is completely wasted. Cause, subject lines matter to attract the reader.
Take your time and write a subject line that will invoke curiosity in the reader and get them to open it. If the subject line sounds interesting to the readers, they will surely open the email.
The best way to do this is to write about something your favorite brand did recently. If they had run a marketing campaign recently, you could write something like:
"I Loved you're "……………." Marketing Campaign and Have an Opportunity for You"
If it feels personalized to them, the chances of opening and reading your email will be a lot higher.
It's an important step you cannot afford to neglect because all the other good work you've done on the rest of the copy will be wasted.
Add Your Contact Information
When you email someone, they automatically get your email address. So, why do you still need to add your contact information? Because if they're interested in you, they'd like to learn more about you.
Having an email signature with your social media handles included will give them a chance to check you out. They'll have a lot more information on you. If you seem like the right fit, they're more likely to contact you.
Likely, you're not the only one pitching for collaboration with your desired brand. Put yourself in their shoes.
Do you think they have the time to go through a plethora of long emails which are poorly written and full of fluff? Probably not.
That's why you need to be clear and concise about what you want. Be specific and let the board know what exactly you want from them. For example, don't write:
"I would love to work with you. If you're interested, let me know."
It'll be much better if you make your request specific and write:
"If you send me your "……………." product, I'd love to review it."
It's all about making your offer clear to them so that they know what exactly to expect from you.
You can use Hyperise editor to make personalized emails for brand collaboration.
It is when you add the human touch and show your personality. Write a few lines about who you are and share your background.
Tell the brand ambassador why you love doing what you do, your reasons to become an affiliate partner, and why both of you would be a perfect match.
The aim here is that you don't sound like a robot. Share your story, and own content, highlight your strong points and try to genuinely connect with them.
If they've had a positive impact on you in any way, show heartfelt gratitude and let them know about it.
Mention a Specific Deadline
Giving a specific deadline to act on is a simple but essential step. If you don't give someone a specific deadline to reach out to you, they will likely forget about you.
Without a deadline in place, they'd think they can get back to you whenever they want. There'd be no urgency to get back to you.
It's just that they'll have a lot more additional emails coming in. As time passes and they'll get more offers and won't remember who you are.
But if you give them a deadline, it will stop them dead in their tracks. If they think you made them a good offer, it'll also create a FOMO (Fear of Missing Out). So, have a clear call to action within a deadline to maximize your chances of getting a reply.
Final Words
That's it. Now you know everything on how to write a collaboration email. If you're targeting less than 50 brands or influencers, it's a great idea to personalize each email and write it according to the specific person.
If you're writing to more than 50 people, then setting up a template might be the better route for you.
Everything else will fall into place as long as you apply the ground rules and follow the tips to write the email. You can use Hyperise to make personalized emails or a collaboration email template and save your time.
Try out these awesome tips, and let us know if they've helped you increase your response rate. We wish you the best on your collaborative journey!