Despite video's proven success in reaching and persuading consumers, many companies still shy away from using video in their marketing, sales, and social media content. Anyone who's taken a stab at adding videos to their content mix knows there's a learning curve.
And it's not all about technical video production skills. What do you make your videos about in the first place? Which videos work best on social media? On product pages? In emails? Where doesn't video work?
There's a lot to think about.
But video is such a valuable sales and marketing tool — especially for building inbound sales — that you really can't afford to shy away from it. It's a learning curve worth tackling.
This argument alone might not be enough to convince you, but there's data to back up the claim. And we even have a few video ideas on deck to help you get your video production rolling once you and your team are on board the video train.
Why is video so important to the modern consumer?
In just a minute, we'll break things down into marketing, sales, and social media. But first, a high-level overview of video and its importance to the modern consumer.
Here's why video is so important to all your efforts: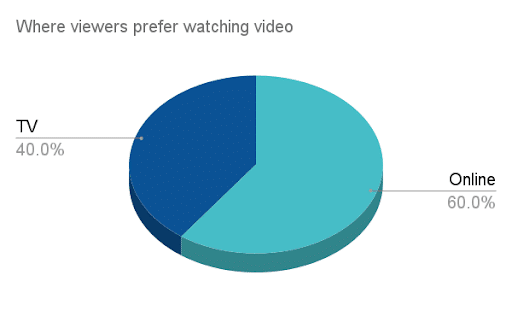 If you use video, it's going to make your sales, digital marketing, and social media better. So good, in fact, that you'll wonder how you ever lived without it.
The importance of video in marketing
Sixty one percent of marketers rate video as "extremely important" or "very important" to their digital marketing strategy.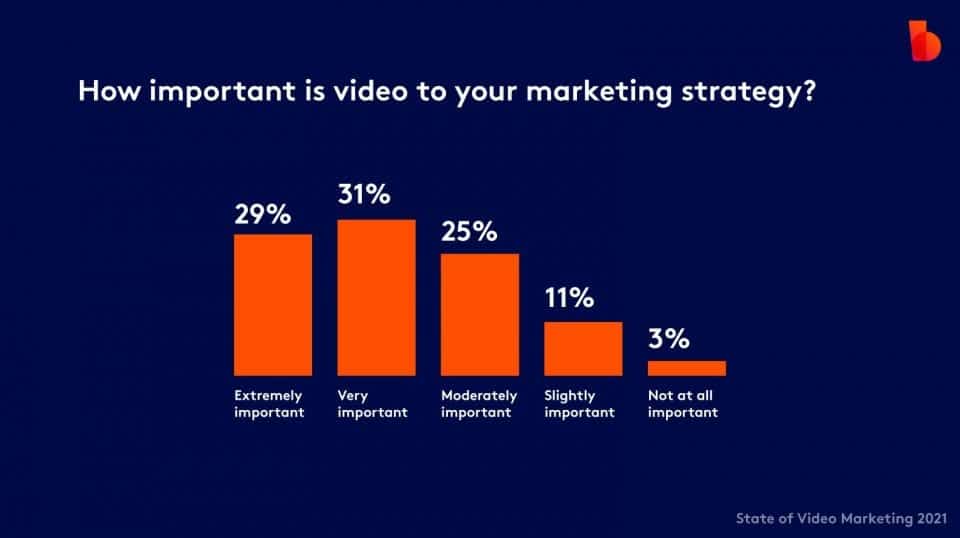 Ninety four percent of marketers who use video plan to continue using it.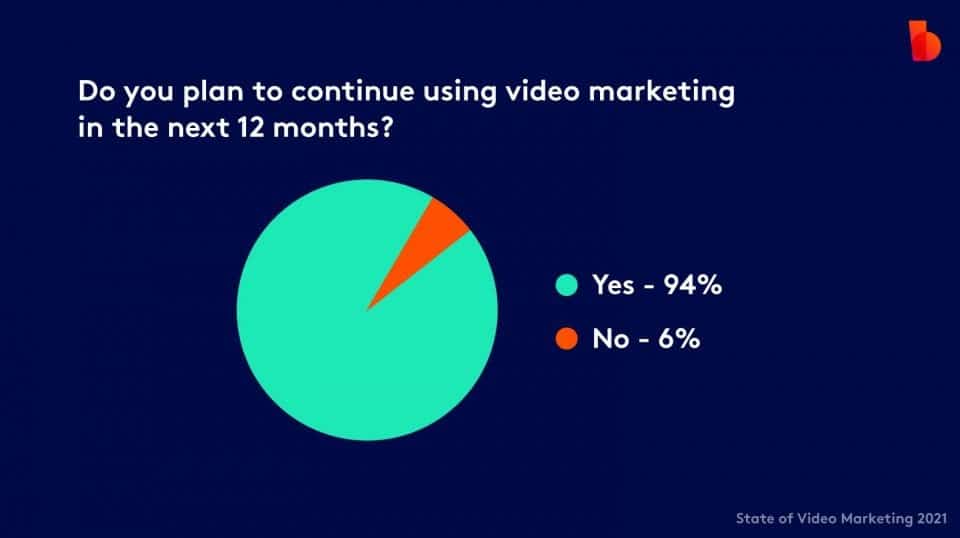 Many marketers have already discovered the benefits of video. But to really assess its importance, we'll have to dig in a little deeper.
Why, exactly, does video marketing work so well?
People prefer video
Obviously, delivering marketing messages in the media that your audience prefers makes marketing much easier.
If you're communicating with text media when your prospective customer prefers watching a video, your marketing has to convince the prospect to do something they don't want to do — just to get them to see your message. It basically forces you to market your marketing.
Adding video to your marketing assets enables you to appeal to customers who prefer video. And your text and static imagery will still be there for those who prefer that method of getting information.
Video helps people find products and services
Being found on the internet is one of the biggest challenges in marketing. Think how much time, effort, and energy goes into SEO (Search Engine Optimization) alone.
Video is so effective at helping customers find businesses that some experts consider YouTube to be a search engine. And video is so popular that search engines factor video into SERPs.
If you use video, you'll spend a lot less time, effort, and energy getting the traffic you need to drive your marketing results.
Video content is versatile
Video content marketing can also be incredibly efficient. A single video can be cut, edited, and repurposed for multiple marketing channels.
There's almost no other type of content that fits so easily into all your marketing channels and improves the performance of those marketing channels (just mentioning video in the email subject line can improve open rates). And video performs exceptionally well on mobile devices.
Ultimately, getting video into your marketing and sales processes is not just a matter of effectiveness. Video increases your marketing efficiency — both cost efficiency and production efficiency.
Video gets results
It's difficult to get hard data about the companies that use video in their marketing and what sort of return they get from video. But most marketers who use video marketing say that it gives a positive return on investment, overall.
This just means that all the previous stats about video actually do contribute to the ultimate goal of marketing: generating revenue. And if video works for other marketers, you can make it work for you.
Ideas for marketing videos
Marketing videos might not have the most direct effect on your overall revenue. But marketing videos are the best videos to make first, because a good stock of marketing videos makes it much easier to create sales and social media videos.
Create video slideshows
Video slideshows are one of the best places to start with video. They're easy to make and video slideshows are versatile enough that you can use them just about anywhere.
If you're in a marketing agency, you can take a traditional pitch deck and make a video slideshow to easily share with your target audience.
A few product images or video clips and some on-screen text makes a compelling product video. And most explainer videos are pretty much just video slideshows.
No matter what you're using video for, there's a way to work in a video slideshow somewhere.
Repurpose blog posts and infographics into videos
This is another great place to start working with video. You've already produced the content, so the scriptwriting is minimal. And you have a ready-made place to post your videos: embed them in your blog posts.
Blog posts with video get more inbound links — and therefore more traffic — than blog posts without. Adding videos to your existing posts is a slam dunk for updating blogs and getting more traffic without producing a lot of new content.
Why video is valuable in sales
One of the misconceptions about video is that it's only useful at the top of the lead generation funnel, maybe the middle of the funnel.
That's mostly because it's easy to see how video fits into top-of-funnel marketing assets. Embedding videos in blog posts or running YouTube ads are straightforward ways to deploy video.
But video is equally suited for sales, too. Why?
Video works at every stage of the sales funnel
Video works on landing and sales pages. It even works in industries where sales are closed over the phone or by email. Sending a video in an email is a great way to simulate as much face-to-face interaction as possible when most businesses are strictly relying on text.
Video creates trust
One of the biggest challenges in online sales is building trust. People prefer to trade with other people. So there are some psychological barriers to buying things online, where there's no one to look in the eye during the transaction.
Yes, businesses like Amazon have helped normalize online shopping for everyday items. But building trust is still a huge deal when you're selling more expensive or more specialized products.
Adding video to your sales funnel gives customers a face to associate with your company and makes the online purchasing process literally more conversational.
There's a reason that videos of people talking to the camera are some of the most popular on YouTube, and why video product reviews get tons of views.
People trust other people more than they trust machines. A video of a person talking to the customer about the product builds trust at every stage of the purchase process.
Sales video ideas
Adding video to your sales funnels will most likely have the most immediate impact on your revenue because you can use video to directly increase the number of sales you make. And creating videos for your sales assets is low effort and low cost. So the ROI can be impressive.
Create videos for your product and landing pages
Product and landing pages are the last mile in the sales or lead generation process. So product and landing page videos have the most potential to make an immediate, noticeable impact because they target the prospects who are closest to making final purchasing decisions.
And, similar to repurposing a blog post, all the content for a landing page or product page video is already there. It's just a matter of putting the information into a video. This doesn't need to be long or complex. It can be short, simple, and easy to make.
Even a video of a person talking with a little on-screen text is enough to improve your conversion rates. It's a low-effort, low-cost way to get more leads and more revenue.
Send videos in your emails
Embedding videos in your emails is simpler than you might think. And it's an easy tactic to use because you might not even need to create new videos.
If you've already started adding videos to your blog posts, sales pages, and landing pages, it only makes sense to embed the video whenever you're linking to that resource in an email, or sending it to a prospect for context ahead of a sales call.
In this case, the content production is most likely already done. And the strategy for using video in email practically takes care of itself.
Video is absolutely critical on social media
Social media is the marketing channel where video is pretty much essential. It's just really challenging to get the sort of attention you need without it.
Yes, static images and text still work. But video supplements your other social media marketing and gives you a tool for appealing to the customers who aren't receptive to images and text. (Not to mention satisfying the social media algorithms that favor video.)
And most importantly, video delivers where it really matters: getting people to click through. Videos from businesses perform impressively on social media: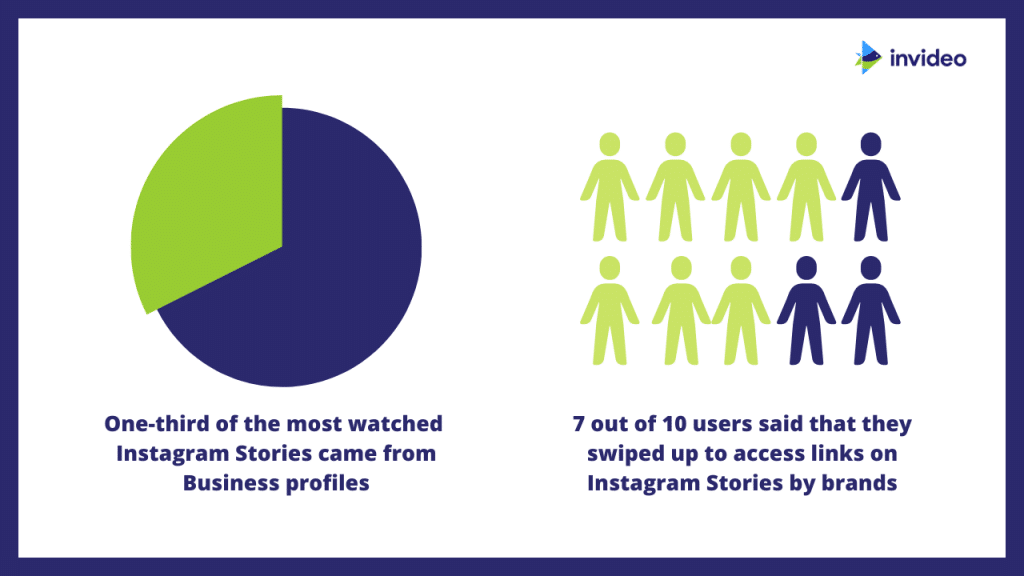 And video works for a few reasons.
Social media video gets more organic reach
Organic reach took a huge hit on social media a few years ago. But it's not entirely dead. Video still gets decent organic reach.
The main reason for that is because most social media platforms have proprietary video formats, such as Facebook Live, Instagram Stories, LinkedIn Broadcasts, etc.
Social media platforms want people to use their video formats. So they give more organic reach to videos made in the proprietary video formats.
But as you can see from the data above, standard video posts also get some level of priority in people's timelines. And people share videos more than any other content type, which creates even more reach and gets video views.
The mechanics of how the algorithms and machines work might be a bit murky. But video gets the most reach for your money on social media.
Video gets attention on social media
The way video gets attention on social media is almost a completely mechanical process. Here's what's going on:
By default, videos autoplay on social media. As soon as a video post slides onto the screen, it plays. This creates movement, which grabs people's attention because the human brain is primed to spot movement.
This makes it much more likely that social media users will stop scrolling for at least a few seconds to see what's going on in the video. And that gives you a few seconds to deliver information that will get them to continue watching.
This gives video posts a pretty significant edge over static posts, because the first challenge — and possibly the biggest challenge — in social media marketing is getting people to stop scrolling and see what you have to say.
The attention-getting power of video is a huge contributor to video posts getting more views than posts with images and text. Ultimately, just adding video to your social posts will help you get over that first hurdle of stopping the scroll, giving you a chance to make your pitch.
Social media video ideas
One of the biggest mistakes businesses make when they start using video on social media is they go straight to paid video ads.
There's nothing wrong with paid video ads. But they're the most expensive way to use video on social media. There are much more cost-efficient ways to leverage the power of video on social media.
Host live video broadcasts
Most social media platforms have implemented some sort of live broadcasting feature. And social media networks give heavy preference to these types of videos because real-time broadcasts are engaging videos that keep people in the social networking apps.
Also, social media companies want people to use their products. That's why live video broadcasts are one of the few social media content types that still get decent organic reach.
The best part about live broadcasts is that they're incredibly low cost. Audiences don't expect outrageous production values from a live broadcast.
All you really need is a topic that's relevant to your potential customers and someone who knows enough to talk about that topic for 15 minutes or longer.
You don't even need that much camera equipment. Many live broadcasts are shot on a phone. As long as the picture and lighting are good enough that the audience can see everyone's face, you're good to go.
Leverage stories
Stories are another live video format that social media companies love. Again, the story format is a product created by the social media platform. They want people to use stories, so they grant more organic reach to them.
Just like live broadcasts, stories are incredibly easy to make. But they're less time-intensive than live broadcasts. Stories run for a matter of seconds (usually 15 to 30 seconds).
The fun thing about stories is that they can be far less serious than other types of social media videos. Stories are supposed to be fun and a bit whimsical.
Businesses have had great success with simple stories showing quick clips of how their products are made, delivering office jokes, and using them to give quick event announcements (but in a fun way). All you need is a phone and a few seconds of entertainment or education.
Add video posts to the mix
One more cost-efficient way to use video: create video posts. Obviously, you don't have to do away with your standard text and image posts. Those still work.
But an occasional post with a video will get more attention and probably bring more people to your social media business profile where potential customers will see more of your text and image posts. If you're strapped for video ideas, you can even create a short video that summarizes a text post.
This strategy enables you to take advantage of video's attention-getting power without paying for ads.
Admittedly, using videos in standard social posts isn't as high impact as running video ads. But it costs far less. And you will get some boost in engagement.
Video is the future of marketing
Ultimately, video is already a staple in the marketing landscape. And it's going to become even more prominent. Businesses that don't use video will increasingly be at a disadvantage when compared to businesses that leverage video.
Implementing video into your sales, marketing, and social media will improve your chance of success now and future proof your growth strategies ahead of the curve.
Byline: Leah Diviney is a content manager at Biteable, the world's simplest video maker. When Leah isn't busy making videos, she's writing about them for the Biteable Blog.