Every business relies on a steady stream of leads to grow.
That's why you need an optimized lead generation funnel that attracts relevant leads.
But lead generation isn't a walk in the park. With 61% of marketers saying lead generation is the number one challenge they face, knowing how to build a lead generation funnel has never been more critical.
What is a lead generation process?
A lead generation process is the steps a visitor takes from landing on one of your marketing channels until they become a lead (by giving you their details). Here's what it looks like in a nutshell for an inbound lead generation process:
A visitor finds your business via one of your inbound marketing channels (blog, website, social media, email,  etc.).
The visitor is interested in your messaging and clicks on your call-to-action (CTA).
Your visitor is directed to your landing page, where they give you their contact details in exchange for an offer.
What are the different types of lead generation?
As a marketer or salesperson, you'll mainly use two types of lead generation — inbound and outbound lead generation.
Inbound lead generation
Inbound lead generation involves the creation of content to attract leads to initiate a conversation with your brand.
Outbound lead generation
Outbound lead generation involves taking your brand to your prospects. You initiate the conversation with your prospects. Examples include, among others, cold calling, cold emailing, and starting a chat conversation on your website.
The most significant difference between inbound and outbound marketing is the initiator of the conversation.
How do you create a lead generation strategy?
To create a lead generation strategy, you must first understand the process people go through before becoming customers. Doing so will enable you to create a funnel through which you drive your leads.
Once you've designed your funnel, you'll need:
Understanding of where your potential leads come from (where you can find them).
Content to attract and convert leads into customers.
The right tools to deliver content, collect contact information and qualify leads.
Putting all these elements together results in a lead generation strategy that will help boost your sales.
What is a lead generation funnel?
A lead generation funnel is the process you use to funnel your target audience through a series of steps from the point of initial interaction until they become a customer.
While people take different approaches to the buying process, your customers will go through three distinct stages as they pass through your lead generation funnel.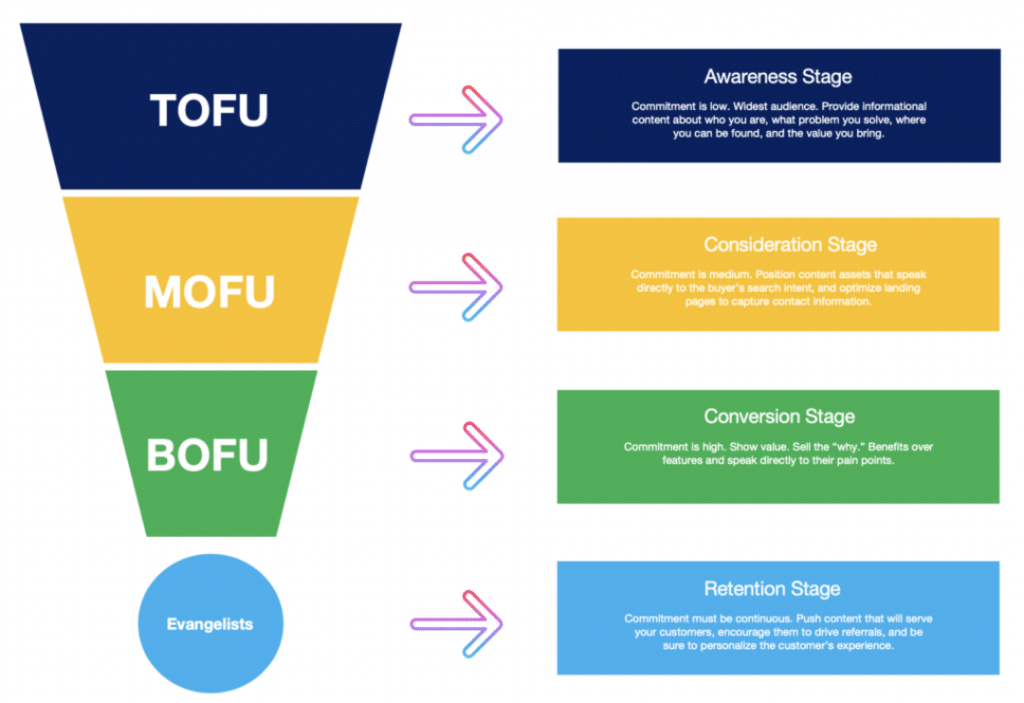 Image Source
Top of the funnel (TOFU)
The top part of your funnel is the awareness stage. This is where your visitors first get to know about your brand and the solution you provide. Your website plays a crucial role here as it's usually one of the first places people visit to get to know you more. That's why you must optimize it to provide your website visitors with a personalized experience.
Your main priorities at this stage of the funnel are:
Create content to showcase your product (blog posts, reviews, social media posts).
Build trust with your audience.
By delivering timely content, you'll build awareness about your product and build authority. This will help you move your visitors to the next stage of your lead generation funnel.
Middle of the funnel (MOFU)
Visitors at the MOFU stage of your funnel are exploring the options available to solve their problems. Therefore, your main priority here is to prove to your visitors that your solution is a good fit for them and that it can solve their problems.
At this stage, you can use customer reviews, email nurture series, buyers' guides, product comparisons.
Bottom of the funnel
By the time your visitors reach the bottom of your lead generation funnel, they're ready to transact with your brand. They are no longer visitors but qualified leads. Your main priority at this stage is to sell. To convince them to buy from you, you can use case studies, product demos, and pricing comparisons.
An optimized lead generation ensures there's no friction between each of the stages. To do so, you must address any reservations your visitor may have about proceeding with your solution. Optimizing your lead generation funnel will also result in a pleasant buyer journey, increasing the chances of converting more visitors.
How do you set up a lead generation funnel?
Now that you know what lead generation is and what a lead generation funnel is, it's time to build one. While it may seem complicated, it's simple if you follow a few basic steps.
Step1: Define your buyer persona
The first step to building your lead generation funnel is to define your buyer persona. This is a fictional character that represents your ideal customer.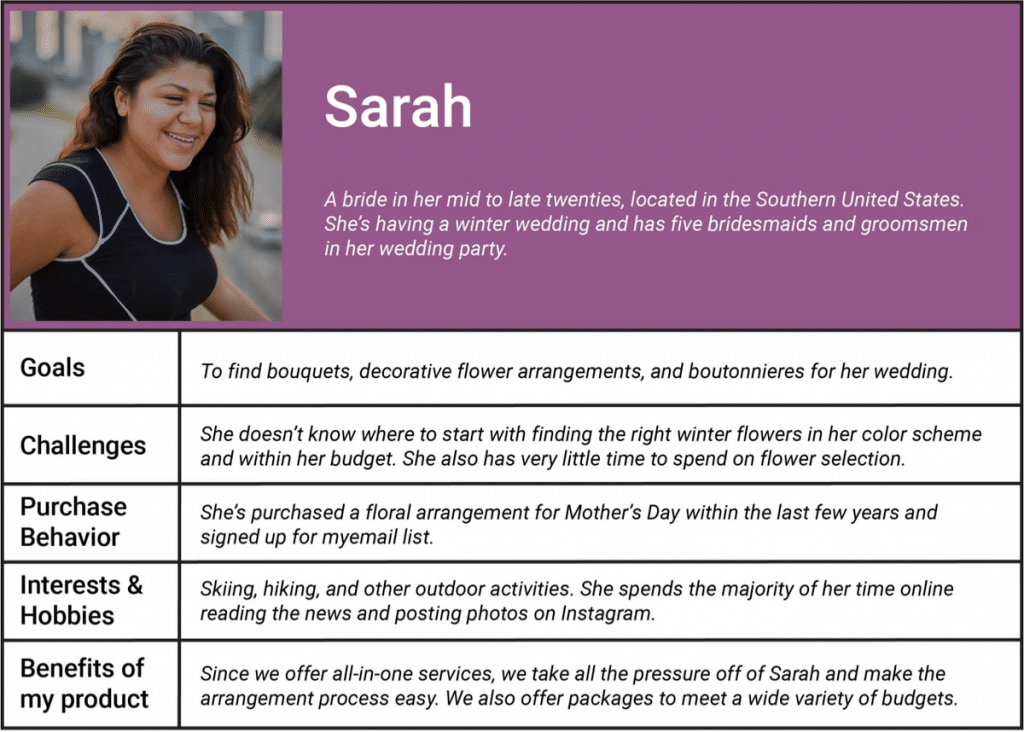 Defining your buyer persona is essential as it will help you:
Empathize with your customer.
Identify their needs — current and future.
Understand how they make their purchase decisions.
Defining your buyer persona will help you create content that's relevant to them. Most importantly, it will give you insight into building the most effective lead generation funnel for your particular target audience. The result is that the quality of leads you generate is of a higher quality.
Step 2: Map the customer journey
A customer journey map is a visual representation of the steps potential customers take from becoming a visitor to signing up or purchasing your product. Mapping out the exact steps and touchpoints involved in leading people along this journey is crucial as it helps you:
Effectively nurture leads.
Measure lead quality and conversions.
Uncover new lead generation channels.
Discover and eliminate friction points in your lead generation funnel.
Research by Aberdeen revealed that managing your customer journey can improve your sales cycle time by as much as 18X. Mapping your customer journey, therefore, is a crucial step to creating an optimized lead generation funnel.
Step 3: Drive brand awareness
Once you've defined your buyer persona and mapped your customer journey, your next step is to drive brand awareness. You can use several methods to do this, but we will focus on the most effective ones.
Using content marketing to drive awareness
Content marketing is one of the most effective methods of driving brand awareness. This strategy involves creating personalized content that your target audience will find useful, relevant, and valuable. It is this kind of content that will help you attract, nurture, and convert your leads. Types of content you can use include, among others:
Blog posts
eBooks
Infographics
Videos
Podcasts
Social media posts
Webinars
Case studies
For your content marketing to effectively drive brand awareness, you must (apart from creating great content) have a good content distribution plan. This involves determining the channels and strategies you'll use to promote your content. Your content distribution plan is vital as it will determine your reach.
Using social media to drive awareness
Social media boasts of close to 4 billion active monthly users, making it one of the most effective channels for driving brand awareness.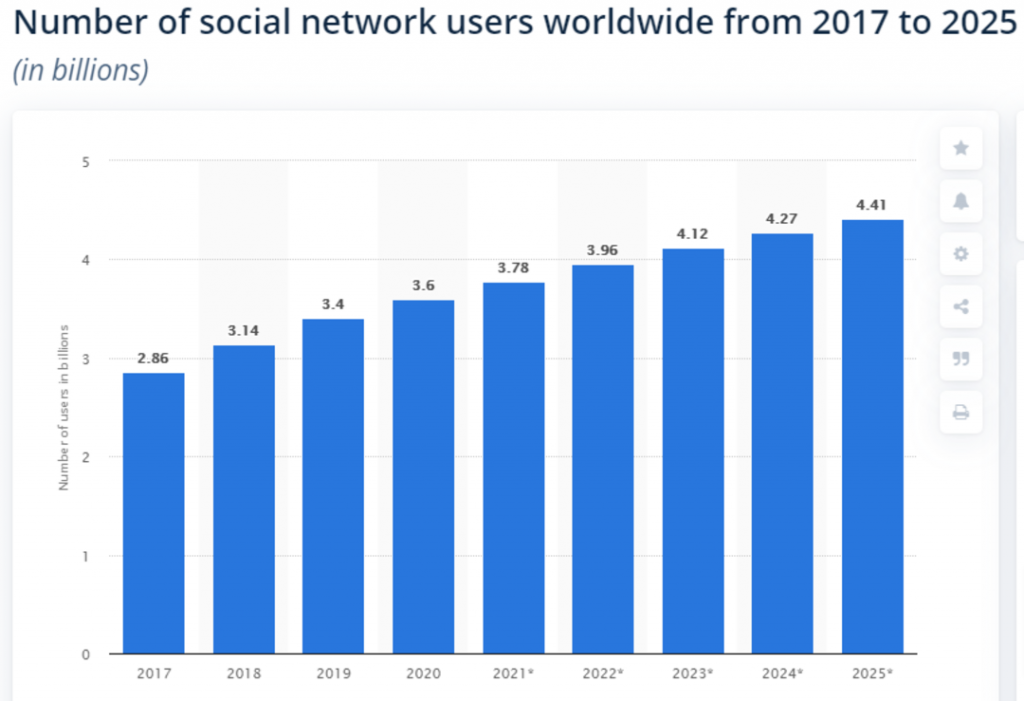 A few tips to help you use social media to drive brand awareness are:
Choose the right platforms. Find out which platforms are frequented by your target audience and focus on those.
Optimize your profiles. This will allow people to identify and connect to your brand easily.
Use trending hashtags. Hashtags help users find relevant posts easily. Leverage those that are trending to gain some exposure.
Engage. Engage with your followers and with other brands and join trending conversations.
Play tag. Tag influencers, customers, partners, and other relevant people to extend your reach.
Use the newsjacking technique. This involves creating posts around current and trending news.
Host live events. People love live events because of their interactive nature. Capitalize on this and host live events.
With a good social media manager, automation tools, and social listening tools, you'll be able to run effective social media campaigns that will feed your funnel.
Step 4: Drive traffic to your sales funnel / Reach out to prospects
Now that most of the foundational pieces of your lead generation funnel are in place, it's time to drive traffic to it. The two main ways you can drive traffic to your sales funnel are inbound and outbound methods. Let's look at how you can use these two to ensure a steady stream of leads in your sales funnel.
Inbound Lead Generation
Inbound lead generation involves creating digital assets that attract visitors to your website. To trick here is to ensure your content is specifically tailored to your target audience.
Using organic search to generate leads
Organic search refers to people searching for and finding your product online. This kind of traffic is called organic traffic because you don't pay for it.
To drive organic traffic to your sales funnel, you must create content that is easily discoverable on search engines. To do this, you must leverage search engine optimization (SEO) best practices. The most important include:
Using keywords in your content
Incorporating search/user intent in your content
Building backlinks to your blog posts
Creating a positive user experience (UX) on your website
Applying these principles is key to ensuring many visitors at the TOFU stage of your funnel.
Using paid advertising (PPC) to generate leads
Another way of driving leads to your sales funnel is by paying to advertise your content to your target audience. You can promote your content on search engines (Google Ads, Bing Ads, etc.), Social media (Facebook Ads, LinkedIn Ads, etc.), or other websites. Doing so gives you greater reach, allowing for more traffic to be driven to your sales funnel.
Like organic search, you'll have to do keyword research to ensure you bid on the right keywords and have your content promoted to the right audience.
Using social media to generate leads
Sure it may be social media, and it was designed to help people connect on a social level. However, social media has become a powerful platform both B2B and B2C brands use to generate leads.
Used well, social media has the potential of helping you go viral. But that can only happen if you create posts that your target audience resonates with.
Using email marketing to generate leads
One of your most valuable assets as a business is an email list. If you have a database of contacts, you can send them emails directing them to content that will lead them down your sales funnel. Because you've had initial contact with your subscribers, it's easier for them to trust you and click through to your content.
However, if you haven't been in touch with your email list in some time, it's always best to start with an email campaign reminding them how they got on your email list.
Outbound lead generation
Another way of driving traffic to your sales funnel involves using outbound lead generation tactics. Some of the most common ones include:
Cold email outreach
Cold email outreach is the practice of sending emails to people/companies you've never interacted with before. Because your recipients don't know who you are, it's always best to follow cold emailing best practices. Doing so will increase the chances of your email being opened and your recipients. A few cold email best practices to follow include:
Research your target audience.
Craft hard-to-ignore subject lines.
Personalize your cold emails.
Keep your email content short and to the point.
Cold emailing, done right, can yield phenomenal results. It's a great way of driving traffic to your sales funnel.
Social Media Outreach
Besides posting and promoting content on social media, you can also generate leads by reaching out to your prospects directly. This involves sending them direct messages (DMs) on their favorite social media platforms. Tips to help you get your social media outreach right include:
Initiate the relationship publicly. This means interacting and engaging with your prospects' posts so they become familiar with you. Referencing one such post is also a great way to get them interested in your message.


Give before asking. Don't make the mistake of placing a demand on your prospect in the initial message. Instead, give them something of value first.


Personalization is crucial. Another mistake many make when sending DMs is to send generic, cookie-cutter messages. The only attempt they make at personalization is swapping out the names. Take personalization to the next level by adding personalized images in your direct messages. Here's an example of how that works: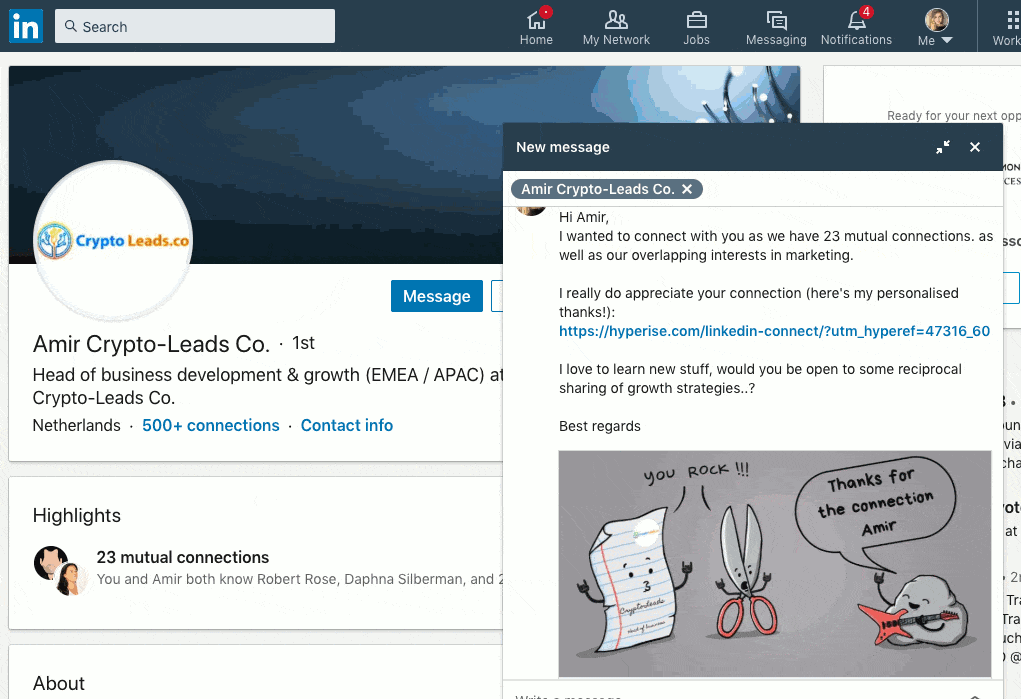 Don't take social media for granted when it comes to outbound lead generation. It's one of the most underrated yet very effective tools in every prospector's toolbox.
Step 5: Build a database and convert leads into customers
By this stage of your lead generation funnel, you should be driving a decent amount of leads. Here's a brief recap of how that's happening:
You create an offer/lead magnet your target audience can't resist.
You promote said lead magnet using organic and paid channels.
Your target audience signs up for your offer.
But what do you do with the email addresses you collect?
This is where a good customer relationship manager (CRM) comes in handy. Not only does it act as a database for your contact list, but a good CRM also helps you:
Segment your list
Qualify your leads by lead scoring
Manage your sales pipeline (and leads) from a central place
Streamlines the sales process
Another significant benefit of using a CRM is that it helps increase your chances of converting leads into customers. This is mainly due to the way CRMs are efficient at creating positive customer experiences. By automating the lead nurturing process using a CRM, you ensure that each lead gets the right (personalized) content at the right time. As a result, their transition through each stage of your sales funnel is smooth.
Along with this, you can use Hyperise for data enrichment to pull prospect data from your CRM and provide a more personalized experience to your prospects.
Step 6: Conversion rate optimization
Even if your lead generation funnel is converting well, it can still convert better.
At this point, you must now focus on conversion rate optimization (CRO). CRO (in this case) is the strategic and systematic process of increasing the number of people that go through your lead generation funnel and turn into customers.
A few tips to help you optimize your funnel include:
Leverage data
Always analyze your lead generation funnel and use data to show you which parts to tweak. For example, use analytics tools to see which parts of your funnel people drop off the most. This will help you fix any issues at these points.
For example, using a tool like Hyperise, you can identify anonymous users on your site to pull prospect data, as well as automatically apply personalization data to your website and images:
Identify obstacles and fix them
Identify the causes of people stopping their journey down your funnel. Find better ways of helping people transition beyond these places. The purpose of this is to enhance the user experience (UX) of your funnel.
Segment — regularly
Segmentation is crucial to helping you create personalized experiences. Create different customer journeys for each of your segments. It's also advisable to regularly revisit your segmentation strategy to ensure they contain prospects with similar demographic and psychographic attributes.
Always test
Test as many elements of your lead generation funnel as possible. From design elements to copy, every small part of your funnel can make a big difference in your conversion rates.
CRO is a continuous process that involves learning your target audience and tweaking your funnel to offer them the best experience. Your conversion rates are likely to get better with each iteration of your funnel as you do this.
3 Simple Tips to Double Your Sales
With your lead generation funnel doing its job and bringing in high-quality leads, your main focus now is to double your sales.
How can you do that?
Here are a few tips to help you do just that:
1.   Use personalized images in your outreach
Prospects receive dozens (or more) of sales pitches per day. One way to stand out from the noise is by using personalized images in your outreach: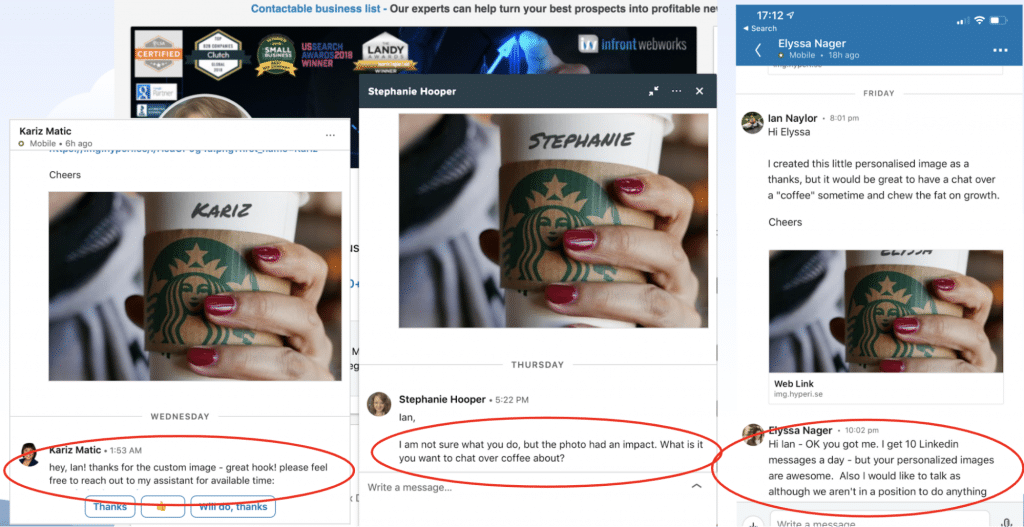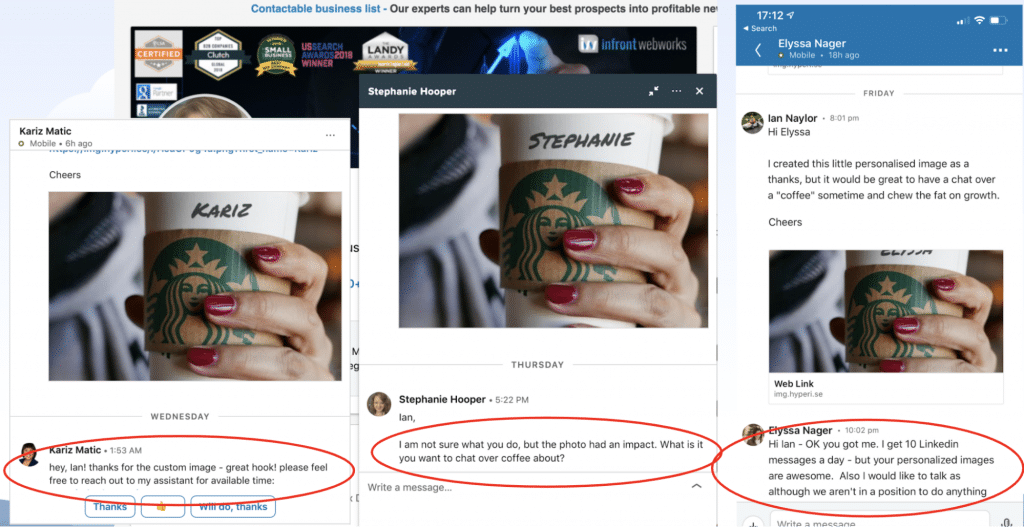 Using a tool like Hyperise, you can provide a memorable experience to prospects by sending them a message that stands out from the plethora of other sales messages they receive.
2.   Personalize your website for a great first impression and enrich with data for better personalization and analytics
Don't forget to include an element of personalization with your website visitors. For example, see below how the Hyperise website gets personalized when visitors from Apple land on the page: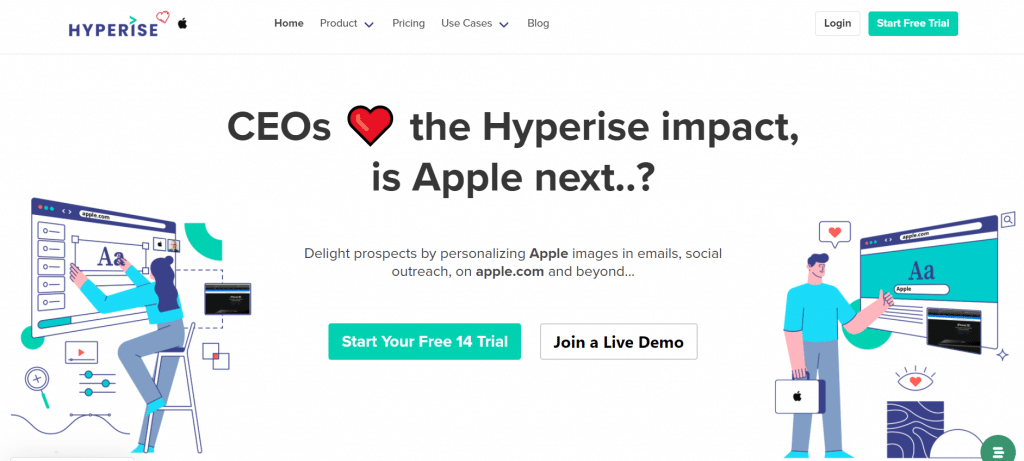 Hyperise easily identifies the visitor's company (Apple), their sector, and adds this information to the content to personalize that user's experience.
Needless to say, when that user visits your website, they're more likely to have a memorable first impression and take action. The best part yet, is this takes little time and requires zero coding knowledge.
3.   Identify anonymous visitors and generate leads, even if they're not filling out a form or lead magnet
Follow up with leads while they're hot by identifying anonymous visitors, even if they didn't subscribe to a form or otherwise provide their information.
Using Hyperise, you can discover new leads from website visitors and pull prospect data from your CRM. Doing so will enable you to follow up with prospects shortly after their visit to answer their questions or schedule a demo.
Without this anonymous visitor data, many unknown leads would fall through the cracks. Don't let that happen thanks to Hyperise's data enrichment technology.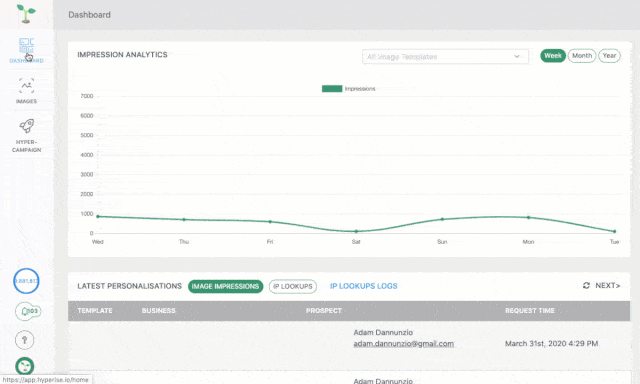 Frequently asked questions
Before we wrap up this guide, let's quickly answer some lead generation funnel FAQs.
Is lead generation easy?
With 61% of marketing and sales professionals saying lead generations their biggest challenge, lead generation is certainly not easy. However, with an optimized funnel and by following lead generation best practices, you'll soon master the art and science of it.
How do you make a lead funnel on Facebook?
With over 2.7 billion active users, Facebook is one of the best places to get leads from. Here's how you can create a lead funnel on Facebook:
Step 1: Define your target audience
Defining your target audience is essential in helping you create personalized content.
Step 2: Set your objectives
You must align your campaign objectives to your funnel. This means you'll have to set goals for the three stages of your lead generation funnel (TOFU, MOFU, and BOFU).
Step 3: Create content for each stage of your funnel
Create high-quality segmented content for your buyer personas and each stage of your funnel. This can be Facebook posts or content on your website that you promote on Facebook.
Step 4: Expand your reach using Facebook Ads
Note the type of content that's getting the most engagement and promote it to increase your reach.
Step 5: Leverage Facebook's lookalike audience feature
Leverage Facebook's lookalike audience feature to find more people who fit your buyer persona's attributes. Promoting your content to lookalike audiences expands your reach and increases your conversions.
Step 6: Remarket
Remarket your content to those who engage with your content. This helps warm up a cold audience and boosts brand awareness. Remarketing also helps increase your campaign's conversion rates.
What are the best lead generation tools?
Creating an effective lead generation funnel is impossible without the proper tools.  Tools that range from personalization tools like Hyperise to outreach automation tools like SalesHub to CRMs like Hubspot, and everything in between. For a more detailed look at the lead generation tools you should look into, check out our best lead generation software article.
Business growth is fueled by lead generation
Growing your business requires one main thing — a steady flow of leads.
And for that to happen, you must have an optimized lead generation funnel.
So, use this guide to help you build one that will help you double your sales and grow your business. And if you've got any questions or comments, drop them in the comment section below.