So you want to generate leads.
Before you even build your lead generation funnel, create a lead capture form, and design a landing page, you need to create a lead magnet. This very first step will affect the success of the whole lead generation campaign and determine whether your digital marketing strategy is effective or not.
In this post, we'll introduce you to the most effective lead magnet ideas (surprise-surprise, we aren't going to talk about eBooks) and tell you how to create one that attracts the right leads.
What is a lead magnet
A lead magnet is an asset a business gives away for free in exchange for a website visitor's contact information, like an email address or phone number. Lead magnets come in different formats, including downloadable PDFs, free samples, videos, freebies, and more.
What makes a good lead magnet
It's not enough to produce another brochure on a given subject and expect leads to pour in. An effective lead magnet should meet the following requirements:
It resolves your prospects' problems. To make people want to access your lead magnet, you need to make sure they find it useful. It's only possible when you understand your prospective customer's pain points and know exactly how you could help them.


It's in line with a specific stage of the buyer's journey. Who do you want to reach with your lead generation campaign? Are these people relatively new to the subject? Are they already proficient with it? The type of content you decide to use as a ground for your lead magnet highly depends on where in the buyer's journey the people you want to reach are.


It's aligned with your business goals. When you create a lead magnet, you need to have a clear understanding of how it contributes to your bigger goals. An asset you promote should not only look catchy but also stay relevant to your core offering.


It helps to move leads down the sales funnel. Along with a great idea behind it, a perfect lead magnet should also include great content. It often happens that people get frustrated with what they get in exchange for their contact information. A lot of brands promote lead magnets that don't meet expectations set with landing pages. They focus on building an email list, not on building relationships with their future customers. However, they don't consider that after one negative experience, their audiences won't be eager to interact with lead nurturing campaigns and will rather unsubscribe. Make use of advanced email lead generation tactics to build long-lasting relationships and always add a human touch and humor to your communication.
Next time you think of creating a cheat sheet or hosting a webinar, ask yourself the following questions:
What's the one problem we can help our prospects to address for free?
Where in the buyer's journey are the people we're going to reach?
Will we use it for inbound sales or outbound sales?
How will our lead magnet help us to reach our business goals?
What happens next after a lead accesses it?
After you answer these questions, you'll be able to exclude lead magnet ideas that have no potential for your business.
Lead magnet types
According to HubSpot, marketers most often use eBooks, webinars, checklists, and free tools as lead magnets for their inbound lead generation.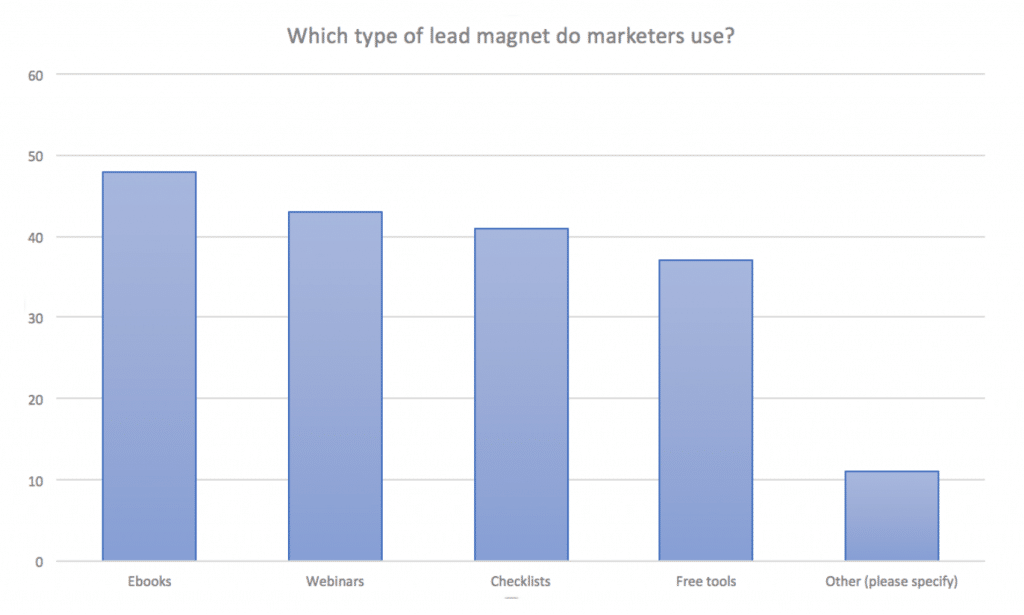 Best lead magnet examples
However, the list of content ideas you might use to capture potential customers' emails isn't limited to these 4 formats. Below you'll find some iconic lead magnet examples that will inspire you.
This is probably the best lead magnet example we've seen. HubSpot uses a two-step approach where audiences are first offered to check their sites with the Website Grader tool for free, and then they see a CTA leading to a free course on website optimization displayed right on the page with the test results.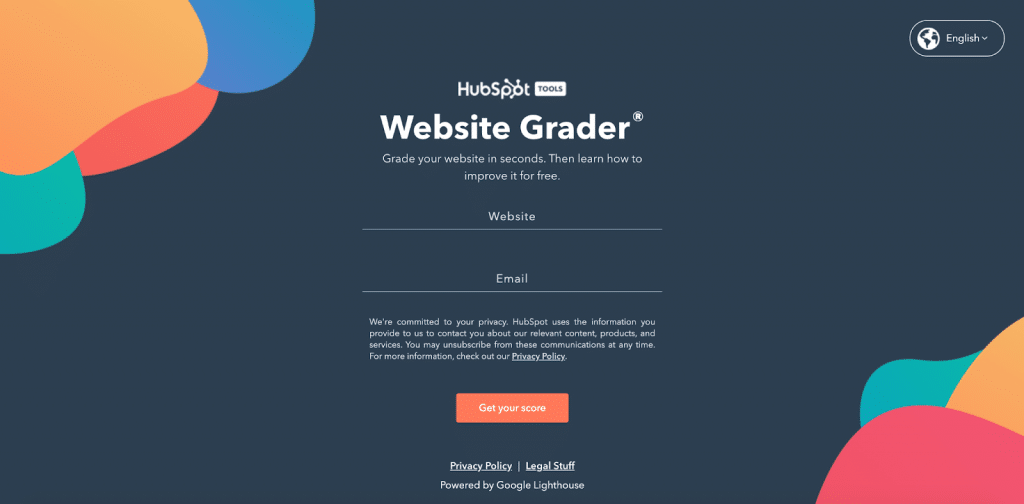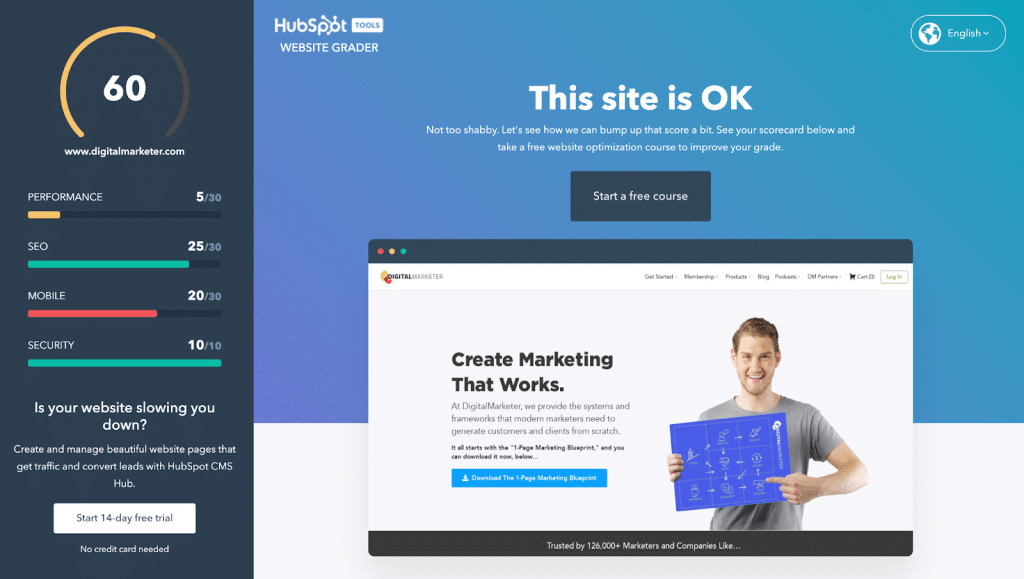 This way, the company proves to you that there's room for improving your site performance before offering you to fix the problem. After facing the results of the check, more people will be inclined to download the course.
SaaS advertising is never straightforward, and this is a great example of a promotional campaign for B2B companies with lengthy buyer's journeys. With one campaign, you'll not only attract cold audiences who might fail to be aware of the problem but also move them right to the next stage with mid-funnel content.
Brendan Hufford is an SEO expert and marketing influencer who has built a strong online presence on LinkedIn.
His leads also pass the two-step 'verification process:' to get a link to a landing page from where they'll access the Traffic Drop Checklist, a person should comment on the LinkedIn post.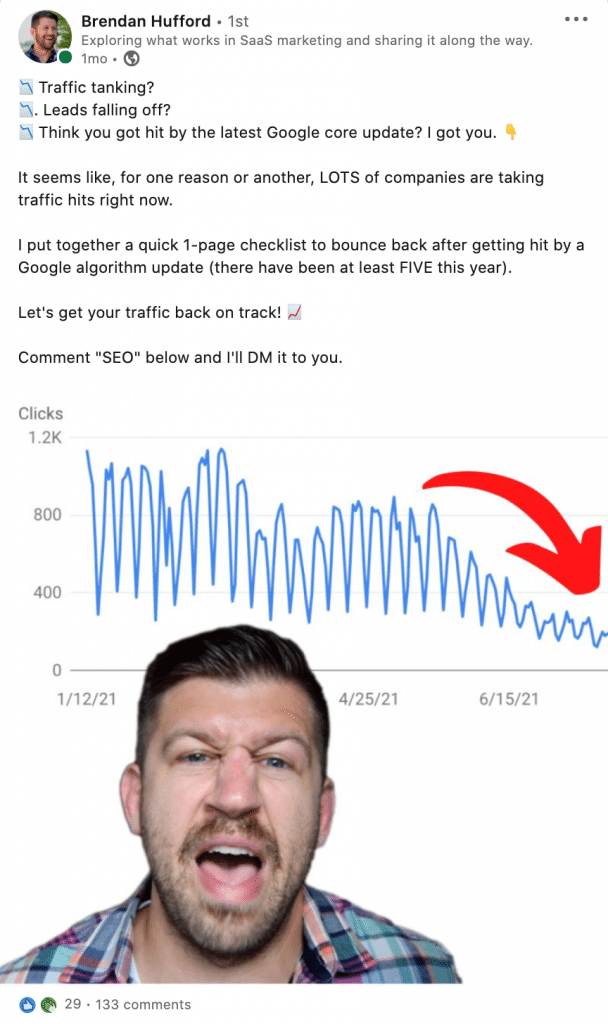 When it's done, Brendan sends the landing page link in a message.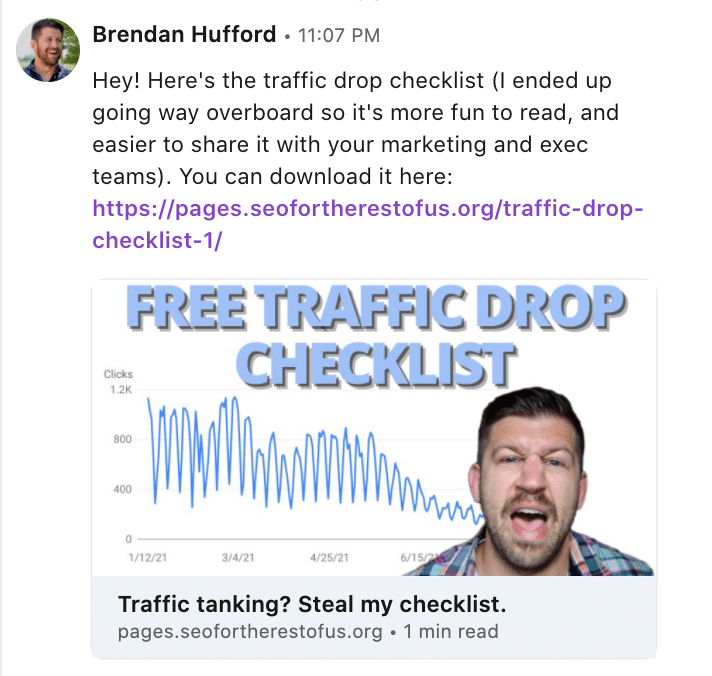 This approach allows Brendan to increase the visibility of his post on LinkedIn and make sure he captures only the most involved contacts.
A conversational marketing platform, Drift uses a variety of lead magnets to capture leads in different stages of the buyer's journey.
The company has announced a virtual summit to attract both marketers and sales representatives who are responsible for pipeline management in their companies.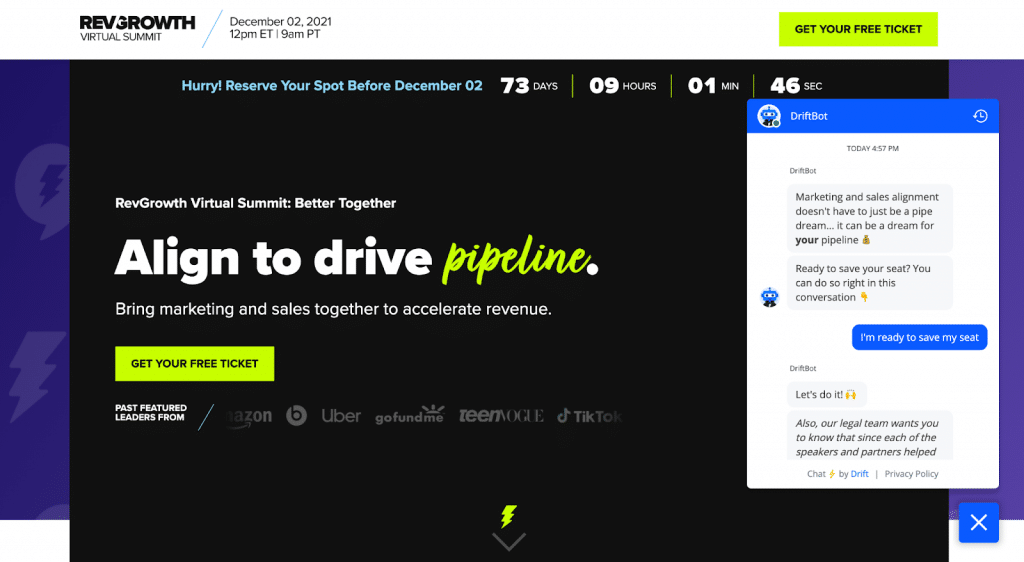 The best part about this lead magnet is that the registration process is carried out with the help of a chatbot. Since Drift offers word-famous live chat solutions, this is a perfect illustration of their product in use.
While capturing leads, the company introduces them to the benefits of Drift's products right away and gently moves them down the sales funnel.
How to create a lead magnet that works
Now, let's move on to the process of creating a lead magnet that aligns with your very own business goals.
Make a list of your prospects' pain points
To incentivize your target audience to give you their contact details, you need to define what they want first.
You must understand their challenges as well as their preferences. All the information can be extracted from the descriptions of your buyer personas. If you haven't built them yet, it's the right time to do so.
Review the conversations your sales reps have with sales opportunities, check out what are the most common requests coming through your contact forms, or even run a survey asking about your prospects' challenges.
Why do people turn to your business? For different buyer personas, there might be different reasons for it. Write them all down so that you can check your future lead magnet ideas against what's in that list and grade them based on how well they help to solve your prospects' core problems.
Take a look at your top-performing blog content
If you have been doing content marketing for some time, use the performance data to your advantage. Take a look at your high-traffic blog posts – what topics do they cover? It's the best way to figure out the most 'attractive' ideas for your lead magnet.
What does your Page Report in Google Analytics look like?
Pick the first 4-7 pages by page views and think of how you could develop those topics into engaging lead magnets. It's likely that the majority of ideas won't meet your needs, and that's why you'd better not limit yourself to analyzing only one best-performing topic.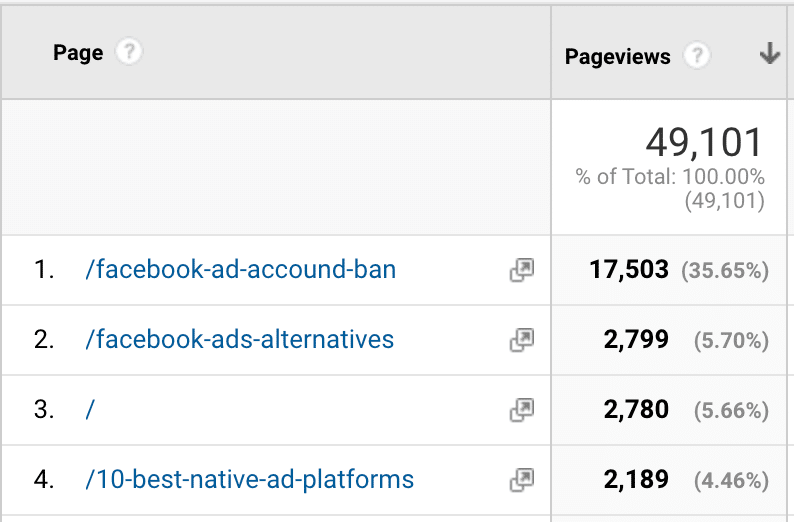 If we wanted to come up with lead magnet ideas, we'd take the report that's provided above and prepare the following list:
Checklist: 6 Steps to appeal your banned Facebook Ad account
The ultimate list of reasons your Facebook Ad account might be banned [PDF]
Webinar: How a small business can switch from Facebook to a less expensive channel
Quiz: Find out which Facebook Ad alternative is right for your business
How an eCommerce brand doubled their ROAS on Outbrain [Case study]
After brainstorming ideas, we'd take a look at the resulting list and highlight the ones that have the highest potential for us based on our current goals.
We don't recommend that you gate the piece of content as it is and use it as a lead magnet.
People can access content on any topic without sharing their contact information. So why bother to fill in the opt-in form to access another 'how-to' article?
Even if some quality leads download your PDF, they might get frustrated in case the content wasn't worth the effort it took them to access it.
Instead, it's best to pick your high-performing content and repurpose it to make it more valuable.
Say, your best-performing article is called 'How to Measure Your Paid Ad Performance.' To convert visitors landing on this page, create a ROAS calculator people can access only after they fill in the lead capture form. Place banners promoting the calculator within the page content. In this scenario, you'll convert a large number of readers without even making any effort to promote your lead magnet.
Survey your network on social media
It's not difficult to come up with an engaging lead magnet idea. It's difficult to pick the one to start with.
Still not sure which type of a lead magnet will appeal to your target audience the most? Ask them.
Are you running a campaign for a B2B brand? Create a poll on LinkedIn asking your network to choose from the given topics.
If you don't have an extensive network, or there are very few relevant people in it, conduct quick research and tag people who fit your ideal customer profile. By tagging 10-15 profiles, you'll increase the reach of your post and get valuable insights into your target audience's preferences.
Are you launching a B2C lead generation campaign? Running a poll on Instagram will be a perfect way to finally decide on the topic.
Align it with the specific stage in your buyer's journey
Who are the people the lead magnet is created for? How experienced are they with the subject?
You need to answer these questions to ensure you end up with a list of contacts that can't be qualified.
By trying to appeal to each audience segment, you risk not attracting any right people at all. So, before you create a lead magnet, revisit your buyer's journey and see how the characteristics of buyers in each stage differ.
Are you going to speak to people who haven't been aware of the problem yet? Start with a lead magnet that defines the problem.
Do you want to convert audiences who can't choose between several solutions? Use a lead magnet that helps them to make a purchase decision.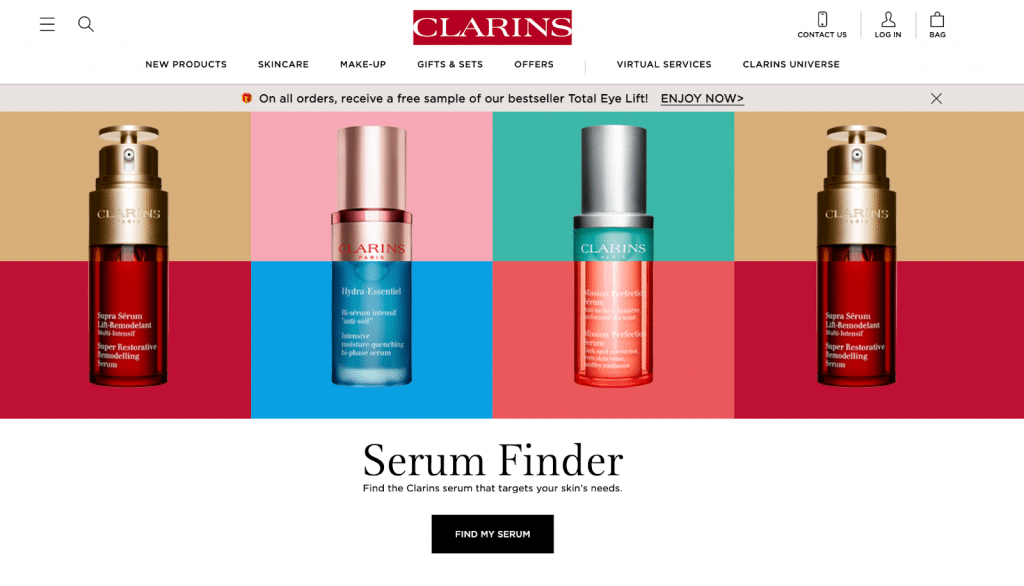 Determine who you want to attract and build the whole lead generation strategy with this information in mind.
Decide on the format
A great lead magnet may come in different forms. Here are the most popular types of lead magnets:
Cheatsheets
Templates
Infographics
Podcasts
Whitepapers
Online events
On-demand videos
Quizzes
Calculators
Discount coupons
Case studies
Reports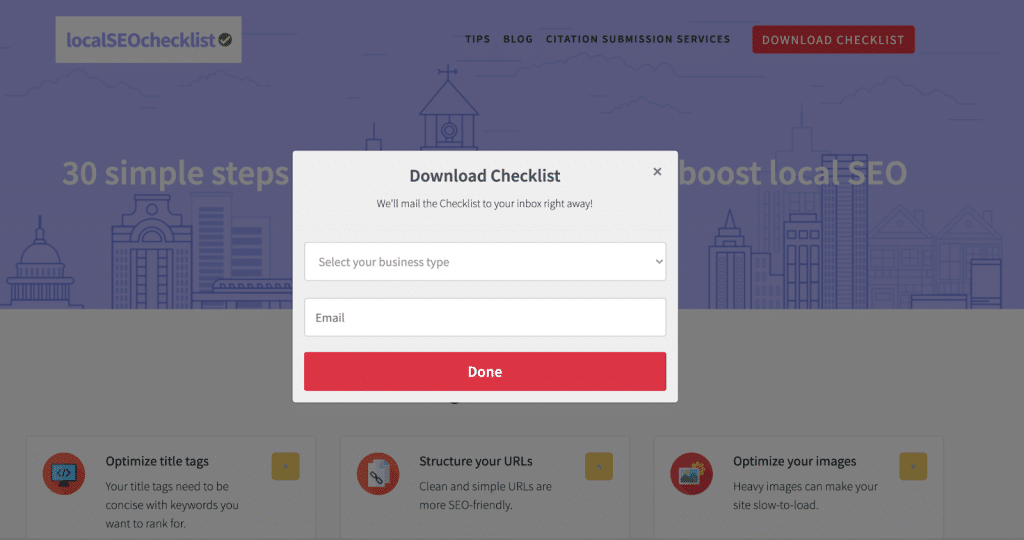 See. We haven't mentioned free eBooks and newsletters. These are effective for well-established companies with a strong reputation in the niche. If you're looking for an effective lead magnet that will drive results as fast as possible, you'd better use one of the formats people aren't bored with yet.
It's also a good idea to keep testing different formats and repurposing one topic into various lead magnets. Thus, a customer success story can be used to host an on-demand webinar where your customer talks about their experience with working with your business as well as to create a downloadable case study that's basically a scripted version of a webinar.
There's no one-size-fits-all solution when it comes to lead magnets. Test every possible format to identify the ones that work for you the best.
Make sure it moves leads down the sales funnel
A good lead magnet not only helps to capture leads' contact information but also engages and drives those email subscribers a bit closer to a purchase decision.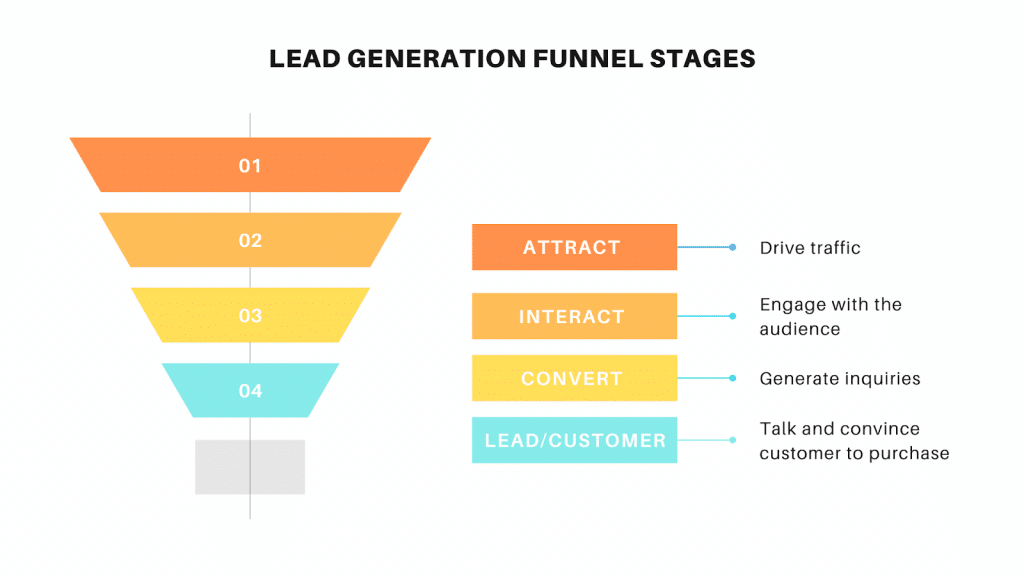 Develop a lead magnet that either educates your potential customers (webinars, free guides, case studies, etc.) or provides you with additional information that will help you build a better lead nurturing campaign (quizzes, free consultations, etc.).
If you aim at attracting leads that are in the awareness stage, use lead magnets that educate them on the subject. These include ebooks, video tutorials, and cheat sheets. For audiences in the consideration and decision stages, more specific lead magnets, like cost calculators, quizzes, and case studies will work best.
To avoid losing leads right after you capture them, make sure to follow up immediately. Set up automation with your lead generation software that will be firing an email marketing campaign each time a new subscriber is added.
Set KPIs
How do you know whether your lead magnet is good or not?
It's crucial to set KPIs for each lead magnet and measure its performance regularly. If you have no previous experience with running lead generation campaigns, you can look at the conversion rate benchmarks specific to your niche. Use the average CVR to estimate the number of leads you might receive from a certain amount of traffic.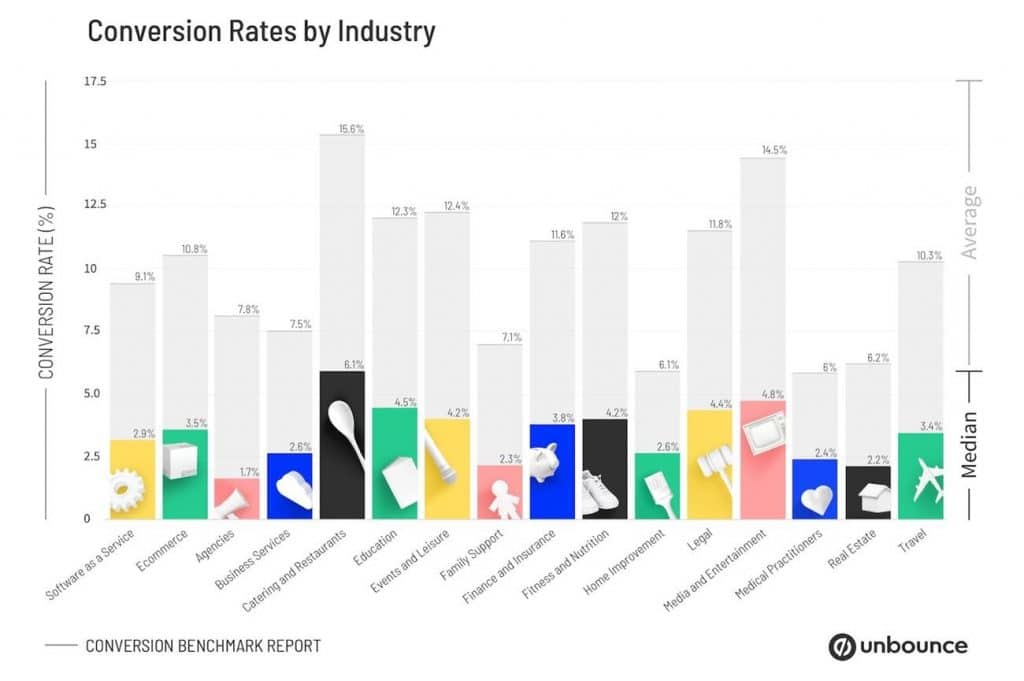 Of course, you won't be able to say whether your CVRs are good enough unless you compare them to the ones of lead magnet versions. Therefore, it's important to keep creating new lead magnets and testing them against each other continuously.
And how do you make sure the lead magnet attracts the right audience? Specify a bigger objective that the lead generation campaign should help you achieve, like driving app installs or attracting free trial users, and then estimate how many leads you expect to convert within a given time frame.
You're ready to generate leads
You already know what makes a good lead magnet and how to create the one that appeals to the right audience. It's time to take your first step. Start with analyzing your buyer personas and making a list of the challenges your lead magnet might help them solve.
Author Bio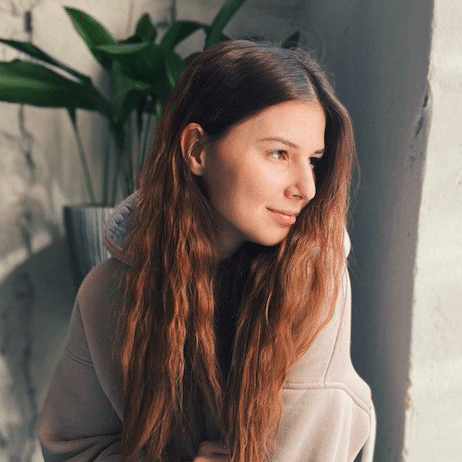 Adelina is a Content Marketer at Joinative, a native advertising agency and SaaS. She's responsible for building marketing partnerships, establishing content collaborations, and developing actionable resources for advertisers.