It's been touted as the best social media platform for professionals.
Whether you're a marketer, salesperson, recruiter, entrepreneur, e.t.c., LinkedIn is the place to be. And no, it's not just a place to interact with over 738 million like-minded professionals. It can also be an excellent tool to help you achieve your business or career goals.
However, to get the best out of LinkedIn, you must maintain a constant presence on the platform. From growing your network to posting content to sending messages, you must make time to engage with other users.
What if you're pressed for time and yet need to engage with as many LinkedIn users as possible?
In that case, you can use one of the many LinkedIn automation tools available.
What is LinkedIn Automation?
Like most social media platforms, maintaining an active presence on LinkedIn requires a lot of effort. More importantly, it requires a lot of time. And if you're like most marketers, time is a luxury you don't have enough of.
And that's where LinkedIn automation comes in.
LinkedIn automation is the practice of using tools to automate activities you would otherwise have to perform manually. These include sending out connection requests, messaging prospects, sending follow-up messages, and many others.
What are LinkedIn automation tools?
LinkedIn automation tools are software designed to mimic human behavior as they carry out activities for you on LinkedIn. Besides saving you time, LinkedIn automation tools also have the benefits of:
Helping you run personalized campaigns.
Collecting data to help you create better iterations of your campaigns.
Integrating with other marketing tools to help you create effective omnichannel campaigns.
In short, LinkedIn automation tools make it easier for you to achieve your business and professional goals on the platform.
Can you send automated messages on LinkedIn?
Yes. You can send automated messages on LinkedIn.
But you have to do it right. Remember, your goal is to generate leads by starting meaningful conversations with your connections. This means you must send a personalized outreach message to each of them. But with thousands of connections, that can take years if done manually.
And that's why we recommend utilizing automation. Done right, and with the right LinkedIn automation tool, you can send professional, personalized messages on LinkedIn — on autopilot.
However, you must send your automated messages at intervals that mimic human actions. Bulk messaging at once will make it evident that you're using third-party tools, resulting in your LinkedIn account being suspended.
Is LinkedIn automation illegal?
Because LinkedIn is a platform for professionals, they want to maintain an atmosphere that reflects such.
One way of doing that is blocking spammers.
That's why they state on their "Prohibited Software and Extensions" page that they don't permit the use of third-party software on their platform.
Does that mean LinkedIn automation is illegal?
It depends on what you use automation tools for. If you use them for illegal and gray-area activities like spamming contacts or scraping data to sell, it's illegal. If caught, you can get banned from the platform.
The key to using LinkedIn automation tools safely is to use the right automation tools in the right way.
What to consider when choosing a LinkedIn Automation tool?
As just mentioned, LinkedIn frowns on automation. If you do it wrong, you can be thrown in LinkedIn jail (your account being restricted).
Worse still, your account can be permanently removed from the platform, resulting in all your hard work going down the drain.
That's why it's important to be careful when looking into getting a tool to help you automate your LinkedIn activities. In short, you want to ensure your tool of choice is safe to use on LinkedIn. You should also consider which of the two types of LinkedIn automation tools you want to use:
Browser-based LinkedIn automation tools.
To use this type, you need to open up LinkedIn from your favorite browser and fire up the tool in the form of an extension. The implications are:
You can't run the tool 24/7.
They rely on browser caching, which makes them easier to detect.
Use different IP addresses every time you log in. This raises red flags.
Besides the safety implications mentioned above, browser-based LinkedIn automation tools are lacking when it comes to advanced features.
Cloud-based LinkedIn automation tools
Cloud-based LinkedIn automation tools are safer to use as they integrate with your LinkedIn account. You can log into your LinkedIn account from your automation tool and set filters and parameters for the activities you want to automate.
Some of the most significant advantages of using a cloud-based LinkedIn automation tool include:
Dedicated IP address.
Harder to detect since it doesn't work on the front end like browser-based tools.
Access to advanced features (like personalization) that boost your conversion rates.
With the advantages of convenience and enhanced safety, cloud-based LinkedIn automation tools have the upper hand over their browser-based counterparts. The caveat, however, is they tend to be more expensive than their browser-based counterparts.
So, as you shop around for a tool to help you automate your LinkedIn activities, consider these factors.
How to personalize outreach on Linkedin?
Sending effective cold outreach messages on LinkedIn requires that you be strategic in your approach. An essential strategy that helps ensure high response and conversion rates for your LinkedIn campaigns is personalization. Of course, this may seem a daunting task as you have to reach out to hundreds of prospects in a day — on LinkedIn alone.
So how do you personalize LinkedIn outreach?
The answer lies in advanced dynamic personalization.
Why advanced?
Because everyone running LinkedIn campaigns uses regular dynamic tags to personalize their campaigns. These are tags like:
To stand out from the crowd, you need to be different. One way to do this is by using personalized images in your outreach messages. Spoiler alert — only Expandi x Hyperise integration offers this feature at the moment.
Best Linkedin Automation Tools
Now that you know what LinkedIn automation is and its advantages let's quickly dive into the 18 best LinkedIn automation tools on the market.
1. Expandi
If you're looking for a safe LinkedIn automation tool that comes with super-easy to use advanced features, Expandi is it.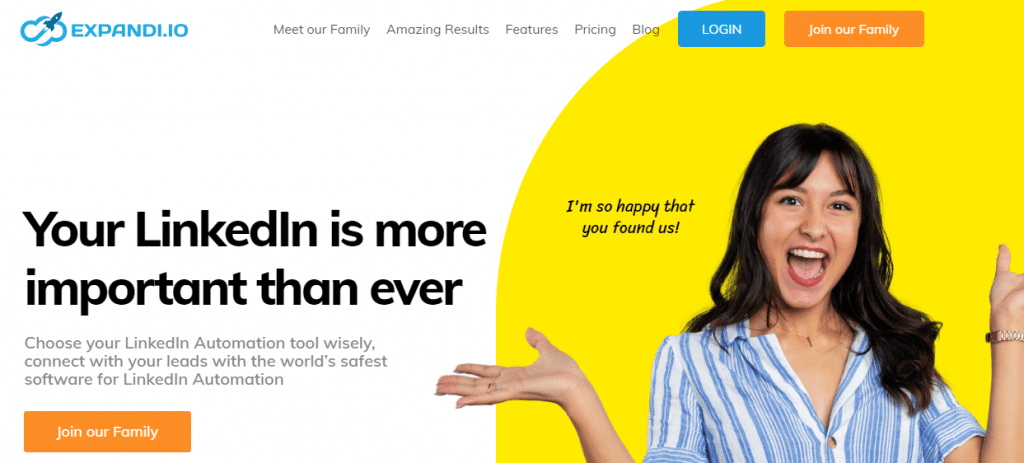 Despite being one of the new kids on the block, Expandi is one of the most effective LinkedIn automation tools on the market. Being a cloud-based platform, you can expect tons of features that make automation a breeze. For example, you can use the tool to find LinkedIn information on relevant Twitter and Facebook profiles.
One of the most significant features of Expandi is the random delay between activities. Doing so mimics human behavior and keeps you on the right side of the LinkedIn law. Another of Expandi's features that makes it so popular is the advanced dynamic personalization feature they built in conjunction with Hyperise. This allows you to pull images from your prospect's profile and include them in your messages.
Pros of Expandi
Integrates with other marketing tools.
Manage multiple accounts from the same dashboard.
Smart limits that ensure you only send up to 100 connection requests or messages in a day.
Auto warm-up feature that gradually increases daily limits.
Personalized images and GIFs.
Dedicated country IP address.
Cons of Expandi
It's a bit pricey compared to other tools on this list.
Pricing
Expandi only has one pricing plan that comes at $99/month. If you're not sure about investing in the tool, you can take advantage of the free 7-day free trial to test it out.
2. Lempod
Lempod is a popular browser-based LinkedIn automation tool you can trust to take care of your campaigns.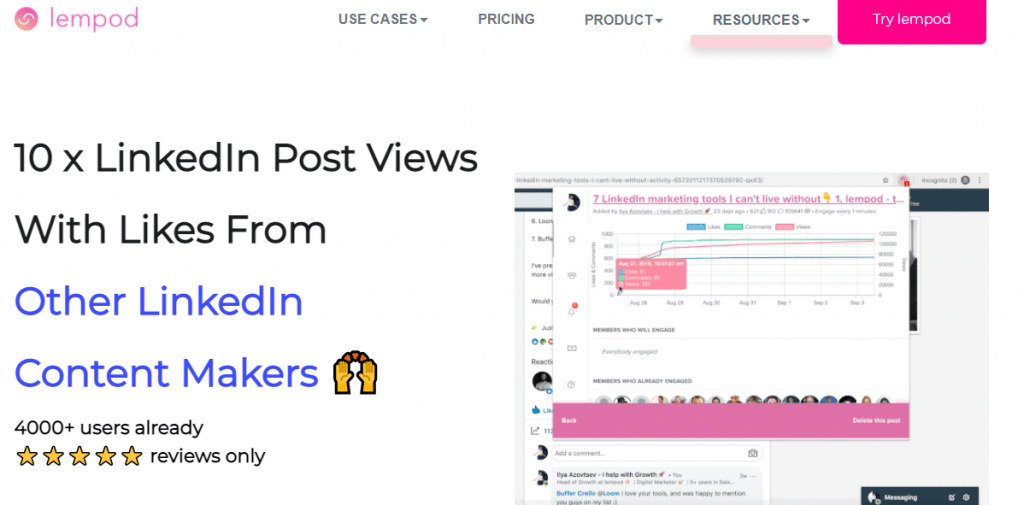 Lempod was designed to help automate one primary LinkedIn activity — driving engagement. And this is a crucial part of the LinkedIn algorithm as posts that receive the most engagement are shown to more people. As a result, you get to enjoy more profile views and connection requests, resulting in a growing LinkedIn network.
To drive engagement, use Lempod to find and join pods in your industry. When you post content, every member in the pod automatically likes and comments on your posts. To ensure pods remain undercover, Lempod limits the number of members in each pod to 50 and only allows one post per member per day.
Pros of Lempod
Affordable pricing.
Easy to use.
Drives views to your content quickly.
Cons of Lempod
No free version.
Limited functionality compared to other LinkedIn automation tools as it focuses on driving engagement.
Pricing
Lempod comes with a simple pricing structure of $5/pod/month.
3. Saleshub.ai
LinkedIn is a powerful platform for generating leads and sales. And one LinkedIn automation tool that can help you do that is Saleshub.ai.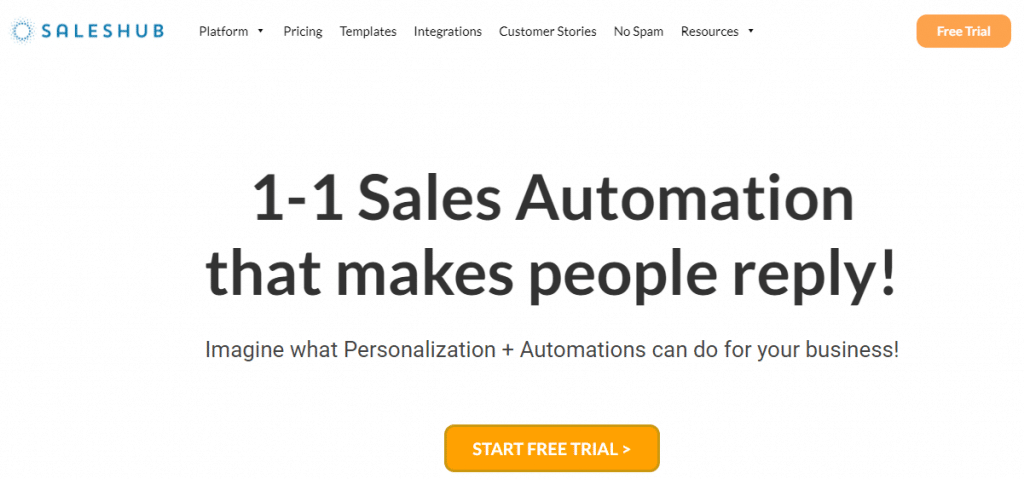 One of the primary reasons Saleshub is such an effective tool for sales outreach on LinkedIn is that it was built with personalization at its core. You can easily send hyper-personalized messages, images included thanks to the Hyperise integration, to all your prospects.
Another invaluable feature you'll love as a marketer or salesperson is the email finder and verification feature. This helps ensure that everyone you reach out to is a genuine person and not a bot.
Pros of Saleshub.ai
Advanced automation options.
Ability to link email and LinkedIn in campaigns.
Data enrichment for more personalized outreach campaigns.
Free 7-day trial.
Cons of Saleshub.ai
Pricing can get complicated.
Pricing
Pricing starts at $49/user/month. Add-ons are charged separately and according to the type of ad-on.
4. LinkedIn Sales Navigator
A list of the best LinkedIn automation tools would be incomplete without mentioning LinkedIn's own product — LinkedIn Sales Navigator.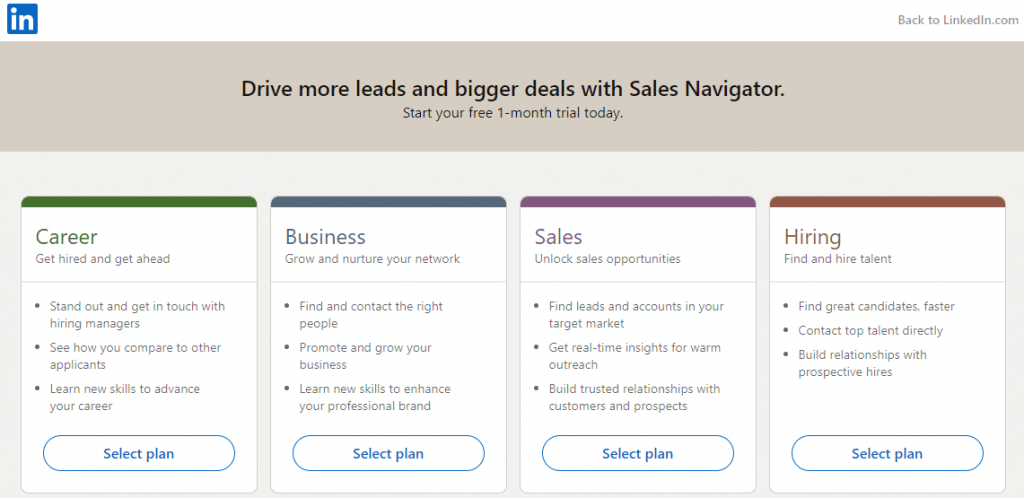 LinkedIn Sales Navigator is the perfect tool for those who're already using LinkedIn and are looking for more advanced features. Unfortunately, LinkedIn has a manual-only policy. However, you can integrate it with other LinkedIn automation tools like Expandi. You can also use Hyperise's integration to enhance your personalization.
Pros of LinkedIn Sales Navigator
Free thirty-day trial
Excellent profile navigation and segmenting features
Group messaging capabilities
Designed and built to promote business growth and generate leads
Cons of LinkedIn Sales Navigator
Doesn't offer automation functionality.
Limited starter plan
Pricing
LinkedIn Sales Navigator comes with three pricing options, namely:
Professional – $64.99/month.
Team – $103.33/month.
Enterprise – Custom package.
5. Phantombuster
Phantombuster is a tool that helps businesses automate any action they may want to perform on the internet — including LinkedIn automation.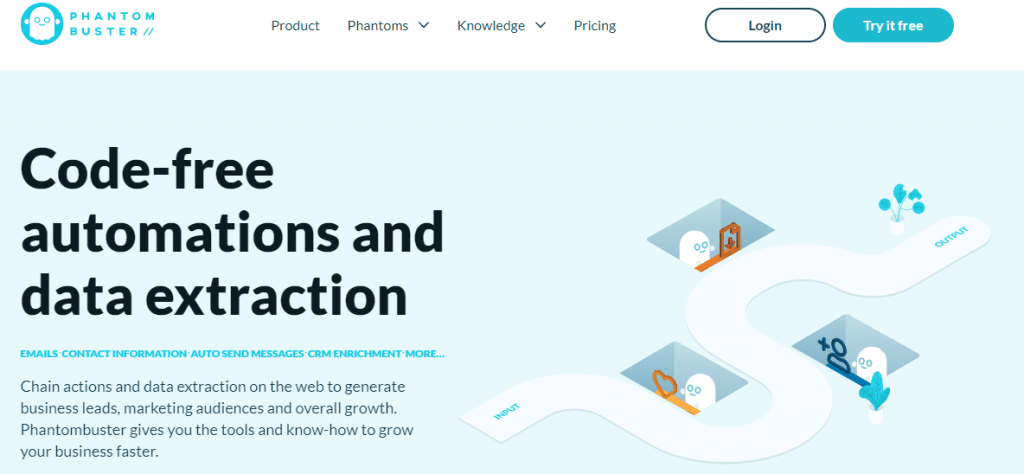 One of the best features of Phantombuster is the data scraping feature that gives you valuable data to run impactful campaigns. The cloud-based LinkedIn automation tool makes life easier for you by automating functions like sending connection requests, liking and commenting on posts, sending customized messages, and much more.
However, to get the best out of your personalization strategy, you must use Phantombuster in conjunction with a more robust personalization tool. For example, you can 2X your CTA conversions with the Hyperise integration.
Pros of Phantombuster
Helps grow your network fast.
Scrapes LinkedIn and other social media profiles for data.
Easy integration with other tools.
Build engagement with auto endorsing your connections' skills.
Free forever plan.
Cons of Phantombuster
APIs can be challenging to work with.
Technical support is poor.
Pricing
Phantombuster has five plans that range from $0/month to $900/month.
6. TexAu
TexAu is a growth automation platform that allows you to grow your business' presence on LinkedIn and other platforms.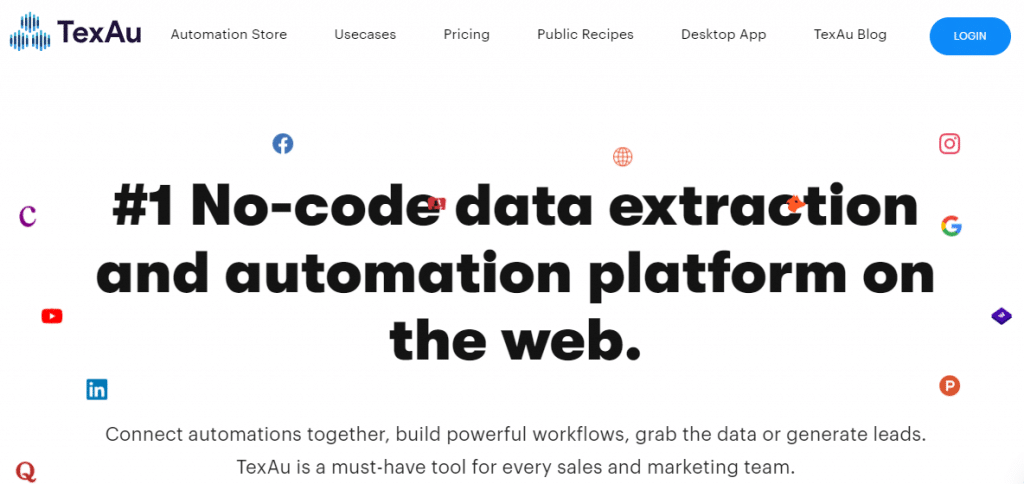 Like Phantombuster, TexAu makes automation simple with its data scraping feature and easy-to-use workflows. LinkedIn functions you can automate include connecting, sending messages, engaging with posts, and much more. If you're part of a LinkedIn group (as you should), you can also scrape group members' information. You can also enhance your personalization by integrating TexAu with Hyperise.
Pros of TexAu
In-built email finder and verifier.
Easily connect multiple platforms to create omnichannel campaigns.
Ease of use.
Comes as a cloud and desktop app and desktop-only app
Cons of TexAu
Adding proxies can be difficult for non-technical users.
Pricing
The cloud and desktop app ranges from $29/month to $199/month, while the desktop-only version starts from $10/month and goes up to $99/month.
7. Dux-Soup
Dux-Soup is one of the most popular LinkedIn automation chrome extensions, and that for some pretty good reasons.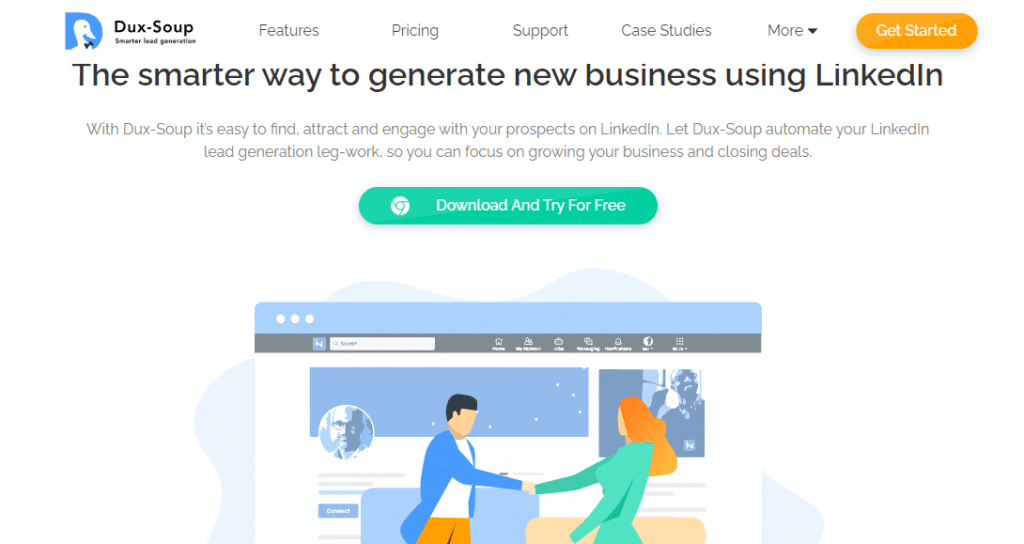 One of the primary reasons Dux-Soup is so popular is that it's super easy to use. Even newbies to LinkedIn marketing can automate profile visits and outreach, LinkedIn messaging, endorse connections, and much more. You can also create LinkedIn drip campaigns that stop when a prospect responds. However, being a Chrome extension, it only works when you log in.
Pros of Dux-Soup
Excellent customer support.
Easy management of prospects.
Lots of integrations.
Cons of Dux-Soup
Pricing
Dux-Soup has three pricing plans available:
Free
Professional — $11.25/month
Turbo — $41.25/month
8. Zopto
Another LinkedIn automation tool designed to help marketers and sales personnel generate leads is Zopto.
A few notable LinkedIn automation features you'll enjoy from Zopto include contact/company filtering, customize the level of engagement, and easy data-driven leads management, among many others. Whether you're a startup or marketing/sales team, Zopto is one LinkedIn automation tool you must include in your tool stack. And for best results, make sure to use it in conjunction with Hyperise.
Pros of Zopto
A/B testing functionality.
Easy to customize your target audience.
New features are constantly being added and developed.
Cons of Zopto
Initial setup can be challenging.
Pricing
Zopto offers three pricing plans, namely:
Personal – $215/month.
Grow – $395/month.
Agency – $895/month.
9. MeetAlfred
Formerly called Leonard, MeetAlfred is a powerful social selling tool that makes automating your LinkedIn tasks easy.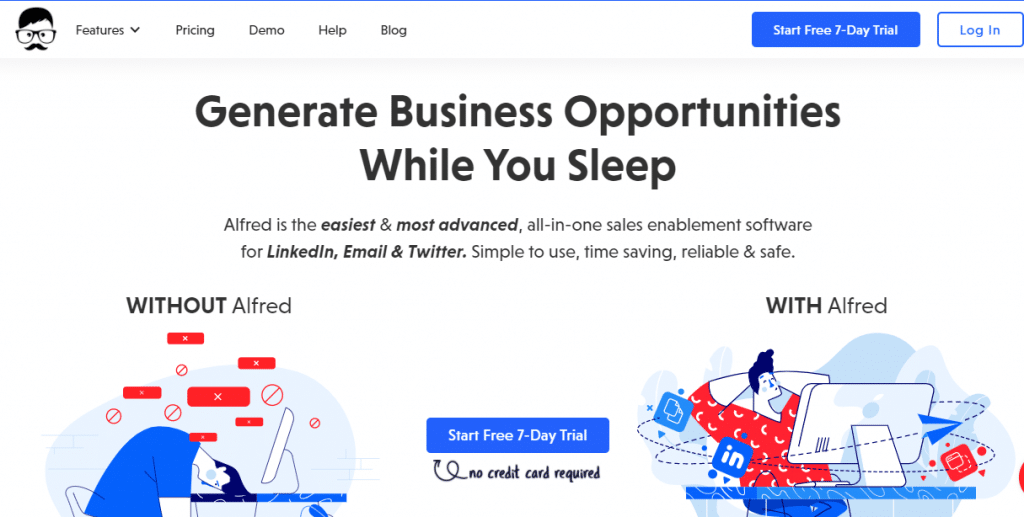 One of MeetAlfred's standout features is its built-in LinkedIn CRM that makes managing your outreach team and campaigns easy. You can also connect your GSuite account and give your campaigns more mileage by sending your connections email messages. While MeetAlfred is a cloud-based LinkedIn automation tool that works round the clock, you can customize it to work during certain hours or at particular intervals.
Pros of MeetAlfred
Multiple campaign sequences.
Powerful analytics dashboard.
In-built safety usage limits.
Tons of integrations.
Cons of MeetAlfred
The Starter plan is very limited.
Pricing
Alfred offers three pricing plans. Here's what you can expect to pay if you pay quarterly:
Essential – $29/month.
Advanced – $59/month.
Professional – $119/month.
10. WeConnect
WeConnect, as the name says, is a LinkedIn automation tool that can help you grow your professional network on LinkedIn.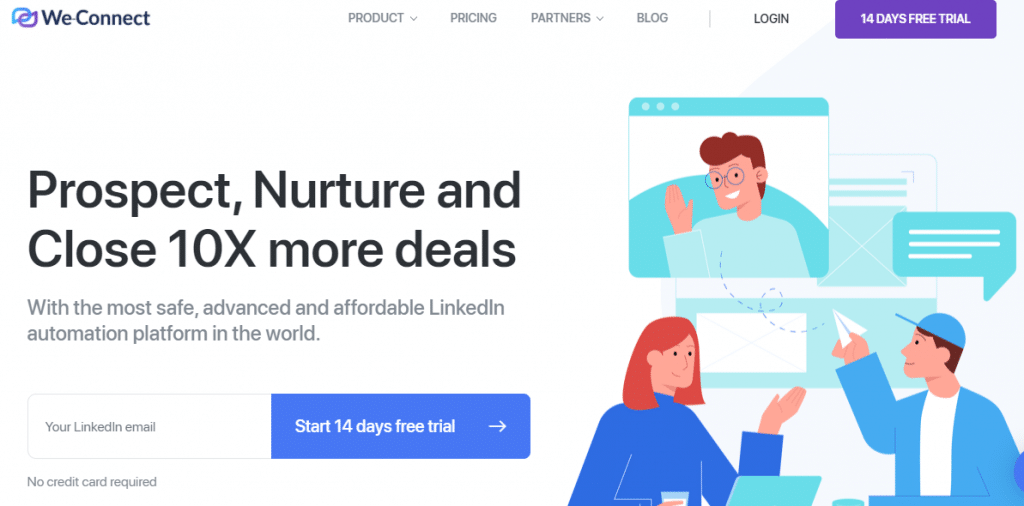 We-connect does more than just grow your network. It also helps you prospect, nurture leads, and close more deals. This is possible thanks to features like a powerful campaign manager, smart reply management, and easy user management. Add to that the advanced reporting tool, and you have the data to create better iterations of your campaigns.
Pros of WeConnect
Easy to search for a target audience.
You can remove pending invitations.
Well-designed user interface.
Easy to segment contacts.
Cons of WeConnect
Poor customer support.
A slight learning curve to understand how the tool works.
Pricing
We-connect comes with a simple $49/per user/month pricing plan.
11. LinkedHelper
LinkedHelper is a LinkedIn automation tool that's become very popular for its versatility in automating LinkedIn activities.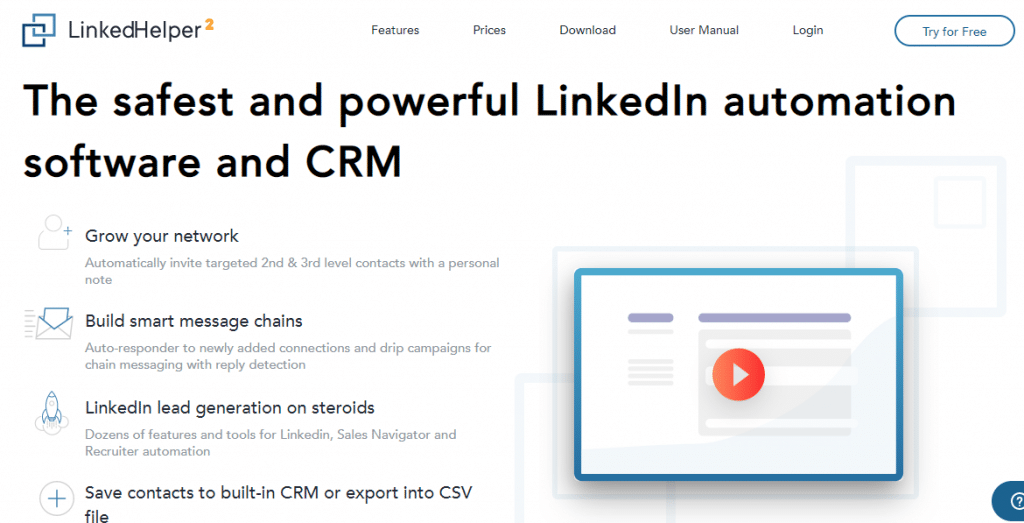 According to LinkedHelper, the tool puts your LinkedIn lead generation on steroids. That's thanks to features like automating outreach campaigns to your second and third-degree connections. You can also improve your targeting by exporting your CSV file of contacts into the tool. And by leveraging the Hyperise integration, you can create hyper-personalized campaigns.
One of the caveats of LinkedHelper is that you can't use the same license on two LinkedIn accounts simultaneously. However, you can switch between accounts.
Pros of LinkedHelper
One of the most user-friendly LinkedIn tools on the market.
Unparalleled integration capabilities.
Intuitive drip campaigns
Easy to customize outreach campaign templates.
In-built CRM for managing leads.
Cons of LinkedHelper
There is no native email function built in, to enable omni-channel outreach.
Requires an app to be downloaded to use, so less flexible when moving around computers.
Pricing
You can get LinkedHelper from $8.25/month to $15/month, depending on how many months you pay for at a time.
12. GrowthLead
GrowthLead, as the name suggests, is a B2B LinkedIn lead generation tool that works on autopilot.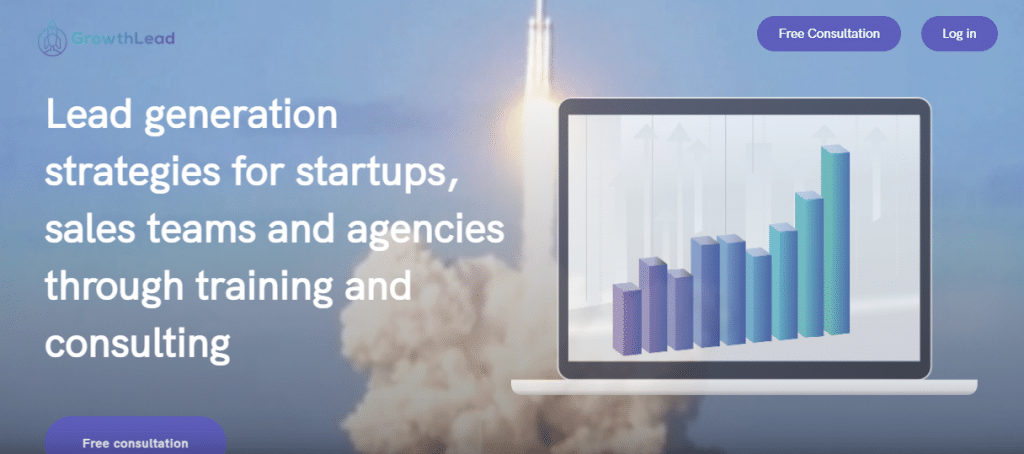 GrwothLeads is an excellent automation software that helps you find your target audience on LinkedIn using advanced filters. You can also create multiple outreach campaigns targeted at different segments in your contact list.
Pros of GrowthLead
Manage multiple LinkedIn accounts from the same dashboard.
Compatible with Sales Navigator and LinkedIn Recruiter.
Powerful lead nurturing sequences.
Cons of GrowthLead
Personalization is not as good as other tools like Expandi and Phantombuster.
Pricing
GrowthLeads offers several plans depending on what you need. Here's their typical pricing structure:
Basic — $67.35 per user/month.
Pro — $101.61 per user/month.
Advanced — $147.30 per user/month.
Done-For-You (Dedicated campaign manager) — $489.85 per user/month.
13. Reply.io
Another Chrome extension that's built a reputation for itself in LinkedIn lead generation circles is Reply.io.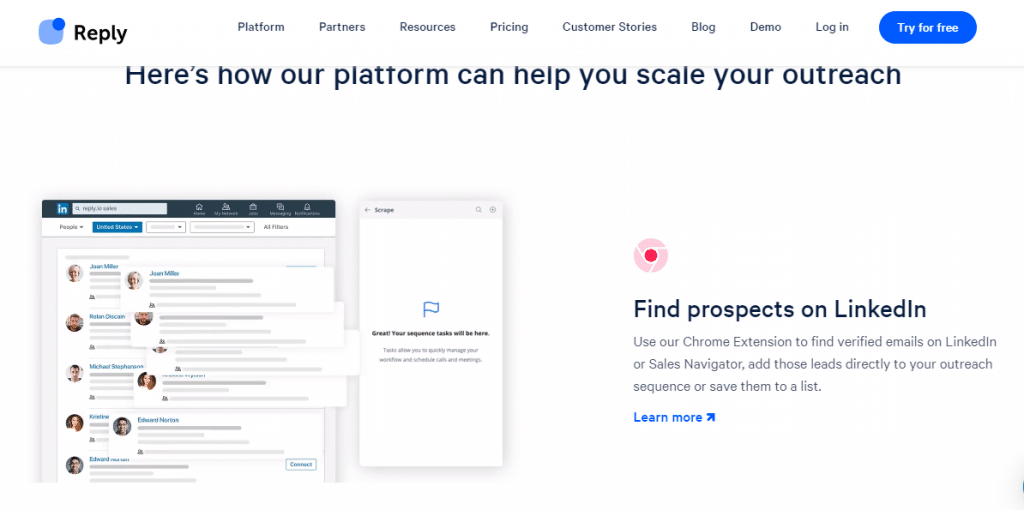 Designed specifically for sales teams, Reply.io has some pretty nifty features that enable you to search through LinkedIn profile's to find and save those that fit your ideal customer profile. You ca\n immediately include them in your current outreach campaign or save them for future use.
One of the biggest challenges sales teams sometimes face is reaching out to or following up on leads. With Reply.io, that problem is solved as you can automate both aspects of your sales tasks.
Pros of Reply.io
Excellent customer support.
Creating drip campaigns is super easy.
Can be used with other Reply.io tools for creating amazing omnichannel experiences.
Cons of Reply.io
You have to use Zapier to integrate with some CRMs.
Pricing
Reply.io has different plans for individuals and businesses that range from $70/month to $120/month. Agencies have to request a quote.
14. Octopus CRM
Growing a solid LinkedIn network is so tough it needs one to have many hands — enter Octopus CRM.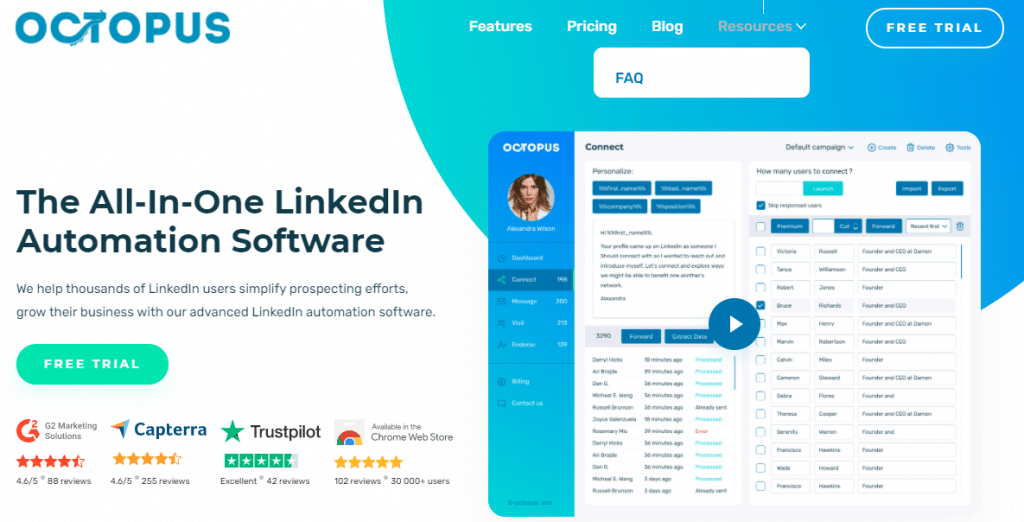 Specifically built for LinkedIn, Octopus is a powerful relationship management tool that allows you to connect and reach out to your target audience. You can easily send personalized messages to target profiles in your second or third-degree networks. Octopus also enables you to send bulk messages to first-degree contacts. When it comes to building excellent LinkedIn lead generation funnels, Octopus ranks among the best.
Pros of Octopus
Intuitive user interface.
Comprehensive resource library.
Great value for the money.
Cons of Octopus
Filter function could be improved.
CVS file download doesn't include the contacts' phones or email addresses.
Pricing
Octopus has four pricing tiers you can choose from:
Starter — $6.99
Pro — $9.99
Advanced — $14.99
Unlimited — $24.99
15. Salesflow
While relatively new to the world of LinkedIn automation, Salesflow is one tool you must consider.
Built specifically for LinkedIn prospecting, Salesflow has (almost) everything you need to fill your sales funnel with leads. The tool helps you achieve this by helping you create a LinkedIn profile that attracts leads. Other essential features include the ability to run multiple campaigns, schedule unlimited messages, and much more.
Pros of Salesflow
Manage all your activities from one dashboard.
Advanced reporting.
Excellent filtering capabilities.
Cons of Salesflow
Limited integrations.
Relatively new product on the market.
Pricing
Salesflow offers three main plans, which are:
Business plans — From $79/user/month to $149/user/month.
Done-for-you (managed campaigns) — $499/month.
Agency plans — Price on request.
16. LinkedFusion
Another LinkedIn prospecting tool you must keep an eye on is LinkedFusion.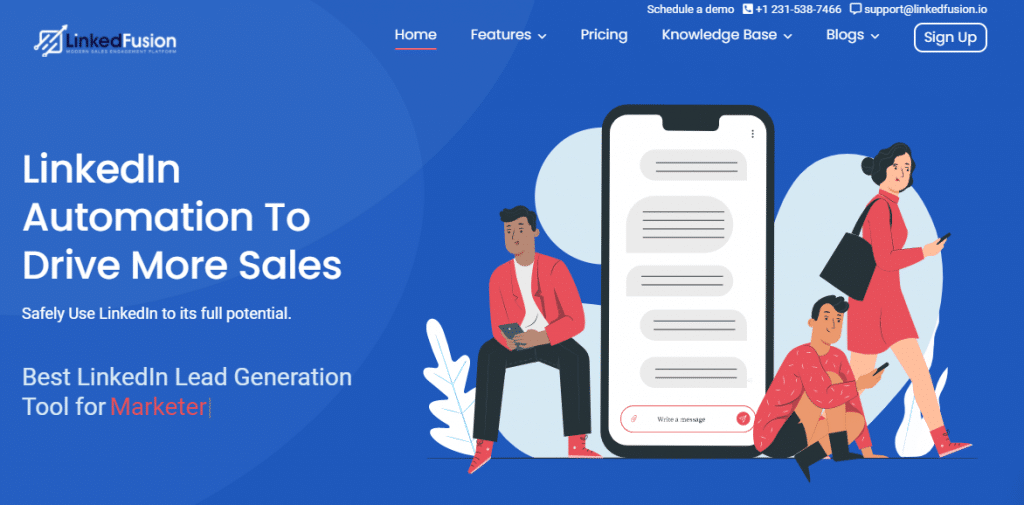 Being a LinkedIn lead generation tool, it was designed to integrate well with your other tools like Hubspot, Zapier, Google Sheets, and many other apps you may have in your tool stack. Other features you'll enjoy include unlimited sequences that support all time zones and unlimited campaigns, among others.
Pros of LinkedFusion
Excellent for team collaboration.
In-built CRM.
Detailed reporting and analytics.
Cons of LinkedFusion
Customer service can be lacking.
Pricing
To get started with LinkedFusion, you can choose one of their three plans:
Professional — $65.95/user/month.
Grow — $95.95/user/month.
Ultimate ­— $1355.95/user/month.
17. Lead Connect
Tired of growing your LinkedIn network and generating leads manually? Then meet Lead Connect.

With Lead Connect, you can define your target audience, schedule up to 100 personalized invite messages. You can also send follow-up messages to new connections who haven't responded to your initial connection message. You can also sync your prospects' LinkedIn profiles to a CRM like Hubspot for a more effective lead nurturing campaign. You can also link the tool to your other prospecting tool to help create more effective message sequences.
Pros of Lead Connect
Customizable outreach message templates.
Team blacklist function that eliminates the chances of other team members reaching out to the same prospect.
Forever free plan
Cons of Lead Connect
Needs Zapier for it to integrate with other CRMs.
Inability to include images.
Pricing
Once you outgrow the forever free plan, you have three options when considering an upgrade:
Professional — $22.95.
Grow — $40.95.
Ultimate — $77.95.
18. Salesloop
Salesloop is another new player that offers some pretty advanced LinkedIn automation features you'll be glad to have.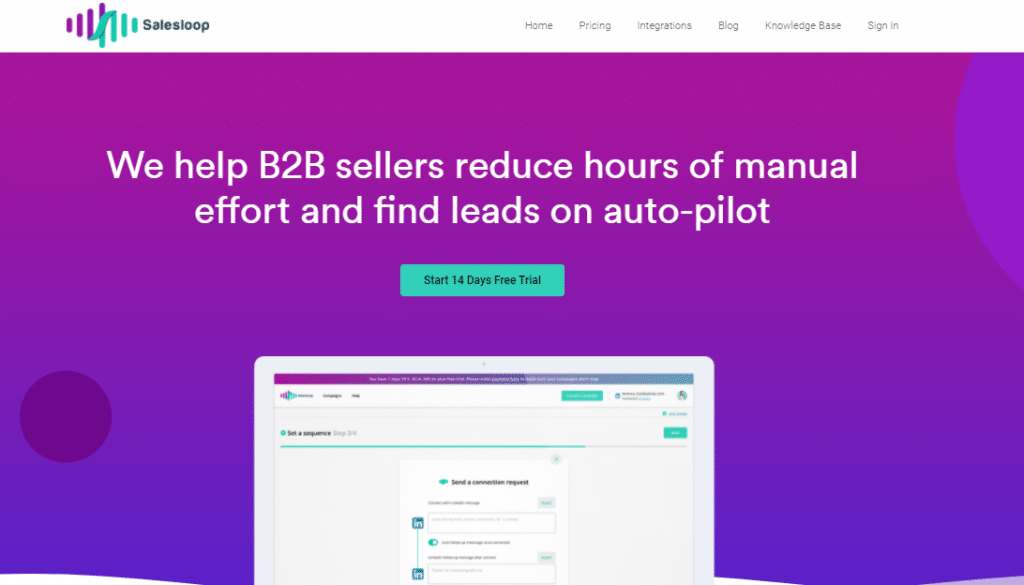 Salesloop is one of the safest LinkedIn automation tools on the market. That's partly due to it being a cloud-based tool and partly because of the inbuilt safety features. Salesloop also allows you to manage multiple accounts, which is critical if you're in sales or marketing.
Pros of Salesloop
Excellent security features.
User-friendly interface.
Easy to track campaign metrics.
Cons of Salesloop
Pricing
Salesloop has three pricing tiers, namely:
Solo — $49/month.
Team — $199/month.
Managed Services — $799/month.
19. Wiza
Another tool built for LinkedIn sales outreach with a chrome extension is Wiza.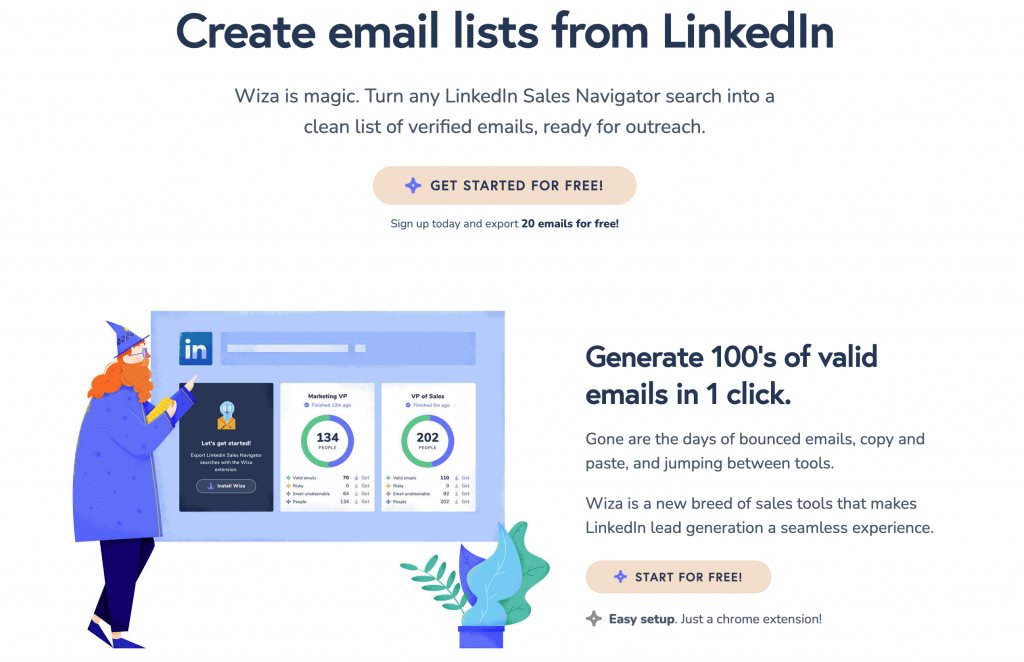 With Wiza, you don't have to rack your brain about how to export your leads from LinkedIn Sales Navigator, it's simple and saves a lot of time making sales professionals' jobs easier.
The tool connects to your Sales Navigator account by having its chrome extension enabled. All you have to do is just put together the search for potential prospects on your sales navigator account. Then, run the search and click on "Export emails with Wiza". You could export the list to your CRM or a CSV file. With Wiza, LinkedIn lead prospecting gets as easy as ABC.
Pros of Wiza
Smooth automation to export verified leads and valid email addresses from LinkedIn Sales Navigator to CRM or a CSV.
Individual profile email finder option
Easy to set up chrome extension, export 20 emails for free
Flexible and customized payment options are available
Cons of Wiza
Pricing
Wiza offers really good and flexible payment options (monthly or yearly) which are:
Pay as you go – where the user pays a flat 15 cents for each valid lead
Pro – $50 per month
Team – $100 per month
What else to know about Linkedin automation?
Armed with your LinkedIn automation tool, it's time to start your campaigns, right?
Not so fast.
Here are a few more things you must know about LinkedIn automation before you conquer the platform.
What is Linkedin Message automation?
LinkedIn message automation is the practice of automating the messages you send to connections. This includes connection request messages, prospecting messages, and any other type of message you may want to send on LinkedIn.
However, automating LinkedIn messages must be done safely. Don't send hundreds of messages to your connections at once. That's considered spamming, and it will get you kicked off LinkedIn.
How many LinkedIn connections can you send in a day?
The number of LinkedIn connection requests you can send in a day is mainly dependent on the type of account you have. Here are some suggested limits for each account:
LinkedIn Free — no more than 50 connections a day.
LinkedIn Premium — between 100-125.
LinkedIn Sales Navigator — 200-225.
That being said, don't send out all your connection requests at once. Doing so could raise some eyebrows. Instead, spread them out throughout the day.
Is Linked Helper legal?
The first version of LH was a Chrome extension. The second one is a web browser by itself. As it is a web browser we don't need to inject its code into Linkedin page in order to repeat human actions like clicks, mouse moves, scrolling or text typing. Like most LinkedIn automation tools, LinkedHelper is frowned upon by LinkedIn. However, it isn't illegal to use as long as your use of the tool is within legal confines.
What is a LinkedIn automation Chrome extension?
When looking for LinkedIn automation tools, you'll come across some labeled as Chrome extensions. These are simply browser-based LinkedIn automation tools that work from Chrome. To use a LinkedIn Chrome extension, you must log in to your LinkedIn account from your browser.
How many LinkedIn connections are good?
One frequently asked question concerning LinkedIn regards how many LinkedIn connections are good enough for achieving business goals.
The answer is not straightforward.
That's because success on LinkedIn is not about the number of connections — it's about the quality of connections you build. While you can have up to 30,000 connections, those numbers mean nothing if most of them add no value to your network. That being said, the wider your network, the more visible you become on LinkedIn.
How do I send a bulk message on LinkedIn?
Sending bulk messages on LinkedIn is easy. You can even do it without third-party tools. From your LinkedIn account, you can go to your inbox and click on the "compose message" button. You can add up to 50 connections in the recipients' field. This method is limited as you may want to send more than 50 messages.
That's where LinkedIn automation tools come in.
The best LinkedIn automation tools enable you to send bulk messages on LinkedIn. However, they do it in a human-like way that doesn't violate LinkedIn's policies. You can also apply different filters to select which connections to include in your campaign.
How can I get 500 connections faster on LinkedIn?
One of the best ways to generate leads on LinkedIn is to grow your network — fast. However, as said, it's not just about the number of connections. You must strike a balance between quantity and quality.
How do you get 500 quality connections fast?
By using an efficient LinkedIn automation tool.
However, don't send many connection requests at once, as this will look suspicious. Use a tool that:
Has excellent filtering capabilities to improve lead quality.
Randomly sends connection requests at delayed intervals to mimic human action.
What do I say when I connect with someone on LinkedIn?
In most cases, the people you connect with on LinkedIn are total strangers. And that's why your first message to them is crucial. It must engage them and help you gain their trust. To do that, you must personalize your message.
So what do you say when you connect with someone on LinkedIn?
First of all, highlight something you have in common. Next, introduce yourself and let your new LinkedIn connection know what they will benefit from connecting with you.
LinkedIn Automation Tools — Supercharging your social selling on LinkedIn
LinkedIn is a powerful platform for generating leads and sealing deals. But the tasks and activities needed to help you succeed can be mundane and time-consuming.
That's why you must leverage the right LinkedIn automation tools for your brand. With LinkedIn automation tools being a dime a dozen (and many failing to deliver), picking the right one can be a daunting task. That's why we curated this list of the best LinkedIn automation tools to make the job easier for you.
So go ahead and pick the one that resonated with you the most.
If you're already using a LinkedIn automation tool, kindly share your thoughts and experience on it in the comments below.