If you're looking to directly sell your product or service through social media, LinkedIn is one of the best places to do it. This is especially the case if you're running a B2B company and doing outbound sales and looking for professionals in a specific industry.
However, LinkedIn outbound prospecting often gets a bad rap. That's because a lot of people still don't use it the right way. You've likely received a dozen of subpar connection requests, where you aren't interested in what the person has to say, you have no connections to their industry, and the message itself feels generic and forced.
In today's article, we'll focus on how to avoid these mistakes and make the most out of your LinkedIn outbound prospecting through advanced techniques like personalization, lead generation, and image-building.
First, let's get a definition of outbound sales and find out if this is something you should be pursuing.
What are outbound sales?
Outbound sales are a more traditional approach to sales. Door-to-door salespeople, telemarketers, sales agents that hunt down leads – all of these people are involved in outbound sales.
So, whenever you have a salesperson actively reaching out to customers, you're talking about outbound sales. Years ago, this wasn't only the best, but the only approach to sales. With the advance of digital marketing and customer data, outbound sales have been put under the microscope and their efficiency is often questioned.
Since customers are much more intelligent and used to receiving promotional offers daily, there is a case to be made that outbound sales are a waste of time.
But, as you're about to see, things aren't so black-and-white.

Inbound vs outbound sales: which is better?
While "outbound" means reaching out to customers, "inbound" means letting the customers come to you.
Inbound sales are the most significant reason why outbound sales have been getting less popular: they're more subtle, convenient, and intelligent than their counterpart.
The key thing with inbound sales is value – you attract customers by addressing their pain points, providing quality content, and building lasting relationships that bring revenue. It revolves around creating buyer personas and delivering tailored messages. Inbound sales are considered a more long-term strategy than outbound sales since the latter is more instantaneous and provides quicker results.
While inbound sales might seem fancier and a little more in tune with the age we're living in, outbound sales are still a great way to get leads in a shorter amount of time.
But, here's the trick – you need to use some of those inbound sales techniques and apply them to outbound sales. Quality leads and personalized messages are some of those techniques. Outbound sales are outdated only if you use the same volume-based approach where you try to contact as many leads as possible, whether they're interested in your offer or not.
Modern outbound salespeople are smarter and more efficient – they qualify leads, work on their messaging, and take a more advanced approach with their outreach efforts.

Using LinkedIn for outbound prospecting
The largest professional network on the Internet, LinkedIn is perfect for making connections and collecting quality B2B leads.
It's used by B2B marketers from all over the world to increase brand awareness and achieve organic traffic. 96% of B2B marketers claim they use LinkedIn for social media marketing, especially organic.
More importantly, many B2B decision-makers use it to conduct research – over 30 percent.
Here are some ways to leverage this and make the most out of your LinkedIn outbound sales.

1. Optimize your profile
When you're about to get started with outbound prospecting on LinkedIn, you need to take a good look at your profile. Only when you create a profile impressive enough that people want to connect with it, you can start sending connection requests and outreach messages.
Here are some quick tips on what to do.
Profile and cover pictures.

Your profile picture will be the first thing your prospects see, so make sure you look friendly, professional, and trustworthy. A smile goes a long way, and so does professional attire. As for your cover photo, you can always go the safe way and display your office, the landscape of your hometown, or your mission statement.

Headline and description.

Too many people make the mistake of getting fancy with their headlines and descriptions. For your headline, focus on keywords and be as honest as possible. Briefly and directly explain what it is that you do. For the description, it's a good idea to tell a little success story of how you got where you are, what is your expertise, and what kind of projects you had the most success with.

Recommendations.

Nothing gives you credibility like satisfied clients. After you complete a project, ask your client to give you a LinkedIn recommendation. You can even write it yourself and ask them for approval. These recommendations will have a prominent place on your profile and serve as great social proof.
Here is a good example that takes all these tips into account.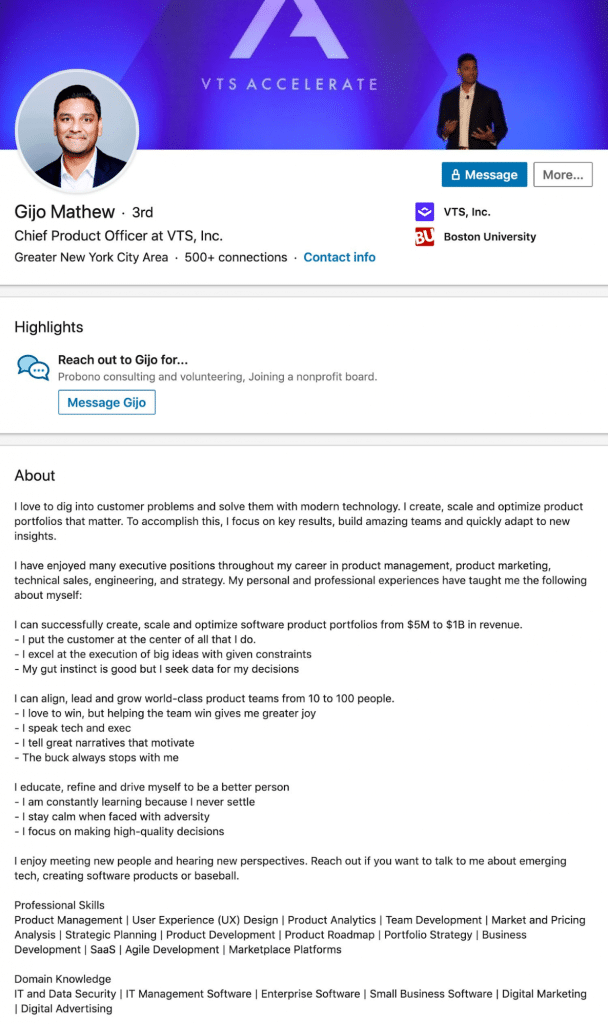 2. Build up your personal brand
Once you have the basics covered, it's time to start getting traffic to your profile and building up your image in the industry. Think about it: if you send an outreach message to someone from your field and they already know your name from discussions, posts, and groups – you'll have much better chances.
So, focus on becoming a relevant voice for your target audience. We like to highlight two ways to do this: posting relevant content and joining LinkedIn groups.
When it comes to posting relevant content, there are no strict rules. You need to do your research and see what your audience wants to read/watch. Depending on your field, people will likely be interested in case studies, success stories, research results – new insights presented in interesting ways.
We can give you two key pointers when it comes to content: videos and images perform better than other types of media. Some evidence suggests that LinkedIn users are up to 20 times more likely to share a post if it's a video than any other type of content.
As for joining groups, you can do this easily – simply start typing whatever your industry is in the search bar, select "groups" as the criteria, and choose the most interesting groups you get in the results. For example, check out what you can get when you search for "social selling":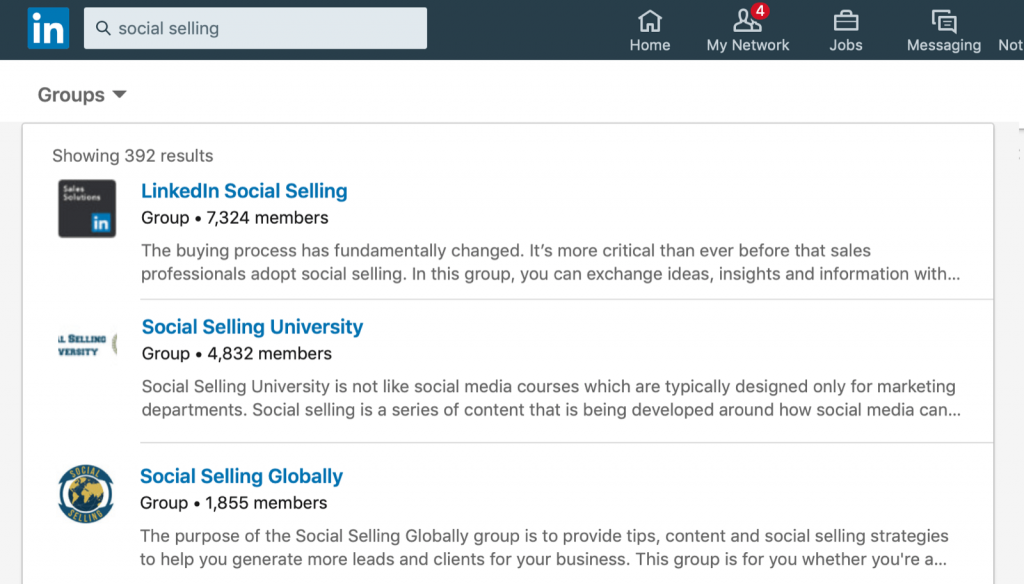 That's close to 400 groups, all filled with professionals from a particular industry. Join some of these groups and engage in conversations – that's a great way to get yourself noticed and even get some organic connections.
Who knows, after a while, you might make enough connections to start your own group. Then, you'll have a small community of people who hold you in high regard.

3. Start getting leads
Any skilled salesperson knows that collecting leads is one of the most important parts of the sales process. That's why getting high-quality leads should be your top priority when using LinkedIn for outbound prospecting.
Let's go over some smart ways to collect relevant leads.
Search for clients' connections
LinkedIn's advanced search is a great place to start hunting for leads. Not only does it have useful search filters like job title, current employer, previous employer, etc. – you can also search for connections of a specific person on LinkedIn.
So, say you have a client in the digital marketing industry who has a lot of followers. When you click on "All filters" below the search bar, one of the filters you can select is "Connections of". Click on that and enter your client's name. You'll get their connections, which are all solid leads since they're from the same industry and are likely to be interested in your services.
Scrape groups
Groups aren't only good for image-building: they are also a great source of potential leads. You can use an automation tool that can scrape the contacts of all members in just a few clicks. This method can be used for Facebook groups as well – simply scrape the contacts and get in touch on LinkedIn.
Phantombuster is a great tool for this because it can scrape contacts from both LinkedIn and Facebook, as well as perform various other actions you'll find useful.
Use lead magnets
Another way to collect leads is by posting valuable content and asking for email addresses in return. We call this type of content a lead magnet.
Lead magnets are usually eBooks, guides, industry reports – anything you believe your target audience will find worthy of an email address. Whatever it is, make sure your users understand exactly what it is you're offering. So, no wordplay, no smart headlines, go straight to the point.
Here is a good example with a prominent CTA, clear intention, and compelling copy: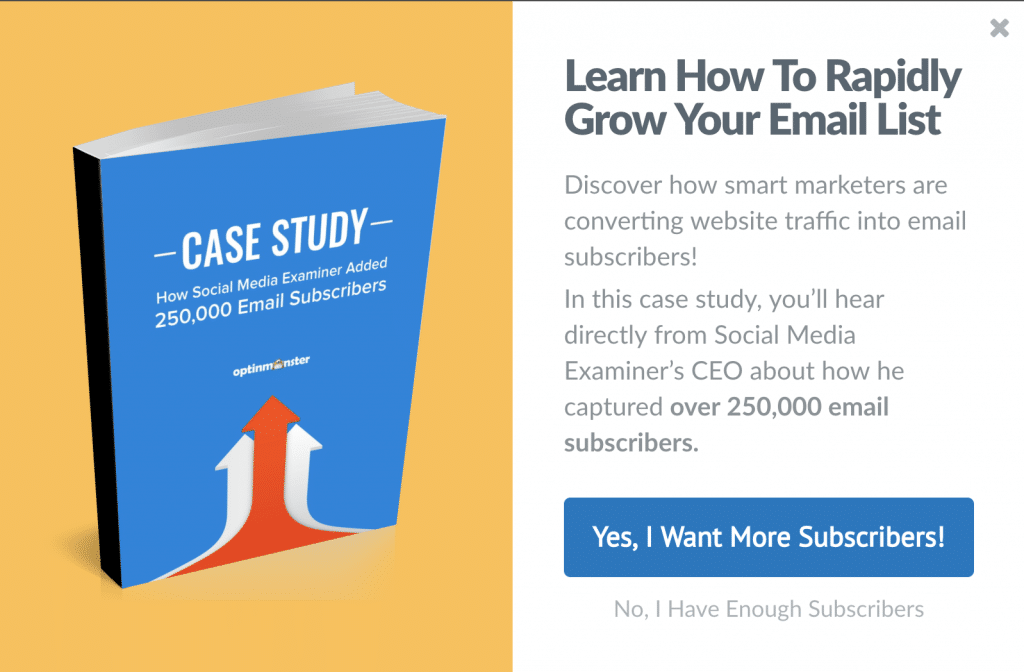 4. Qualify those leads
As your lead list keeps growing, you can keep qualifying those leads and slowly getting a feel of which ones are more valuable. This is a step that many salespeople skip but it can make a big difference in your outreach results.
You can easily qualify leads by creating customer personas. Think about your perfect user. How old are they? What industry are they working in? What's their job title? Answer these questions and have a good idea of who your core target audience is. The closer a lead is to this persona, the more valuable it should be.
It's always a good idea to prioritize decision-makers in companies, as they have the authority to make company-level purchases which can be incredibly lucrative.

5. Start with personalized outreach
Once everything else is taken care of, you can start crafting messages and connection requests – the bedrocks of LinkedIn outbound sales.
Your key approach here should be personalization. Tailoring each message to your prospect will make sure that your connection requests don't get ignored like other spammy messages often do.
And, while you can bypass this by sending all your connection requests manually and writing each one from scratch, it's much easier if you have an automation tool to help you.
That's what you can do with Hyperise: hyper-personalize your messages to not only get better results but to impress your prospects as well.
What separates Hyperise from similar personalization tools is image personalization. Through intuitive software, with no prior coding knowledge, you can create highly personalized messages that contain an image specifically tailored to each of your prospects.
Here is what we mean: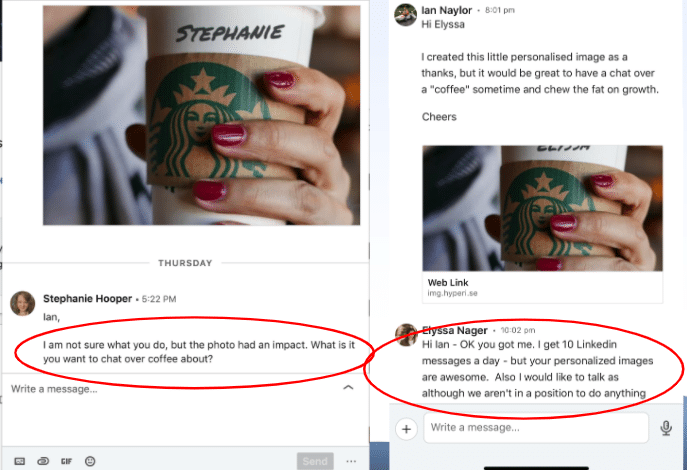 Notice how, even the prospect that wasn't that interested in our offer, still had a strong reaction to our message. That's what you get when you take a completely new approach to your outreach.
If you want to get even more advanced, you can use a personalized CTA page, like in this example: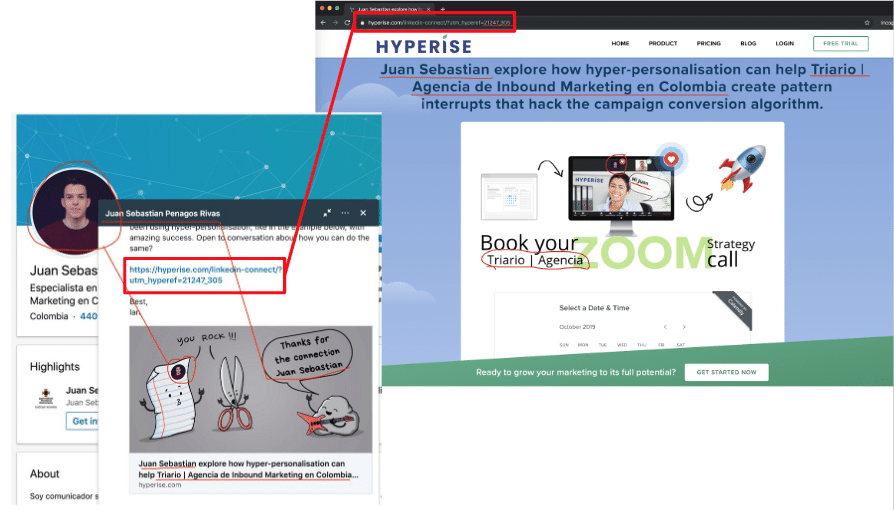 Here, we used a web link but LinkedIn still used the personalized image as the preview. Clicking on the link leads the user to a personalized page where they can book a demo or perform all sorts of actions that you defined as conversions. If you use WordPress, all you need for this to work is a plugin we created, which you can find here.

LinkedIn outbound sales: conclusion
In the 20th century, an article about outbound sales wouldn't have been nearly as long as this one. All you had to do was simply gather as many leads as possible and relentlessly cold-call them until you got results.
That's precisely why people have been looking down on outbound sales and why we had to get smarter in the past few years.
So, make sure you do your research, collect quality leads, and get everything ready. Then top everything off with personalized messages to wow your audience and get the best results.
If you feel like you're ready to take personalization to the next level with personalized images, feel free to try Hyperise.
Start your free trial and hyper-personalize your outreach messages!