Have you ever sent a video message to someone? Probably in this internet era, this might sound like a silly question. Sending video messages on Facebook is a trend nowadays. But to send videos via LinkedIn messages is not so common.
It is the reason when you send LinkedIn video messages to someone, the chances of getting noticed become higher. But how and why do that?
You may know the language, and you might be good at communicating. But to present yourself in front of someone, you need to have more qualities than that.
If you are curious to know more about it, join us as we'll discuss LinkedIn video messaging in detail.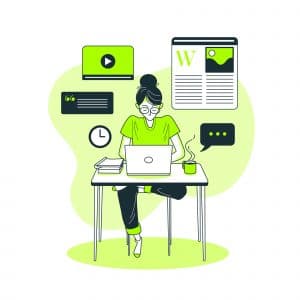 What is LinkedIn Video Messaging?
LinkedIn video messaging indicates the messages you sent to your connection or other people to communicate on LinkedIn via video.
It is truly a new concept as LinkedIn is a platform to break or make your career anytime. Sending text messages to build up connections might not help you every time.
It is where a video message on LinkedIn can come in handy. You can share all your prospects, business goals, product descriptions, and everything via a simple video message.
Also, it makes things much lighter than sending text messages as you might miss out on many important points while writing a message, but before sending a video, you can prepare yourself completely.
It helps you gain a good impression from the viewer. Moreover, video messages are an ice-breaking step.
When you send a video to someone on LinkedIn, it might help them know you better than the texts you send.
How to Send Video Messages on LinkedIn? Step by Step
To build up good relationships on LinkedIn and continue having conversations, you need to follow by sending a personalized video message.
These steps are really easy, and you can use certain applications or your LinkedIn account to create videos.
For sending private video messages on LinkedIn, all you need to do is –
Go to the LinkedIn mobile application and open messages at first.
Click on the "+" sign on the bottom left of your chat and select the "video" icon.
Record yourself instantly and send the message by pressing the arrow on the right. You can also send messages while sending the video.
Tools for Video or Video Messaging on LinkedIn
LinkedIn has recently launched this video recording feature. Some extensions and applications help you record and send videos on LinkedIn.
These tools are necessary to gain attention from people who visit your profile or your connections.
It also lets you introduce your products and services and make a connection with your clients. Most of the tools come in the form of extensions or sometimes applications, and among them, a few are:
Video form
Sendspark
Bombomb
This platform enables you to send or share video messages to your connections on LinkedIn. You can select your desired prospect for texting and click the "Video form" button for recording your video through the Video form.
After the recording is done, you can easily edit and save the video according to your preferred way. You can also add CTA or thumbnail to gain more attraction from people on LinkedIn.
Finally, you can either send the video link in a private LinkedIn message or share the link on the LinkedIn platform or by email.
This chrome extension enables you to send personalized videos on LinkedIn. To use this extension, you have to launch it by clicking on the icon of Sendspark.
After recording via this extension, you can customize the video according to your choice when opened in another tab.
After the editing is done, you can click the "share" button and then make a thumbnail once it brings you to a smaller window.
You need to make sure that the thumbnail becomes very engaging and grabs people's attention easily. Or you can use Hyperise to make a customized thumbnail for you.
After editing the thumbnail, you can send the video URL in a private message. You may also post this on your profile, and it will show both your thumbnail and link. This extension offers to open a free account, allowing you to experience the features more.
Another chrome extension helps you record or edit your video. Moreover, you can share videos from your library too.
You need to tap on the chrome extension and record yourself. Later you can edit the thumbnail and the video for your prospective customers.
How to Make Good LinkedIn Video Messages?
Sending personalized LinkedIn video messages is a very easy task to do. But a few things need to be considered while sending a message.
Sending random video messages with no greetings but purpose can create a bad impression of yours. Moreover, stumbling in your videos can also make you feel tired of recording repeatedly.
To make good videos for your business or yourself and your connections, you need to keep a few things in mind:
Just Write Down Your Thoughts and Create a Script Beforehand
While recording your video, it might be difficult to remember all points again and again. It also makes your workload reach the maximum, and you start feeling frustrated about it.
In this scenario, you can try to improvise yourself by writing down all points in a place.
It may include typical customer questions, your detailed overview of a product, etc. Moreover, you can also ask for a review at the end of your video to know your client's preference better.
Be Confident While Recording
It is a very important step, and you need to make sure that you are confident in front of a camera.
You need to realize that this task is very simple and you can present yourself perfectly. All you need to do is to have confidence in yourself. It will also help in avoiding stammering.
Customize Your Video
While customizing a video, you need to include – your name and your company's name, your products and services, your interest in one-to-one communication, and more. It will bring you closer to your clients and help in engaging your audience. To save your time, use Hyperise editor to customize your videos.
Show as Much Professionalism as You Can
For recording a perfect video message, you need to keep in mind that your presentation matters a lot.
If you send a video sitting in a dark corner of your room, your clients might not like your proposal. If possible, shoot under sunlight or normal light to get the best result.
You should also dress up professionally and not exaggerate the video that much. You can either make it 30 minutes long or end up being ignored. Or you can go for a brief description and win people's attention easily.
You should also not keep talking about the pros or obsessed over good video quality. It might not impact very much if you have good communication skills.
FAQs
Why am I Unable to Upload Videos to LinkedIn?
A few criteria are needed to be maintained while uploading a video on LinkedIn. The most common reason for video upload problems is that the video does not fulfill LinkedIn's video criteria.
A video's file size must not exceed 5 GB, and it should support the video format to be uploaded to LinkedIn.
What Video Formats is LinkedIn Compatible With?
There are several file requirements and acceptable file types for uploading videos. LinkedIn Learning presently supports ASF, MPEG-1, WebM, VP9, etc., files. The .srt files can have a maximum of 47 characters per line and three lines.
What is the Performance of Video on LinkedIn?
For uploading a video message on your LinkedIn profile, simply go to your feed and look for a "video" button directly to the right of the "Write an Article" button.
This option allows you to immediately submit a video to your update stream between three seconds and ten minutes range.
Final Words
Well, now you know everything regarding LinkedIn video messaging. LinkedIn is an amazing platform to build up your career. That is why building strong connections from the beginning can help you gain lots of confidence in the corporate world.
To do that, you can always choose sales video messaging in your sales process while keeping some of the things in mind we mentioned above. Thus, you can easily make a good space for yourself in the job field and get a chance to present yourself smartly.
Once you're done with sending a video message to your potential clients, make sure to let us know if our tips helped you a bit or not. Also, use Hyperise editor to personalize your videos and images.