74% of B2B companies have no lead recovery campaign, reported Demand Gen. Those who use lead nurturing during the pandemic consider it a challenge. 80% of executives say that they lack insights into best practices. They are confused about the diversity of targeted and educational content and continue to lose leads.
How could this happen in the times of automated marketing and personalized content? This article will review the main difficulties and show how every company can overcome them to increase customer engagement.
What Is a Lost Lead?
A lead is someone who shows some interest in your product or service but is not ready to buy at the moment. You can find leads via social networks, at events, through ads, and telephone calls. They are the strangers on your email list, new connections on LinkedIn, and users who have liked your social media posts.
They all can become your clients after a long nurturing program. And if the customer journey didn't end up with a purchase, the lead has gone lost. But that doesn't mean that your lead is dead.
With the right marketing strategy, you can return attention to your company and convert leads into customers. How? Find out the answer below.
Why Do You Lose Leads?
Do you know any company that converts 100% of its leads into sales? Just think of the last time you enrolled in a free online course. Have you completed it? We're sure most of the students haven't done so. People can't predict their motivation for sure. They rely on the presumption of what the best outcome would be. So, sometimes you lose them. But in a vast amount of instances, you do have the power to win leads back.
With that in mind, analyze the reasons why people stop following your social media, reading your emails, and visiting your website:
They don't need your product or services anymore (a person already has bought a product from your competitors).
They have concerns about costs.
They are too busy.
They don't like the way you communicate with them.
They lost contact with you (for example, they have moved to a new job and changed their email addresses).
You attract the wrong people with your lead generation campaigns.
Other systemic issues that your marketing team should avoid:
Targeting that doesn't work for some people;
Irrelevant content;
Slow responses;
Errors in collecting leads' data.
To figure out what reason was crucial, ask your lost leads via survey or email. It shouldn't look like you're trying to sell something. At this stage, the goal is to figure out why the communication failed.
As for leads who change an email or phone number, try to reconnect with them on LinkedIn. If a person had an important event in their life, such as a relocation, you could congratulate them. Thereby you'll prove yourself as a company that cares about its customers' life.
When Do You Need to Re-Engage Lost Leads?
Suppose you buy mailing lists, and more than 50% of users show no sign of life. Do you have to reach out to them over and over? Yes, if you do it correctly, you increase the chances of getting feedback and save money that you might've spent on another mailing list.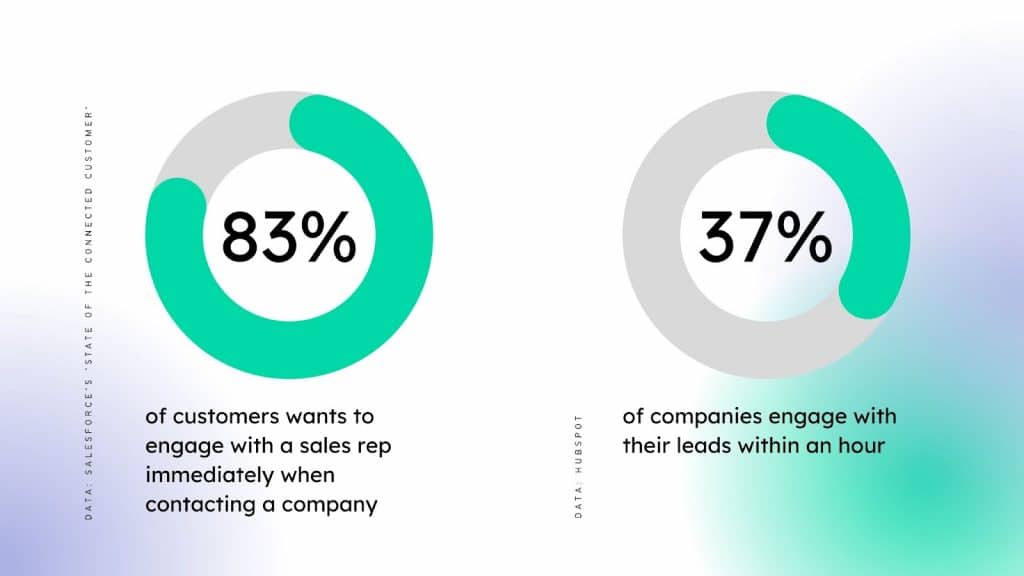 According to Marketing Donut, only 2% of sales occur when a lead meets a company for the first time. And it takes marketers at least five follow-up efforts before a person buys something. That is why a multi-stage campaign is a must. The study has shown that 92% of sales reps don't try after four no's. It seems like this is a place where competition isn't that high, and you can try yourself.
First, you check how many leads you lost. If numbers are enormous, you can't accomplish the task without customer relationship management (CRM). The right CRM tool tracks all interactions leads have with your company and helps manage them. So, you'll see who's active and who's not.
PRO TIP: Find your leads' profiles on social networks and look at the activity they have been up to. Maybe, they posted something related to your business industry or even reached out for similar services to yours. Any indication of interest will show you that they aren't dead leads.
Though, in some situations, it would be wise not to put effort. We mean users who've been inactive for years. Some of them created secondary email accounts and forgot passwords. Others aren't interested in your products and don't read your messages no matter how individual they are.
'You can't wake a person who is pretending to be asleep,' says a Navajo proverb. And it applies to our example. Martech's research has found that over 66% of marketers' email lists are full of 'ghosts.' Consider deleting them if they don't respond to you for more than six months.
How to Revive Cold and Old Leads? And How to Nurture Lost Leads?
Before building a lead recovery strategy, define what type of leads you lose. Were they hot, warm, or cold? A customer journey map outlines each stage a lead goes through the sales funnel.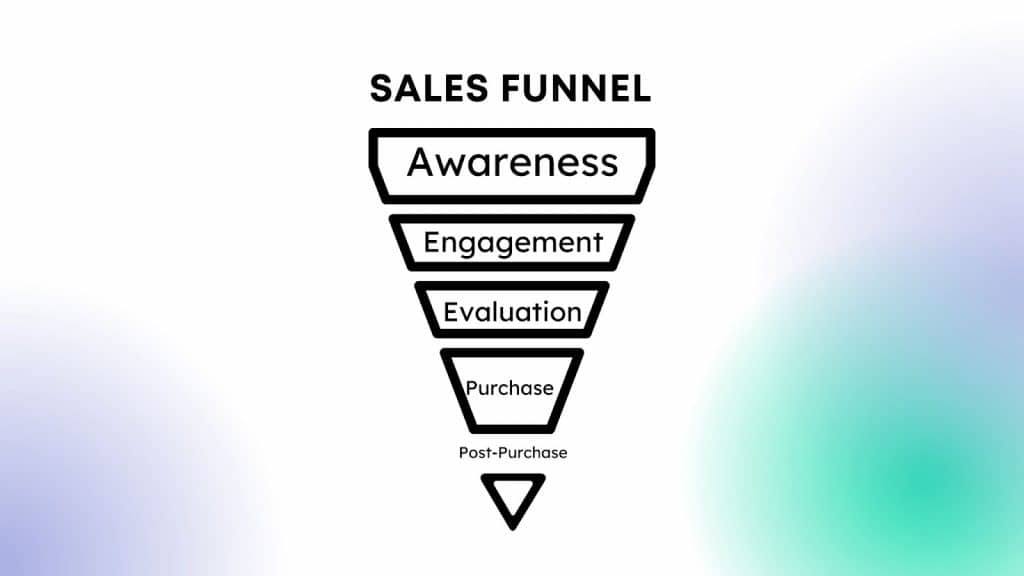 Cold leads are people or businesses who haven't indicated their interest in your brand. Still, they might do it after a significant amount of effort from your side.
Warm leads are the ones that showed some interest in your business. They are also known as prospects. For example, they downloaded your guide from the website and left an email. Nonetheless, they are not ready to make a purchase. They may consider the offers of your competitors.
Hot leads are nurtured enough and ready to buy a particular product or service soon. They are frequently called qualified. And our mission is to warm all leads up.
1. Target your lost leads
In the times of data and advanced tracking technologies, we should forget random marketing. Its tools are limited, and its efficacy is poor. Innovations like behavioral targeting give you much higher conversion rates.
Behavioral targeting is a sort of mind-reading. It scans how your audience engages with your content on the website and social networks, then delivers it to you. As a result, you customize a marketing campaign and personalize the buyer experience.
Lead segmentation
To target lost leads correctly, we need to segment them. Choose a CRM system that will assist you fast and without mistakes. CRM automatically divides leads that share similar characteristics into discrete groups. Those characteristics take into account:
position in the sales funnel;
demographic (age, family size, gender, education, occupation, income, and nationality);
geographical locations (country, city, etc.);
website behavior (pages the visitor click on/didn't click on, survey results);
email engagement (open rate and click-through rate);
company size, industry, and functions.
So, you can evaluate lost leads based on what are the characteristics of your ideal buyer persona. It's reasonable to connect with users whose profiles are marked with the highest priority. After you've done lead scoring, run a complex targeting campaign. It includes email marketing and ads.
Targeted emails
When you know why a lead dropped out of your campaign, try to fix it via email. If the person didn't purchase because of competition, send them a message that you've improved some product's features and compare it to alternatives on the market. If a prospect left your website with an abandoned cart, offer a discount for inside items. Do not forget to add a call to action (CTA) that works.
Tailored ads
Marketing automation software allows you to deliver ads based on your leads' behavior. The 2021 Segment study revealed that 77% of consumers expect personalized promotions from companies. People are used to retargeting because it saves their time and helps to remember what they need.
Below are five creative ideas on how to reinvigorate leads via ads:
Create personalized landing pages that would help them to solve their problems.
Show your product in a different light, highlighting features and benefits you haven't covered yet.
Make sure you have a specific personalized landing page for each Google PPC campaign and social media advertisement.
If a lead visited your blog, find out what article he was attracted to. Find a similar post and promote it using LinkedIn's retargeting.
Organize online events that would cover leads' unique pain points. That can be webinars or masterclasses. It's best if they are free to enter and not commercial.
2. Create lead nurturing content
Only 26% of companies have lead recovery campaigns, showed the Demand Gen 2020 survey.  The majority of respondents said that it was challenging to maintain such programs during the pandemic. They have confirmed that they feel a lack of insights into best practices (80%). That fact proves that we need to dig deeper into lead nurturing to get ahead amid the crisis.
Lead nurturing is a process of communication with a lead on an individual level through all stages of the customer's journey. It's intended to build trust and is rarely about immediate sales. Though, there're direct correlations between conversion and lead nurturing.
You can steadily inform prospects about your products and services. Eventually, the right content will inspire them to become customers. In other words, marketers supply leads with valuable solutions and educate them. Sometimes others' minds aren't ready for your vision. That's why nurturing is a must for innovative businesses.
The key element of lead nurturing is targeted content. The top formats cited by Demand Gen respondents include:
webinars (33%);
email newsletters (27%);
sales calls (28%);
thought leadership articles (28%);
blog posts (23%).
To boost CTR, create a lead magnet – a free ebook, webinar, case study. The content should be relevant, engaging, and fresh because you're competing with terabytes of existing information on the Internet. And people always want the best.
Mathew Sweezey, author of Marketing Automation for Dummies, divided content that leads want to engage with into two categories:
Casual reading (the goal is to receive tips or news about specific industries, professions, or topics of interest);
Research (the goal is to get all the necessary information to make the right decision).
People consume casual content types daily (from a blog, for example). And they look for research when they want to solve a problem. So, produce both of these types to improve your click-through rates (CTR).
3. Deliver your content effectively
Any authentic and valuable content won't work if you deliver it in the wrong way. Build your re-engagement campaign by setting up the right time and reason to connect. Personalize messages and send them through relevant channels.
Right time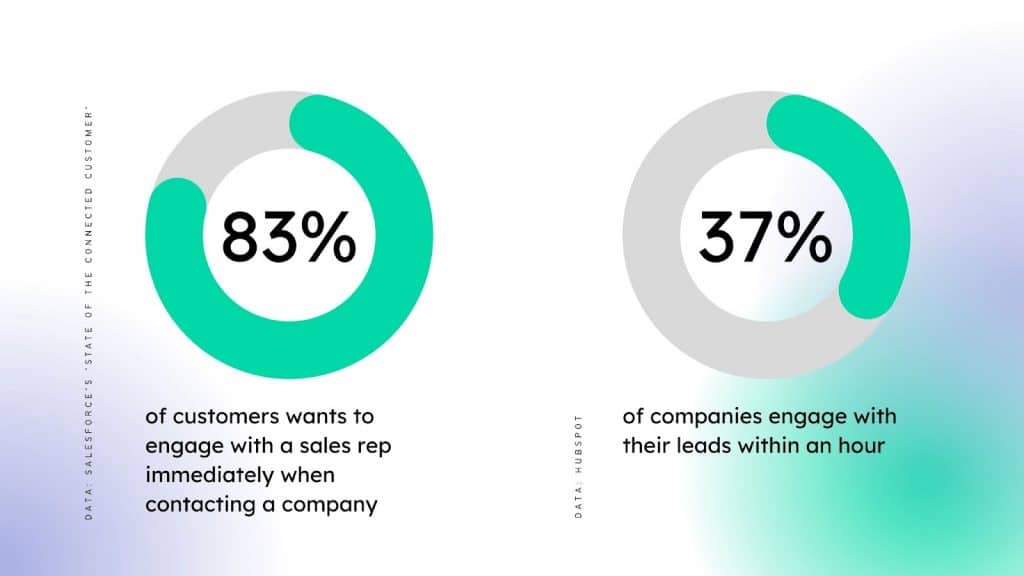 There are two contrasting facts that we need to pay attention to. First is that 83% of customers expect to engage with a sales rep immediately when contacting a company, reported Salesforce. At the same time, 37% of companies engage with their leads within an hour, posted Hubspot.
The average first response time of B2B businesses to their leads is 42 hours. Email automation tools can reduce this time to seconds. And a person won't lose you among the other companies.
Create a timing schedule for other types of email and phone calls. Define what timelines work for your audience best. If you call your prospect in the morning hours and never get answered, it might not be the right time.
Emailing someone every day is also not a good idea. If your lead is cold, send them no more than five emails at the beginning. You can add more later so it won't look like spam.
Relevancy
Get the conversation started by writing a captivating subject line. A product update or a limited-time offer would fit perfectly. Also, you can describe the features of your new product.
The message should be clear, personalized, and fun. Add a CTA and pay attention to your website optimization. Place targeted pop-ups and banners to get more attention.
Right message
The sales team that wants to win leads back sends personalized emails, not generic. Salesforce's State of Marketing Report 2021 revealed that 83% of B2B buyers should be treated as a person to make a purchase. They want others to activate their emotional side with excitement, stress relief, security, and growth.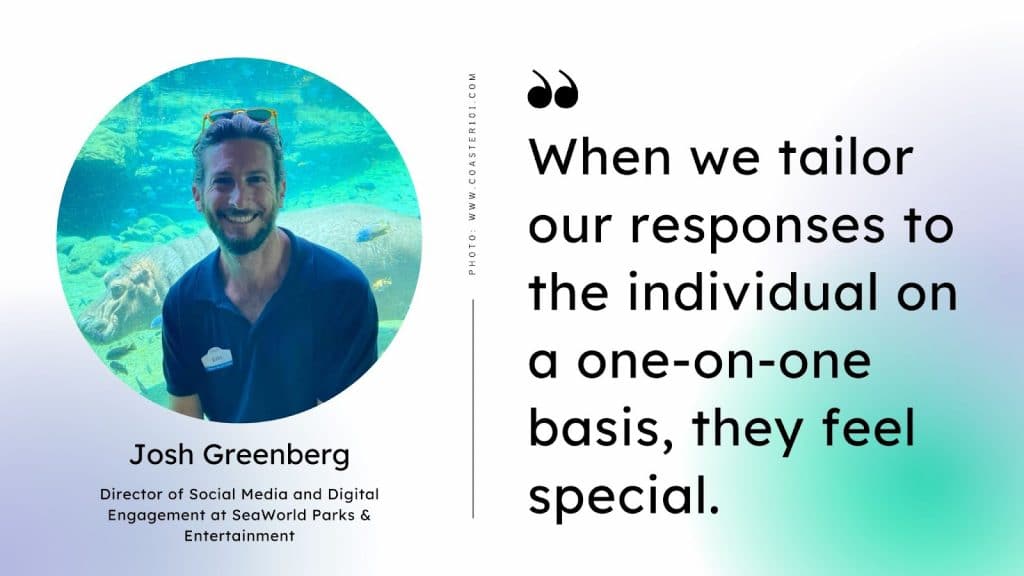 Source of the quote: Social Pros Podcast
If your sales leads are getting lost without a close personal connection with your brand, it's time to fix it. Start with adding personalized content to your emails, social outreach, and website. Underline your client's name, company name, job title, email, etc.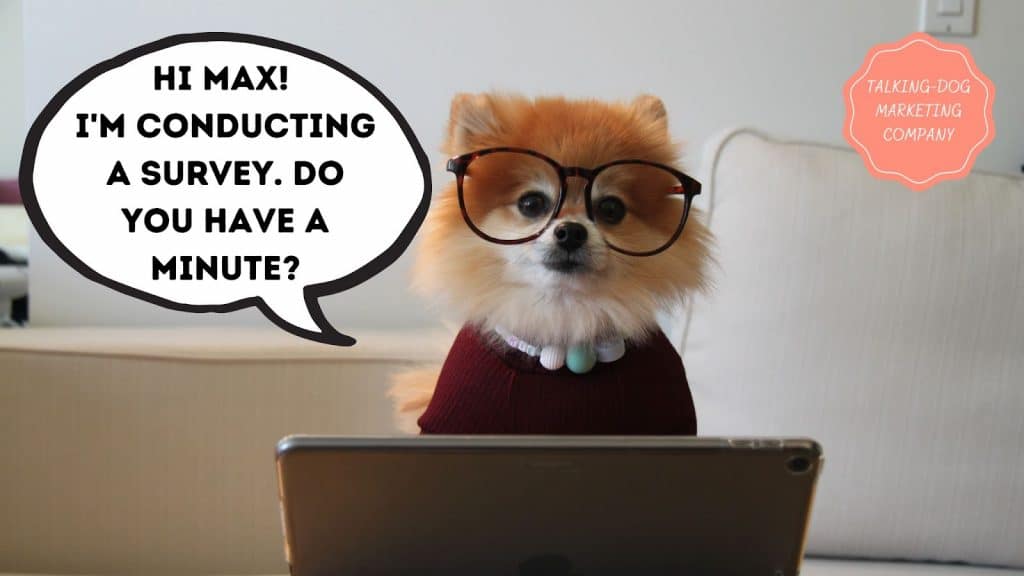 If you have to personalize hundreds of messages, it's better to use automation tools. Manually personalizing each email is a daunting challenge (and you have so much to do!) With Hyperise, you can personalize your website's text, images, videos, and CTAs for your visitors without writing a single line of code.
Below are some great examples of personalization in their outreach. You can find more on the website.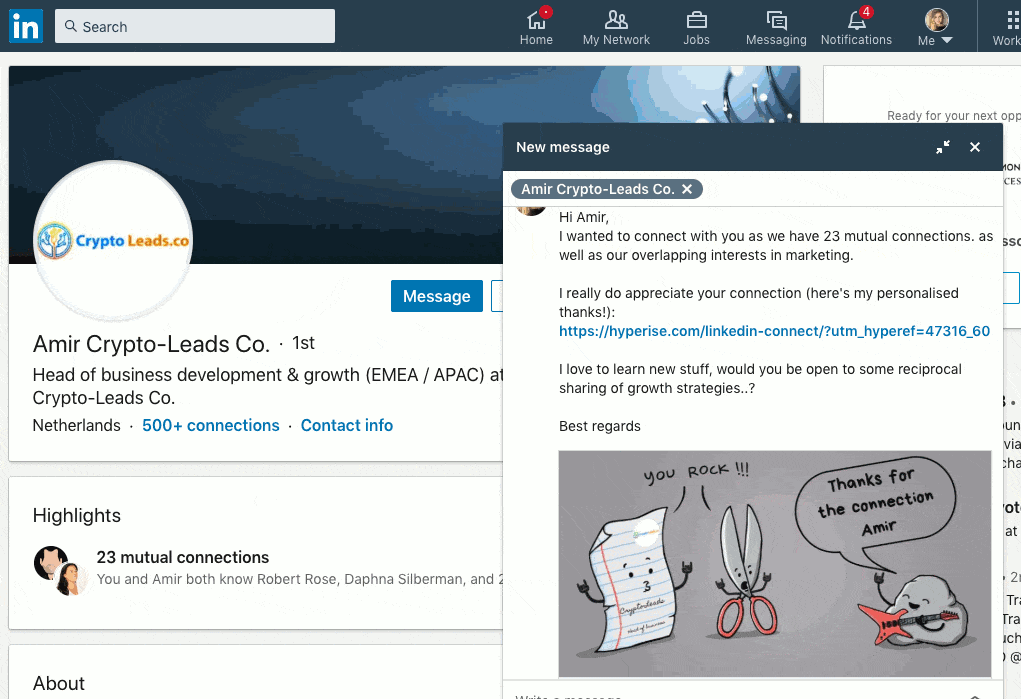 Source: Hyperise.com
Relevant channels
While email lists are crucial in direct communication with your customers, you can explore more marketing channels. Social media platforms are unlimited resources for new leads. Reach out to users with posts on the platforms you know they're most likely to use.
Do not forget about blogging opportunities. It not only provides leads with news and opinions but also improves your website visibility in Google.
The latest trend in content marketing is omnichannel coverage. Consumers want their user experience to be seamless no matter what gadget they are using.
4. Measure, learn, and improve
The last step is to analyze your lead generation. This process helps businesses to prevent losing leads. If you use an irrelevant magnet or channels that rarely reach your target audience, it's better to solve this problem at the root. Instead of rebuilding relationships with people who are unlikely to buy something from you, rethink marketing campaigns and make new magnets that will attract the right audience.
PRO TIP: Ask your salesperson whether it is easy to convert the leads you've generated. Sales reps know better what type of leads is more likely to become a customer. When you receive this information, adjust your campaign.
Open rate and click-through rate (CTR)
Open and click rates accentuate how your lead recovery campaigns resonate with your audience. The email open rate for all industries Mailchimp analyzed is 21.33%. A low open rate indicates one of these things:
Your subject line is not relevant for some readers.
Your lead's database is outdated, and you send messages to "ghosts."
You may be running too few campaigns. And vice versa, you are overdone with emails, and users mark them as spam.
​​The average click rate for all industries Mailchimp studied is 2.62%. If your numbers are lower, change the keywords policy.
Closing
If you've read this far, you know how your lead management might look like. To crystallize the vision, speak with your sales department. Together you can achieve even more. And it's precisely the thing digital marketing has been teaching us all the time. Knowledge, as well as data, bring more benefits when they aren't fragmented. Do you have anything to add or ask? Write down in the comments sections. We're open to engagement!
Author bio
Kristina Shkriabina is a Content Marketing Manager at Synebo, a company focused on building сomprehensive Salesforce solutions. Kristina has over 6 years of experience in broadcasting journalism and British parliamentary debate. In her free time, she loves skateboarding and reading books.