Have you been struggling with outbound lead generation for your business?
If so, you're not alone.
With the ever-changing landscape of sales and marketing, it can be hard to keep up with outbound lead generation tactics and strategies that work in 2023 and beyond.
That's why in this post, we are going to discuss outbound lead generation in-depth, how to generate outbound leads, and the most effective outbound lead generation techniques that don't require a huge budget or staff.
Ready? Let's dive in.
What is outbound lead generation?
Outbound lead generation is a cost-effective way to communicate with potential customers who might not know about your product or service yet.
Typically, sales reps send out various types of communications to reach these leads.
Outbound lead generation is a strategy that involves outbound campaigns and is done in a way that does not relying on prospects and customers to come to you as an inbound strategy would.
Typically, an outbound lead gen strategy employs outbound tactics such as cold calling, cold emailing, pay-per-click (PPC), campaign marketing, and even social media.
What are outbound leads?
Outbound leads are prospects who have shown interest in a company's products or services but have not yet converted into making a purchase.
An outbound lead is qualified as someone with an interest in the products or services of the company and can be moved further down the outbound sales funnel or sales pipeline.
Outbound leads are typically generated through outbound campaigns such as cold calling, sending out sales emails, social media outreach, or making outbound PPC advertisements.
If you're reading this, chances are you've been an outbound lead for someone before.
This could look like receiving an outreach message on LinkedIn and simply responding to the salesperson's message, particularly by expressing interest in some way.
How do you generate outbound leads?
There are a number of ways an organization or individual can generate outbound qualified leads for their company.
The most common methods you can use to generate outbound leads for your company include cold email, cold calls, and social media outreach for B2B sales.
What is the difference between outbound and inbound lead generation?
Outbound lead generation is when companies generate traffic to potential customers outside of their own internet domain.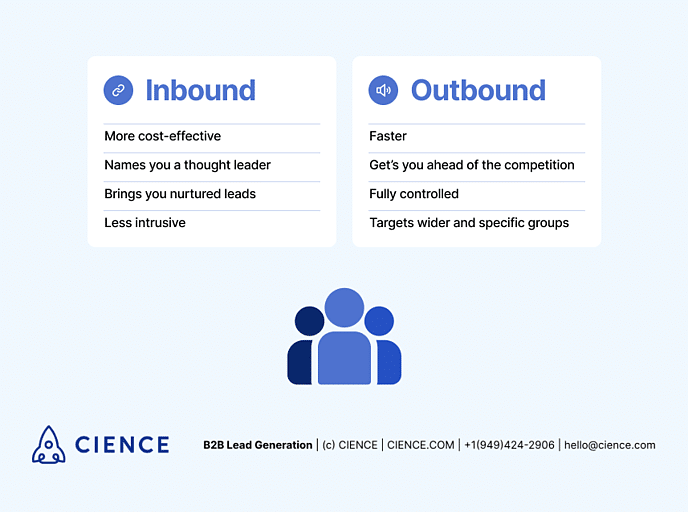 Inbound leads are created by content on these web/social domains than the other way around.
With inbound lead generation, leads come to you, whereas outbound lead generation relies on you going after your target customers.
Similarities between outbound and inbound lead generation
When discussing similarities between outbound and inbound lead generation, one could argue that both forms of lead gen are methods for generating prospects, customers, and sales.
At the end of the day, outbound and inbound campaigns generate leads that can be converted into sales according to your business goals.
However, the approach will vary greatly for both, which we will cover in the next point.
Differences between outbound and inbound lead generation
In simpler terms, an inbound approach brings the leads to you, while outbound goes and finds them.
Outbound lead generation relies on outbound sales reps and marketers to generate interest in their target audience through methods like cold calls or cold email.
On the other hand, inbound lead generation is a result of inbound marketing methods that passively generate interest.
What is the difference between inbound leads and outbound leads?
As we mentioned above, inbound leads are those who come to you as a result of an inbound marketing strategy like content marketing or an email newsletter.
Outbound leads are those who come to you out of your own initiative, which can be through cold calling or email outreach.
Outbound lead generation strategies & techniques that work in 2023
Now that you have a better understanding of outbound lead generation, it makes sense if you're ready to get started with generating leads for your business.
Let's take a look at some of the top lead generation strategies that work in 2023 and beyond.
Outbound email or cold emailing
One of the best outbound strategies for generating leads includes cold emailing because these email campaigns can be automated and sent at specific times of day when your prospects might be open to hearing from you (e.g., mornings).
Outbound email campaigns also help put you in front of the prospect without having to wait for replies back and forth.
Not to mention, you can technically be reaching out to prospects in your sleep or while at lunch, thanks to automation.
However, with consumers becoming savvier than ever, it's crucial not to send out generic messaging to potential leads and prospects.
This is where outlining your ideal customer demographics and developing several customer profiles come in handy to ensure your messaging stays consistent and relevant to new leads.
Once this is out of the way, the first step to a successful cold email lies in your subject line. You only get one chance to make an impression, so be sure not to waste it.

Once you've grabbed a prospect's (ideally a decision makers') attention with your killer subject line, the goal is not to lose it.
Your message should be clear, concise, and just enough to leave the prospect wanting more.
In order to accomplish this, it's going to take a level of skill and creativity to stand out from the dozens of other sales pitches in your prospect's email inbox.
This is where tools like Hyperise are useful by creating and sending personalized images to include in your outreach emails to prospects.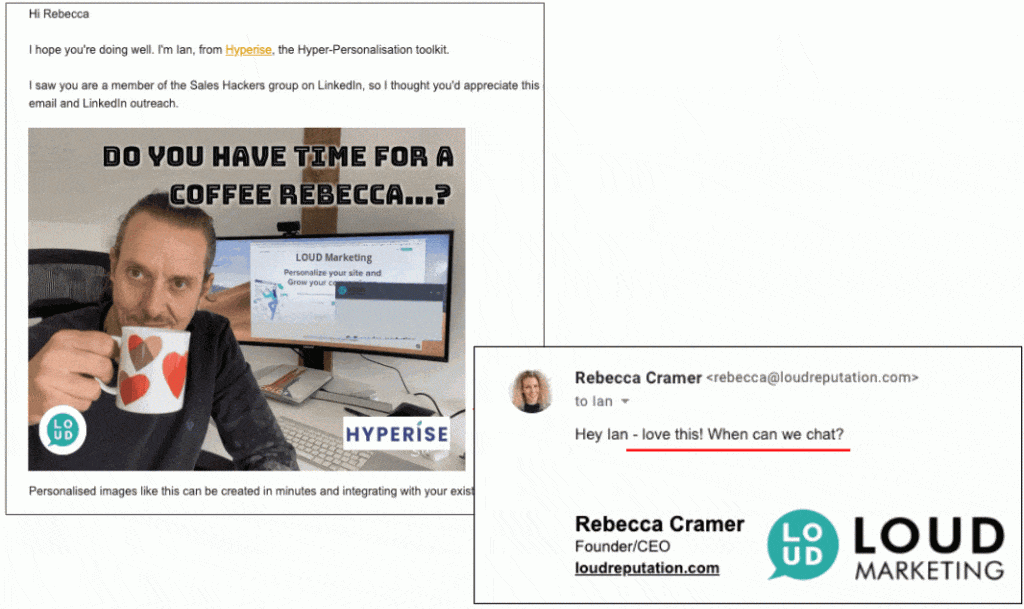 Studies show that personalization increases the likelihood of a response by as much as 50%.
Once your message is out there, it's time to follow up.
For every outbound email you send, ensure you have at least one follow-up strategy in place such as following up on unanswered emails with another message or via phone calls.
An outreach email follow-up strategy is essential to ensuring that quality leads don't fall through the cracks.
Cold calling
If you thought cold calling was dead, think again.
Cold calling involves reaching out to potential customers who may not yet know about your business but would likely show interest in what it has to offer if they were contacted with personalized information about products and services.
For B2B lead generation, cold calling can be incredibly effective, assuming you get past the gatekeeper and call during regular business hours.
Before modern-day sales technology, cold calling often looked like sifting through phone book pages dialing at random.
However, today, cold calling is a much more efficient practice and tends to focus on calling only qualified and quality leads. Nowadays, sales reps can scale cold calling by leaving hundreds of voicemail drops in an instant to qualified leads.
Campaign marketing
Direct mail is a common type of campaign marketing for outbound lead generation and another tactic that is still very much alive in 2023.
Direct mail campaigns can be tricky to master on their own and tend to work best in conjunction with other outbound lead gen strategies.
However, when done properly, they can be extremely effective due to the level of personalization and creativity you can employ.
For example, using a tool like Hyperise, you can create and send personalized postcard images with QR codes to interlink your online and offline campaigns. Also If using QR codes checkout QR Code Management Platform for modern businesses.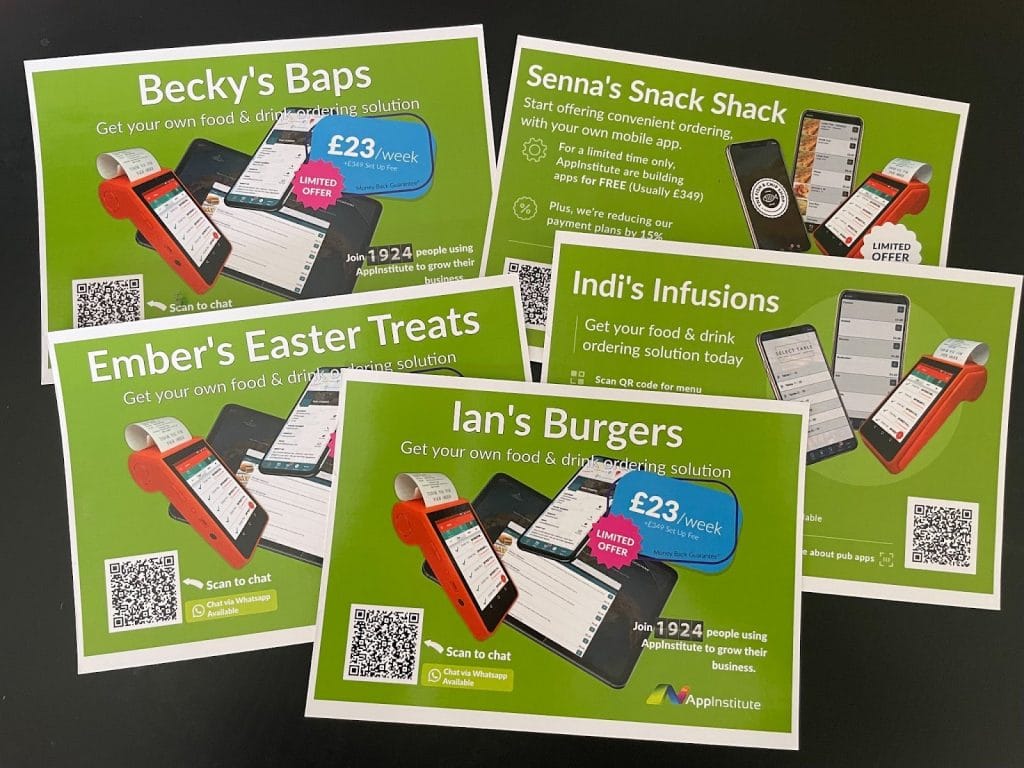 If you're not sure what direct mail is best used for, it can work for any of the following:
Closing key target accounts
Moving key target accounts further down your sales funnel
Sending meeting or demo requests
Introducing new leads to your company
Sending personalized invites to an event
Social media outreach
Almost any sales organization can benefit from leveraging social media to connect with leads and prospects.
LinkedIn, in particular, will prove to be an incredibly powerful platform for outbound B2B and SaaS sales teams.
After all, there is a reason that LinkedIn is reported to be 277% more effective for lead generation compared to other social media platforms.
However, in order to stand apart from the endless noise on LinkedIn, you're going to want to alter your approach.
One way to successfully generate outbound leads is by connecting with prospects on LinkedIn and sending them personalized messages.
The reality is, prospects see dozens of sales and marketing messages every week.
How can you stand out and grab their attention?
Personalization is key when it comes to outbound marketing. Personalized messages are more likely to grab your prospect's attention and less likely to get lost in their inbox.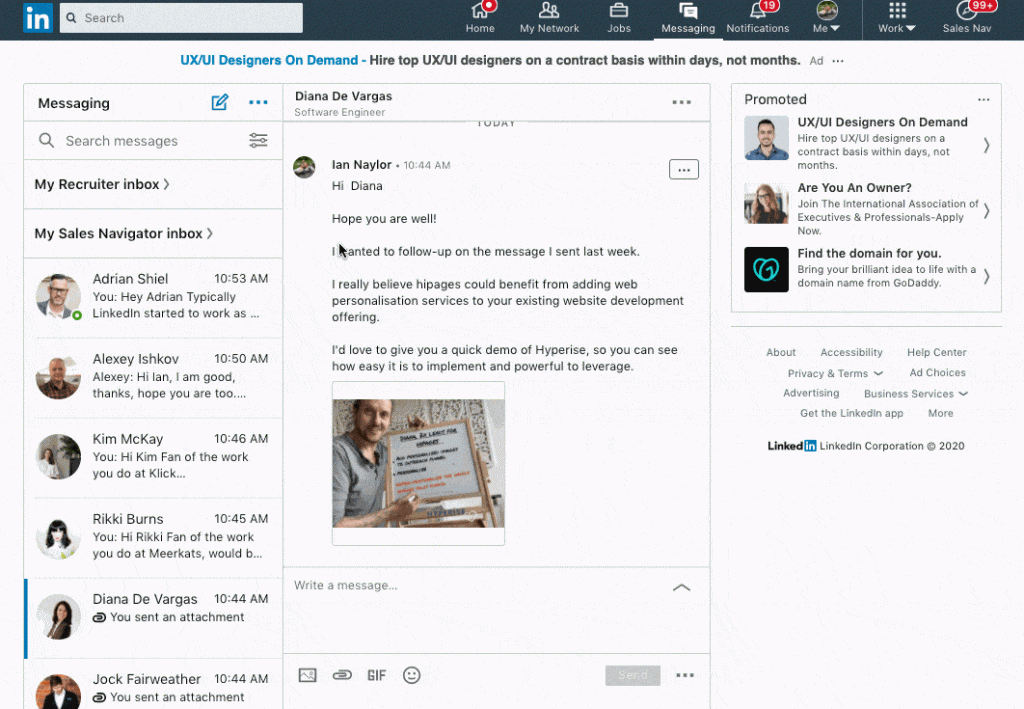 Luckily, there are a number of LinkedIn automation tools you can use to automate your Linkedin prospecting efforts to avoid being glued to the platform all day.
Outbound lead generation doesn't have to be scary when you go into it prepared
We hope that now you have a newfound respect for outbound lead generation and the power it can have on your business.
Keep in mind the best practices for outbound lead generation and sales success and you will be well on your way to hitting and exceeding your sales goals in 2023 and beyond.