Growing a business is not easy. It's particularly more challenging if you're a small business trying to make headway in your space. This is where outreach marketing can come to the rescue.
What is outreach marketing?
Outreach marketing is a marketing tactic that involves reaching out to potential customers, influential individuals, or brands with a strong relationship with your target audience. To do this, you should search for these influencers, study them, and send outreach messages to pitch your collaboration idea.
Outreach marketing is a marketing strategy aimed at achieving different goals such as:
Driving brand awareness
Promoting your products or services
Lead generation
SEO outreach for backlinks (e.g. to bloggers)
Gathering data (through studies and surveys)
Boosting customer retention
Brand partnerships and collaborations
In most cases, outreach marketing can involve reaching out to people and individuals you have no prior relationship with. This demands that you craft your campaigns strategically so as not to look spammy.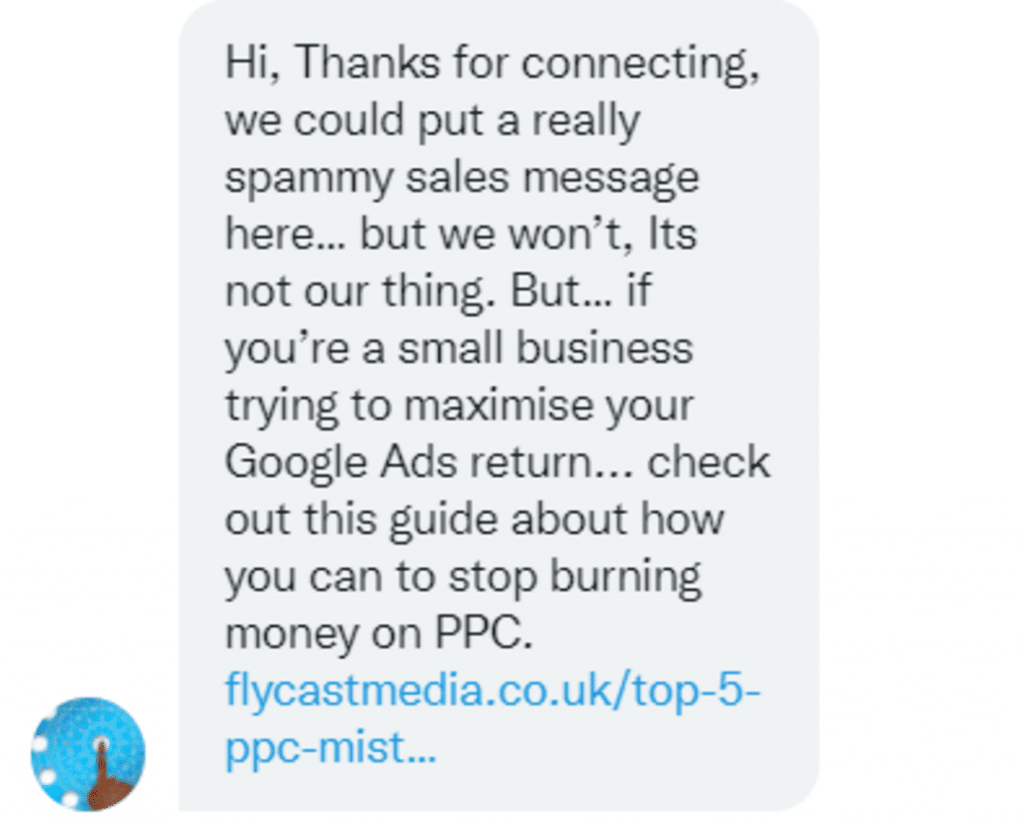 Benefits of outreach marketing
To better appreciate outreach marketing as an effective strategy for achieving your business goals, let's briefly look at some of its benefits.
Boosts your lead generation
A benefit of outreach marketing is that it helps boost your lead generation efforts. By collaborating with influencers and brands with a similar target audience to yours, you get to tap into a relevant traffic source. The advantages of this kind of traffic include:
Quality traffic
Traffic that's further along on the buyer journey
Higher conversion rates.
Particularly if you're a small business, outreach marketing will give you access to bigger audiences that have been established by the brands you're partnering with. This will result in a boost in your lead generation. The best part is that you'll generate warm qualified leads.
Increases brand awareness
Outreach marketing opens up many opportunities for brand awareness. That's because collaborating with other well-known brands or figures in your niche puts your brand and products in front of their audiences. This rings true no matter the type of outreach campaign you run. A boost in brand awareness is one benefit you'll enjoy from your outreach marketing campaigns.
Boosts your authority
Building brand authority is an excellent way of supercharging business growth. And outreach marketing can help you do just that. By collaborating with established brands and influencers, your brand authority gets a lift. As a result, you build trust with your audience and develop a good reputation. Both factors are essential to business growth.
5 outreach marketing strategies you should know about
Now that you know what outreach marketing is and why it's so important, let's quickly look at a few strategies to help you run a successful outreach campaign.
1. Promote Your Content
Let's face it. Creating great content is not a guarantee that the right people will see it. And yet content creation and distribution play a huge role in helping drive your marketing and business goals. That's why you must leverage strategies like outreach marketing to promote every piece of content you create.
How do you promote your content using outreach marketing?
One of the best (and easiest) ways of incorporating outreach marketing into your content strategy is to promote new content to your audience. Show them you value them by asking for their opinion. You can also ask them to help you spread the word by sharing your content with their network. Do your best to strengthen your relationship with them and turn them into brand advocates.
2. Build relationships/collaborations
Another outreach marketing strategy you can use is to build relationships or collaborations. Establishing strategic marketing and product collaborations with other brands in your circle (but not competitors) is a great marketing strategy. It can help you reach a bigger audience that's likely to be interested in your product. It's also cost-effective as you can use your audience, not your marketing budget, as cross-promotional leverage.
Especially if you're a new business, building relationships with established brands in your niche will help you fast-track your business growth. For example, a study by American Express shows that mid-sized businesses that leverage collaborative marketing are $430,000 better off than their counterparts that don't.
How do you build effective collaborations?
Find suitable brands to partner with. These shouldn't be direct competitors, but brands that complement yours. In most cases, you would share a similar audience.


Reach out to potential partners. Once you determine your potential partners, design an outreach marketing campaign to pitch your collaboration idea. Make sure to craft your messaging in such a way that you highlight what your potential partner will benefit from the collaboration.


Whether it's product or marketing collaboration you're looking to get into, outreach marketing is the way to achieve it.
3. Find new clients
Outreach marketing is an excellent way of acquiring new customers without having to dig deep into your pockets to pay for ads or running other types of marketing campaigns like PR.
How can outreach marketing be used for customer acquisition?
Identify your target audience. Create buyer persona templates to give you a clearer picture of who you're targeting.


Find out where they hang out. Discover which platforms your prospects are most active on so you know where to reach them.


Send out your outreach campaign. Create personalized messages tailored to your prospects and the platform you're using to reach out to them.


Because it's a low-cost strategy, outreach marketing can help you reduce your customer acquisition costs (CACs).
4. Retain customers
Studies show it's 5X easier to sell to an existing customer than to acquire a new one. That's why customer retention must play an integral part in your business growth strategy.
And outreach marketing can help you do just that.
You can run an outreach marketing campaign designed specifically to nurture customer relationships, resulting in you enjoying higher customer retention rates. A few tips on running such a campaign include:
Use a CRM to keep track of customer data. Tracking customer data will give you deep insight into critical data like buying patterns and their favorite products, among other things.


Send tailored email campaigns. With the data you've collected about your customers, you can send your customers emails with hyper-relevant recommendations.


Invite engaged customers to join your customer loyalty program. Sell this as an exclusive club where they get the coolest deals and rewards. Make it more enticing by making it free to join.


Don't take customer loyalty for granted. Just because you have a product they like isn't a guarantee that they won't jump ship to your competitors. Be proactive in ensuring high customer retention rates by designing an outreach marketing campaign specifically to retain customers.
5. Influencer giveaways
According to research, 71% of marketers find customers gained through influencer marketing to be of a higher quality than those gained through marketing other channels. One reason for that is that people value the opinions and recommendations of people they look up to. As a marketer, you can leverage the power influencers wield and use it to drive more sales while helping people with your product.
This is where outreach marketing comes to play.
For example, one of the best marketing strategies to drive brand awareness and engagement is running a giveaway. The best way to help guarantee the success of your giveaway is to rope in an influencer to share your giveaway with their audience. To rope in an influencer that will help you achieve your goals:
Find the right influencer. Not all influencers are the same. Find an influencer who has an engaged and sizeable following mostly made up of people who fit your buyer persona profile.


Study and understand your potential influencers. Study the influencers you've shortlisted as potential partners and find out what makes them tick. Use that to design an irresistible offer and compelling outreach message they can't ignore.


Use outreach marketing to foster relationships. Tailor personalized outreach campaigns designed to foster good relationships with your prospects. This will make it easier to get a positive response to your ask.


If you want to generate leads faster and boost your brand awareness, an influencer giveaway is one of the best ways to do it. And it all starts with outreach marketing.
What are the different types of outreach marketing?
As with all things of business, your outreach marketing type will depend on your business model, target audience, and the platforms your prospects patronize the most.
So what are the different types of outreach marketing you can leverage?
Let's look at a few so you can know how to leverage this digital marketing strategy.
Email outreach
Email outreach refers to the practice of sending out cold emails to prospects with the hope of getting them to take action that will help further your business. With over 4.1 billion people using email on a daily basis, it is one of the most effective channels to use for your outreach marketing.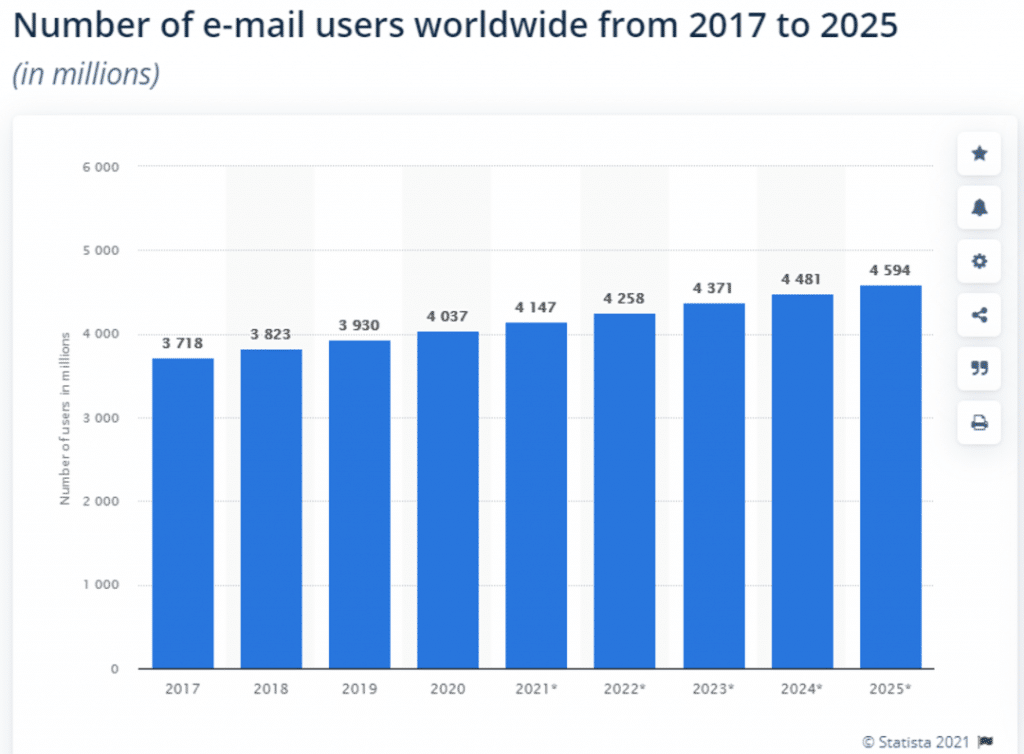 Here's how to get your email outreach campaigns right:
Understand your prospects
Craft compelling emails
Use a good email marketing tool
A/B test your emails
Hyper-personalize your emails with image personalization
One of the biggest advantages of using email as your outreach marketing channel is that it's easy to scale campaigns. Tracking the performance is also easier than other channels.
LinkedIn outreach
With over 774 million professionals using the platform, LinkedIn outreach marketing is excellent for B2B brands. A few advantages of using LinkedIn as part of your outreach marketing strategy include:
Excellent targeting. With 91% of marketing executives saying LinkedIn is their go-to platform for content, targeting B2B buyers is easy.


Makes account-based marketing (ABM) easier. With rich data on over 50 million companies, LinkedIn makes it easy to find brands that fit your ideal customer profile (ICP).


You can automate your B2B LinkedIn outreach marketing campaign by using tools like Expandi (for outreach) and Hyperise (for personalization).
Facebook outreach
As the world's biggest social media platform, Facebook is the perfect platform to run outreach campaigns on. Besides the massive 2.85 billion strong user base, Facebook also boasts one of the most advanced data and analytics platforms among social media platforms. This makes it easy for you to find influencers and gauge their influence.
Tips to help you run an effective Facebook outreach campaign include:
Define your objective so as to be able to measure and define your success.
Create a prospect list to help you target people who are likely to be interested (you can use Buzzsumo for this).
Joining groups and engaging with other members
Use bots to engage with users automatically.
However, before you launch your outreach marketing campaign, make sure your profile is optimized for the campaign. One way to do this is to ensure you clearly state who you are and what you do. Also, make sure to use the description space to let people know how to contact you.
Instagram
Looking for the best type of outreach marketing targeted at influencers?
Then the place to be is on Instagram. Especially if you're in the B2C space, partnering with influencers on Instagram is the best way to get your products in front of the right audience. Users love Instagram for the visual nature of the platform. That also makes it a great platform for marketers as it makes it easier to create ads that resonate with users.
With research showing that Instagram influences 75% of user purchase decisions, reaching out to and partnering with influencers is a great way to drive sales.
How can you reach out to an Instagram influencer to work with you?
1. Use Instagram direct
Instagram direct is a feature that allows you to send direct messages to as many as 15 people. If you send the direct message to more than one person, all your recipients can see each others comments. A few tips on using Instagram Direct for outreach marketing include:
Start by looking for prospects among your followers.
Look for users who have posted product or campaign specific posts. To do this, use the platform's Explore feature to look for relevant hashtags. Reach out to them and develop relationships with them.
Use the direct message feature to create a platform to create a community around your product.
2. Tag influencers in your post
Another simple way to use Instagram for outreach marketing to tag influencers in your posts. Be careful not to be spammy here by tagging them in every post, this will just put them off. Instead, tag them in posts that are hyper-relevant to them.
3. Comment on their posts and ask them to get in touch with you
Even influencers get encouraged when people engage with their content. That's why you should not just like their posts but go the extra way and leave a comment. This will help you get on their radar and get you started on building a relationship.
However, you must be tactical in the way you comment. Besides appreciating them for the post, ensure the comments you leave are value-packed. It's also a great idea to ask the influencer to get in touch with you if they're interested in continuing the conversation in private. You can also ask them to reach out if they're interested in collaborating with you on a project in line with the topic being discussed.
TikTok
Another great platform for influencer marketing is TikTok. Being a video-based platform, it's a great place to run video marketing campaigns. A thing to note about TikTok is that the major demographic is Gen Z — a generation difficult to market to. And that's where TikTok comes in handy. By creating videos that appeal to the demographic, you can market yourself without being too salesy. So, reach out to influencers on TikTok and collaborate on some cool videos to attract your youthful audience.
How do you engage with potential ambassadors on TikTok?
Take time to get to know them. Watch as many videos as you can that your potential ambassador has created. This will give you insight into recurring themes and how you can best work together to promote your brand.


Start by commenting on their videos. It takes a lot of work and creativity to produce entertaining or engaging videos — no matter how short they may be. Leaving a positive and relevant comment shows that you took the time to consume the content and that you appreciate their creativity.


Send DMs. Craft a personalized outreach message and send it via DM. Make sure your message shows why they should partner with you and your brand.
Twitter
Twitter is one of the best places to run an outreach marketing campaign as that's where many thought leaders hang out. That's what makes it a great platform for your outreach marketing. A few tips to help you succeed here include:
Look for influencers or brands with high engagement rates.
Tag your prospects in some of your posts to get their attention and build relationships.
Engage with your prospects' content to get on their radar.
Once you've warmed up your prospects by engaging with their content and tagging them in yours, you can slide into their DMs with a personalized outreach message.
Email Marketing vs. Outreach Marketing
Email marketing and outreach marketing are not the same.
What's the main difference?
With email marketing, you communicate with people who have given you prior permission to send them marketing communications.
What is outreach email marketing?
Outreach email marketing, unlike email marketing, involves reaching out to people you have no prior contact or relationship with.
Isn't this spam?
Done correctly, outreach email marketing is not spam as you're providing your prospects with value.
Outreach marketing examples
Before we wrap up our post, let's quickly look at some outreach marketing examples you can draw inspiration from.
Email outreach example
For most business transactions, email is one of the best channels for communicating — including outreach marketing. Here's an example of email outreach marketing at work: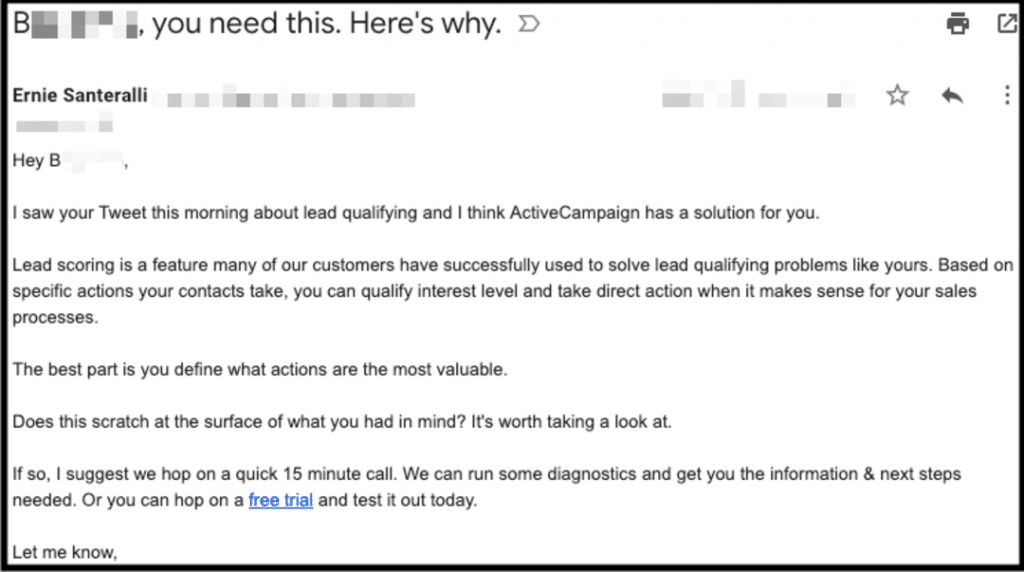 A few factors that make this an effective outreach email include:
Excellent intro. The intro does two things well — pique curiosity and compliments the prospect.


Gets straight to the point. The email copy is direct and blunt. This is what people want as it saves time.


Personalized. The offer is something the lead would be interested in as proven by their Tweet.


Gives leads two options to engage with email. Not everyone likes getting on a call. By providing leads with a path of least resistance, you stand a chance of increasing your success rate.


Social media outreach marketing
Social media platforms like LinkedIn are excellent for reaching out to your target prospects. One of the biggest advantages of LinkedIn is that you can easily use advanced filters to find people who are a perfect match for your brand and goals. You can also easily scrape the profiles of people who engage with the kind of content your brand publishes.
Need to see a typical example of a LinkedIn outreach message: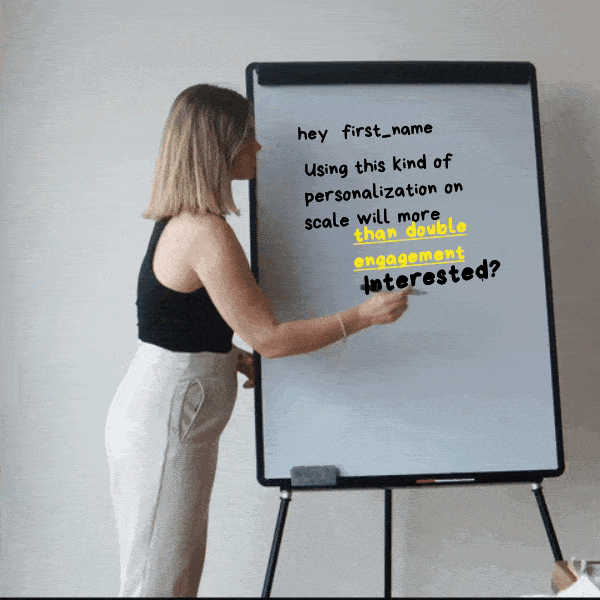 What makes this outreach message tick?
It's unique. Most outreach messages on LinkedIn are text-based. Worse still, most are generic and lack personality. This type of video message tackles both issues.


Interactive. Interactive content is excellent for grabbing attention and driving engagement.


Short, sweet, yet very impactful. Visual images allow you to say more without using too many words. This is important as most people (especially on LinkedIn) are extremely busy. The visual impact also adds to the effectiveness of the message.


Hyper-personalized. Using tools like Hyperise, you can easily personalize animated gifs and static images to make your outreach message hyper-personalized.


I'm sure you can already tell that manually running LinkedIn outreach campaigns is laborious and time-consuming. That's why you must leverage automation tools like Expandi. With the Hyperise integration, you can automate and scale your outreach and still manage to ensure your images are hyper-personalized.
By now you've probably noticed that personalization plays a huge role in running effective outreach campaigns. That's because personalization can help you double your response rate. Here are some case studies showing how we helped some of our partners get tremendous results using hyper-personalization:
Encharge — A massive 14X increase in email clickthrough rate.
Hubstaff — Clickthrough rates increased 4X for opened emails.
Salesloft — 2X increase in reply rates.
Go ahead and use these outreach marketing examples to inspire your next campaign.
Outreach marketing — a marketing strategy you can't ignore
Outreach marketing is a powerful strategy that can help you achieve different business goals. From boosting your content marketing efforts to PR to link building, a well-planned and executed outreach campaign is a great way to partner with influencers and brands who can help you succeed.
It's definitely a marketing strategy you can't ignore.
Have you ever used outreach marketing?
Share your experiences and outreach marketing ideas in the comments section below.