In the past few years, the most effective marketers have come to an important realization: people want personalized content. Using personalized brand communication can help more than double engagement, follow this article to learn more.
And, if you take a look around, you'll see that things are getting more personalized each year – the promotional emails you get always start with your name, Netflix greets you by your first name, and they all seem to know things about you: your interests, demographic, etc.
But the most important thing with personalization isn't getting someone's name right, it's targeting the right customer with the right message. To make the most out of your personalization strategy, everything needs to work together, from data collection to message customization.
In this article, we will cover the most important aspects of personalization – what it is, how to get started, and how to get advanced with it if you want to.
An intro to personalized content
Before we get deep into the topic, let's go over the basics. Personalization is a term that's often misused or taken too lightly. As we're about to see, it's a powerful tool that many experienced marketers have been using for some time and, if you do it right, it can lead to amazing results.
What is personalization and how does it work?
Personalization is the process of leveraging user data to deliver tailored messages that are more likely to convert. It's the perfect marriage between user analytics on one side and smart content on the other.
From this definition, you can tell that it has little to do with mentioning someone's name in the email subject line. Let's put it this way: your prospect's name is only one data point that you can use in your personalized marketing efforts. And, while it has its place in a marketing strategy, there are many other, more important data points like age, gender, employment status, interests, and purchase intent. All of this data gives you a better understanding of who your customers are and, more importantly, what they want from you.
When you combine these data points, you can create audience personas and deliver more personalized experiences to all your users.
The rise of personalization
Content personalization has become one of the most popular marketing trends in the past decade. B2B marketing polls show that marketers find personalization one of the top priorities when it comes to engaging the audience.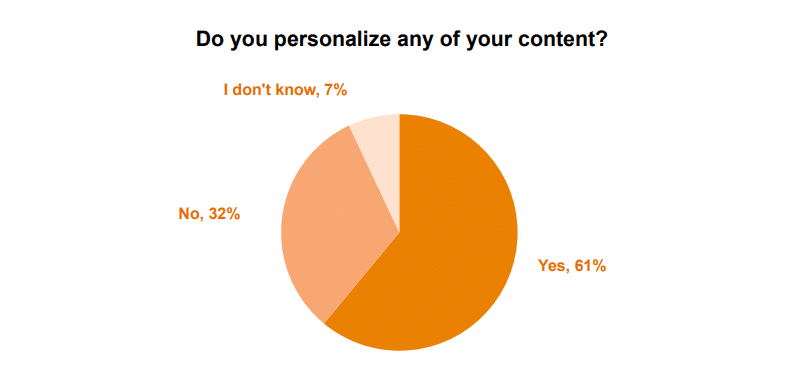 Customers seem to prefer it as well. In fact, some studies suggest that users get frustrated when their shopping experience isn't personalized. One of the most important economic groups today – millennials – also gets frustrated with brands that send irrelevant emails. This is one of the key points of personalization: relevant content will not only give you better results, but it will also delight your customers and provide them value.
There's a thin line between spam and persistence, and we believe that line is – relevance. When you receive an email from a brand you don't care about and whose offer you've never seen, that's spam. When you receive a personalized email from a brand whose shoes you love to buy, promoting a new shoe collection, that's just email marketing doing what it's supposed to.
The benefits of personalized brand communication
When you put it to use, personalization can help you achieve some great results. We already mentioned that users prefer personalized to generic content. In practice, this can translate to an increase in email open rates, loyalty, and even profitability.
For example, Harvard Business Review suggests that your revenue can grow up to 38% if you provide your audience with transparent ads based on website activity. Salesforce, on the other hand, found that users are two times more likely to perceive a personalized message as important than unimportant.
You can find many other studies online, and they all point in a similar direction: users prefer personalized content so much that using it will help you grow your business and be more efficient in your marketing efforts.

How to personalize content
Now that we know what personalization is and why you should consider using it, let's go deeper and learn how you can apply it.
As we mentioned, it all starts with the customer. The customized content you create should always have the customer in mind – what does the customer need? What are their interests, based on all the data you have?
Here are some ways to use consumer data to personalize your messages and offers.
Audience segments.

Perhaps the most popular approach to personalization is by using audience segments. Based on age, gender, location, and other factors, you can segment your audience and address each of these segments with different messages. So, your fashion online store will send different emails to a middle-aged man and a young adult woman – different offers, different phrasing, etc.

Buyer personas.

If you take the segmentation approach a little further, you will end up with

buyer personas

. These are model customers you have created, each of them with their own set of interests, demographic characteristics, and other qualifiers. Then, you can see which buyer persona a customer fits and send them a personalized message specifically created for that persona.

Purchase habits.

The products a person buys can tell you a lot about them. So can their cart value, purchase frequency, and other things. For example, you can have a group of customers marked as "high rollers" and target them with premium offers because you know they like to spend big.

Stage in the customer journey.

Someone who just discovered your website shouldn't be targeted with the same message as someone who has already put products in their cart. Consider your customer's stage in the journey and give them the final push they need with a tailored offer.

Complete individualization.

This is a popular approach in B2B sales, where each sale matters and agents take an individualized approach for every lead. When sending emails to highly relevant B2B leads, you can take personalization to the next level and write a truly customized email, addressing their interests and the key aspects of your offer.
The more data you have on the customer, the better – which is why personalization works best if you can combine some of the methods we listed above.
So, if one of your customers is a middle-aged, high-earning man that loves to shop for shirts on your web store, he'll be your prime target when you get a new collection of expensive shirts.

Advanced personalized content: image personalization
When you have customer data, you can use it to craft compelling messages that will get their attention. If those messages are followed by a relevant offer, you'll have taken some important steps towards success.
One thing you can do to impress your customers is use image personalization. Including a prospect's name in your email subject is nothing new, but wowing them with a personalized image is a whole different thing.
You can do that with Hyperise. Whether you want to personalize your email campaigns, LinkedIn connection requests for B2B sales, or your website experience, all of it is made easy through automation.
So, for example, if you want to create a personalized email campaign, you can use image personalization:

Add dynamic text to images and use your customer's name, job title, website, and other data to get their attention and break through the clutter in their inbox.
If you want to turn things up a notch, you can personalize images based on your customer's location. Add a map to the image with their location pinned for a location-based offer: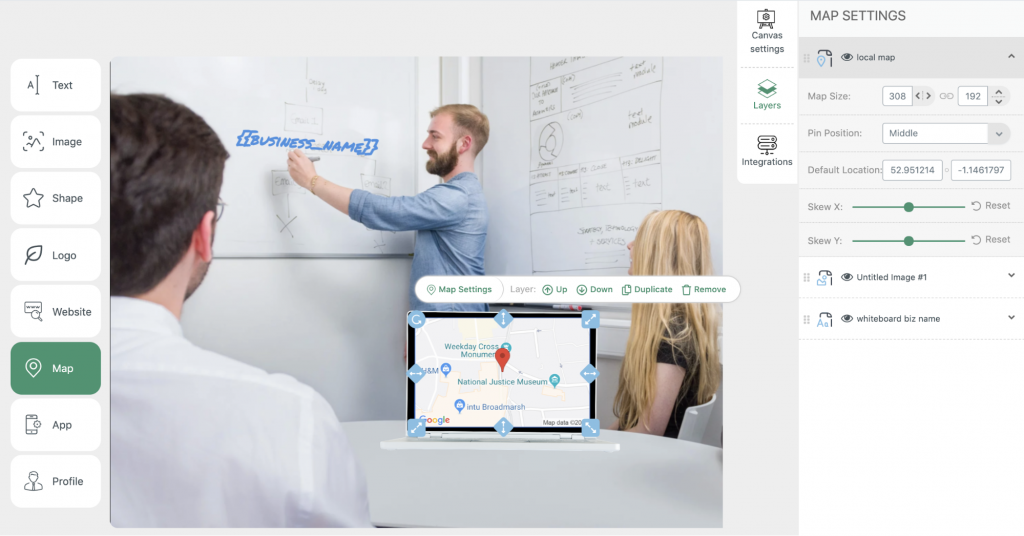 One of the best uses of Hyperise in eCommerce is website personalization. With no coding knowledge, you can provide each customer with a tailored experience and personalized CTAs to make sure your website performs as efficiently as possible. It also works with all website builders and CMS, so you can easily integrate it into your existing setup.
Start your free trial with Hyperise and hyper-personalize your whole sales funnel!

Examples of personalized content
Now let's check out some interesting examples of custom, personalized content you might have come across with.
When it comes to personalization based on purchasing habits, you'll hardly get any better than Amazon. The platform is known for its great algorithm for recognizing users' interests and recommended products. Each user gets different suggestions, making sure that everyone has their own experience using the platform.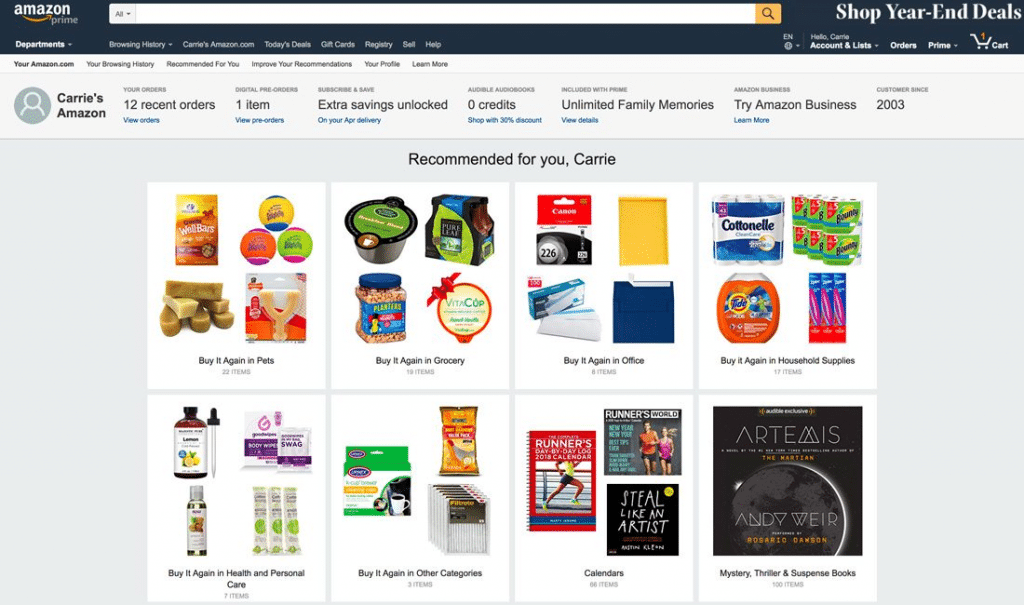 As you can see, Amazon also uses name tags to create a sense of familiarity, but it's not really about your name – it's about the content.
Here is another example from Spotify. In this case, everything is personal: the message, the picture, and the offer. They use the customer's name and target them with a highly relevant offer that the customer will probably not only accept, but freak out about.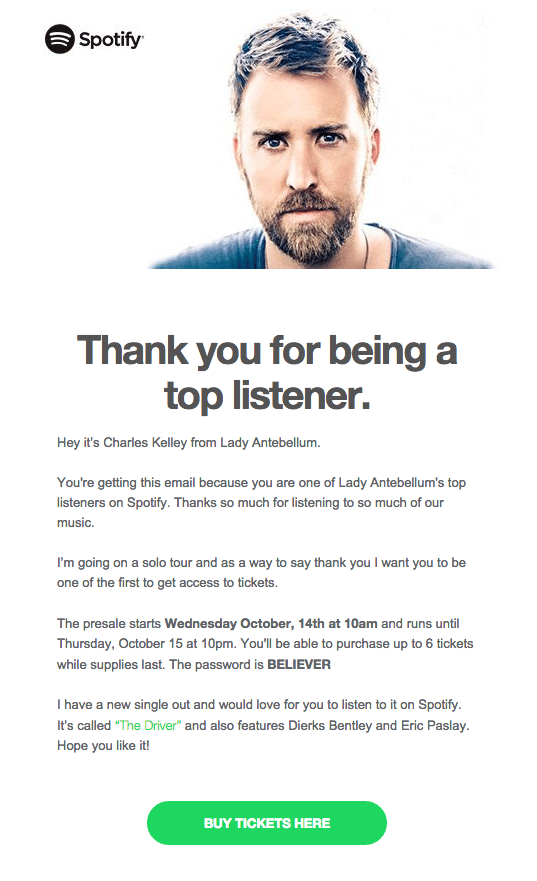 It's clear, concise, and the CTA is direct. Most importantly, the user will feel valued and appreciated!
Our last example is from the food delivery service, Food Panda. Their email campaign used order insights to promote one benefit: free delivery. The offer is so good that they could have created a basic email campaign and they would have probably gotten solid results. But Food Panda went all the way and personalized their emails not just by using the customers' names, but by picking out some special items for them to order.
These items were selected based on their users' favorite previous orders, which is a must! Imagine recommending a great rib-eye steak dinner to someone who's been ordering vegan food from your service for years.
Here's how their emails look: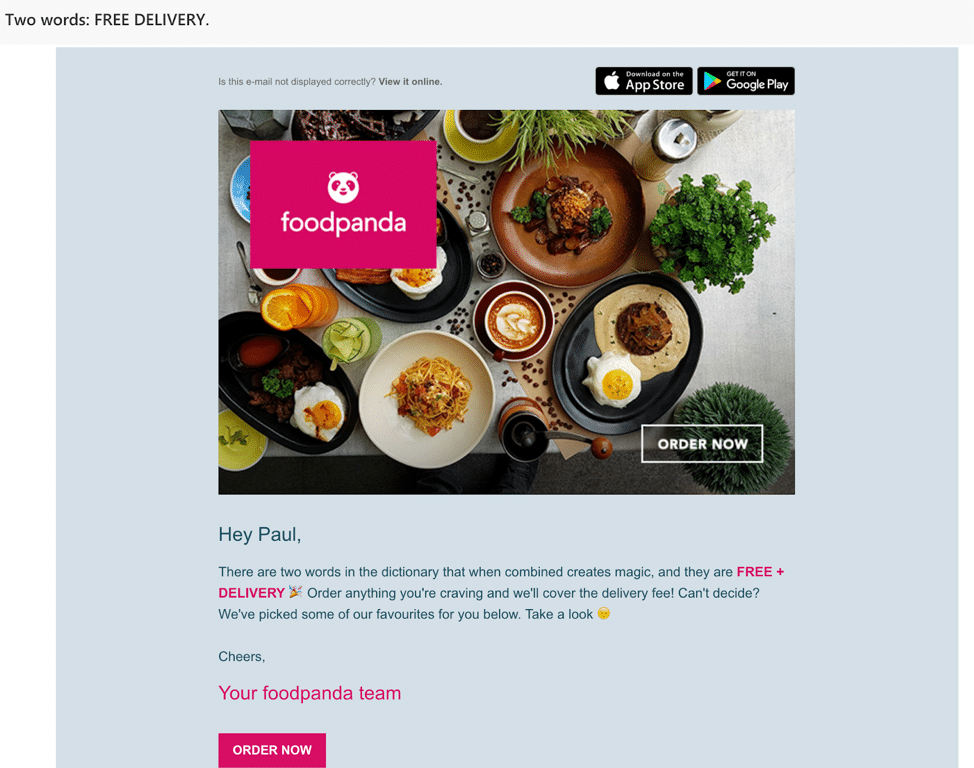 The logic behind all these examples is simple: use your users' habits, interests, and data to create tailored offers that they'll be interested in. At that point, the [first name] tag is just something to sweeten the deal.

The challenges of personalization
Like all things in digital marketing, personalization isn't without its challenges. Here are some things you should pay attention to.
Compliance with GDPR.

When we talk about personalization and user data, we have to talk about the most important regulations. Read up on

GDPR

and make sure you know all the rights your users have and the limitations it places on your activities. And never, under any circumstances, use your customers' data without explicit permission.

The stigma that comes with using customer data.

Some people outside of the marketing could look down on brands using their users' data to provide them personalized experiences. Again, we all know that you should never use someone's data without their permission, but we're talking about a different issue here – education. We still have to go a long way towards reassuring the public that information sharing is legal, safe, and only used for their benefits.

Tech challenges.

It seems that every time a new marketing trend shows up, we see an avalanche of automation tools that try to make it easier. That's why we now have dozens of personalization tools that promise to automate your content marketing efforts and give you great results. Always question your personalization tools and look for the most efficient option available. Things change so fast in our industry that you'll be surprised how quickly a tool you've been using for a year can become obsolete!
Personalized brand communication: conclusion
Personalized communication is possibly the very peak of digital marketing. It's everything a marketer could ask for: you start by learning about your customers, go through a planning process, and execute with a carefully crafted, personalized message.
In the end, you have a better chance of getting the thing we're all chasing – results.
If you want to jump onto the personalization trend, check out Hyperise. Our tool will allow you to get a taste of personalization in the most sophisticated way possible, through image personalization.
Register for a free trial and try it out!