Personalized Images Software Comparison: Hyperise vs. NiftyImages vs. Lemlist vs. PicSnippets
Although all the tools listed offer personalized images for the purpose of higher conversions in your marketing and sales efforts, it is essential to make the most of your budget by basing your decision on what other features are offered, and how you want to use personalized images, because although there are similarities between them, all the tools offer different features, and different ways of personalising images.
By the time you're done reading this, you will know which tool is right for your specific needs.
Before choosing personalized images software
Spare yourself time and cost by following these tips before even starting to look at personalized images software:
#1: What do you want to do?
Consider the big picture, i.e. your marketing plan, and then jot down how personalized images will fit into that plan. What exactly do you want to do with them? Can you use them in other areas of your marketing?
#2: What features do you need?
In order to achieve your objectives, you will need certain features. Jotting down what you require is vital to choosing the right tool. For example, you may want to use personalized images in the regular webinars you run. That will determine which software you choose. Or you may want images for cold emails alone, and that will need a different software.
First understand exactly what you need before starting your search. List what features are not negotiable, then which you would like, and then which ones would just be nice to have. Then find the software that will accommodate your needs, instead of fitting your needs around the software.
#3: What is your budget?
In this comparison between the four tools, we'll list pricing details.
Features comparison chart
This comparison chart provides a quick overall view of the features of all four tools we'll compare: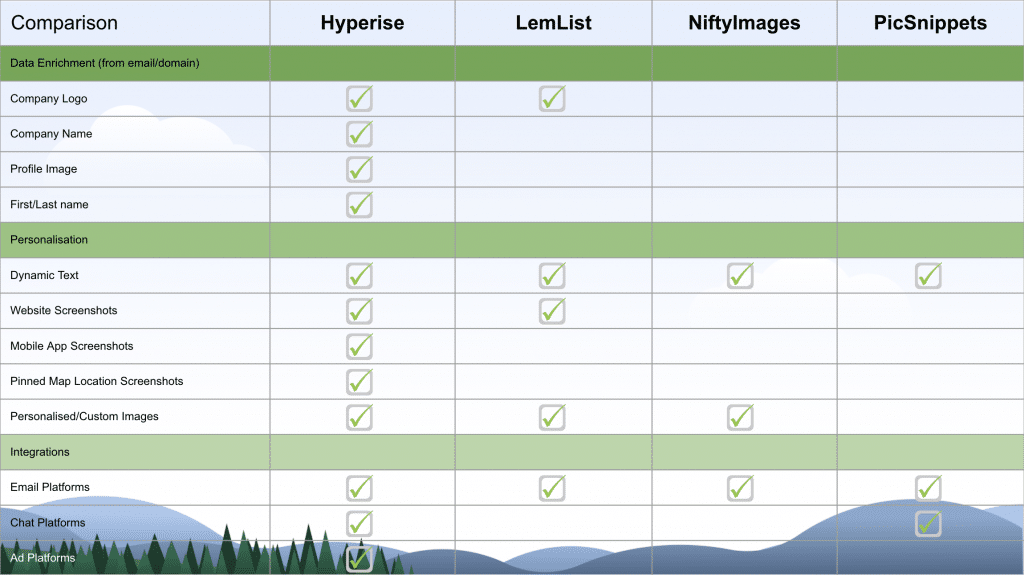 We'll discuss the unique features of each tool below. Note: for the sake of simplicity, not all the features will be discussed; just the ones that differentiate each tool from the other.
Hyperise
Hyperise focuses on personalized images for your entire marketing funnel, and out of the four tools, is the only one that is targeted specifically at the B2B market, can be used for ads, offers data enrichment, supports more integrations, and has more personalisation options.
Hyperise features
Personalised images
This feature offers more options than the other tools: it has 16 different points of data that the others do not offer:
First name and surname
Profile icon of recipient (their image) pulled from online profiles
Name of company they work for
Their role in the company
Website of company they work for
Company logo
Industry and SIC codes
Description of company
City or state or country of company location
Company phone number
Maps – add a map anywhere that shows the location of your prospect.
Data enrichment
Hyperise and Lemlist are the only tools that offer data enrichment; automatically pulling images or data from the online world, like company logos, profile images or business name, which makes the tool really smart, setting it apart from the others where you have to manually add the data into the system. This of course, saves time and cost.
Channels supported
Hyperise supports more channels than any of the other tools, so you can use personalized images in more of your marketing initiatives, like Facebook, Instagram, LinkedIn, in email marketing, landing pages and chat platforms.
Use images throughout the sales funnel
Another feature that separates this tool from the others is that personalized images can be set up to automatically connect across the entire sales funnel – from Facebook remarketing ads, LinkedIn previews, to your website and email marketing and so on.
This is a strong feature because none of the other tools cater for this. It must be noted that campaigns that use personalized images, keeping the same look and feel throughout campaigns, convert at a higher percentage.
Use of images
Hyperise allows you to do more with images than the other tools. Here are two examples, but you are really only limited by your imagination:
Chatbots
Personalized images can be used in chatbots to achieve higher engagement rates.
It works with Facebook Messenger, Whatsapp, Telegram and other Chatbot software.
Would be great to include a ream of a chat here so that readers can see it in action (about 3 responses or so)
Retargeting ads on social media
Use personalized images in retargeting ads on social media channels including Facebook, Instagram and LinkedIn.
The Hyperise hyper campaign feature provides the code that tie all the points of the sales funnel together and which allows personalisation by dynamically connecting to your ad accounts to display ads with the same personalized images used in emails to the prospects you've emailed.
Ads can be run on Facebook, Instagram and Google Audience Network.
Here's an example of how it works: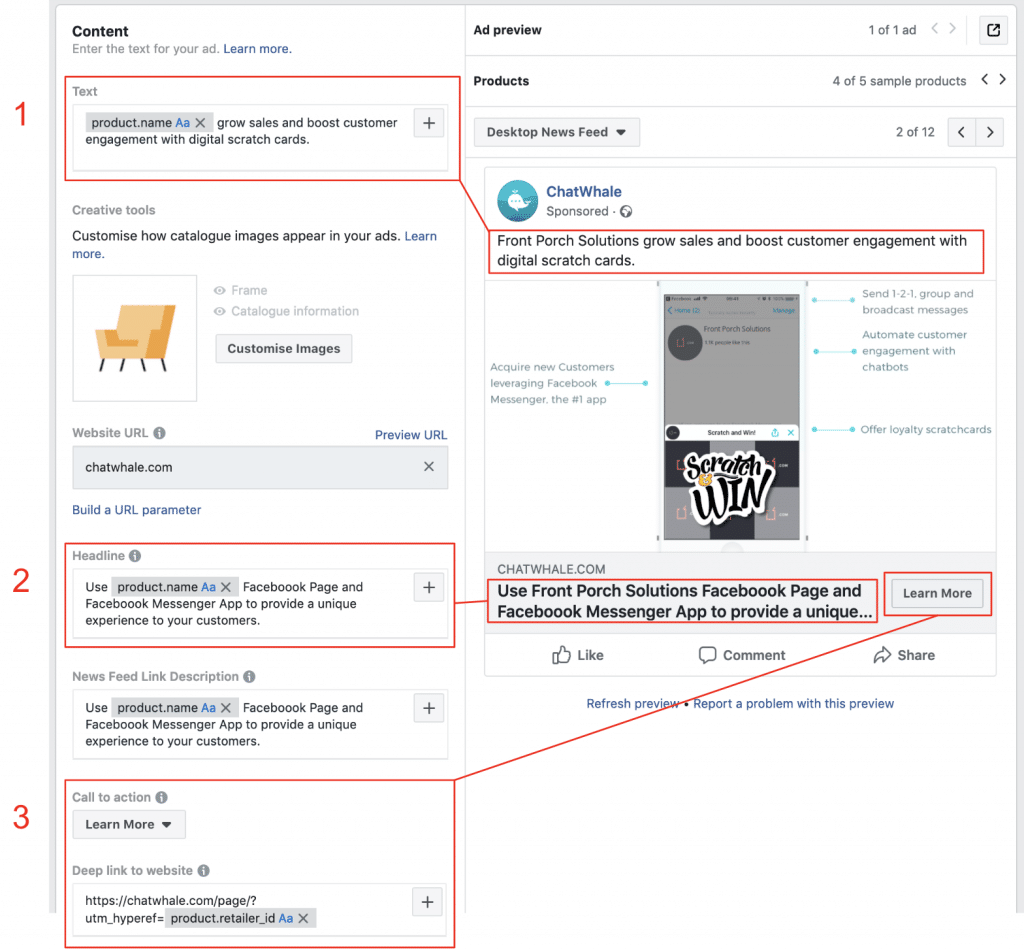 Integrations
Use Hyperise with any other marketing software. Both Hyperise and PicSnippets allow the most integrations compared to the other tools.
Support
Online tutorials and videos
Live chat
Email
Facebook group
Price
Starts at $49 per month.
How does Hyperise compare to NiftyImages, Lemlist and PicSnippets?
If we're comparing apples to apples, then Hyperise can only really be compared to NiftyImages and PicSnippets. However, while Hyperise, NiftyImages and PicSnippets are used for marketing purposes, only Hyperise and PicSnippets can be used across the entire sales funnel. Hyperise offers more features than any of the other tools.
Hyperise personalized images can be used in email, websites, chatbots, Facebook ads and CTAs.
Images can be tracked and reported on so that you know which ones perform best, and the tool can be used with any marketing software. Hyperise boasts features that are not available with any other tool, like ads, connecting personalisation across the sales funnel, 16 points of automated data enrichment, supports more channels and offers more integrations than the other tools, barring PicSnippets.
Because of all the additional functionality, Hyperise comes up tops, except for Lemlist. However, as you will see later on, Lemlist is not a personalized images tool, but only offers personalized images as a component of their core service, which is cold email.
NiftyImages
NiftyImages focuses on personalized images for Pinterest, Instagram and in email marketing and is best suited for B2C companies, depending on features required.
NiftyImages features
personalized images
The personalized images work especially well for retail, and NiftyImages has some great fixed style templates, like timers and counters that the other tools don't offer.
For example, the tool works well with orders and sales as it has intelligent content; meaning that the tool changes images after the email campaign is deployed, and can also show expected delivery times.

However, for more complex personalisation, images have to be designed in Photoshop, unlike Hyperise where images can be created right there in the tool.
Pinterest and Instagram
NiftyImages plays nicely on image-heavy social media sites Pinterest and Instagram so you can create personalized images for collages. The other tools do not offer this, so in this regard, NiftyImages is a good choice.
Integrations
Allows for integration with any email service provider.
Support
Web contact feedback form
Ticket system
Price
Starts at $20 per month.
How does NiftyImages compare to Hyperise, Lemlist and PicSnippets?
While NiftyImages is tailored for email and Instagram and Pinterest, it can't really stand up to either Hyperise or PicSnippets, because you can't use it across your entire sales funnel.
Where you can use personalized images across the sales funnel in Hyperise and create complex images within the Hyperise tool without the need for Photoshop, you can only use images from NiftyImages in email, Pinterest and Instagram.
The tool can't be compared to Lemlist which only offers personalized images as a component of their email automation software. Both Hyperise and PicSnippets work with any marketing software while NiftyImages only works with email automation tools.
Lemlist
In a world of apples in this comparison, Lemlist is an orange. It's added to the comparison in this article because it is unique in that it's one of the few, if only cold email service providers that also offers the component of personalized images within emails.
Lemlist personalized images features
Lemlist is not personalized images software per se, like the other three in this article; images is one feature in the cold email software. However, customisation of the images within this component are on a par with Hyperise, which is why Lemlist was added as a comparison tool.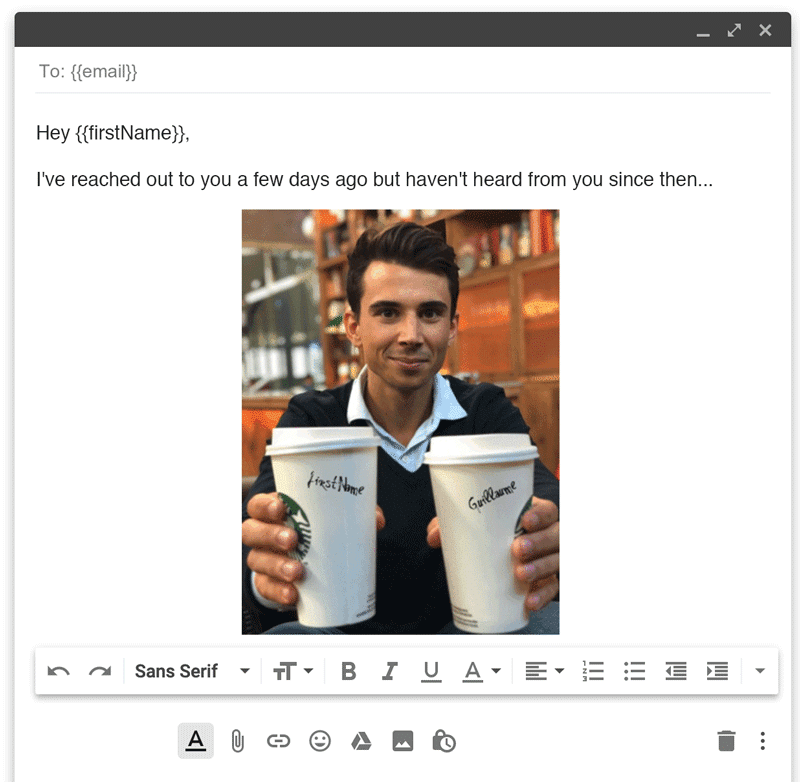 Personalized images can only be used within the Lemlist cold email system, and only in emails.
Lemlist provides image templates or you can upload your own, and then customise the text overlay of the image in an email. They also offer data enrichment; they are the only other tool besides Hyperise to do so.
Support
Onboarding tutorial videos
Live chat
Ticket system
Price
Starts from $29 per month.
How does Lemlist compare to Hyperise, NiftyImages and PicSnippets?
As mentioned, we can't compare Lemlist to Hyperise, NiftyImages or PicSnippets, because personalized images is merely a component in the tool, unlike the other three which are image personalisation tools.
However, because Lemlist offers data enrichment, it may be compared to Hyperise in that regard.
PicSnippets
PicSnippets personalized images can be used on any platform that allows for HTML.
PicSnippets
PicSnippets personalized images can be used on any platform that allows for HTML.
PicSnippets features
Personalized images
Hyperise offers customisation and 16 points of data enrichment while PicSnippets only allows users to alter text on a background image. The differences between PicSnippets and Hyperise are substantial:
PicSnippets does not pull images from other sources on the internet, while Hyperise does (data enrichment). For example, Hyperise can pull a name, profile picture, company name or logo from the web instead of needing these fields as official data sources that are fed to the system. If you wanted this feature in PicSnippets, you would need to upload the data into the system manually, which of course, is very time consuming.
PicSnippets offers personalized images for promos and coupons, which none of the other tools offer.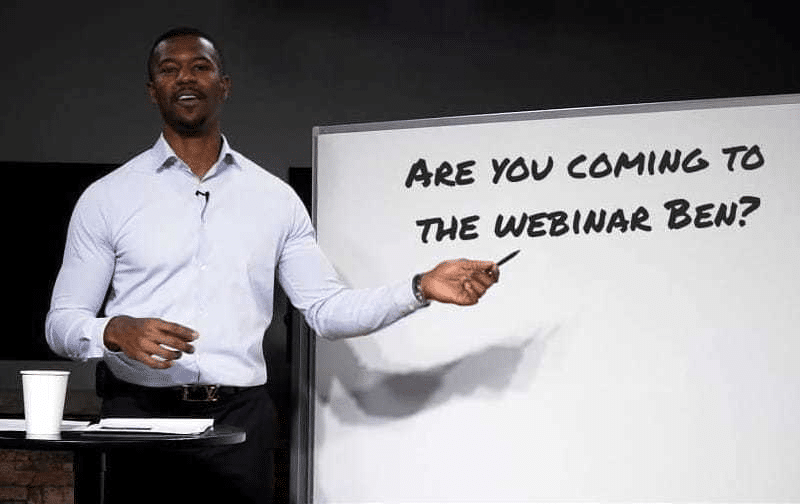 Image from PicSnippets
Use images throughout the sales funnel
Use images from PicSnippets on any platform where you can enter HTML code (but don't get nervous, you don't have to do any coding yourself; all you need is to copy and paste the code PicSnippets provides for you).
Therefore, you can use PicSnippets on just about any customer touchpoint, if not all.
Use images in chatbots
As is possible with Hyperise, you can use personalized images from PicSnippets in chatbots too.
Social media
Use personalized images on any social media site where you can use HTML. However, unlike Hyperise, PicSnippets does not allow for ads.
Integrations
The tool integrates with any other marketing software.
Support
Price
Starts at $20 per month (you can only create up to 5 image templates).
How does PicSnippets compare to Hyperise, NiftyImages and Lemlist?
As already discussed, we cannot compare Lemlist to PicSnippets. Hyperise is closest to what PicSnippets can do, but offers significantly more personalisation functionality. However, PicSnippets can be used for promos or coupons, which Hyperise does not cater for.
PicSnippets offers more than NiftyImages; whereas you can use PicSnippets in just about any marketing tools and platforms where you can insert HTML, you are limited to email with NiftyImages.
Which is best for you?
Let's do a quick rundown of each tool: