Sales professionals the world over are struggling to meet their quotas.
That's because the sales landscape has changed.
With less emphasis on field sales and more focus being placed on reaching, engaging, and converting prospects online, you must have the right tools for the job.
You need to invest in the best sales software to give you an edge over the competition.
Top-performing sales teams leverage tools, technology, and data to provide themselves with a competitive advantage.
That's why you must embrace sales automation.
What is sales software?
Sales software refers to any digital application designed to help businesses streamline and optimize the entire lifecycle of selling their products. The most significant upside of sales software is it allows you to become more efficient and enables higher levels of personalization. The result is higher conversion rates and, ultimately, more revenue generated.
Because the buyer journey has many different stages, you may have to use various tools to automate and keep track of interactions at each stage.
Here are the most common sales software categories every salesperson should know:
CRM software (sales pipeline software)
Customer relationship management (CRM) is any software that helps organize and access customer data. The primary reason for this is to enable salespeople to nurture their leads better.
Lead generation software
Lead generation software refers to any tools that help you identify, attract, and engage people that fit your ideal customer profile (ICP). Automating the lead generation process helps improve lead quality and enables you to easily scale without compromising on efficiency.
Sales engagement software
Sales engagement refers to every interaction between a salesperson and a prospect throughout the sales cycle. Sales engagement software, therefore, is an application that facilitates these engagements.
Outreach software
Outreach software is any software that enables sales reps to reach out to potential (and former) customers. This type of software is used when sales reps want to initiate a conversation to lead their target audience into making a sale.
Sales tracking software
Sales tracking software helps to track, manage, and guide all aspects of the sales process. It does this by providing insight into where each prospect stands at any given point in the sales cycle. It also helps develop workflows of the steps sales reps need to take to move prospects further down the funnel.
Sales personalization software
Personalization plays a critical role in increasing conversions. That's why sales personalization software like Hyperise is essential to your tool stack. Sales personalization software refers to any software that enhances the customer journey by enabling sales reps to provide personalized experiences to each prospect.
Linkedin automation software
LinkedIn automation tools enable the automation of any LinkedIn activity you may need to generate and nurture leads on LinkedIn. Being one of the most popular social platforms in B2B circles, it's essential for sales reps in the B2B vertical to be constantly active on LinkedIn.
Sales analysis software
Sales analysis software generates actionable insights and data related to sales performance. This data empowers sales teams to optimize their sales processes to generate more revenue while reducing operational costs.
Sales tax software
Calculating sales tax is becoming more technical and complicated than it was before. Sales tax software makes this more manageable as you can use it to collect, record, calculate and report taxes on product and service sales.
Sales funnel software
A sales funnel is the series of steps you take a person through from being a prospect to being a customer. Therefore, sales funnel software refers to the applications, resources, and platforms used to automate the creation of assets that move prospects through each stage of your sales funnel.
Sales enablement software
Sales enablement involves equipping salespeople with the right resources, processes, and technology they need to sell effectively and increase revenue. Sales enablement software refers to the tools used to develop a strategy for equipping sales teams to be more effective.
Best sales software: top picks for 2022
As you've seen by now, sales is very demanding and involving. To succeed in generating leads, nurturing them, and converting them into customers requires software to help you. This software will help you manage your sales and develop optimized sales processes that will lead to a more productive sales team.
Without further ado, let's dive into our top 20 sales software for 2022.
1. Hyperise
Hyperise is one of the best sales personalization software on the market. By adding dynamic personalization layers to your images, Hyperise can help you double your sales.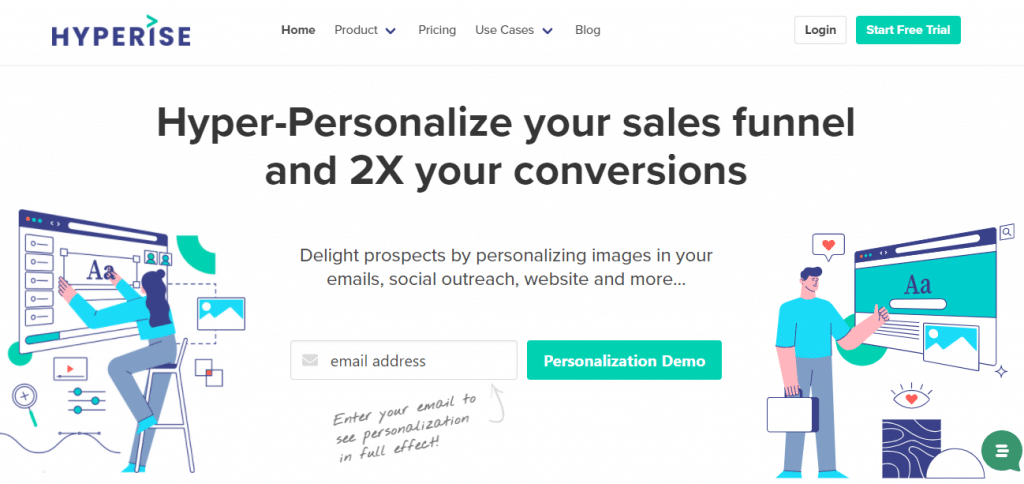 Category — sales personalization
With Hyperise, you can create and automate personalized campaigns that will help your sales team meet their quota. The best part is that the platform still helps you create campaigns with a human touch.
Why is Hyperise our best pick?
Hyperise is an excellent tool that helps you personalize every stage of your sales funnel and every asset you use to move your prospects further down the funnel. Because it integrates so well with other sales software, it's a versatile tool that will add an extra punch to your campaigns.
Pricing
Hyperise comes with two plans:
Team — $99/month/seat
Agency — $495/month
Doubling your conversions is possible. All you have to do is create personalized campaigns with Hyperise.
2. Hubspot
Hubspot is a sales management platform that has become synonymous with sales automation.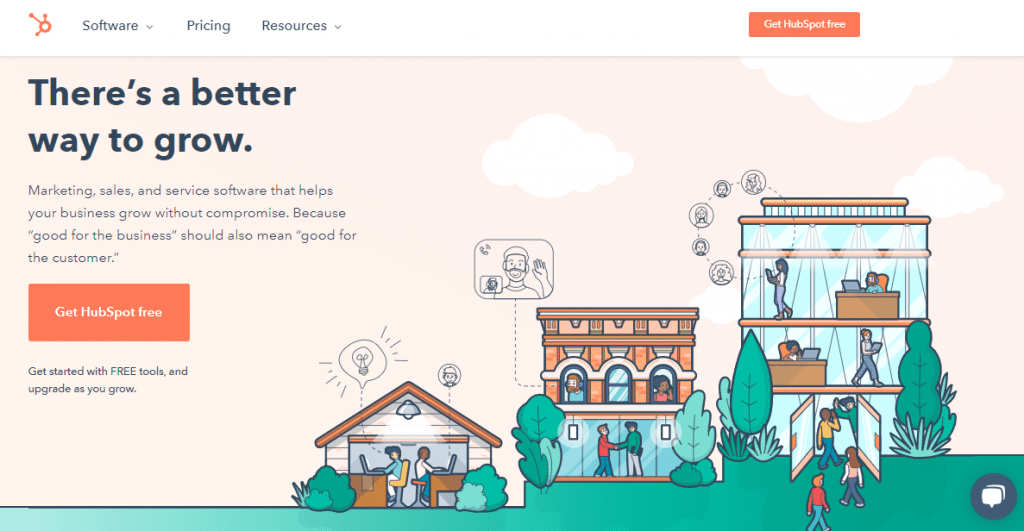 Category — Sales CRM (sales pipeline software)
Hubspot is a powerful sales CRM software designed to help sales teams:
Close more deals
Deepen relationships with prospects
Effectively manage their pipeline
Designed to cater to small and large businesses, Hubspot is an all-in-one sales management platform you can trust to improve your sales team's efficiency.
Why is it our best pick?
Hubspot makes our list because it's a feature-rich platform that you can use to manage your pipeline from start to finish.
Pricing
Hubspot comes with three pricing plans:
Starter — $45/month
Professional — $450/month
Enterprise — $1200/month
Integration with Hyperise
Hubspot integrates seamlessly with Hyperise, enabling you to add advanced personalization to every step of your sales funnel.
3. Salesforce
Another powerful sales software you must consider as you build your tool stack is Salesforce.

Category — Sales CRM (sales pipeline software)
Salesforce is an excellent sales CRM whose strong suit is its analytics engine. With other features like sales tracking, the platform empowers sales teams to predict possible outcomes, enabling them to prepare for each opportunity adequately.
Why is it our best pick?
As an industry leader, Salesforce invests a lot in research and development. This results in the platform constantly evolving to provide features that keep it ahead of the pack.
Pricing
Salesforce's sales platform comes with four pricing tiers, namely:
Essentials — $25/month/user/month
Professional — $75/month/user/month
Enterprise — $150/month/user/month
Unlimited — $300/month/user/month
Integration with Hyperise
For hyper-personalized campaigns, you can integrate Salesforce with Hyperise. The combination of the two makes for a powerful sales engine.
4. AWeber
It's impossible to run a sales campaign without incorporating email — and that's where AWeber comes in.
Category — Sales outreach
AWeber is an email marketing software designed to help you create and send professional emails. Whether you're running a cold outreach campaign, nurturing new leads, or re-engaging old customers, AWeber is one of the best email service providers (ESPs) for sales teams.
Why is it our best pick?
When it comes to ESPs, AWeber does more than just email. The software also has other additional features like landing pages, funnels, web push notifications, and more.
Pricing
AWeber comes with two pricing plans:
Free — up to 500 subscribers.
Pro — $16.15/month for up to 500 subscribers.
Pricing increases after that, depending on the number of subscribers you have.
Integration with Hyperise
Integrate AWeber with Hyperise and leverage the firmographic data from Hyperise to enrich your assets with personalized touches.
5. ClickFunnels
Most sales funnels are complicated and require coding and technical skills to get the best out of them. That's not the case with ClickFunnels.
Category — Sales funnel software
Clickfunnels is an easy-to-use sales funnel builder used by many marketers. The drag-and-drop builder and massive library of funnel assets make building funnels of all types a breeze. That's even if you don't have any technical skills.
Why is it our best pick?
Clickfunnels is also an excellent resource that teaches you how to build your own funnels. That and its reliability and proven track record make it a standout platform in this category.
Pricing
Clickfunnels comes with three pricing plans:
ClickFunnels — $97/month
Platinum — $297/month
Two Comma ClubX — $2497/month
Integration with Hyperise
ClickFunnels integrates well with Hyperise, helping you create powerful and hyper-personalized funnels that convert.
6. ClickSend
ClickSend is one of the best sales software for automating SMS messaging at scale.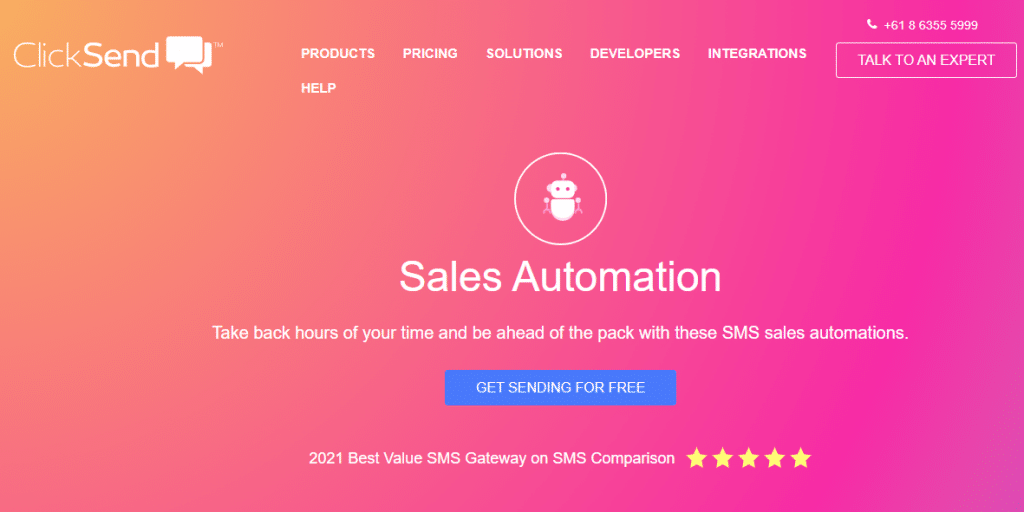 Category — Sales engagement software
With ClickSend, you can easily create instant SMS reminders, alerts, send postcards or letters, and two-way SMS campaigns. You can also automate responses based on the keywords used by your prospects. Other notable features of ClickSend include text-to-speech voice calls, email, and fax capabilities, and much more.
Why is it our best pick?
ClickSend is an easy-to-use sales software that goes beyond automating SMS messaging. It also comes with advanced reporting and analytics, helping you craft effective campaigns.
Pricing
ClickSend has a simple pricing plan of $0.1166/SMS if you're sending up to 200K SMSes. If you have more than 200K contacts, you'll have to get a custom quote.
Integration with Hyperise
Integrating Hyperise and ClickSend will result in cost-effective high-converting direct mail campaigns.
7. Mailshake
Mailshake is one name that has become synonymous with email marketing. But the platform has evolved to offer much more than email functionality.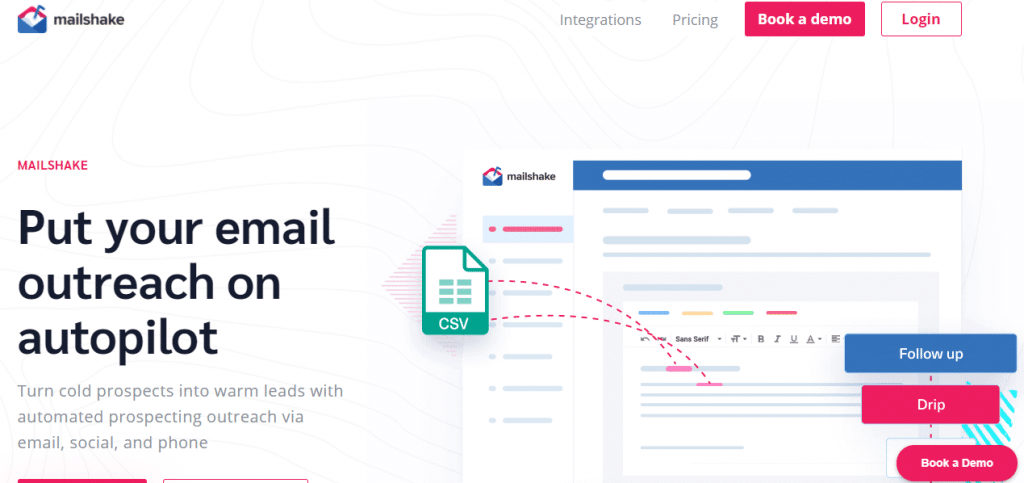 Category — Sales engagement platform
Mailshake is a powerful sales engagement platform. Besides email, the platform also comes with a lightweight CRM and offers sales outreach features like auto-dialing, and omnichannel sales capabilities. With Mailshake, engaging prospects at every stage of the funnel and using their preferred method of communication is easy.
Why is it our best pick?
We love Mailshake's split testing feature for emails. Add ease of use and its intuitive dashboard, and setting up campaigns becomes more of play than work.
Pricing
Mailshake comes with a simple pricing structure with two plans:
Email Outreach — $59/user/month
Sales Engagement — $99/user/month
Integration with Hyperise
Personalize your email and social media outreach and your entire funnel with dynamic images by integrating Mailshake and Hyperise.
8. LinkedHelper
Drumming up leads on LinkedIn can be cumbersome as you have to engage in many activities on the platform. LinkedHelper is a sales software you can use to automate your LinkedIn outreach.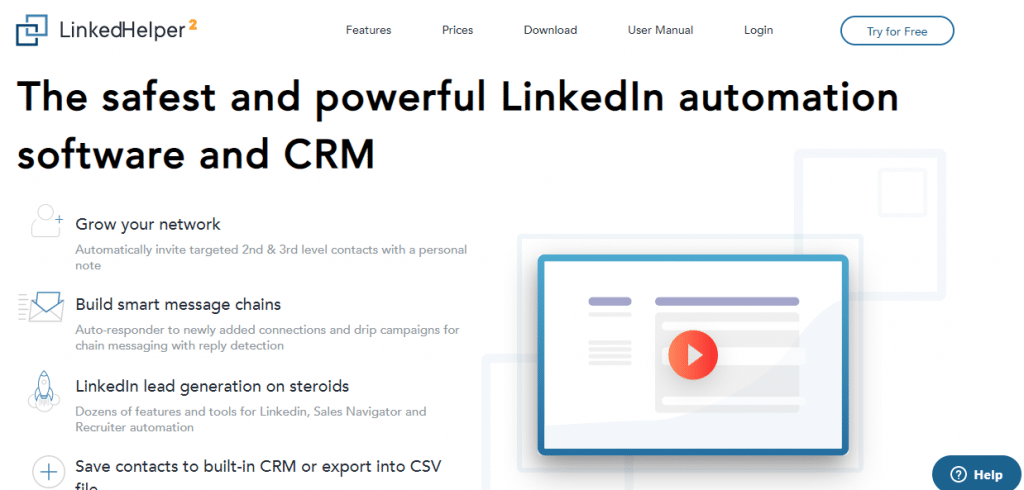 Category — LinkedIn automation software
LinkedHelper is a sales tool that allows you to automate some surface-level LinkedIn tasks. Examples include connection invites, messaging, extracting contacts, and outreach. With a CRM system as part of the package, storing and processing contacts is a breeze with LinkedHelper.
Why is it our best pick?
LinkedHelper is a safe LinkedIn automation tool that's has a track record of helping sales and marketing teams achieve their prospecting goals on LinkedIn.
Pricing
You can get access to LinkedHelper for $15/month. Pricing becomes cheaper the more months you pay in advance, with a 12-month subscription being $8.95/month.
Integration with Hyperise
Get higher open and conversion rates for your outreach campaigns by integrating LinkedHelper with Hyperise.
9. Keap (formerly Infusionsoft)
If you're looking for an all-in-one sales management software that offers many tools in one dashboard, Keap / Infusionsoft could be it.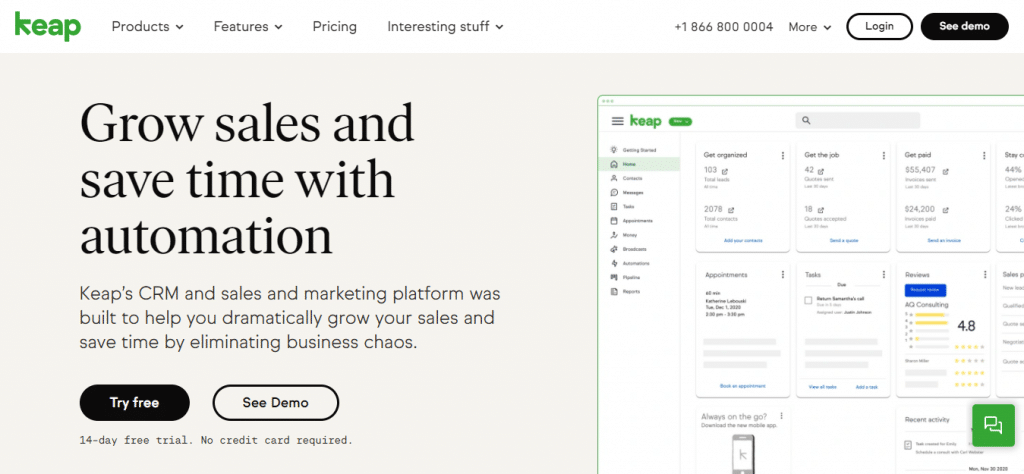 Category — CRM and sales pipeline builder
An efficient sales team results from having customer data at your fingertips. Infusionsoft by Keap features one of the best CRMs on the market to help you collect, process, and use data to streamline the sales process. Infusionsoft also comes with a sales pipeline builder to ensure that no leads slip through the cracks.
Why is it our best pick?
Infusionsoft is a versatile sales software you can use for virtually any sales-related activity. From lead generation to qualification to after-sales follow-ups, Infusionsoft does it all.
Pricing
Infusionsoft has three pricing plans:
Lite — $40/month/500 contacts
Pro — $75/month/500 contacts
Max — $100/month/500 contacts
Integration with Hyperise
For advanced personalization at all stages of your sales funnel, use the Infusionsoft and Hyperise integration.
10. Close
When it comes to CRMs, one of the best you can invest in for your sales team is Close.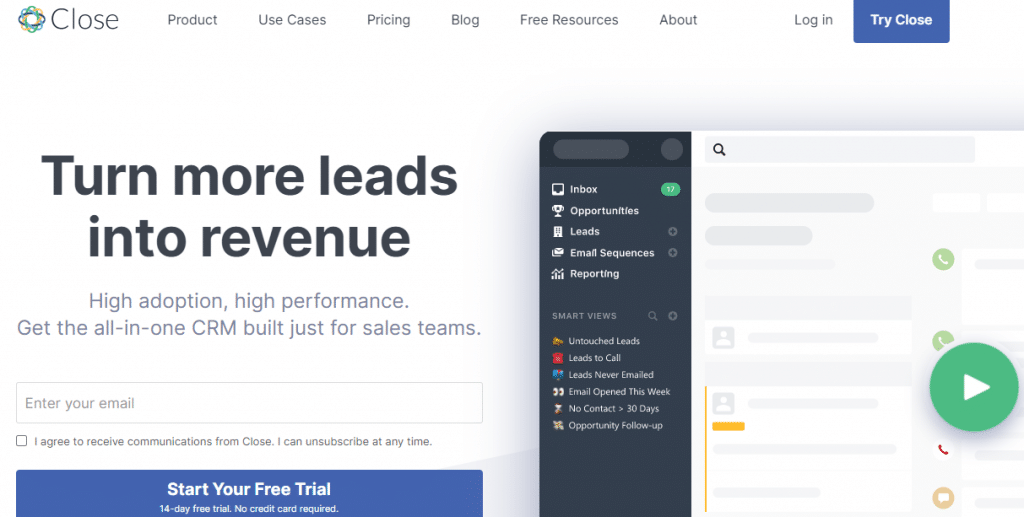 Category — CRM and sales pipeline builder
Close is an excellent CRM tool for sales teams as it comes with many essential features. Examples include lead management, predictive dialer, email, and call automation. You can easily streamline your workflows, effectively nurture leads, and close more deals. This is undoubtedly a sales management software that was built to make outbound sales a breeze.
Why is it our best pick?
CRMs can be clunky and difficult to get the hang of. With Close, you get to enjoy a clean and easy-to-use interface that makes building campaigns super simple.
Pricing
If Close sounds like an exciting option, you have four pricing tiers you can choose from
Starter — $25/month/user
Basic — $65/month/user
Professional — $95/month/user
Business — $145/month/user
Close also offers free migration if you're moving over from another CRM.
Integration with Hyperise
While Close is a great sales CRM, it can always be better. And one way of making it so is by improving on its personalization capabilities the Hyperise integration.
11. Prospect.io
As the name suggests, Prospect.io is a sales software designed to streamline sales prospecting.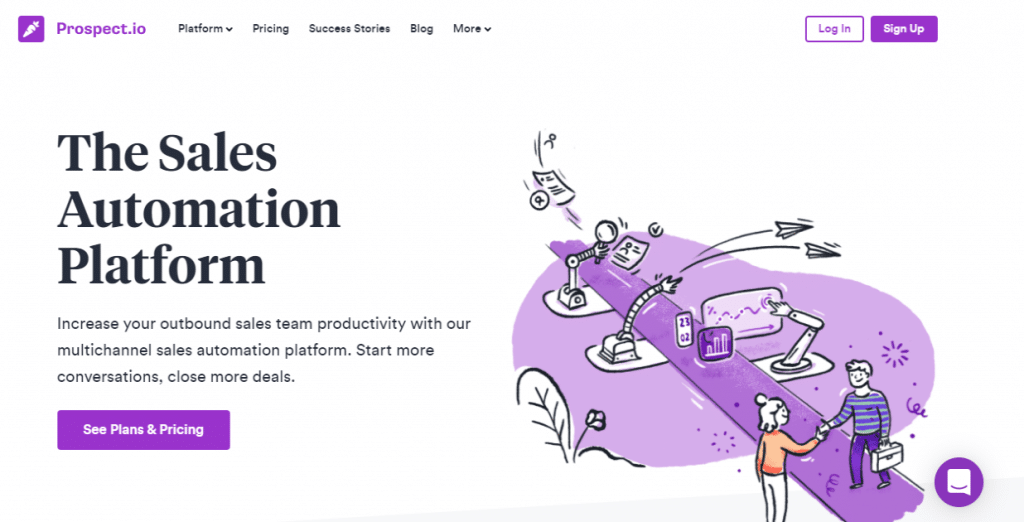 Category — Sales outreach software
With Prospect.io, you can gather and interpret customer data that will help you send personalized outreach campaigns. Other notable features of the platform are that it can help you build email lists, automate outreach campaigns, and measure and analyze campaign performance — all this, and more, from the same dashboard.
Why is it our best pick?
One of the best features of Prospect.io is the analytics dashboard. It gives detailed data into all interactions your prospect has with your campaigns.
Pricing
Prospect.io's pricing isn't as straightforward as other tools on the list. However, here's what you can expect in terms of pricing:
Essentials — $89/month ($29 for each additional user)
Business — $149/month ($39 for each additional user)
You'll also have to pay for email finder credits that start at $39/month for 250 credits.
Integration with Hyperise
Integrating Prospect.io with Hyperise helps you create more meaningful and personalized outreach campaigns, thereby increasing your conversion rates.
12. Snov.io
If you need a lightweight CRM tailored to prospecting and sales campaigns, look no further than Snov.io.

Category — CRM (Sales Pipeline Software)
Snov.io combines the best features of a prospecting tool, CRM, and email automation and rolls them into one.  One of Snov.io's biggest strengths is the research function that enables you to research both prospects and competitors. This helps you create highly targeted campaigns.
Why is it our best pick?
Snov.io is a nifty CRM that's easy to set up and run. Plus, you can tailor it to be an almost bespoke sales CRM for your team with the vast number of integrations available.
Pricing
Snov.io offers users a buffet as far as plans are concerned:
S — $33/month
M — $66/month
L — $141/month
XL — $241/month
XXL — $482
Apart from their paid plans, Snov.io also offers an unlimited freemium plan.
Integration with Hyperise
Being a lightweight sales pipeline builder, Snov.io requires a bit of help from other tools to perform at its best. That's why you must consider a Snov.io and Hyperise integration to ensure your entire sales pipeline offers prospects a personalized experience.
13. LemList
LemList is one of the veteran personalization software on the market — and one of the most loved.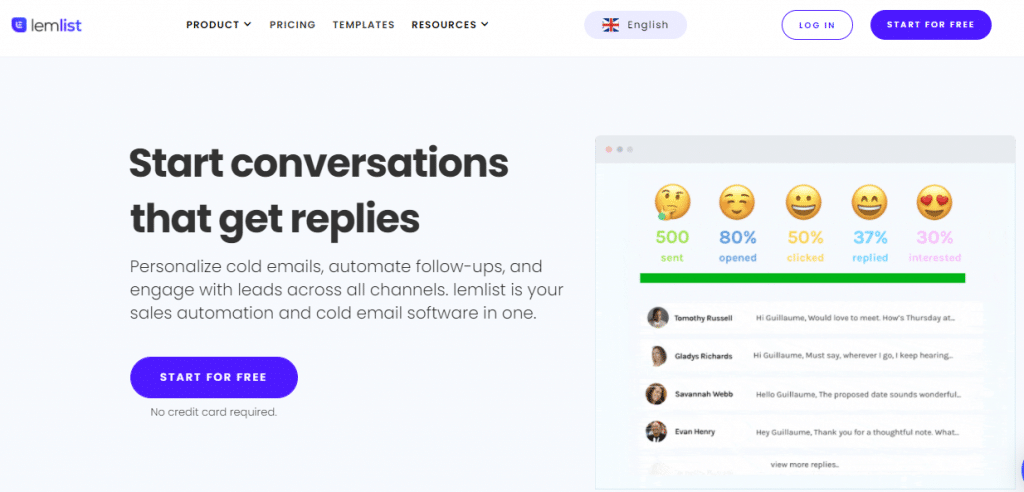 Category — Sales engagement software
LemList has since grown into an easy-to-use yet powerful sales engagement platform that allows you to engage your prospects across multiple channels. LemList enables you to get more data on your prospects and send cold sales calls and emails — all on autopilot. Best of all, you can take personalization to the next level by including personalized opening lines and CTAs at every touchpoint.
Why is it our best pick?
Two reasons we picked LemList are the campaign wizard and the email list warm-up function that helps increase deliverability rates.
Pricing
LemList comes with a simple pricing structure that allows you to pay for features you'll only use:
Email warm-up — $29/user/month
Email outreach — $59/user/month
Sales engagement — $99/user/month
Integration with Hyperise
Personalized sales outreach and engagement get more personal when you add the Hyperise integration to your LemList campaigns.
14. SalesHandy
SalesHandy is a full-stack sales platform that allows you to design and deploy data-driven sales campaigns.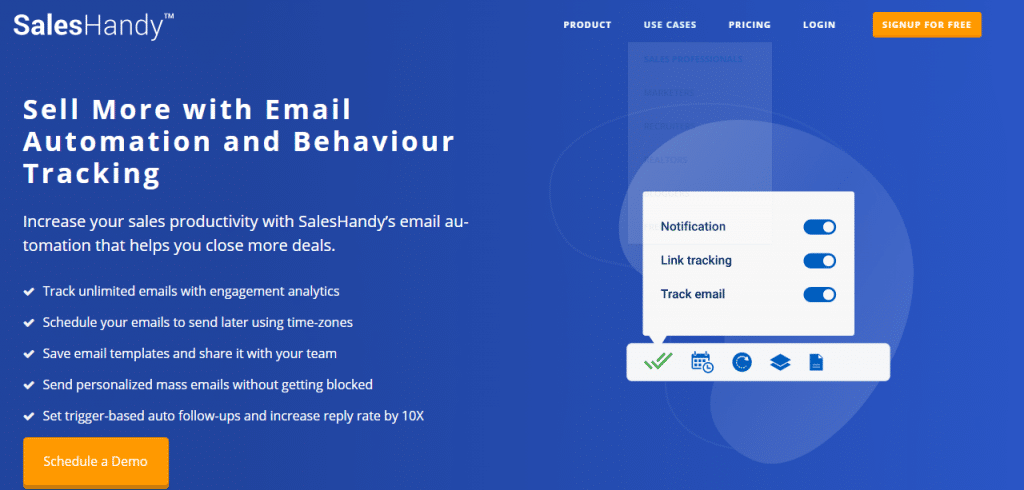 Category — Sales enablement software
SalesHandy is a sales enablement software that provides several tools to help build both sales teams and sales campaigns. The built-in document tracking, file sharing, and collateral management features allow for easy development of replicable sales processes, playbooks, and training materials for your sales reps.
Why is it our best pick?
We especially love that you can use the platform with Gmail, Outlook, or any other email services using SMTP settings.
Pricing
SalesHandy is probably the most affordable sales software in its category. Here's are their pricing plans:
Regular — $9/user/month
Plus — $22/user/month
Enterprise — $49/user/month
SalesHandy also comes with a forever free plan if you want to try it out — no credit card required.
Integration with Hyperise
SalesHandy integrates seamlessly with Hyperise to help you deliver excellent personalized messaging — both internally and externally.
15. ActiveCampaign
Need a tool to help shorten your sales cycle? Then a sales CRM like ActiveCampaign could be what you need.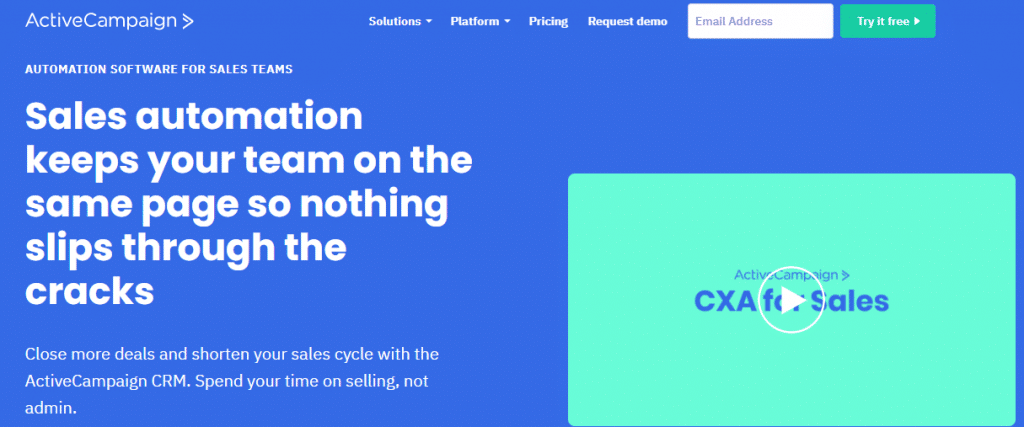 Category — CRM software
ActiveCampaign was built as an email automation tool first and CRM second. Because of this, its main strengths lie in email outreach and lead nurturing. But that's not to say it fails in other respects. With ActiveCampaign, you can easily assign team members tasks and track their progress. More importantly, you can create workflows that allow you to automate your entire sales pipeline.
Why is it our best pick?
ActiveCampaign has a handy deal management feature you can use to create, edit, and move deals along the pipeline.
Pricing
Despite being a feature-rich platform, ActiveCampaign remains light on your pockets. Here's what you can expect to pay based on 500 contacts:
Lite — $9/month
Plus — $49/month
Professional — $129/month
Enterprise — $229/month
Integration with Hyperise
For personalized campaigns that move the needle, take advantage of the ActiveCampaign and Hyperise integration.
16. Ontraport
Ontraport is a full feature sales CRM that makes building sales pipelines easy.

Category — CRM and Sales Pipeline Software
Ontraport is one of the best sales pipeline builders for small businesses. While you can use the platform for any type of business, it shines with subscription-based businesses and membership sites.  Some notable features you'll enjoy with Ontraport include tools for task and content management, affiliate management, payments, membership site creation, and a whole lot more. You'll also
Why is it our best pick?
One of the main reasons Ontraport makes this list is the fact that it has a ton of features you can use to develop a sales pipeline best suited for any type of business.
Pricing
An Ontraport license doesn't come cheap. Here's what you can expect to part with for one:
Basic — $79/month
Plus — $147/month
Pro — $297/month
Enterprise — $497/month
Integration with Hyperise
Because Ontraport integrates easily with Hyperise, building personalized campaigns is super easy. That's all thanks to Hyperise's dynamic personalization layers that can be added to images.
17. Phantombuster
Phantombuster is a sales software that helps automate any action you may want to perform on the internet.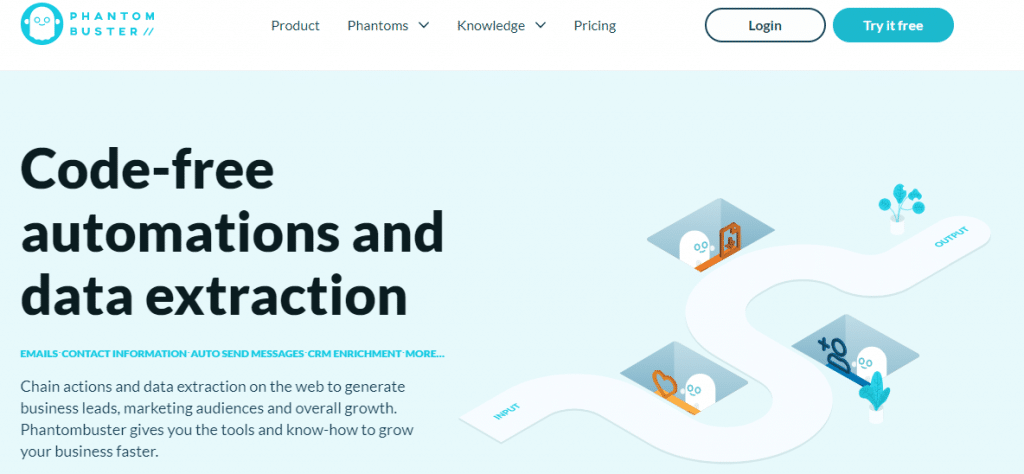 Category — LinkedIn Automation Software
While you can use Phantombuster to automate most activities on the internet, the software comes into its own when used for LinkedIn automation. One of Phantombuster's best features is the data scraping tool. It gives you valuable data you can use to run impactful LinkedIn outreach campaigns. Phantombuster also allows you to build workflows to help automate your outreach.
Why is it our best pick?
You can schedule and trigger actions without the need for code.
Pricing
To put Phantombuster's little ghosts to work for you, you can choose one of their pricing plans below:
Growth Hacker — $30/month
Business — $70/month
Enterprise — $200/month
Premium — $900/month
Integration with Hyperise
To double the impact of your Phantombuster campaign, consider integrating it with Hyperise.
18. ConvertKit
If you need a robust ESP to help with your cold email outreach, you should consider ConvertKit.

Category — Outreach software
While there are so many marketing automation tools out there, ConvertKit has a slight twist — it was designed for creators. ConvertKit's simplicity and ease of use make it an excellent option for solopreneurs who're responsible for their outreach, lead nurturing, and sales. This is thanks to its elegant yet straightforward email templates, email automation, and easy-to-use landing page builder.
Why is it our best pick?
You can easily sell your digital products using ConvertKit — without relying on an e-commerce platform.
Pricing
ConvertKit's simplicity extends to its pricing structure, as is evidenced by the two plans they have:
Creator — $29/month
Creator Pro — $59/month
Integration with Hyperise
To supercharge your lead generation and drum up more sales using ConvertKit, enhance your personalization with a Hyperise integration.
19. Outreach.io
Touted as one of the best business intelligence tools on the market, Outreach.io was designed to help you drive growth with every interaction you have with your prospects.

Category — Sales engagement software
Outreach.io is a sales engagement platform that can help you close deals faster and more consistently. While its main thrust is sales outreach, you can use the platform for account-based sales, inbound sales, and many more sales activities.
Why is it our best pick?
The scheduling feature that allows sales reps to create strategies tailored to each client is a standout feature that improves conversion rates.
Pricing
Pricing is by request.
Integration with Hyperise
Boost your closing rate by integrating Outreach.io with Hyperise. Doing so will ensure every interaction you have with your leads is personalized.
20. Zapier
Zapier is a sales software designed to take on repetitive tasks in the sales process.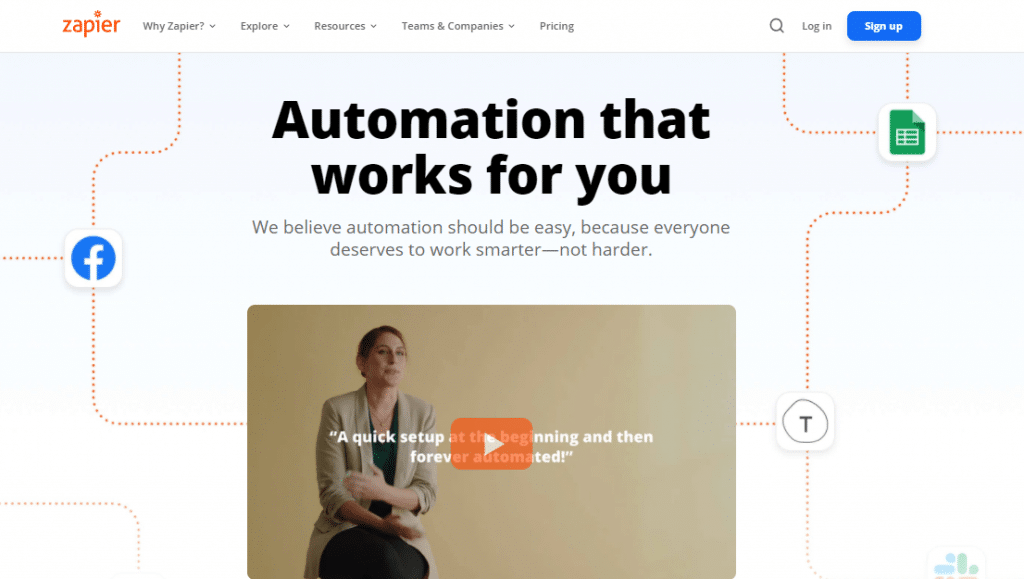 Category — Sales automation
With so many tools in the average sales rep's tool stack, moving data between them and toggling between them can be pretty laborious. Zapier helps integrate your tools, making it easy to transfer data to the right apps, thereby freeing up your time for more critical tasks.
Why is it our best pick?
Zapier is a fantastic tool that unifies your tool stack, helping you create the perfect sales machine to drive revenue.
Pricing
Paid plans will set you back:
Starter — $19.99/month
Professional — $49/month
Team — $299/month
Company — $599/month
As with most applications, Hyperise integrates well with Zapier.
What is sales management software?
A sales management software (also called a sales CRM) is an application designed to simplify the sales process. You can use sales management software to (among others):
Generate leads
Improve your lead scoring
Streamline contact management
Track deals
Improve your sales forecasting
Take care of monotonous administration tasks.
Automating your sales processes frees up your time to focus on driving sales and meeting your quotas.
Does free sales software exist?
Many sales software solutions promise great results without you having to make a financial investment. While these may help you gain some traction, they're usually limited and will end up frustrating you.
It's always best to invest in paid solutions as you are guaranteed an excellent product that receives regular updates and has good customer support.
Which is the best sales software for small businesses?
Small businesses don't have as many processes and budgets as larger enterprises. That's why they need sales software that caters to them and isn't overkill. Here are some suggestions:
Hyperise. Ranks high as a personalization solution that helps boost your conversions.
ClickFunnels. Best funnel builder thanks to its ease of use and efficiency.
Mailshake. Best Sales engagement platform due to it being feature-rich and compatible with most communication platforms.
Snov.io. Best CRM solution and pipeline with just enough features to help you drum up sales.
Prospect.io. Best sales outreach and prospecting tool as it goes beyond just prospecting to building outreach campaigns.
With the right sales software, you'll spend less time on tedious tasks and more time ensuring you do what you do best — selling.
The best sales software in 2022 — Take your pick
From building marketing campaigns to converting qualified leads, it's essential that you build an effective tool stack. This will help you meet your sales quota and reach your organization's revenue goals.
So, armed with this list of the best sales software, go ahead and build your sales toolbox. And if you've had any first-hand experience with any of these tools, make sure to share your experience in the comments section below.