Social media is all about connecting – you send friend requests, follow people, share ideas, and create partnerships. With such a huge networking potential, you can't help but wonder how you can leverage social media outreach to increase your sales and build your brand.
On paper, social media outreach seems simple enough: you roll up your sleeves and start reaching out to people from your industry. With enough time and effort, you're bound to get some results, right?
While that might be true, there are much easier ways to get great results by working smarter, not harder. These techniques include doing your research, segmenting your audiences, and preparing your outreach campaign long before you send out the first message, email, or connection request.
In this article, we will try to provide you with the perfect blueprint for social media outreach, starting from improving your online presence to sending out perfect outreach messages.
What is social media outreach and does it work?
Social media outreach refers to the process of using social media channels to create client relationships, acquire new leads, start new partnerships – essentially, sell your product or service. Exactly how you do this depends on the network in question but most people talk about LinkedIn as the perfect place to make new connections.
You can also reach out to people through other social media platforms, get their email addresses, and move to a more formal conversation via email.
Social media outreach often gets a bad rap – when people think about it, they usually imagine a spammy, poorly worded message about a topic that doesn't interest them in the slightest. Sure, when you send bulk connection requests on LinkedIn to people who've never heard about you before, you won't get a great response. But, this is spam, not outreach.
When done properly, social media outreach can get you great results and help you create meaningful relationships with new clients. Using LinkedIn for sales can help you book more demos if you know how to create a good outreach campaign.
So, let's get into it and see what separates spammy, inefficient outreach from a strong outreach strategy that achieves results.
The Ultimate Guide to Social Media Outreach
Step 1: Optimize your online presence
Before you can even think about sending outreach messages, you need to take care of your social media profiles.
A bad profile can undermine the smartest outreach messages and the most researched target audiences. Your profile is the first thing your prospects will see, which is why you need to spend some time to make sure your prospects feel like you're a trustworthy professional who knows what they're talking about.
Here are a few things you need to do:
Profile photo –

whether you're using LinkedIn, Twitter, Facebook, or any other network for outreach, you need to use the right profile photo. Your face should take up most of the photo, you should be dressed professionally, and make sure you're smiling! Try to look honest and authentic, not like someone just downloaded a stock photo of a business person.

Headline/Bio –

all your social media profiles have to display your expertise in a clear, concise way. Avoid buzzwords like "social media marketing wizard" and "spirited individual" – they're overused and they don't say anything meaningful. Try to include some relevant keywords that can illustrate what you do in simple words.

Summary –

this is specific to LinkedIn. The summary section gives you a great opportunity to tell us a little bit more about your previous experience and your best results so far. Use this field to share some of your most successful business cases and remember – use keywords! They will help you show up when people search for services like yours on LinkedIn.
When you apply all of this to your social media profiles, they will look something like this:
A good headline that tells us exactly what their expertise is, a summary that starts strong and further elaborates on the headline, combined with a LinkedIngood profile and cover photos.
Try not to get too absorbed by making the perfect social media profile. You'll keep coming back to it, changing and adding things as you go along. For now, it's important to complete the most crucial steps so that you don't lose any leads because of a poorly optimized social media page.

Step 2: Build an image in the industry
Once you're content with your profiles, it's time to put them to use!
Stay active and engage in industry conversations to build an image in your industry. This will contribute to the overall quality of your profiles, as your profile visitors will see how knowledgeable you are about industry topics.
You can do this by posting quality content – new insights, case studies, and research results from the industry are always good conversation starters. You can preface each of those with your opinion on the topic and encourage engagement. Posting on Wednesday and Thursday mornings may work best on LinkedIn, so keep that in mind!
Another easy way to get your name out there is by joining groups. LinkedIn and Facebook have thousands of groups for all kinds of industries, in which professionals discuss relevant topics all the time. For example, simply entering "video editing" in the LinkedIn search bar and selecting "Groups" gives us more than 400 results with over 100.000 people.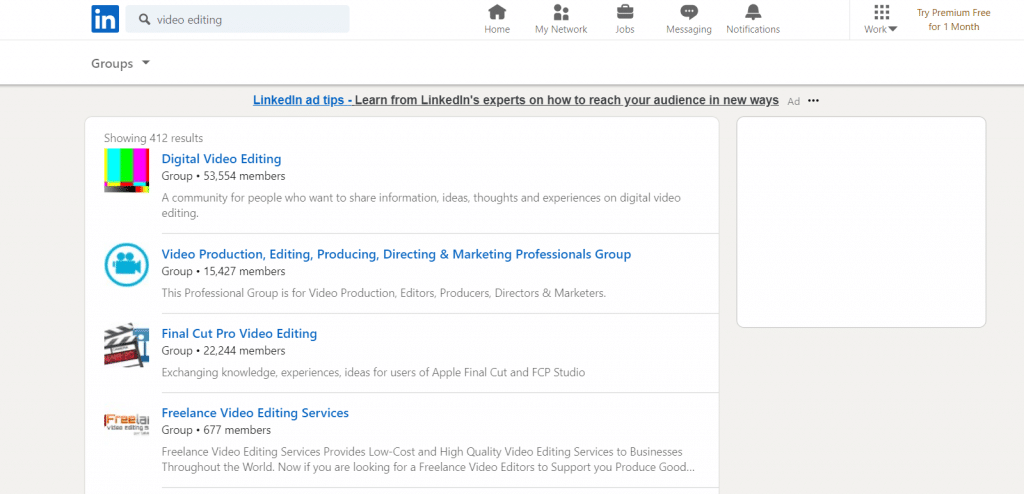 Now, if you happen to sell an editing tool that can make life easier for video editing professionals, you can see how these groups are great places to start making connections.
So, join LinkedIn and Facebook groups to make yourself heard!

Step 3: Collect quality leads
We can say that the first two steps were all about improving your profile and your industry status. That's an ongoing process that you should always be working on. But, once you've set up the basics, that's when the real work begins.
The first part of the "real work" is collecting leads.
The key thing with collecting leads is quality. You want to focus on the people that are highly likely to be interested in your offer, instead of taking a "paint by numbers" approach and try to grow your list at all costs. Get creative and search for people in your industry that are as close to your target audience persona as possible.
Below are a few ways to do this.
Target by interaction
You can find a viral LinkedIn post from your industry and scrape all the people who have interacted with it. That way, you're getting a solid list of people who follow news from your industry and are actively engaged in discussions.
For example, here is a post that's currently trending in "video games".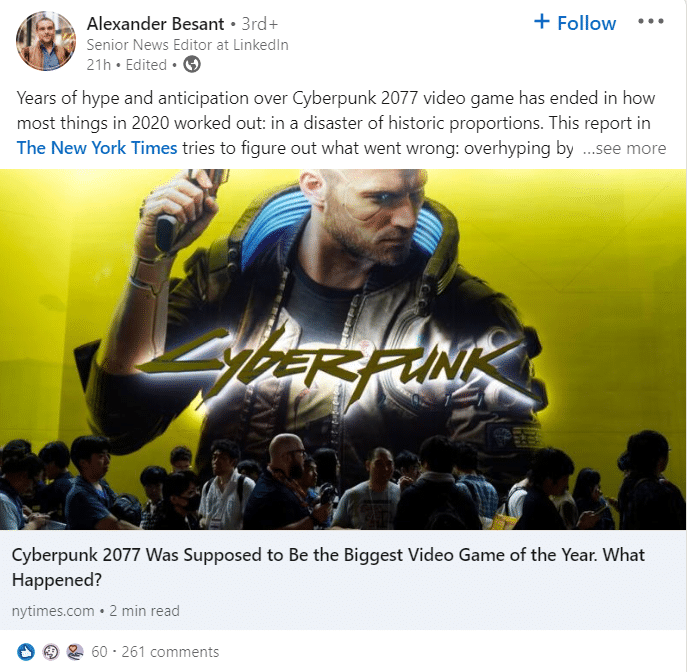 There are more than 260 comments on this post, so if you want to target people interested in video games, this would be a great start! You can use a tool like Phantombuster and extract all of these contacts into a single list.
That's a list of 261 quality leads right there.
Scrape groups
Remember the LinkedIn and Facebook groups we mentioned? Not only are they useful as potential networking opportunities, but you can also scrape them and get the profiles of all the members.
Note that some groups can have more than 10.000 members, so it may be worth checking out their profiles and making sure which members are worth connecting with. Some people in groups can be recruiters or students of the craft rather than people truly interested in what you have to offer.
LinkedIn advanced search
Finally, LinkedIn has an elaborate search that enables you to narrow down your results to a great extent. You can optimize for location, college history, previous and current employers, and job title, among other things.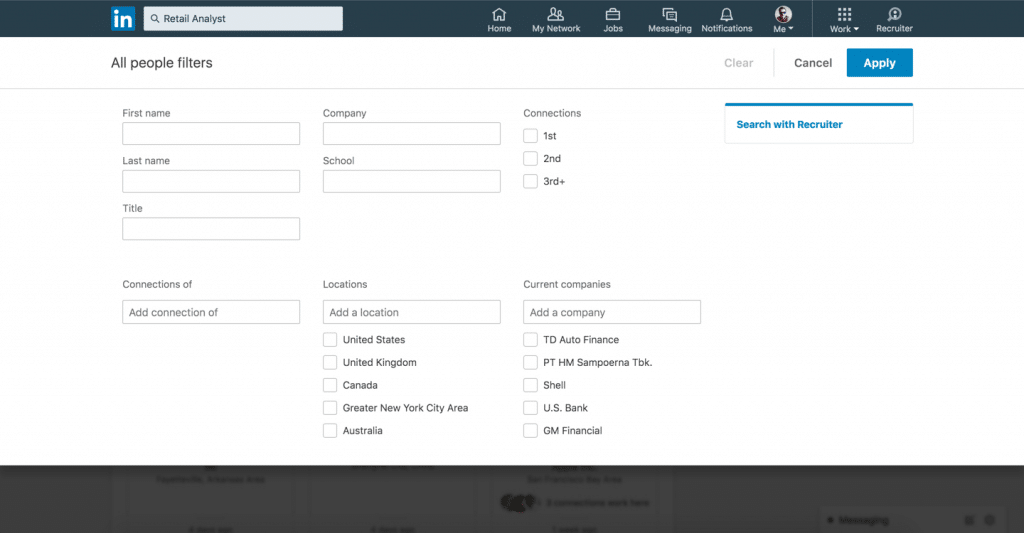 So, enter as many criteria as you can and you'll get a list of specific leads that are all worth contacting.

Step 4: Personalize your outreach strategy
Now it's finally time to deal with those outreach messages.
You can contact your leads via LinkedIn or email. Even if you found them on Facebook or Twitter, we don't recommend getting in touch on these networks, as they can be too personal and unprofessional. Instead, you can use a tool like Hunter.io, get their emails, and send them a well-designed, personalized email.
Personalizing your outreach campaign isn't hard but it takes time and effort on your part. You need to approach every lead on a micro level and think about how you can get through to them and grab their attention. What do you have in common? Where did you get their contact? What can you offer that's valuable to them specifically?
All of these are important questions that can help you create a personal message tailored to each person on your lead list. For example, if you found someone in one of the video editing groups on LinkedIn we mentioned above, you can craft a connection message that says: "Hey, Peter! I see we share the same passion for video editing – here's a tool that made my life 10x easier". You don't have to be this sales-y but you get the idea: comment on the thing that connects you.
If you want to go even more advanced and grab their attention instantly, you can include image personalization in your connection message.
With Hyperise, you can add an image to your message and integrate with the TexAu tool to send highly personalized messages to each one of your prospects. Once you create an image, an integration with TexAu will add your prospect's name wherever you want on the image. Whether or not they're interested in your offer, this approach will surely get their attention.
Just look at what kind of responses we got: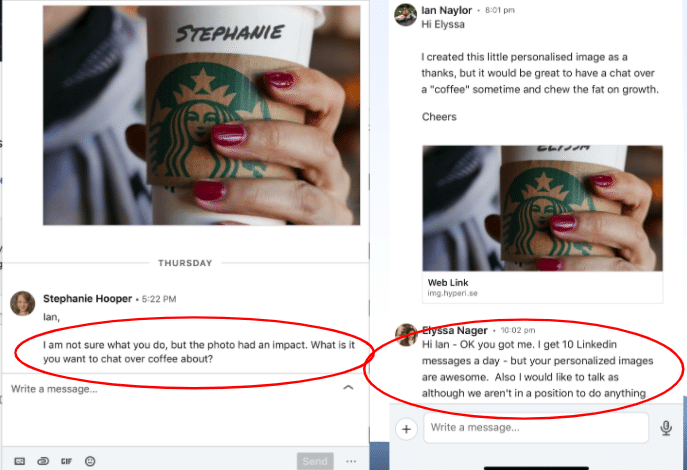 You can also add other personalized text like their company name, job title, etc.
When you do personalization the right way, you can end up with a message that looks like this: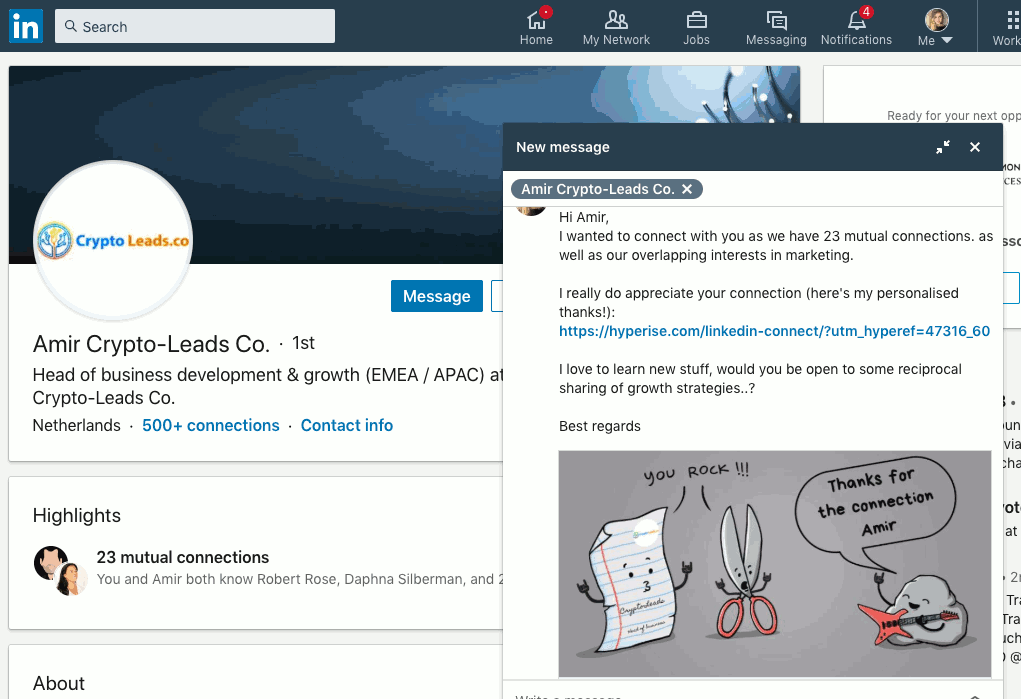 These messages all mention each connection by name, mention their industry in the first sentence and have a personalized image. You can already see how they look much different from the average, spammy messages you may get daily.
We've found that personalized messages can increase your clickthrough rate by up to 14x. So, sign up for a free trial of Hyperise and learn how you can easily personalize each message to get better results!

Step 5: Analyze, optimize, and improve
Finally, one of the best ideas when it comes to prospecting is to keep tracking your results and see what works.
A great way to do this is by segmenting your leads. For example, you can go through your list of 500+ leads and highlight all the decision-makers. Group them and track the results for that group vs. other groups that you set up: interns, 2nd LinkedIn connections, etc.
Depending on your product, you'll find that some groups perform better than others. Focus your attention on those groups and don't waste as much time on the ones that don't perform.
As for how you can measure that performance,  most prospecting tools offer elaborate analytics packages. These can show you important stats like open rates, clickthrough rates, and bounce rates – all of which are good indicators of your campaign's success.

Social media outreach: conclusion
As you can see, an outreach campaign starts way before you start typing actual messages.
Think of it this way: you want to put yourself in a position where sending a message is almost a formality. You need to be confident in your lead lists and the research that led up to them.
Then you can start creating good messages. If you need any help to improve your outreach results and take personalization to the next level, try out Hyperise. With it, you'll be able to add a new dimension to your outreach strategy and experiment with different personalization methods.
Sign up for a free trial – it's quick and easy!