On 6 August 1991, British physicist Tim Berners-Lee published the first-ever website. A year later, there were 10 websites on the internet. By 1994, there were over 3000 websites online.
Today, there are over 1.89 billion websites online — and one of them is yours.
With such stiff competition, how do you make your website stands out and that your visitors keep coming back?
Two words — website personalization.
What is website personalization or web content personalization?
Website personalization is the practice of building a customized website experience for each visitor that comes to your website. Instead of providing a one size fits all experience, website personalization enables you to display dynamic content tailored to each visitor's preferences and characteristics.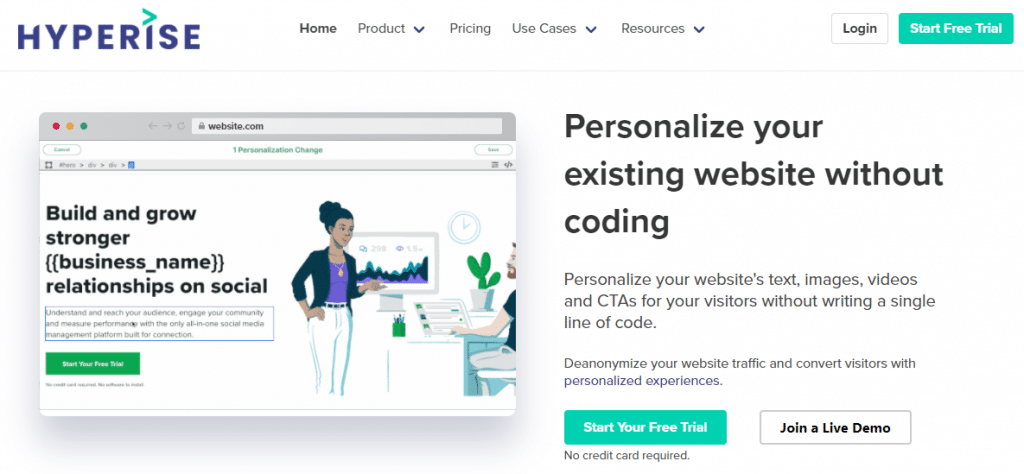 Also known as web content personalization, this strategy used to be impossible to pull off until a couple of years ago. I mean, creating a unique experience for each visitor is nothing short of magical. But with the right tools, you can personalize text, images, CTAs and much more. And this is the kind of wizardry that will get people to fall in love with your website. It will also help you earn their trust and, ultimately, their business. More importantly, website personalization plays a crucial role in delivering exceptional customer experience — which is the biggest differentiator between brands.
Website personalization has become an integral part of digital marketing and inbound sales. As such, you can't afford to ignore it. Tailoring unique experiences for each of your customers is crucial to driving business growth as it results in higher customer satisfaction and retention rates as well as more referrals.
How does website personalization work?
Personalized websites are designed to be dynamic — they change according to the person viewing your web pages. To achieve this, they use site visitor data such as:
Psychographics
Demographics
Firmographics
Any other data collected in previous interactions (like UTM parameters).
Using a combination of this data, your website is programmed to serve content that's most relevant to display. It also determines the specific experience to deliver. Don't worry, there are plenty of website personalization tools you can use to do this and we'll look at them in a moment.
Why is website personalization important?
One of the biggest reasons website personalization should play a huge role in your marketing strategy is that it helps you build meaningful connections with your website visitors. They feel you understand them and value them enough to put in the time and resources to offer them a tailored experience. As a result, they are more likely to pay more attention to you and buy from you. And that's exactly why you should use website personalization tools like Hyperise.
Why do people like personalized things?
People like personalized things for a number of reasons. Here are the top three every marketer should leverage:
Desire to be recognized. People want to be recognized as the individuals they are and to be treated as such. This makes them feel valued.
Craving control. Especially in a world that's unpredictable, people crave control. A personalized website experience gives your visitors a semblance of control.
Mitigates information overload. Personalized web content helps combat information overload as all the content you offer your visitors is tailored to their needs. They don't have to sift through irrelevant resources.
B2B website personalization vs. B2C website personalization: What's the difference?
Most business websites fall in one of two categories — B2B or B2C.
Is there a difference between B2B vs B2C website personalization?
One of the main factors that set B2B and B2C businesses apart is the target audiences they serve. Since B2B brands sell to other businesses, you focus your personalization efforts on leveraging firmographics that appeal to your ideal customer profile (ICP). As a B2B brand, you target individuals and thus build buyer personas by understanding customer psychographics and demographics.
As you can see, personalizing B2C websites is easier as you're targeting one person responsible for making a buying decision. With B2B brands, you need to personalize for the:
Brand (ICP) needs
Individual B2B buyer preferences
While both may employ different strategies to personalize their websites, one thing is certain — website personalization is essential to driving business growth.
What are the benefits of website personalization?
Is website personalization worth all the hassle and investment?
It definitely is. Here are a few benefits you'll derive from personalizing yours:
Optimized user experience (UX)
One of the most significant benefits of website personalization is that it results in an optimized user experience as they navigate your website. A factor that can enhance your users' experience on your website is serving up personalized content. Tailored content makes users feel "at home" on your website, resulting in a positive experience.
Another way website personalization also results in a positive UX is by enabling you to offer relevant product recommendations for each visitor. Intuitive product recommendations make your visitors feel like your website was specifically built for them.
Lower bounce rates
Another huge benefit of employing personalization on your website is that it helps lower your bounce rates. One reason for this is that your visitors will find your website serving up the right information at the right time. As a result of the relevant information, the time users spend on your website increases.
Higher conversion rates
As a business, one of your biggest goals is probably to increase conversions in your lead generation funnel. That's because higher conversion rates translate to an increase in revenue. Personalized web experiences can help you achieve that goal. Research shows that personalized web experiences can boost sales by as much as 19%. That's because personalized experiences solve the problem of relevance. If you can serve relevant content, your conversion rates improve and your audience is more likely to buy from you.
Another reason personalized websites convert well is that personalization is an excellent trust trigger. People trust people who have invested the time to get to know them better. And website personalization helps you do just that.
Besides the trust factor, website personalization helps improve your conversion rates by speeding up the buying process. Because you intuitively serve your visitors with all the information they need, they move along your sales funnel faster and convert better.
Boosts customer loyalty and retention
People enjoy personalized web experiences over generic ones. Because of this, web visitors will keep coming back to your website. As a result, your customers will become loyal to you since they know they can get the exact kind of experience they're looking for. Consequently, your customer retention rates will also improve.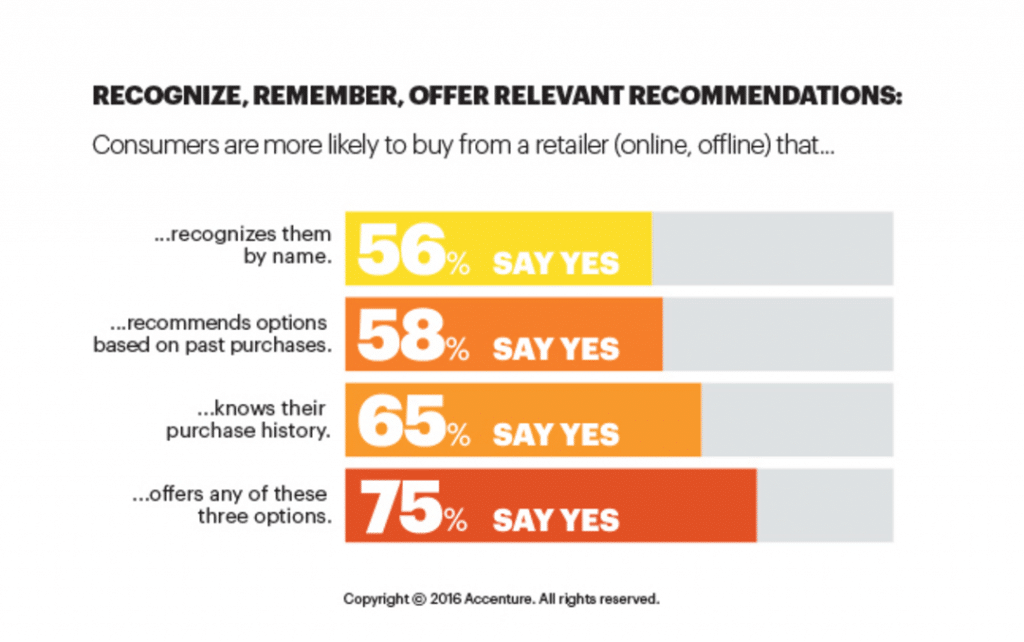 75% of customers saying they'd become repeat customers if a brand can:
Recognize them by name
Knows their purchase history
Can offer personalized recommendations
This makes web personalization an integral aspect of fostering customer loyalty and boosting retention rates.
High-converting landing pages
Your landing pages are a critical component of your sales and marketing funnel. And because they're usually the first point of contact your customers have with your brand, you must impress. The best way to impress is, of course, personalization. Take our friends at Intercom, for example. They got a 300% increase in landing page conversion rate by leveraging personalized website images.
Improved lead quality
Website personalization enables you to effectively nurture leads from their first encounter with your brand to post-sales relationships. This results in most of the leads going down your sales funnel being high-quality leads that will convert. They're also more likely to turn into brand ambassadors.
How do I personalize my website?
While it may sound complicated, website personalization isn't all that difficult. Thanks to technological advancements, all you need is a website personalization strategy and the right tools to do it. One such tool is Hyperise.
With Hyperise, you can personalize elements of your website such as text, images, and CTAs for each visitor. All this without having to write a single line of code.your visitors without writing a single line of code. Short story — add the Hyperise Chrome Extension to your browser, select and set your personalization parameters, and you're ready to go.
We'll get into greater detail into how to do it in the sections below.
How do you get started with website personalization?
Now that you've installed the Hyperise Chrome extension, you're probably wondering how to get started with your website personalization. Here are a few foundational elements to help you get started:
Get the right tools
Personalizing a website is virtually impossible without tools. This is because:
There are too many personas to personalize for and doing so at scale requires automation.
You need to personalize in real-time.
That's why you need the right data collection and analysis tools as well as intuitive personalization tools.
Understand and segment your audience
Using website analytics tools like Google Analytics, HotJar, or other SEO and audience analytics tools, you can analyze your visitors' behavior patterns. Understanding how they interact with your website is crucial to developing an effective website personalization strategy. Besides browsing habits, content preferences, and other behavioral data, other ways you can segment your audience can include using:
Demographic data
Psychographic data
Firmographic data
Segmentation is the best (and easiest) way to personalize at scale. You can easily craft messaging and offers tailored to the different segments and serve them to everyone with the attributes of each particular segment.
Define your KPIs
To know if your website personalization strategy is working, you need to define the key performance indicators (KPIs) you'll use to measure success. Examples of metrics you can use to track the performance of your personalization strategy include (among others):
Dwell time (average time spent on site)
Bounce rates
Conversion rates
Pages per visit
Measuring relevant KPIs is an essential aspect of website personalization as it will help you know which aspects of your strategy are working and which need to be tweaked.
How to develop a website personalization strategy
We've talked a lot about website personalization strategy in the above section.
But how exactly do you develop one that's effective?
Set Goals
The first step to developing an effective website personalization strategy is to define your goals. You need to be clear about why you want to personalize your website and what you hope to achieve from it. Examples of website personalization goals can include:
Improve engagement rates
Reduce your bounce rates
Drive sales
Increase customer retention
Make sure your goals are SMART and that you can easily measure them using the KPIs you defined above.
Gather the right data
Data plays a crucial role in developing the perfect website personalization strategy. It's essential that you gather the right data — data that helps you understand what your visitor wants. But gathering the right data isn't the only thing to worry about, you should also ensure that you're able to collect that data in real-time. You can use tools like your customer relationship management (CRM), Google Analytics, and many others (like SEO tools) to gather the right data. Examples of data you can use for creating personalized web experiences include:
Links clicked
Emails opened and interacted with
Purchase history(or previous behavior patterns)
Shopping cart data (like abandoned carts)
Searches made on your website
Referral sources
Armed with the right data, you can personalize your website to suit all your website visitor segments. Your personalization efforts can go to the extent that each of your visitors will feel your website was specifically designed for them.
Brainstorm website personalization ideas
After setting your goals and gathering all the relevant data, you should brainstorm website personalization ideas.
Outline the customer journey and personalize accordingly
To effectively personalize your website you need to outline your customer journey. Doing so will help you understand which points in the customer journey will benefit the most from personalization.
To get started, map out the customer journey on your website through your customers' eyes. This will allow you to experience it the way your customers do, resulting in you being able to pinpoint the parts of your customer journey to personalize.
Understanding your customer journey will also help you know the intent of the visit. This, in turn, will help you anticipate their needs for each stage, allowing for personalized customization of the customer journey. You'll also be able to deliver the content and experience your customers expect. Executed well, this will help your website visitors transition smoothly from one stage of the customer journey to the next.
Decide what you're going to personalize
The next website personalization tip is to use all the insights you've gathered so far to decide what you're going to personalize on your website. As great as personalization is, it's best you start with the most important assets on your website. A great start will be your:
Homepage
Category and product pages
Checkout pages
Landing pages
CTA's
Pop-ups
Resist the temptation to over-personalize, especially if you have powerful personalization tools that can allow you to set complex personalization rules and parameters.
Create personalized content
Once you've decided what you're going to personalize, the next step is to create personalized content for each of your customer segments.
Remember, at each stage of the buyer journey, your content should be relevant and helpful to each segment of your audience. Re-visit your customer journey and create personalized content for each stage. I know what you're thinking, that it's a lot of work. It certainly is, and that's another reason why you should start your website personalization with essential pages. You can then continue personalizing other pages at a leisurely pace.
4 website personalization ideas & examples
Ready to get started with website personalization?
Not so fast. Let's briefly look at a few website personalization ideas and examples to help inspire you.
1. Personalized homepage
Imagine getting to the homepage of a business and being greeted by a personalized headline, hero images, and a whole lot more.
You don't have to imagine it for your customers. You can give them that kind of personalized experience. Using the visitor's IP address, you can gather tons of firmographic data you can use to personalize your website, and of particular note the headline. You can personalize it in such a way that it speaks directly to the industry they're in, even if they're first-time visitors.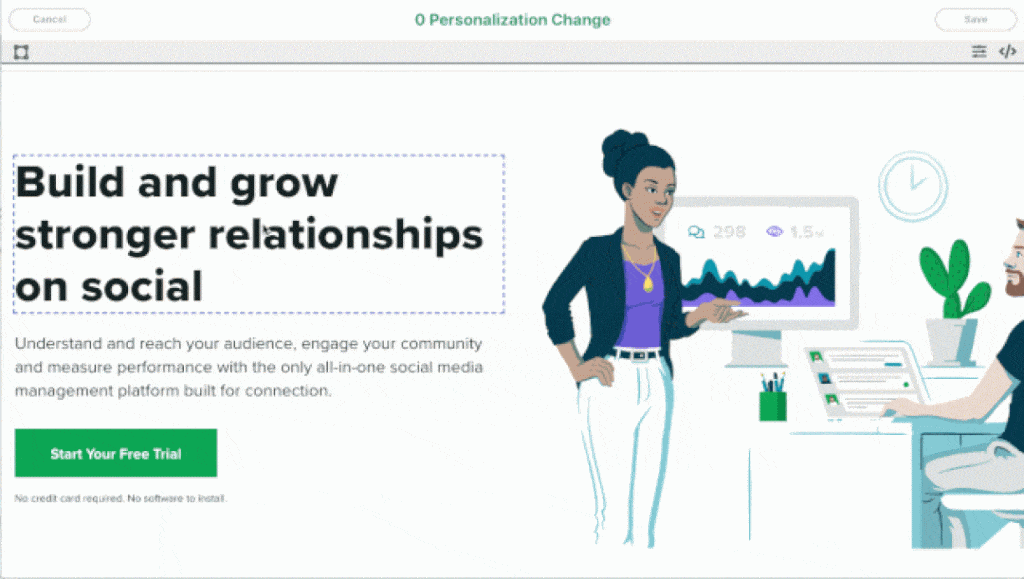 Want to make a bigger impact?
Then use dynamic personalization layers to your website to serve personalized visuals like their logos, profile pictures, or screenshots of the personalization experience.
Again, the only magic wand you'll need to pull this off is Hyperise. So, don't sweat over the details. Our no-code solution works personalization wonders your website visitors will love.
2. Personalized product recommendations
If you are a retailer with a large product database, your customers may have a hard time finding what they need on your site. That's why one of the best website personality strategies you can employ is to recommend relevant products.

This type of personalization makes life easier for your customers. More importantly, it helps boost customer satisfaction and ultimately leads to higher customer retention rates.
3. Personalized pop-ups
Love them or hate them, pop-ups are an effective marketing tool. Research even shows they even have better clickthrough rates compared to other types of ads. Your website personalization strategy will be incomplete if you don't cater for personalized pop-ups. Leverage customer data to craft these and target them to the right audience segments that visit your website.

4. Personalized CTAs
Apart from personalizing general website content, you can also create personalized CTAs. According to a Hubspot study, personalized CTAs perform 202% better than generic ones. Fortunately, CTAs are the easiest type of content to personalize. The most important factor here is to relate the CTA to the problem that got your site visitor to come to your website in the first place. Here's an example from Billshark: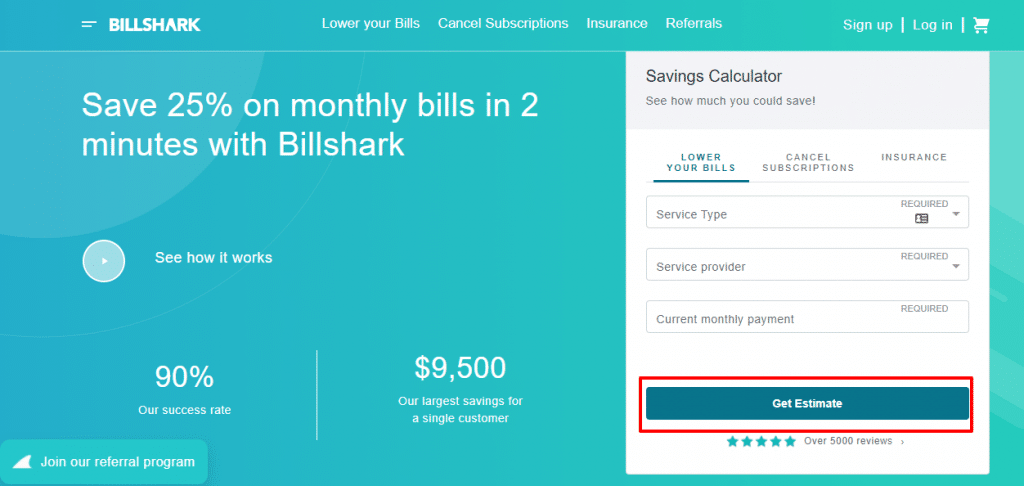 These are just a few examples of how you can add personalization to your website. Other ways can include creating personalized offers, live chat, and much more. No matter your industry or niche, you can't afford to ignore personalization anymore.
5 website personalization software, tools & platforms to use in 2023
As said, pulling off an effective website personalization strategy requires the use of tools. Here are some you should consider adding to your toolbox:
Image s play a vital role in communicating with your audience. One reason for that is they help convey your message faster. Another is that they are an excellent way of triggering emotions.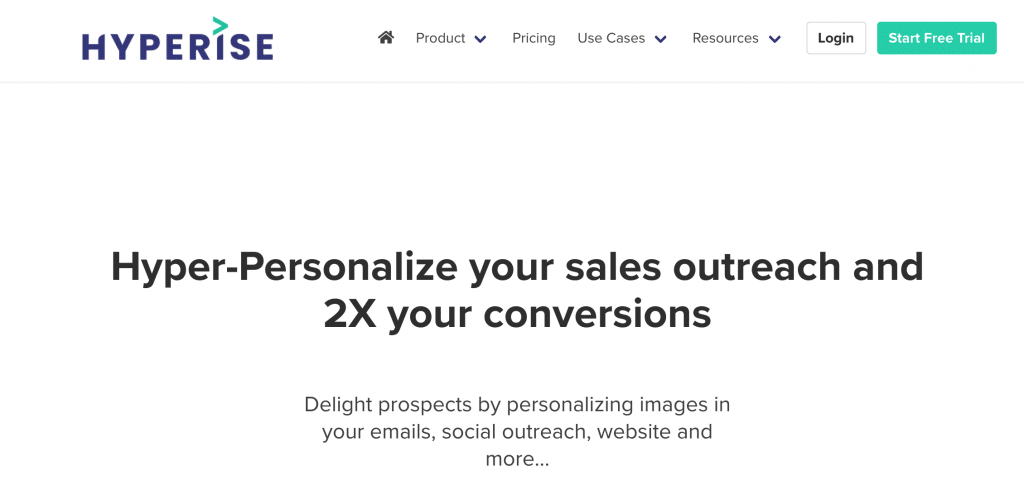 Both reasons are exactly why you need to have Hyperise in your website personalization toolbox.
Using dynamic personalization layers, Hyperise enables you to serve personalized images and videos to your website visitors. However, Hyperise does more than that. The tool also enables you to personalize text, CTAs, maps, QR codes, and much more.
Another bonus is that Hyperise integrates with many popular marketing tools and can thus be used at every touchpoint along the buyer's journey.
Particularly if you're in the B2B space, Hyperise should be your go-to website personalization tool.
Google Optimize is a free tool from Google you can use with your website personalization. Built on top of Google Analytics, Google Optimize helps you test different elements of your web personalization strategy. You also get to enjoy multivariate testing, audience insights and analytics, as well as behavioral targeting among its other features.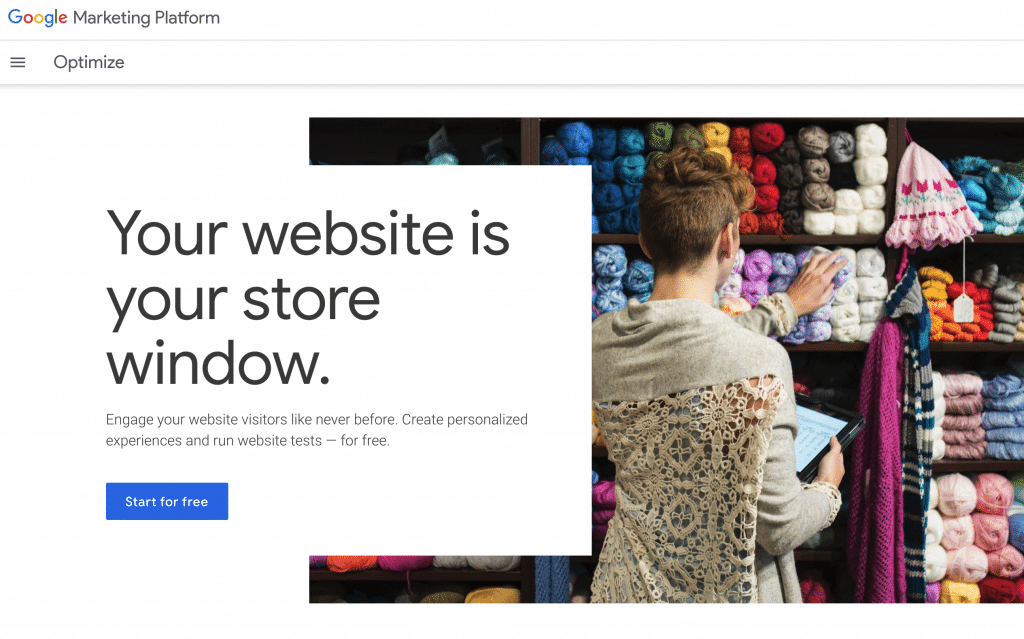 Another testing platform you should consider adding to your website personalization toolbox is Optimizely.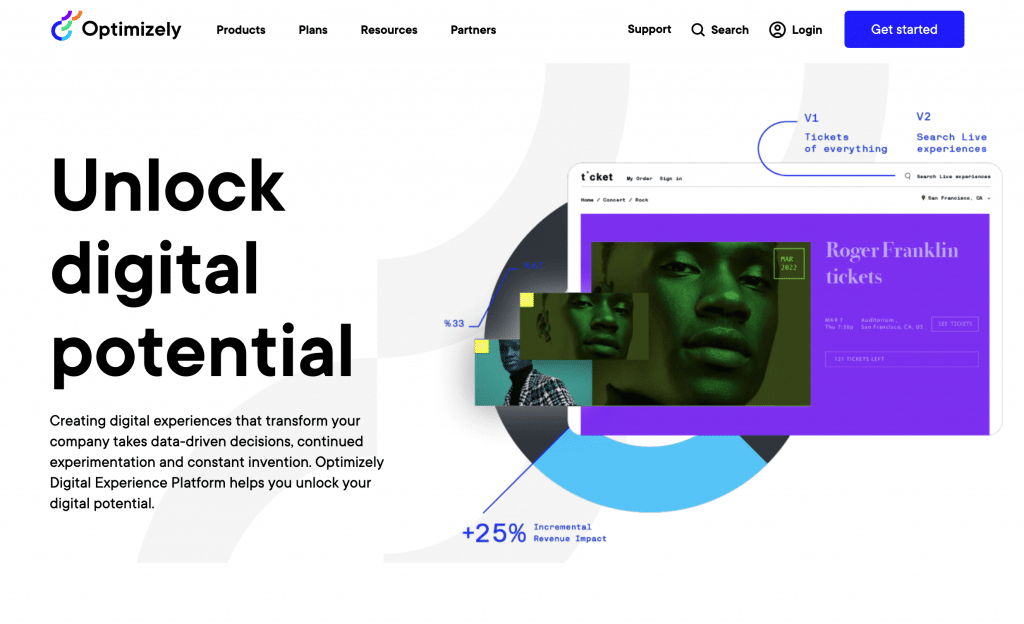 Optimizely is a powerful tool that offers experimentation, recommendation, and personalization software, giving you a lot of muscle to pull off exceptional website personalization. On the personalization front. You get features like behavioral targeting, demographics targeting, a recommendation engine, and much more.
Personyze is a website personalization tool that leverages machine learning (ML) and behavioral targeting (among others) to deliver personalized experiences across multiple channels.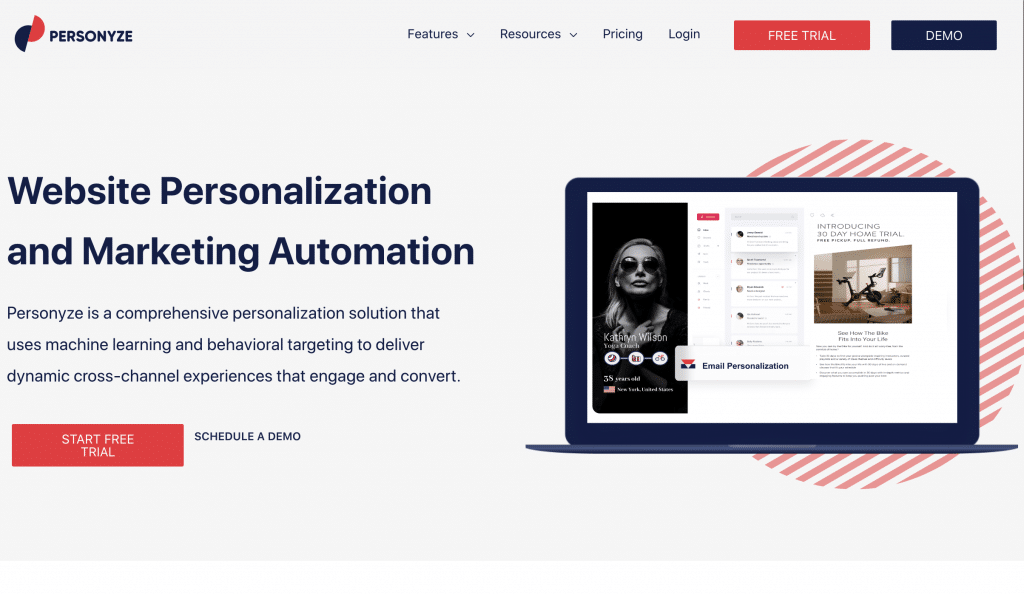 It also comes with an A/B testing function as well as an excellent recommendations engine. Particularly if you're in the B2C e-commerce space, Personyze is one tool you should definitely keep your eye on as you look for a website personalization tool.
Evergage, now Salesforce Interaction Studio, is a personalization tool designed for small to medium-sized business websites.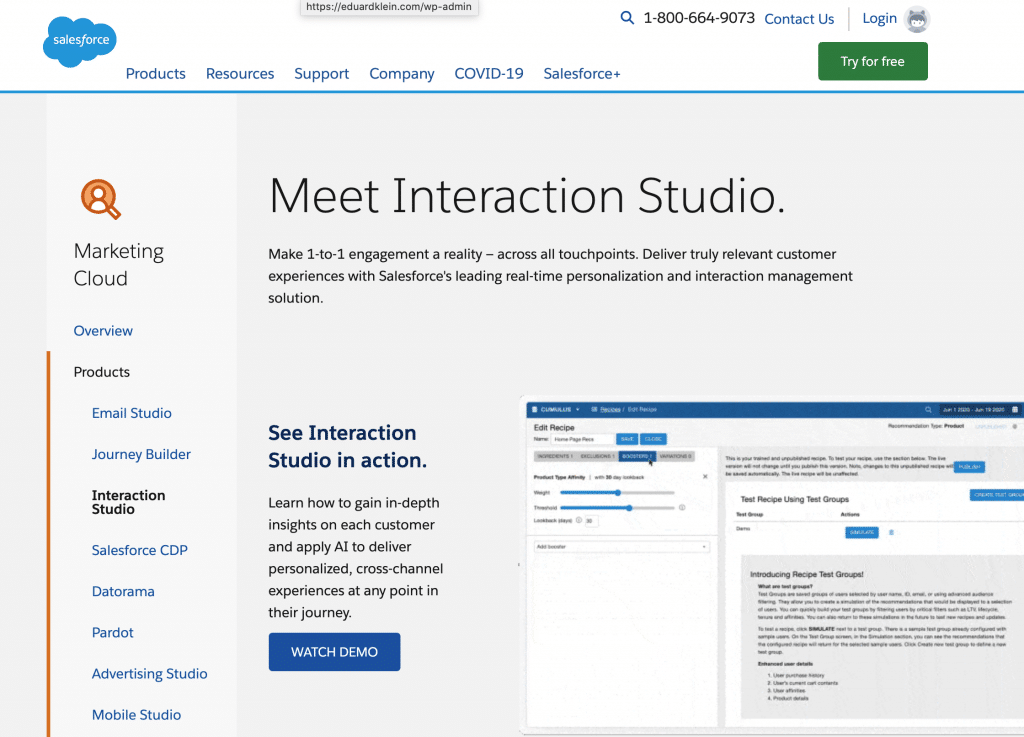 With Evergage, you can analyze customer behavior on your site, helping you predict preferences and giving you insights into their buying decisions. One of the biggest advantages of the platform is that it enables you to create personalized experiences in real-time.
Website personalization — Website optimization at its best
Website personalization is no longer an option. If you're to give your customers the best possible online experience with your brand, personalization has to be a part of your marketing strategy. From customer acquisition all the way to conversion and retention, personalization gives you a better chance of standing out and outperforming the competition.
Go ahead and put the website personalization strategies and tools discussed above to work. You'll definitely enjoy the investment you make in personalizing your website.