As the world moves towards rapid globalization, digital marketing is becoming more and more important in raising successful ventures – with B2B marketing strategy gaining popularity as a digital sales rep's ballistic missile.
With Salesforce, HubSpot, LinkedIn, and other digital advertising alternatives available, you must be at sixes and sevens over what B2B marketing platform is the best. Content marketing institute said that most B2B marketers choose LinkedIn for b2b marketing.
Well… also according to us, it's LinkedIn through and through. Here's why LinkedIn for B2B marketing should be your priority social network over other social platforms.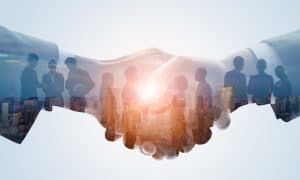 Why LinkedIn for B2B Marketing? The Reasons
Here're the reasons –
According to the latest reports, LinkedIn has 774 million+ members- that's over twice the population of the US! Three professionals join the LinkedIn platform EVERY SECOND.
So… how does a massive database help you?
No matter how specific your product's niche may be, you will always find a lead to become a potential customer with content marketing. So never stop looking!
Here's a fun fact for you: Among the 58 million companies present on LinkedIn, 485 are Fortune 500- and 99% of them use two or more LinkedIn products.
Through all the data and lead generation LinkedIn offers (and its instant messaging service on the play), connecting with the Fortune 500 is easier than ever.
What would be if this doesn't make LinkedIn marketing a top choice for B2B and B2C marketing and advertising tools?
Advertise to Actual Buyers
As silly as it may sound, people scrolling through social media platform feeds (like Facebook and Instagram) expect to see puppy pics. They don't need your products!
On the other hand, LinkedIn is built for companies, businesses, and professionals. If someone is scrolling through the LinkedIn news feed and reading a blog post, it indicates he's in his work mode.
If your product solves his problem, he is willing to spend it. This difference alone makes LinkedIn an excellent tool for B2B marketing (because you advertise to actual buyers).
Hand-Pick Your Audience with LinkedIn
Sure, LinkedIn has a huge customer base, but not everyone would want to buy your product. Maybe your product targets a specific niche.
Using LinkedIn's endless targeting options, you can truly filter down your target audience to a brink, so your LinkedIn posts only reach people you intend for them to reach.
With LinkedIn allowing you to filter through company size, job functions, company industries, and member age, proper usage of LinkedIn's large data and advanced filtering options will bring you leads like Aladdin's lamp.
Know Who You Choose to Interact With
The whole philosophy of B2B marketing is based on engagement. You could engage with leads through emails, calls, and text messages. But who exactly do you engage with?
You engage with someone you think is a good fit for your product. But the process isn't that simple.
Leads don't turn into prospects just because they 'might' need a product. You need to make sure they need your product… and engagement is an excellent way to do so.
Use LinkedIn's dynamic data about your customers to your advantage. Study your lead (his current status, job position, interests, etc.), and make sure you know him well before you approach him.
Linkedin has a paid feature called LinkedIn sales navigator. It allows you to generate leads and helps to search for customers by company name, size, age, and many more keywords.
A salesman who knows his prospect well will always have a higher chance of turning potential customers into buyers than a random dude who goes around cold calling.
An All-in-One Tool Kit for Professionals
Precise data, massive user profiles, text ads, advanced targeting parameters… LinkedIn is an all-in-one kit for business professionals. What you need is what they have; LinkedIn doesn't leave a reason for you to not succeed.
Why Use LinkedIn for B2B Marketing – A Summary
With a customer base of 774 million, the sheer size of its database is unmatched. It covers professionals and businesses from the US and 200+ other countries.
97% of the Fortune 500 companies use LinkedIn's services. LinkedIn users are stupidly easy to strike deals with companies and businesses of all sizes.
Advertise to people that need to buy. Make quality content for your products and advertise it through LinkedIn groups and pages. Make sponsored content like video ads with customized video content for gaining social traffic. Hyperise editor can make that work easy for you.
Unlike in other social media channels, when surfing LinkedIn, users are work-focused. It may give you a higher advertising success rate. Most people you'll reach are looking for products- not puppy pics.
There are options like a LinkedIn page where you can open a business page or a company page for LinkedIn marketing. An optimized company page with customized professional images helps you with content marketing and gain trust from audiences. So make personalized images and videos with Hyperise editor or any other tool to generate traffic on your page.
LinkedIn's advanced targeting options allow you to accurately target your desired audience, giving you a higher chance to turn leads into prospects.
There are some tools like Linkedin insight tag or lookalike audiences that help you to track your audience. You can get this data by simply adding this tool to your website.
The great selection of data viewed by LinkedIn about leads means you can always learn about your leads before approaching them. It increases your chances of finding more buyers.
Conclusion
Having laid out many of its pros, we believe you understand why LinkedIn for B2B marketing is the best tool available.
We hope this information convinced you to find the best B2B marketing platform available and taught you a thing or two about its various functions. Also, check out Hyperise editor to make any personalized content like images and videos for your marketing strategy.